The Ucotech ES-P1 is a premium MMCX earbud design using a 'Double Dome' dynamic driver diaphragm and 2.5mm TRRS balanced options. Its price is $400.
Disclaimer: The Ucotech ES-P1 was sent to us a sample in exchange for our honest opinion and does not have to be returned. We thank the team at Ucotech for giving us this opportunity.
To read more on Ucotech products we have reviewed on Headfonics click here.
Note, this review follows our new scoring guidelines for 2020 which you can read up on here.
I've always been "the earbud guy" in my closed audiophile circle around me. Most people in the hobby don't understand the value of a great hanging earbud, as I am told.
I cannot relate to the other side's viewpoint, due to holding an immense bias for earbuds of the hanging style in general. I prefer them over everything else, so it was a shock to me to finally receive something new in this style for our community, yet, one that also is on the expensive side of the spectrum.
Accessories & Packaging
Ucotech is a company that houses products I've never heard before this review, so the ES-P1 was a real treat to me from the very beginning of the experience. I was curious to see what would be included in the box and I was met with a positive reward for patience.
The box is on the thick side and boldly colored. I don't think others care too much, but as a reviewer, seeing so many standard black or white boxes gets really dull after a decade of reviewing. So, it was nice to see something with some color here.
Inside, we get an awesome zipper case and the earbud itself…scratch that…you get TWO cases. One case is leatherette and extremely premium, safe to say this is the best portable case I've ever seen and will be using it a lot because it's stunning. The zipper on this bad boy is dense and heavy, this is a quality case, unlike anything I've ever seen offered in an IEM or an earbud for that matter.
Beyond that, a standard and much flatter case. I realize the larger one may be used for storing the accessories, but come on, that is an awesome carrying case and sure to catch the eye of anyone nearby. Further, you get a few foam covers for the earbuds, as well as some ear guides. The accessories and unboxing experience are fantastic!
Design
Whoa, I've not seen earbuds this heavy and dense since the older Sennheiser MX980's were released almost a decade ago. These ES-P1's are made of solid brass and wow are they heavy!
This is the most premium earbud I've ever seen and held. Does anyone remember 9wave from years ago? They had an aluminum earbud that was heavy too but man, this ES-P1 demolishes the competition with excellent build.
This is a new standard for build in an earbud, at least that I've seen and heard. I am sure others are out there, but nothing I've ever reviewed. You can really feel how solid the metal slab is that was used for this earbud. Truly something special here.
Cable and Connectors
If absurd build quality wasn't enough, they made sure to toss in a detachable MMXC cable, with a stock cable that is one of the best I've ever seen for an earbud. No…let's take that back. This is the best stock cable I've ever seen put on an earbud.
Quality from top to bottom, right down to the super hefty right angle 3.5mm adapter. Yes, finally! Someone understands! A great earbud deserves this quality, not some plastic shell and a fabric laced cable that has bad microphonics.
This cable has zero noise, it has never once gotten in the way or annoyed me. It sits perfectly and retains just enough snug tautness in the length to not tug on my ear, but it also lacks a looseness that is prone to wafting around as you move.
Whoever designed this, really thought it through and I thank them for taking that extra time to make sure the stock cable wasn't sticky with the exterior lacing.
ES-P1 Sound Impressions
Bass
Listen, this is an earbud. It is essentially a semi-closed back tiny over ear in design. It leaks sound a lot, people nearby will hear what you are listening to at solid and normal listening volumes. But who cares? Tell them to stop invading your personal space.
This ES-P1 has a solid amount of bass and it vastly improves with proper rig pairing. The stock experience out of something midtier, such as your pick of a smartphone today that doesn't have a great sound DAC inside dedicated for great audio, will sound just shy of moderate in quantity.
That remains true even with some EQ and pestering around with some DSP's and MSEB in the HIBY music app. The earbud is not very responsive to EQ and adding more in does very little for the experience. What does help more, combined with the right EQ setup, is power.
For the life of me, the Xduoo XD05+ is a beast of a portable DAC and amplifier. With high gain mode active, as well as the bass booster set to max, while running my Sony ZX1 Compact out of digital output mode, the ES-P1 is buttery smooth on the low end. The only other IEM that I've ever heard that even came close was the Zen 2.0.
Side by side, this ES-P1 completely nullifies the Zen 2.0…and I love my Zen. It is the only earbud I've used personally for the past few years. I love my bass warmth and I am willing to sacrifice some quantity for the much more noticeably smooth and detailed bass in the ES-P1.
If this is the new-gen tech for earbuds, sign me up. I am impressed with the effortlessness factor offered, it absolutely makes the older MX980 sound like mud.
Mids
Typically, earbuds have a forward to moderately forward midrange, you rarely see a recessive earbud these days and even into the last few generations. A high appeal factor for vocalist experiences is what this earbud is all about and I cannot be happier with how it sounds.
Yep, it sounds even more forward than my Zen 2.0 and the older Yuin PK series. Don't get me wrong, Yuin was a monster back then with the PK1, but with the most respect, my PK1 sounds like its broken compared to the ES-P1.
Like a dense thick curtain or something is placed over it, versus a clear morning sunrise with the ES-P1. If you love vocalists, Jazz specifically, and if you want an earbud, I highly suggest you pick this guy up. You will love it, no doubt about it.
I have a gripe. It is a small gripe and one easily fixed with some EQ knit picking. The upper midrange tends to lack the energy that matches the excellent 90% of the rest of the midrange below it. You can easily pick this up when you first listen to it without any EQ active.
Is it a huge issue? No. The experience remains smooth and lovely throughout, there is no harsh impact or nasalness that I can pick up on. However, my ears are picking up on too much softness and a desire to experience a little more bite in tactility.
This is especially noticeable with older Jazz singers that I enjoy, like Sinatra, Buble and even Seth McFarlane (who IMO is the best Jazz male vocalist in the world at the moment. Yep, the guy who voices characters and made Family Guy cartoon)
Treble
Ah, there is a bit of roll off the higher you go. Checking the measurements confirmed that a few weeks after I first noticed, but it really isn't an issue. It only reaffirms my thoughts on the upper midrange lacking the sparkle required to make me fully satisfied on a subjective level.
The entire top end is extremely reserved in physicality. It is not recessed. It is lacking treble energy and sparkle. I think they played it too safe, but honestly, adding in a little top end via EQ helps out a bit. It cannot fix it.
Sadly, no miracle cure here for this earbud. Nothing I could do would solve the issue. If you like extremely tamed, but still very clean and enjoyable upper end, this is a great option as well.
Treble Quality
The ES-P1 bass smoothness and clarity slew every other earbud I've ever used, but the treble quality and cleanliness are superb beyond my understanding. How did we even exist 8-10 years ago with earbuds when they were super popular?
The top alpha of the pack was always the MX980, but this ES-P1 really makes the MX980 sound painful and tizzy. However, the MX980 has that sparkle I love and require, whereas the ES-P1 does not.
Again, it isn't a big deal here anymore, because the quality and fidelity hike from 10 years ago to today is absurdly huge. Yes, this earbud is super pricey, but that is the cost for innovation in a niche hobby with even more intense niche earbud lovers, like myself.
Imaging
The ES-P1 experience feels light and airy, lacking a sense of closed-in space around me. Hanger styles like this one offer a more speaker-like experience, one that is more natural, at least, in my opinion.
The width factor is fairly large, definitely larger than the Zen 2.0. However, what really sets this one apart was that separation of instruments feels more like an on-ear headphone than an earbud. I think this earbud is pushing sound waves in such a manner that it ends up feeling unlike most of the earbuds from ten years ago when earbuds were so beyond popular.
Now, that isn't to say they are the best in imaging, I still think the MX980 sounds larger. However, the density factor is superior on this ES-P1. I also don't think the Zen 2.0 is that far off in the bubble space around me, but it doesn't sound as coherent.
My problem? The Zen is almost 3x cheaper. We are paying a premium for very noticeable improvements on the ES-P1 over the last-gen hangers. The height factor is excellent, very well geared for vocal experiences.
The depth of field is moderate, of course, nowhere near $500 IEM level. However, again, that natural sound that isn't in my head is what I personally desire so this niche listener group will love this.
Gaming/Media
Ok, so…since I've received the ES-P1, it has been my go-to for movies, gaming, and general Youtubing. It is also my primary portable that isn't an IEM. Combined with the proper rig, they really sound lovely and so smooth.
And that is a very important property to house when you listen to terribly recorded movie audio, or Youtube, or gaming in general. No, the pinpoint accuracy isn't great, but I seem to have done just fine when I logged back into CoD: Modern Warfare 2…only to find that everyone was jumping literally into the sky and auto-firing infinite rockets to the point that the server crashed.
Anyway, a smooth sound is what I want for gaming. Intimate vocals combined with amazing sound design from Borderlands 3 and The Witcher 3 was really a fantastic experience. Just getting lost and forgetting that I have anything in-ear at the time, sometimes for hours, was simply breathtaking.
This is how the experience should be and there is always a little voice in the back of my mind when I wear IEM's, or larger headphones for gaming needs. "There is a thing in your ear, get it out." Or, "dang, this thing on my head is getting cumbersome."
Generally, it ruins the experience after a few hours but I don't have that issue with great earbuds. I regard this as probably my favorite casual product I've reviewed in years, due to incredible comfort and just overall smooth sound that never annoys me.
Earbud Philosophy
What do I even mean by that? I mean that literally, nobody prominent has made a great high-end earbud in years. Audio Technica has the new 2000ti, but I've not heard it. Sennheiser gave up. We never saw a great hanging style again. Sony gave up 30 years ago. Aiwa, where are you? Are you listening? Fostex? Someone? ANYONE!?
Nobody is listening except those who adore and love the earbud hanging style experience. Is just isn't like IEM's or over ears. I get a highly personal experience, yet one that is not sticking into my head…literally.
The "inside the head" feel of IEM's is just not as natural sounding as earbuds can offer. We just don't have the tech at the moment for hanging earbuds to somehow compete with IEM's that have sealing properties.
I urge this company to invest whatever they can into the experience of advanced tech for hangers like this. Why? Look at Apple. The Apple Pods are the most popular headphones in the world at the moment. Imagine what could be done if a company like this actually cared about, you know, making a great hanging style earbud.
We've not seen a great sounding earbud in many years like the ES-P1, because we don't have the technology yet to advance the science behind them. They've not changed in design or implementation in 40 years. I am not saying there is for sure a way to make them even better, I am just saying someone needs to try and innovate and I am glad to see a true higher-end earbud here in the ES-P1. Finally!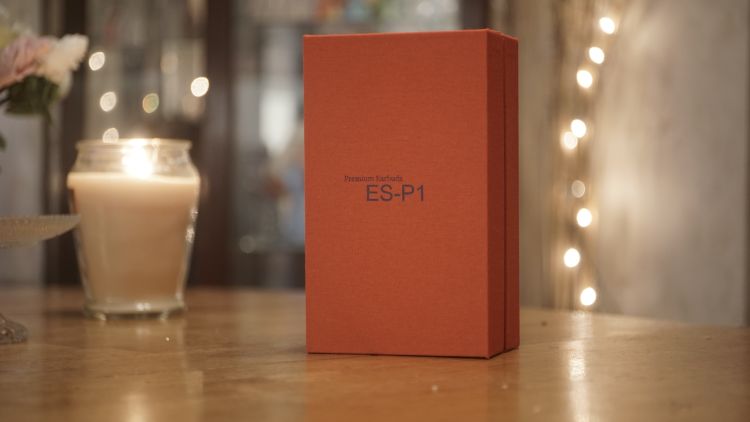 Our Verdict
I understand that this earbud is extremely expensive and that the majority of the audiophiles out there would prefer an IEM over an earbud. I am not one of them. We do exist and the ES-P1 was clearly made by someone who wanted a TOTL earbud.
We have one now. And sure, there are others out there in the Asian market, but just one of them has been bold enough to send "the earbud guy" something to review.
I like this ES-P1, but the price is a little extreme. I do love the carrying case and the detachable cable is sublime. The build quality is shockingly good and incredibly satisfying, no doubt.
The treble needs some work and I dearly want to see a revision with some excellent sparkle factor, but one that retains a moderate amount of that smoothness, instead of a lot of that smoothness. It lacks a memorable top end and that is just about all I can say negative about it.
Ucotech ES-P1 Specifications
ES-P1
Brass Housing
MMCX Type Detachable Cable 120cm
Cable Info: OFC 99.999% + Ag Coating 8core 3.5mm Gold Plug and 2.5mm balanced Gold Plug cable
Impedance: 160Ω ± 15%
Driver: NEW Double Dome Diaphragm
Sensitivity : 100 dB/mW
Frequency Response : 10 ~ 40,0000 Hz
Weight:7g ± 2g (with cord 42g)
I understand that this earbud is extremely expensive and that the majority of the audiophiles out there would prefer an IEM over an earbud. I am not one of them. We do exist and the ES-P1 was clearly made by someone who wanted a TOTL earbud.