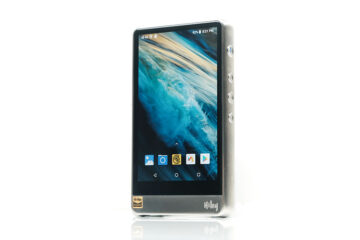 The HiBy Music R6 Pro is the company's next version of the original R6 DAP providing an outstanding price to
...
Our Top Gear of 2018 is our traditional end of year "best of the best" awards feature. Awards are dished
...
We review the Burson Fun and Burson Bang, which are a set of new compact headphones and power amps ideal
...
The Stoner Acoustics UDX is a brand new desktop DAC priced at $330. It uses both single-ended and balanced outputs
...
The iBasso IT04 is the company's new flagship hybrid universal IEM consisting of 3 balanced armature drivers and one single
...
The Goldenear Aon 3 are a compact, ultra-high-performance speakers that were developed for use as nearfield monitors in professional mixing
...
The ARC Pollux is a new Thai custom monitor based on a single balanced armature design and priced at $399SGD
...
The Audeze LCDi4 is the company's new flagship full-range in-ear planar priced at $2495. It sounds nothing like a regular
...
The Kinera IDUN is an attractive entry-level hybrid triple driver IEM with a retail price of $139. Disclaimer: The Kinera
...
This is a review of the new Avara Custom AV3 which is a triple balanced armature custom monitor from Indonesia
...
The RIVA FESTIVAL is a multi-room "+" wireless speaker in RIVA's WAND series for large room audiophile-level of sound quality
...
The Audeze LCD-MX4 is a new lighter and easier-to-drive studio version of the LCD-4 with some tonal tweaks for studio
...
The JH Audio Layla Signature Design Series is Jerry Harvey's top of the line in terms of pure build quality.
...
The oBravo Ra C-Cu is a "money-no-object" luxury class dynamic and AMTII driver hybrid universal IEM from Taiwan. Priced at
...
The MrSpeakers AEON Flow is the open back version of the closed AEON planar headphone. It is also priced at
...
The iBasso IT01 is a new single dynamic driver IEM and is positioned as the entry-level IEM in the Ibasso
...
The Pro-Ject Audio Pre Box S2 Digital is a micro-sized DAC/Amp from the respected Austrian turntable manufacturers. It is priced
...
The Core Power Tech Equi=Core 300 is a heavy-duty power conditioner to lower noise improve the quality of sound from
...
The iFi Audio Nano iDSD Black Label is the next generation of micro portable DAC/Amp's from the UK-based company and
...