We review the TANGZU X DIVINUS FUDU verse1, which is the company's debut hybrid IEM featuring a single 10mm dynamic and 2 BA drivers. It is priced at $89.
Disclaimer: This sample was sent to us for our honest opinion. Headfonics is an independent website that does not have any affiliate links. We thank TANGZU Audio and DIVINUS for this opportunity.
To read more on other in-ear monitors previously featured on Headfonics click here.
Note, that this article follows our current scoring guidelines which you can read here.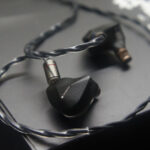 TANGZU X DIVINUS FUDU verse1
The TANGZU x DIVINUS verse1 is a laid-back, warm-sounding pair of IEMs that sacrifice detail and resolution for a relaxed sound signature. They offer a unique value proposition by offering 2 different sets of boutique ear tips at a relatively affordable price point.
Pros
Excellent Included Tips
Non-fatiguing signature
Cons
Sub-par detail retrieval
The TANGZU X DIVINUS FUDU verse1 could not be further from the company's prior IEMs. TANGZU is usually known for its single-driver (dynamic or planar) IEMs such as the ZeTian Wu with names and aesthetics reminiscent of dynastical Chinese history.
However, this time, they are releasing their first hybrid in-ear monitor that features a 10mm dynamic driver and two custom balanced armature drivers, with a sleeker more minimalist aesthetic with a fitting subtext as well: ZEN Verse1.
Their first entry into the minimalist ZEN series is the sub-$100 FUDU verse1. Let's see if this new-look TANGZU can keep up its momentum.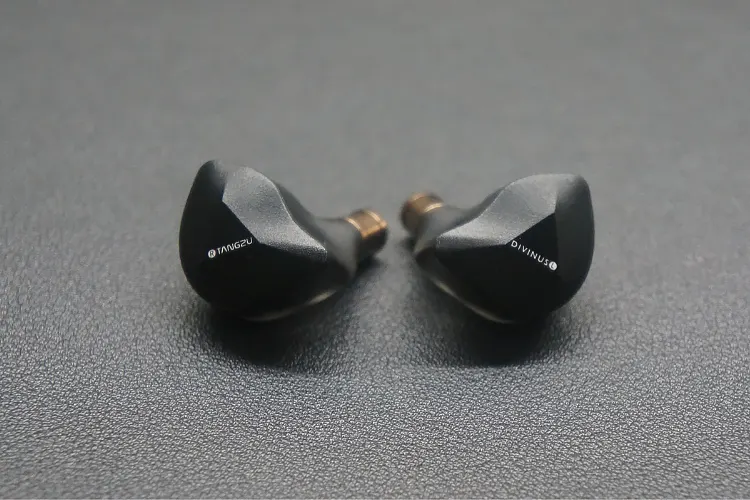 Tech Highlights
The FUDU verse1 uses a 10mm high-performance dynamic driver that provides a powerful and deep bass response. The two custom-balanced armature drivers are responsible for the midrange and treble, offering a crisp and clear tone with a wide sound field and a smooth treble.
The FUDU verse1 also comes with 2 sets of bespoke ear tips, the TANGZU Sancai tips, and the DIVINUS Velvet tips, which usually go for $10 and $25 respectively.
The FUDU verse1 also comes standard with a 4.4mm balanced cable, which is a complete rarity at this price point, opening up new audiophiles to the world of balanced sources and amplifiers.
Design
verse1 has an elegant and simple design that goes entirely against the intricate dynastical design of TANGZU's prior IEMs. The FUDU verse1 shell is constructed out of a dark, borderline translucent 3D-printed resin, with an aluminum alloy CNC integrated panel that has a smooth minimalistic triangle at its center.
The texture and finish of the FUDU verse1 are completely different from the shiny, glossy 3D-printed resin finish of most chi-fi IEMs like the Moondrop Blessing 3.
The text engraved onto the triangular face plates of the IEMs highlights the collaboration that birthed this pair of IEMs. The right faceplate has the TANGZU logo engraved onto it, while the DIVINUS logo is engraved onto the left IEM.
According to TANGZU, the triangular faceplate symbolizes the beauty of simplicity and reflects the Zen culture. The panel is black frosted and contrasts well with the translucent resin cavity that houses the drivers.
Comfort and Isolation
The FUDU verse1 has an ergonomic shape that fits well in the ear and provides good comfort and stability. The resin cavity is lightweight and smooth, without any sharp edges or seams. The shell size is in line with comparable 1DD+2BA IEMs like the Open Audio Witch Pro, further contributing to its comfort.
The Kara fits very well in the ear, quite similarly to the Open Audio Witch Pro once again.
The nozzle is slightly angled and has a medium length, allowing for a secure seal and insertion depth. The FUDU verse1 has good passive noise isolation, blocking out most of the ambient noise very well since it isn't making use of a vented design.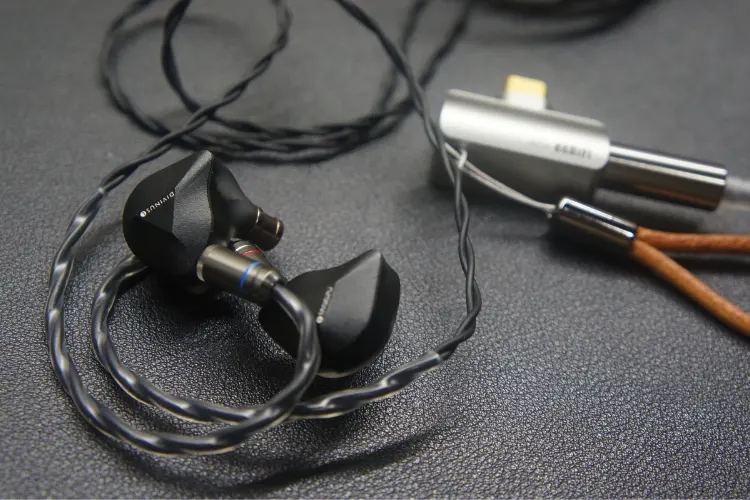 Stock Cable
The FUDU verse1's stock cable sample I have here is terminated with a 4.4mm balanced connector though I am told you can get it with a 3.5mm SE option.
It is important to acknowledge that a 4.4mm cable is usually a premium aftermarket upgrade that audiophiles purchase separately, so getting it for free is definitely a value add.
The cable itself comes with a high-quality 4-core oxygen-free copper cable that is silver-plated for better conductivity and durability. The braiding has a soft and flexible texture, without any microphonics or tangling issues. It is finished with 0.78mm 2-pin connectors that are gold-plated and have red and blue indicators for the left and right channels.
It is safe to assume that most people in the market for an IEM at this price point would be running the IEMs from their device's onboard 3.5mm output or an inexpensive 3.5mm dongle, but they would most likely not have amplifiers or sources with a 4.4mm termination. If you are one of them check for the 3.5mm SE option before buying.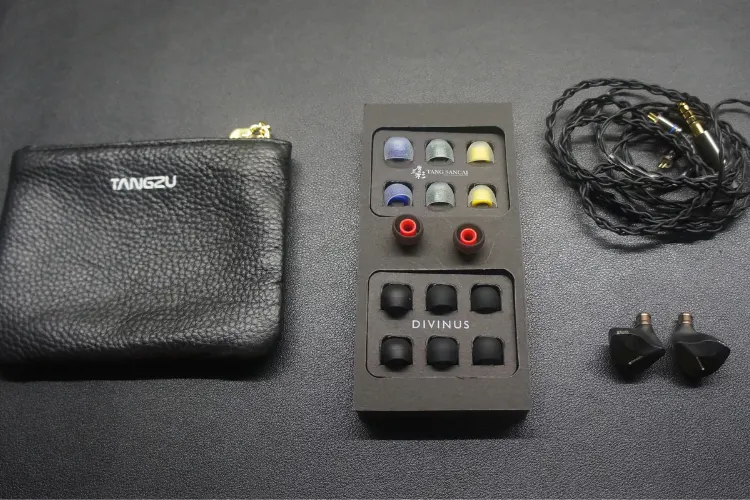 Packaging & Accessories
The TANGZU x DIVINUS FUDU verse1 comes in a large black cardboard box that has the logo and model name on the front, along with some specifications on the back.
Opening the box shows the highlights of the true strengths of the FUDU verse1: its inclusions.
As I alluded to in the intro, not only does the FUDU verse1 come with 1 pair of generic silicone tips, but it also comes with 3 pairs of TANGZU's own aftermarket Sancai Tips (S, M, L), as well as 3 pairs of the renowned Korean DIVINUS Velvet Tips (S, M, and L).
These 6 pairs of aftermarket tips alone would normally retail for another $35, more than a third of the IEM's asking price. Additionally, it is important to again highlight that the packaging can either include a 4.4mm balance cable or a 3.5mm SE cable depending on your choice when buying.
The FUDU verse1 also comes with a lychee leather carrying pouch that has a supple feel but does not provide the same level of drop and shock resistance of a hard-case pouch such as the ones that come with the Tempotec IM05 or the Kiwi ears Quartet.
These accessories were a welcome surprise to what I originally thought was going to be a relatively normal sub $100, it's safe to say that TANGZU has just set the new standard for accessory inclusions at this price range.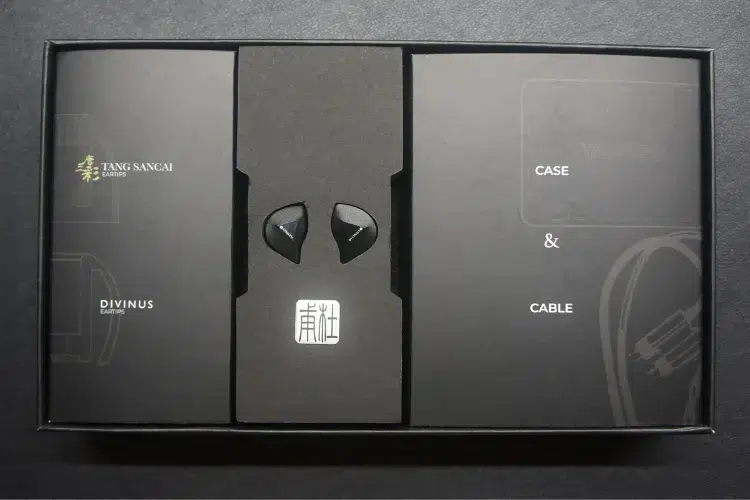 Sound Impressions
Bass
The bass of the FUDU verse1 is powerful, deep, and punchy, thanks to the 10mm dynamic driver that delivers a strong sub-bass rumble and impact. It tends to emphasize the mid-bass more than the sub-bass, but it is still able to play back a satisfying amount of rumble.
Because of the IEM's more relaxing and warm-sounding tonality, the bass does bleed a bit into the lower mid-range. It doesn't muddy the sound too much but instead gives it a somewhat veiled presentation.
I was impressed with FUDU verse1's ability to play deep male vocals in a lush and relaxing tone. It is presented in a way that accentuates the velvety delivery, albeit at the cost of some micro detail.
Bass guitar strums are played back with very good note weight and emphasis, but once again it does so at the cost of resolution and clarity.
Mids
The mids of the FUDU verse1 are natural, and smooth, with a relaxing tonality that may tend to mask the microdetails in string instruments and higher female vocals. The relaxed nature of the mids makes them sound satisfying, but they never stand out.
The lower mids hit with good texture and authority, adding to the warm velvety sound, but I constantly found myself looking for the details that I usually heard when testing other IEMs.
The upper mid-range follows this trend to a more severe degree, more resolution is lost, whilst also recessing upper male vocals and wind instruments such as horns.
Treble
The treble of the FUDU verse1 is relaxed and smooth, with no signs of sibilance or harshness, however, I found it severely lacking in top-end detail and sparkle.
All cymbal hits and snare drum hits sound exactly the same, which is quite a shame since quite a few IEMs in the price range have been able to articulate micro-detail and differences in a very evident manner.
The warmth of the overall sound signature does the treble of the FUDU verse1 a disservice, but it is also important to acknowledge that this contributes to a very relaxing and non-fatiguing sound signature that I could easily listen to for hours with no problem whatsoever.
Imaging
The imaging of the FUDU verse1 is average for the price range, with relatively precise positioning and placement of sounds in the stereo field. The FUDU verse1 has a good sense of directionality and distance, as well as good depth and height that creates a wide immersive soundstage, contributing to the relaxing tonality of the IEMs.
Click on page 2 for our recommended pairings and selected comparisons.