The qdc Gemini is an 8 balanced armature driver custom in-ear monitor with a 4-way crossover. It is priced at $1715.
Disclaimer: The qdc Gemini sent to us is a discounted unit in exchange for our honest opinion. We thank the team at qdc for giving us this opportunity and for the support of Musicteck.
You can read more about qdc products we reviewed on Headfonics by clicking here.
Note, this review follows our new scoring guidelines for 2020 which you can read up on here.
qdc Gemini
At almost two thousand dollars, the qdc Gemini is not a steal. But for that, you not only get a very good monitor, but also the whole high-end experience: beautiful design, perfect fit, flawless production, a nice case, superior cable, and adequate packaging.
Often have I been asked if I am familiar with the Gemini by qdc. It definitely proves to be very popular in the Asian hifi scene, even though it is priced quite high when compared to its national competition.
The Gemini definitely wants to be categorized as high-end instead of bang-for-the-buck. Starting at $ 1715 plus around $120 for shipping of the universal, you better prepare around $2000 US dollars for your order of the customized version. Gemini-S is the standard version, e.g. universal. Gemini-C is a custom monitor and it starts at just $ 70 more.
Company Introduction
qdc is a Chinese monitoring company situated near Hong Kong in Shenzhen, Guandong. qdc stands for quick dependable communication but the full company name is actually Shenzhen Qili Industrial Co., Ltd.
The company has a lot of experience in the audio business and specializes in monitoring for ten years now. qdc eagerly searches the spotlights of hifi customers for a while now and the company continues to raise awareness and credibility.
Fortunately for us, the Asian company now plans to expand its territory across the Pacific ocean and along the silk road all the way to Europe. This is a great opportunity to check out their current in-ear monitor flagship called Gemini.
Reaching for the Stars
Naming The Gemini
Gemini refers to the astrological star constellation of the same name. The name reference is purposely ambiguous as the company is reaching for the stars. Not as in trying to achieve more than its capabilities but quite literally reaching for stars – for famous music stars. The Gemini or Shuangzizuo kicks off qdc's high-end catalog.
Neptune
The star constellation series is not based on the Zodiac signs. Their second and latest entry is a single-BA monitor called Haiwangxing (or Neptune when it will become available internationally).
I have seen its measurements and it does look promising, but today we will focus on the Gemini only. Nonetheless, it will be interesting to see what follows and if and when there will be a new flagship.
The Anole
By the time of writing, qdc has just released another intriguing monitor. The Anole features six drivers but it is not part of the top-end product line and places itself beneath the Gemini. qdc also offers Hifi, Live, and Studio versions of several models, like 3, 5, and 8 multi-BA designs, all available as universal and custom.
Their catalog is getting crowded really fast and I suggest to qdc that they limit their international selection to a few models only. The Gemini would definitely be part of it, though.
Order Process
You can order your qdc monitors directly from http://musicen.qdc.com if you do not have a local dealer. Production time is around 4 weeks and less in most cases. My order was badly timed with the Chinese national holiday Guoqingjie.
The order was done in just less than 5 weeks nonetheless and the shipment via Express arrived just a few days after. Sure, 120 dollars is not cheap for a shipment, but at just 6.3 % of the value, it is reasonable and – most importantly – the most secure solution for both parties.
Packaging
The packaging simply screams high-end and it is one of the most impressive that I have seen from most CIEM manufacturers yet. Clearly one would not expect a pair of small in-ear headphones to come packaged in a heavy 23x17x11cm box.
The presentation is reminiscent of the iBasso DX200 that scored full points in my book. A rubbery and textured golden sleeve sheathes a very sturdy black cardboard box that folds open with precisely cut foam rubber for the accessories.
Further inside you not only find an envelope with a short manual and hand-signed quality control emblem but also a metal plate with the customer's name engraved. I hope the competition takes note. This is how to sell high-end products correctly.
Accessories
Breaking The Rules
Instead of receiving my sixth Peli 1010 case, qdc finally broke the unwritten rule to use the same case as almost every other company – exceptions like 64 Audio prove the rule. A circular pleather box with velvet on the inside provides enough protection while still being attractive.
The case takes little space in a bag and doesn't easily open by itself. I do wonder why the color is a rather saturated orange. A more subtle color would have worked better and would look more elegant. I am not sure if qdc offers different color options at this point.
Everything Else
Aside from the travel case, qdc hands you a gold-plated 6.35mm adapter, a cleaning tool with brush and hook, and a nowadays more-and-more obsolete airplane adapter. The cable is held together with a qdc-branded velcro strap.
I wouldn't have minded some cleaning cloths or even disinfecting spray for hygiene to extend the durability, but this is probably where pro-audio deviates from consumer high-end.
Design
Bold
qdc definitely makes a bold entry into the scene. It wants you to forget about all the stereotypes you once had about "made in China". I often notice that there is still a notion that many seem to agree with, namely that Chinese brands lack the polish or should not be demanding high-end prices.
For now, I suggest dropping the prejudice because the build quality of my twins is flawless. In the case of qdc, "created in China" is more suitable.
Seamless
The transition from shell to the faceplate is seamless, I can't spot any bubbles in the shell and the lacquer polish is as smooth as can be. Customer name initials and serial number are laser-engraved on the inside and are filled up with matching colors to the design.
If you peek into the nozzle, you can count three tubes that are fixated with hardened acrylic. It almost looks as if the bores are prepared externally before being placed into the shell.
Switch
The Gemini has a protruding switch on the lower part of the faceplate. It is the same as seen on CIEMs by Vision Ears or Lime Ears.
Personally, I am not a big fan of the switch on the outside because I fear I might break it off, even though I have not often heard of this happening. At the very least, it keeps me from taking them to bed so I don't accidentally turn my head on the side and break the switch off or scratch my pillow open.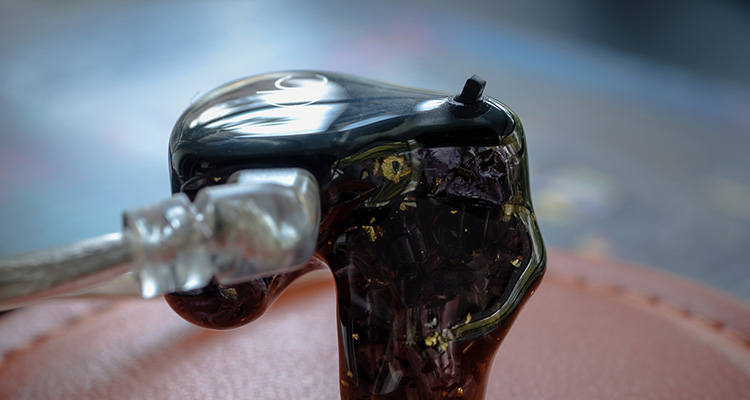 Design
Mica
My design consists of mica faceplates with a silver logo and gold foil in the shells. This would cost $ 120 extra. Custom logos will be charged on top and might need special handling fees. You can create your own design on qdc's homepage.
Browser Alert
Selecting the logo design did not work in Safari v11.0.1 and up to this point the issue hasn't been fixed – I am not sure if Apple or qdc are responsible. Right now, I recommend using another browser if you are serious about the order. Here is the direct link to the online designer tool: http://musicen.qdc.com/custom/1.html
In my particular case, I think the outcome is simply beautiful. The mica faceplate is an absolute looker! It is elegant and humble and the blue-silver shimmer matches perfectly with the silver three-dimensional metal logo. Whenever I look at my Gemini, I see a beautiful female Jazz vocalist softly touching the microphone. This scene is forever captured in my design.
Bokeh
The black translucent shells with real gold foil just add to the atmosphere and you can see the beautiful bokeh they create on photographs. Not even going into the technical and sonic performance, this is a pair I wear proudly and enjoy showing around.
Fit
My Gemini is very comfortable. True, they are my most recent pair, but my weight has been relatively stable over the last ten years. Compared to my Jomo and NF Audio CIEMs, the nozzle is shorter.
They are just a bit longer than my very short rhines CIEMs. This allows very easy insertion and removing, but the fit is also secure enough to create a vacuum between CIEM and eardrum.
Cable
qdc uses a proprietary and protruding 2-pin connection. This also asks for a proprietary cable and qdc does indeed have their own cables. The default cable in silver/transparent is an absolute looker. Y-split and termination are worked into textured metal and the metal has a nice embossed qdc logo. Slider and strain relief are made of transparent rubber.
I noticed that the jack slides in very smoothly in all 3.5mm headphone jacks. In contrast, the Plastics One cable, which is slowly losing its monopoly, feels quite a bit rougher when sticking it into the iEMatch or most 6.35mm adapters.
The wires are silver-coated (SPC) and the cable overall has a very nice rubbery surface that provides better haptic than most. This is definitely one of the better cables on the market.
Upgrades
qdc also offers upgrade cables, but I did not have the chance to test any of them. Many should be interested in the option with a remote and mic for only 88 USD. Alternatively, you can grab the default cable with 8 wires instead of 4 (for 180 instead of 72 USD).
If you need even higher quality, $305 will get you a Teflon silver cable with optional 2.5mm balanced termination. I think it's nice to see that these cable options are offered from qdc directly. Personally, I would go for the 8-wired cable if I get the chance.
If you plan to get aftermarket cables from a different source, please pay attention to the polarity. Signal and ground are reversed when compared to most 2-pin connections.
Click on page 2 below for Sound Impressions & Comparisons