In this feature, we review the PLUSSOUND Quad-Copper, which is an aftermarket limited edition IEM cable using 4 different elements of copper. It is priced at around $700.
Disclaimer: This is a sample sent to us in exchange for our honest opinion. Headfonics is an independent website with no affiliate links. We thank the team at PLUSSOUND for giving us this opportunity.
To read more about PLUSSOUND products that we have previously featured on Headfonics click here.
Note, that this article follows our latest scoring guidelines which you can read up on here.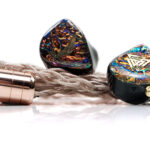 PLUSSOUND Quad-Copper
The PLUSSOUND Quad-Copper crushes the older Tri-Copper in terms of dynamic range producing a more vivid and exciting sound signature for a wide range of monitors.  If your preference is to try and squeeze a bit of additional bass weight and slam or add some pleasing saturation and warmth to a vocal delivery then this cable should be right up your alley.
Pros
Beefy and dynamic bass performance
Comfortable handling
Excellent finishing
Cons
Not for treble lovers.
Because 3 is not enough, PLUSSOUND had to go for four. And so, we welcome the new, albeit very limited run of around 100-125 units, Quad-Copper aftermarket IEM cable to celebrate PLUSSOUND's 11th anniversary.
There will be numerous build options for this limited edition but this particular Quad-copper sample we are reviewing today is part of the company's EXO or 4-wire series which is generally their sweet spot in terms of popularity.
Priced at around $700, it will retail for a little bit higher than the long-running $549.99 Tri-Copper EXO variant. However, you get another blend of copper on top of the original three so not the same taco folded in a different manner.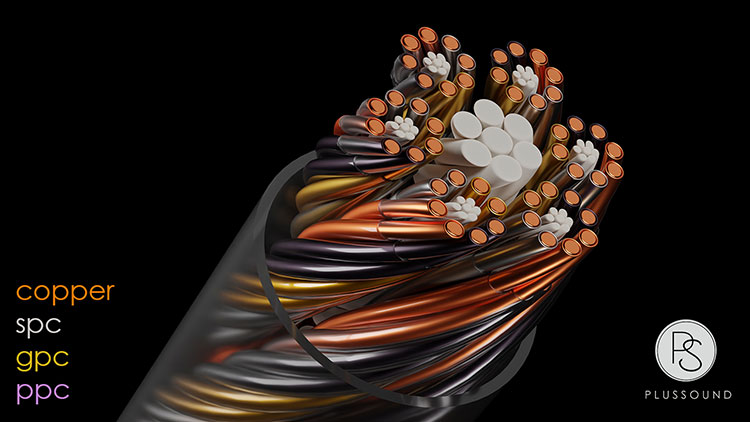 Tech Highlights
Materials & Wire
Quad-Copper is probably one of the most complex mixes of copper I have come across in the aftermarket IEM cable scene in many a year. So much so, PS is only running this in a limited quantity of a few hundred cables at most since acquiring all 4 elements in the same quantity at the same time.
PLUSSOUND starts with the three base Tri-Copper wire materials of UP-OCC copper, silver-plated copper, and gold-plated copper and then adds an additional palladium-plated copper element.
Each element has its own electrical properties with different 'stereotypical' influences on the sound signature, so mixed together it should sound quite unique to any single element on its own.
SPC tends to generally produce a little bit more energy and sparkle in the presentation whereas pure copper is viewed, more often than not, as offering the best body and texture in a cable, particularly on the low end.
Gold is seen as the worst conductor of the three. However, a thin layer of gold can also help attenuate any high-frequency issues. Ideally, this should produce a perceptibly smoother top-end, particularly on lower gauge wiring with higher levels of resistance.
Geometry
The geometry of the Quad-Copper build is an enhancement on the classic 4-wire 26AWG Type 6 Litz typically used by PLUSSOUND for their EXO design.
A type-6 wire is a fairly advanced Litz configuration. The geometry is certainly a lot more complex as it features bundles of type-4 wire twisted around a fiber core whereas Type 1 and 2 wiring has no individual cores.
This time, however, the Quad-Copper geometry has two bundles of every material per main bundle instead of one with proprietary dampening cores in each wire. A dampening element will reduce vibration, regulate consistent conductivity as well as generally produce a better feel when handling the exterior of the Quad-Copper cable.
Generally speaking, Litz is an excellent wire for reducing the level of resistance, especially on lower gauge variants. Their lack of material depth and excellent insulating properties means they do a better job than most in reducing the skin and proximity effect on typical non-Litz wiring.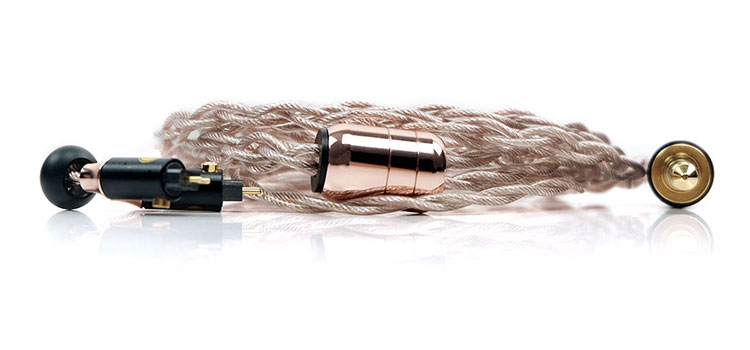 Design
If you have owned or tried the latest Tri-Copper version then the Quad-Copper aesthetic looks almost identical. You can of course chop and change the final look through the myriad of finishing options provided by PLUSSOUND if you want something more unique.
This is more of a rose-gold visual rather than a deeper copper tone and if you do look close enough you can see some of the subtle variable colorings in the mix of wiring under the translucent jacket.
I actually like that rose-gold sheen of the wiring, it's a perfect complement to the matching rose-gold hot-stamped metallic heat shrinks on both the black connector and jack barrel. It's a very harmonious look but also one that will attract a fair degree of attention. This is not an understated color scheme for sure.
The finishing on the Quad-Copper is excellent, one of the best in the business. The Tri-Copper was one of the first PS cables I reviewed back in 2018 so it's really interesting to see how far they have developed their cable designs since then.
For example, instead of insulating wrap we now have metallic heat shrinks and clean design lines on the 2-pin 0.78mm connectors and 4.4mm Pentaconn barrels. We also now have a low-profile dust guard on the top of the previously exposed exit of the splitter barrel.
Today's finishing is far cleaner than yesteryear though I must add that the robustness of the barrels is very impressive with the Quad-Copper using threaded screw fits on the connectors has never failed me to date.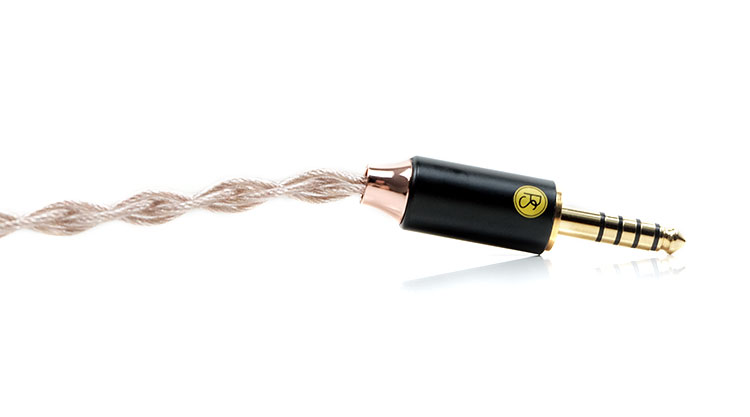 Handling
Because it is a 4-wire cable, the Quad-Copper is a lightweight creation with a tight short-throw braid that keeps the individual cables from becoming loose and unsightly from everyday use.
All credit to the flexible PS insulation (PVC) jacket which means you get minimal resistance, zero tangles or memory retention, and excellent low-microphonic levels. This is a supple material that bends very easily and feels satisfyingly soft in the hand.
Despite not using any memory coating around the connectors and internalizing strain relief you should have no issues with how the cable settles around your ear. The 2-wire per ear beyond the splitter keeps it super light and personally, I barely feel the cable around my ear at the best of times.
For additional fitting comfort, the Quad-Copper comes fitted with a lightweight chin cinch that moves up and down the cable really easily and importantly, stays in place during use.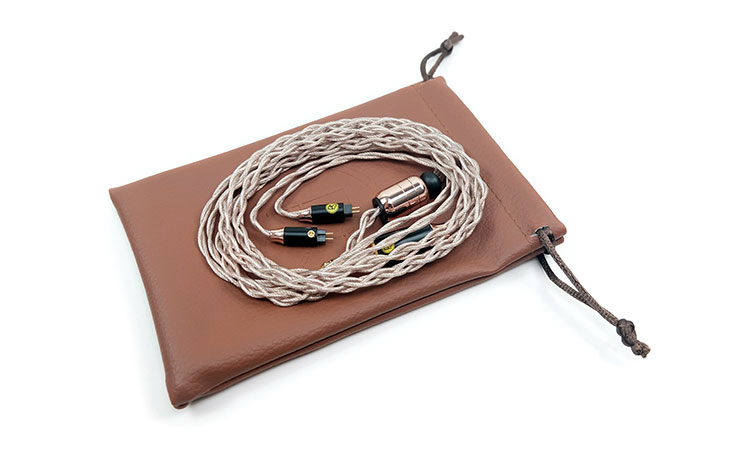 Accessories & Packaging
The Quad-Copper packaging is pretty much essential PLUSSOUND but they have introduced some color changes to their usual packaging.
I wouldn't call it subtle, in fact, I just shouted "Vegas!" as soon as I saw the heady mix of reds, yellow, and rose-gold scattered throughout the otherwise compact black box. If you have been to any of the smaller-scale casinos in Nevada you will understand what I mean by that initial reaction.
Inside you get a retro-tanned, as opposed to the usual black, leather drawstring case embossed with the PS logo, a black silk cleaning cloth, and a matching tanned leather IEM organizer strap.
The Quad-Copper leather case will fit not just the cable but quite a few monitors also. It doesn't protect quite as well as the stiffer round pill cases supplied by the likes of EA but it is more discreet for pocket transport.
Performance Impressions
The following impressions were completed using a mix of Noble Audio's Viking Ragnar, Empire Ear's flagship Odin, Softears RS10, and 64 Audio's tia Trio. Sources included HiBy's RS8, Cayin's N8ii, and the Shanling H7 portable DAC/amp. All IEMs were fitted with their stock tips.
Summary
The Quad-Copper is one of those easy-to-understand cables when paired with most monitors. It produces a colored sound with most IEMs, one that is thick and weighty with a degree of warmth that you might expect from a copper cable.
However, this is not really Tri-Copper 2.0 either. I was expecting more of the same perhaps when comparing them but in actual fact, the Quad-Copper is a big step up from the original multi-copper creation.
The Quad-Copper pairings sound much more dynamic and open than the original with a better level of instrumental separation creating a more holographic presentation in the process.
If you happen to have a monitor that is known for producing decent bass or want a little more robustness in the low end, the Quad-Copper will give you that. If you need a more saturated vocal timbre, something more upfront in the imaging then the Quad-Copper is also ideally suited.
I would say it is still a relatively euphonic tone but less relaxed sounding than I was expecting. It works especially well with low-impedance dynamic driver hybrids such as the tia Trio and even less efficient BA driver IEMs such as the Softears RS10 will sound denser on the low end also.
Compared to the likes of the Copper+ and PLUSSOUND's Tri-Hybrid, Quad-Copper pairings will offer a little less treble sparkle and extension so it might not be ideally suited to dark-sounding monitors.
However, compared to Tri-Copper I felt the Quad-Copper highs with the likes of Odin and Ragnar to be more defined and clearer in their imaging.
Timbre
The PLUSSOUND Quad-Copper delivered a firm and at times dense timbral quality to our tested monitors. It also smoothes out the highs to a degree and adds a sweeter overtone to vocals that typically would be slightly north of neutral in terms of brightness.
I suspect though the initial impression will be on the lows. This is one of PLUSSOUND's most overtly bass-head biased cables, at least when compared to the original Tri-Hybrid and the neutral-colored Tri-Hybrid.
The impact and density of the lows from the likes of the tia Trio and the Viking Ragnar are excellent. Even BA driver models such as the Softears RS10 had a noticeable uplift in their bass presence and weight.
That also means the harmonic balance of most midrange pitching instruments will have a relatively heavy fundamental and an even-harmonic bias which gives it that denser smoother sounding quality for me with our paired IEMs.
Timbral coloration for IEMs with brighter upper midranges such as the Ragnar will deliver a slightly sweeter tone rather than become dull and rounded.
The treble presence will be dialed down a little in comparison to some of PLUSSOUND's higher-end more neutral offerings though for sparky EST driver IEMs this might actually be a bonus.
Staging & Dynamic Range
The dynamic range on this 4-wire cable is excellent and much improved over the Tri-Copper and more or less on par with the 6-wire PLUSSOUND alternatives such as the Tri-Hybrid.
It's also much more spacious sounding than I was expecting with a very black ground with all of our tested monitors though slightly less refined or as holographic when up against the 24AWG Copper+.
With most pairings, the Quad-Copper will emphasize stronger low-end and midrange emphasis with a slightly more relaxed treble performance. It is not noticeably dull on the highs, but rather just pushes them a shade further back in the mix.
For example, the Empire Odin's dynamic driver woofer performance was superbly weighted, deep, and powerful sounding with the Quad-Copper pairing.
Even its typically leaner lower mids tuning had a bit of substance and a better fundamental with this pairing. The treble, however, was noticeably softer with cymbal and high-hat presence slightly diminished in their presence.
Vocals and lower-pitching instruments are much more to the fore compared to the higher-pitching percussion cues but in some cases, such as the Viking Ragnar, this works a treat in keeping any peppiness from its EST highs in check.