The Campfire Audio Honeydew is the company's latest entry-level single 10mm LCP diaphragm dynamic driver universal IEM. It is priced at $249.
Disclaimer: The Campfire Audio Honeydew sent to us is a sample in exchange for our honest opinion in this review. We thank the team at Campfire Audio for giving us this opportunity.
To read more about Campfire Audio products we reviewed on Headfonics click here.
Note, this 2-page review follows our new scoring guidelines for 2020 which you can read up on here.
Campfire Audio Honeydew
The Campfire Audio Honeydew is a fun little offering that, whilst clearly colored for enjoyment over technical prowess, can still offer a more refined tuning compared to some of the competition out there.
This summer, the annual Campfire launch included 4 new IEMs, split into roughly two groups of which one group of 2 was an entry-level refresh.
This included the Honeydew at $249 which we have here now for review and its slightly cheaper sibling, the $199 Satsuma. The other two being their latest mid-ranger choices, the $549 Mammoth and the $649 Holocene.
Both the Honeydew and the Satsuma have been given a very fresh summery vibe in terms of aesthetics. They indirectly fill a gap left by the older Comet and the IO regarding affordable entry-level models in the CA lineup.
With particular reference to the Honeydew, this is also the first time Campfire Audio has launched a dynamic driver model at this price point. The previous being the far more expensive Vega, Atlas, and Vega 2020 monitors.
Tech Highlights
Driver
The Honeydew is a single dynamic driver universal monitor. However, the driver inside is not the same as the one used for the recent Vega 2020 or Dorado 2020 but instead a new custom-built 10mm LCP diaphragm.
LCP stands for liquid crystal polymer and is known for its high rigidity levels which helps to reduce distortion and excess vibrations whilst still retaining a high degree of sensitivity. Because of these properties, this is a popular diaphragm material for both speaker and personal audio drivers, big and small.
3D Printed
Because it's a dynamic driver design the Honeydew is dependent on a good airflow system for optimal performance. To that end, CA has created a 3D printed internal acoustic chamber and airflow system with bass venting for the LCP driver. A technique CA has pulled their previous 3D printing experience on higher-end models such as the Vega 2020.
Specifications
CA has also managed to keep the Honeydew fairly efficient on paper with a 17.44Ω impedance rating, which is about half the Vega 2020 A.D.L.C 10mm dynamic drive load.
However, the SPL of 17.68 mVrms to achieve 94 dB SPL@1kHz is not that far off the higher-end driver which is rated at 19.86 mVrms. That will not be as sensitive as CA's BA driver monitors but given our experience of the VEGA 2020, it should not be too hard to drive. You can read our testing on this in more detail on page 2.
Design
Definitely a summery aesthetic with that official 'mellow yellow' finish. The tone is also on the light side of the official honeydew color palette rather than the traditional yellow to lime end of the spectrum which you will find on the retail packaging.
The dimensions are much smaller than what you are used to seeing from the higher-end CA models. The Honeydew shape is still quintessentially Andromeda or Ara with its quasi-edged corning but there is a hint of the older Lyra styling with its diminutive lightweight form factor and very smooth finish on the exterior.
Because the shells are acrylic that 'edged' look is more form over function. That means in real life whilst it seems a tough and durable build you hardly feel the cornering and should not present any comfort issues when in the ear.
The 2 deviations from the acrylics include CA's classic custom beryllium/copper MMCX connectors and a miniaturized version of their new stainless-steel spout design designed to fit comfortably with just about any ear.
Stock Cable
There has been a slight change now in the stock cable that comes with the Honeydew as well as the new Satsuma. It is still a 1.32m "smokey" SPC Litz 4-wire design but is now called a Smoky Lite edition with some streamlining tweaks.
Side by side with the original Smoky stock cables from the higher-end models I am not seeing much difference in terms of girth or a change in splitter and jack barrels. It still uses the low-profile black aluminum splitter barrel with a matching chin cinch that articulates quite easily and stays in place.
The Honeydew Smoky lite cable also still uses CA's right angle 3.5mm gold-plated 3.5mm TRS jack in a very durable high-density rubber enclosure as well as the gen 2 custom beryllium/copper MMCX round connectors though the barrel coating finish is a shade darker on this one.
Actually, the key change for me is the memory coating which seems a lot more discreet and lighter. On the original Smoky cable, the memory coating is translucent and a lot thicker whereas the new version is a thinner black coating. That does mean it is a little firmer to the touch but the weight reduction is tangible.
As for handling, the microphonics levels are the same as the non-Lite edition as in very low. It is also very lightweight and is relatively memory retention free so you will not get any tangle issues with the Smoky Lite cable.
Comfort & Isolation
The Honeydew is a surprisingly comfortable fit. Perhaps the smaller size combined with the resin used to build up the shells is a big factor here. Not to mention also the smaller stainless-steel spout seems to allow more room for the foams to dig in a bit deeper than the full-size version.
As you can see in our test ear mold which is a small size, the monitor shell actually has plenty of workable space and is not pressing too much at all on the cartilage around the concha basin. The only real touching points are where the cable meets the top and back of the ear and thankfully the cable weight is light enough not to dig in and create any discomfort.
Isolation is very good for a dynamic driver universal IEM. The depth of the spout is just right with the foam tips presenting no comfort issues and doing a good job of giving you a decent seal considering the shell is vented.
You will get the same if not slightly better performance from the included Final E single bore silicone tips. This is a tip option that I am very pleased to find included with the Honeydew even in CA's entry-level monitors.
I am still not a fan of the general silicone single bore tips that tends to also come with most CA releases. They do nothing for my ears in terms of isolation and as a consequence, the performance is very poor with tons of leakage.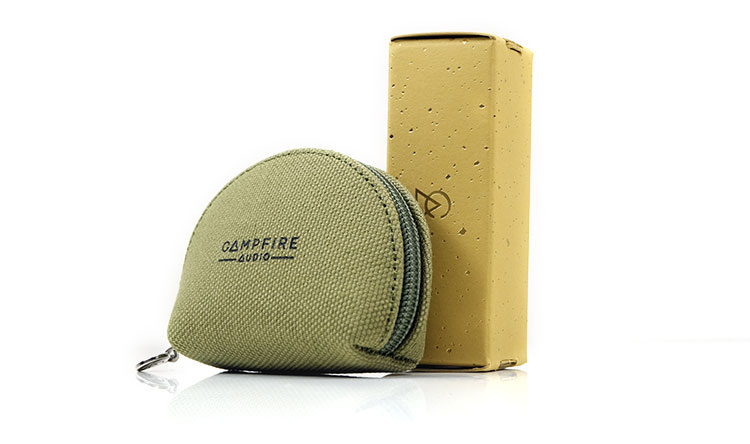 Packaging & Accessories
CA has continued with their themed USA Made "French Paper Company" paper low profile box creations they use for also for their flagship monitors. This time it is more of that classic Honeydew green with shades of that crazy 70s collage and a picture of the IEMs on top.
Inside you get a brand new faux fur-lined Portuguese-made 'Vine Green' zipper carry case and their now standard long rectangular cardboard box of accessories. Aside from the drivers and Smoky Lite cable, the included accessories are as follows:
Final e-tips (xs/s/m/l/xl)
Foam Marshmallow tips S/M/L
Silicone single-bore tips S/M/L
3 x cushioned pockets (for the monitors and foam tips)
Cleaning brush/pick
New Canvas carry case
Campfire Audio pin badge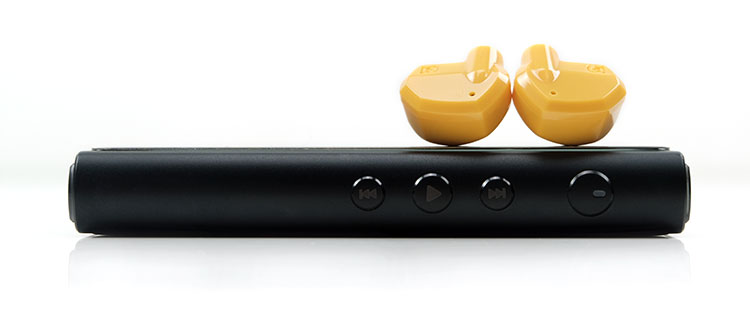 Sound Impressions
Summary
The Honeydew is an out-and-out basshead IEM. However, it is not a true V-shaped sound signature nor is it as polarized in terms of amplitude at either end of the frequency response.
It is indeed sub-bass heavy with plenty of low-end warmth seeping into the mids timbre. And yes, it does have a concerted 2-3k dip as you would expect from V-shaped responses so some vocal performances are not overly forward sounding.
However, the upper mids and treble are where the Honeydew feels different from the regular v-shaped sound signature. It is not as sharp or as forced sounding as some competing monitors that profess to also be v-shaped such as Periodic Audio's Titanium.
Yet it still has plenty of energy and clarity right up to around 8-9k preventing midrange timbre from sounding dull or veiled over. However, it is really important to get the pairing right with the Honeydew.
I loved it with the iBasso DX160 sounding expansive, clear, and with good headroom. However, I cared little for the performance paired with the HiBy R5 and the Cayin N3Pro which produced a lot more bass bloom and dulled the mids and treble.
Frequency Response
The Honeydew curve on the low-end is a long stroll downwards from its peak at 20-50Hz to its lowest point around 2-3k. Power and weight are to the fore with a strong fundamental and upfront lower mids instrumental presence. Guttural growls and softer lower pitching male vocals might play a secondary role if the bass energy gets pushed hard
From there you get a quick rise with a secondary peak around 5k and some primary energy closer to 8-10k for the treble. Clean airy vocal performances perform a lot better so I can see this curve appealing a lot more to R'n'B vocal lovers with that sparse mix than frenetic and complex double kick drum death metal vocal lovers.
Timbre
There is a bias to warmth with the bass response being the most forward on the Honeydew tuning than anywhere else. Lower pitching instruments will deliver a powerful fundamental with plenty of warmth and that distinct dynamic driver timbre. You are going to get a fairly rounded tone on the low-end timbre of the Honeydew.
However, CA tuned the Honeydew treble better than some of the competing single DD driver monitors I compared it with. It has this sweetness about it so whilst you could argue that it is a relatively relaxed presence compared to the aggressiveness of the low-end I would counter by saying it throws in more of a subtle and welcome shimmer.
For example, the Lear Skyline single DD has quite a strong 5-7k peak that brings it higher in amplitude than its bass curve. It does not have quite the same counter-warmth and results in a slightly harder tone to the vocals.
The Periodic Audio Titanium is ever chillier up top with a strong lower-treble and virtually no mid-bass warmth creating a very harsh upper-mids tone. Compared to this, the Honeydew sounds smoother over the same range with that treble shimmer preventing it from sounding veiled and lacking in clarity.
Staging
The staging presentation of the Honeydew will greatly appeal to synthwave and R'N'B lovers like myself. It has plenty of power and depth on the low-end with that classic dynamic driver tuning which will reach low and image north of neutral.
The complexity might not be there though for nuanced midrange articulation. Although the general width of the Honeydew staging is very good, you will be better off with the Satsuma if you want some articulation and detail in the mids or looking for a stronger vocal performance.
Vocals on the whole are neutral to dipped though I do strongly recommend you try it with the iBasso DX160 or neutral sources with good staging ability as it does seem to be source sensitive. Higher pitching vocals that catch the rising 2-4k curve will sound a lot clear and further forward.
The initial perception might be that the Honeydew lacks headroom and with poor pairings, it can sound a bit blunted in favor of the forward low-end. However, with neutral and clean sources and tracks that actually extended quite high, the Honeydew can deliver.
That peak around 8k will deliver a bit of nuanced sparkle making it surprisingly easy to pick up cues such as delicate little crystal synth tones, digital claps, and high octave synth notes.
Click on page 2 below for pairings and select comparisons.