The FiiO K3 is the company's next-gen of their budget series desktop DAC/Amp. That means more features and still a competitive price at $109.99
Disclaimer: The FiiO K3 sent to us is a sample in exchange for our honest opinion. We thank the team at FiiO for giving us this opportunity.
To read more about FiiO products we have reviewed on Headfonics click here.
FiiO K3
FiiO has phased out the E10k with a product we think marks a big leap not only in design but also in hardware architecture. If you are new to home or desktop audio as a headphone or IEM user the K3 could well be a solid or wise choice as a first-time upgrade investment.
Despite setting prices really low, Fiio has always offered great value in the portable audio hobby. The new K3 is a desktop DAC/Amp version of the Q1 MKII and a successor to the extremely popular but older E10k. The K3 is not simply a minor rework. It packs in plenty of features as well as a huge facelift from the E10k's design.
The original product code "E30" (later amended to K3) when the first leaks come out laid out FiiO's ambition to make a clear step-up from the E10k. Throwing in a fancy industrial design and precise ADC volume control not to mention some serious chipsets, the K3 feels a much more mature engineering effort.
Accessories & Packaging
The whole packaging including the DAC Amp is very light, slightly below 100g. The very compact unit also comes with a single USB-C cable and 4 rubber leg stickers. You will have to manually apply the rubber legs, however, this is very easy, and there is even one spare pair if you make a mess of it.
Why should I upgrade?
E10k was one of the most popular upgrade options for a new hobbyist but there are many reasons for you to get yourself a K3 even if you are a happy E10k user or if you are in the hobby but don't own something similar.
New Features now include:
A new type-c connection from E10k's micro port
A brand new UAC 2.0 connection
Fine digital volume control
2.5 balanced output
Upgraded COAX capability up to DSD64
XMOS USB solution,
AKM DAC instead of TI
30% higher output power
1.9Vrms(0.6 higher) lineout output
DSD 256
Much higher SNR >113dB
A lower THD
It is a delight to see what is packed into the K3 feature-wise. The specifications look great and there are plenty of connection possibilities.
Design
The look is a few tiers up from the E10k. Visually this is a great overhaul over the original in nearly every aspect.
I am a fan of round casings such as Maudio's designs. The K3 looks like a cuter version to some Maudio's pro audio interfaces and the matte grey-black finishing makes it looks sleek and very industrial. There are no cutting marks on the edges, this is very well engineered. However, it would be the icing on the cake if Fiio would consider using more discreet screws on the panels.
K3's layout
There is a lot to toggle and on the front panel you will see:
BASS BOOST on/ off,
GAIN knob low/high
2.5mm balanced socket
3.5mm socket
Volume control knob
On the rear panel:
3.5mm Line-out
USB 1.0/2.0 selection button
1. USB AUDIO 1.0 does not require a driver and support up to 96k/24bit.
2. USB AUDIO 2.0 – lastest DAC Driver v4.47.0 supports up to 384k/32bit and DSD256
USB C socket
COAX out – supporting up to 192k/24bit and DSD64 DOP
OPT out – support up to 96k/24bit.
You can download the latest driver at FiiO's website and read their Q&A on how to install on your PC or MAC here.
Lineout
Disconnect your earphones when using lineout as because both the lineout and headphone output are shared meaning you can easily damage your hearing if you use IEMs when switching to the line-out. I am not testing this but be warned!
I tested the lineout on my portable amps and the output is quite powerful and clean. There aren't any 3.5-3.5 interconnects included in the packaging so if you are looking for a DAC line-out to your portable or full-size amplifier remember to order interconnects as well.
Output Jacks
When both the 2.5mm balanced and 3.5mm jack is connected, only the balanced output will output sound. K3's coaxial and optical can output simultaneously with the headphone output and is not subject to the volume control.
Sampling & LED Lights
K3 packs in some cool lighting around the volume knob. Powering it on you will see blue lights and if the music source is below 48kHz sampling will still get you the same blue lightings. The K3 will switch to yellow for 48kHz and green for DSD playback.
If you see a red light that means there are some driver problems. Check the driver status, reinstall if needed and reconnect the unit. OR quickly switch to the USB 1.0 connection which will enable plug and play on Windows for signals below 48hz.
On a Mac system, no driver is needed so you can unpack and enjoy right away and on public machines. If you use Windows 10 Creator Edition and above you should also be able to plug and play.
Functionality
K3 can operate on its own as a headphone amplifier for your 3.5mm and 2.5mm terminated earphones and portable headphones. You could hook it up to a more powerful headphone amp with the lineout connection as aforementioned. Remember to disconnect your earphones before connecting to the lineout as that will disable volume control and may potentially fry your earphones.
Bass & Gain
If you demand more bass or need to compensate for ambient noise you could switch on the K3 bass boost which will shape the low-end spectrum a much more distinct elevation and emphasis. The higher gain toggle, when switched on, would benefit dynamic IEMs or anything with lower sensitivity.
The other ports onboard suggest this could be a soundcard for your studio speakers (with coaxial input) or for recording songs into MD/recorders via optical connection. There are many possibilities as long as you can think of but remember the K3 doesn't control the volume when it is outputting via the coaxial or optical output.
DAC
K3 is capable of decoding up to 384kHz/32 bit PCM and native DSD256, easily reaching the highest standard in the category. The K3 carries a set of dual crystal oscillators to enhance digital signal processing. The DAC chipset inside is an AKM AK4452 with 8-channels of AKM's VELVET SOUND architecture implemented using fully differential outputs for a true balanced output.
Amping
The amping stage consists of LPF/voltage amplification and a current drive circuit. FiiO chose an OPA926 for its high output swing along with TI OPA1612 as the LPF. You will notice the output swing is greater than E10k and this will definitely benefit the line-out output and cleanliness/ power in the system.
Impedance & Dynamic Range
The output impedance on K3 is <1.04ohm which will play fine with low-impedance gear. One highlight from the specs is the high SNR packed in this USB powered DAC, reaching >113 dB (A-weighted). This is similar to the capability of some higher-end DACs at higher price tier while being a battery-powered device. The K3 works well with CIEMs/ IEMs outputting with a quiet background and you can hear good extension in the bass and upper treble.
Sound Impressions
Tonality & Presentation
It is easy to perceive the difference in power and the better resolution on the K3 over the E10k given the blacker background while still pumping out more power than before. There is more control than the E10k, a more refined treble and openness especially on the balanced connection when compared to the older model.
For most IEMs 2 o'clock level volume would already be too loud. Using the 3.5mm output the tuning aims at bringing out the vocal details matching with "thick" sounding iems nicely. However, the vocals will have a lighter presence if your IEM is thin sounding from the beginning. You can imagine it makes voices like Chris Martins from Coldplay sound more pronounced and darker denser vocal pitches sound lighter. This will give entry-mid level earphones a good boost as most tend to feature a more bassy output.
If you are using a balanced terminated earphone you will definitely hear the cleaner background and quality. The bass is noticeably tighter on the balanced connection and the whole output is more resolving with gear that is not too demanding, to begin with.
The E11c is a 10mm dynamic driver IEM with 42Ω impedance. Paired with the K3, the E11c leans to the bassy side, slightly laid-back mids with a V-shaped signature that would work for more relaxing, slower paced music but could be slow and slightly muddy for fast pop music. It makes me believe the K3 is built for lower impedance BA IEMs, also prioritizing the balanced connection.
This combo clearly has more synergy together and the vocal is more prominent. The K3 pairs much better with sensitive IEMs and with the KOEL you should swap to a balanced MMCX cable.
By switching to the balanced mode you will immediately hear a cleaner background and better extension in the lower spectrum and higher spectrum. There is also more "air" and resolution with the balanced connection. I would recommend sticking with the balanced output when paired with the KOEL.
Bass Boost
The spectrum covering the key parts of vocal and bass will be boosted by 6db when you switch the bass boost on. It is a very noticeable effect and great for some youtube videos that are bright, also to pair with bass-light headphones. It is a useful function when you want to hear clearer some instruments such as the bass guitar.
Gain Control
Grabbing a pair of Meze 99 sitting nearby to test, the vocal and treble are more solid with higher gain switched on. On the other hand, background noise is still low. Definitely try switching to higher gain when pairing to dynamic driver IEMs. The extra amplification factor will offer slightly better dynamic range and more headroom in the presentation.
ADC Digital Volume control
With the ADC volume control, you will not have imbalance issues even when using the high gain option. This is a very practical implementation that is worth mentioning and will benefit users of many sensitive IEMs. There is no imbalance problem with the K3 from low volume even with very sensitive iems such as the Campfire Audio Andromeda and Shure's SE846.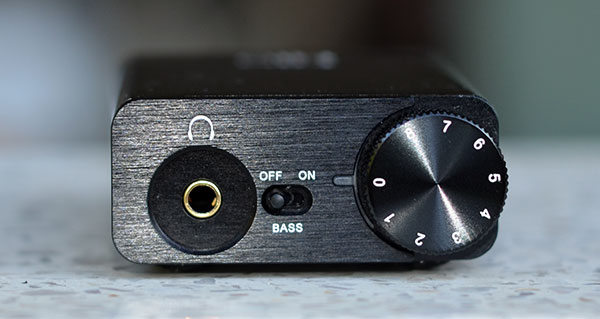 Select Comparisons
$75.99
We couldn't avoid putting together the K3 with its older brother E10k.
It is not about that 1db more in the bass boost (which most human probably cannot hear) but the audible enhancement in sound and build quality that makes K3 a winner.
It is a much more mature product with more precise volume control, better outputs power, and a new balanced output option. You will hear cleaner vocal lines, enjoy higher resolution files and get higher quality music pumped out. Give the older model to your friends new to the hobby and grab the K3 if you are looking for a nicer small DAC Amp on your desk!
Our Verdict
FiiO has phased out the E10k with a product we think marks a big leap not only in design but also in hardware architecture. If you are new to home or desktop audio as a headphone or IEM user the K3 could well be a solid or wise choice as a first-time upgrade investment.
Play around with different connections and experiment with decoding different file formats. I'm sure at the price given K3 offers more than what you expected!
FiiO K3 Technical Specifications
Model Name
K3
Color
Black
Weight
82g
Dimensions
70×58×22mm
Volume Knob
ADC
Audio Input
Type-C USB
USB Audio
USB 1.0 / USB 2.0
Chip
XMOS XUF208
USB Driver
ASIO/KS/DS/WASAPI/DSD DOP(Native)
DAC
AKM AK4452
Driver OP AMP
OPA926×2
LPF OP AMP
TI OPA1612
Gain Boost
L/H
Bass Boost
0/+6dB
Headphone Out 1
3.5mm single-ended output
Headphone Out 2
2.5mm TRRS balanced output
Line Out
3.5mm
Coaxial Out
RCA for 192kHz, support DSD64 DOP
Optical Out
Up to 96kHz
DriveAbility
16-150 Ω
Output Power 1
(3.5mm headphone output)
220mW(16Ω); 120mW(32Ω)
Output Power 2
(2.5mm headphone output)
320mW(16Ω); 200mW(32Ω)
Power Input
Recommend DC5V 500mA
Battery Capacity
N/A
THD+N
≤0.004%
Output Impedance
<1.04 Ω
Frequency Response
20 Hz~80 kHz
SNR
>113 dB (A-weighted)
Line Level
1.9Vrms
Crosstalk
≥70 dB (1 kHz)
MAX Output Voltage
7.39 Vp-p
MAX Output Current
81.6 mA