Synergy
Power
Alita is really a prime headphone system. The 1.5W balanced and 750mW unbalanced are entirely suited to more moderate planar demands from the likes of Hifiman's Ananda, Empyrean, or Audeze's LCD-X.
Synergy is going to be more of a factor with these headphones and here I would recommend going with something neutral where you want to tease out a meatier response or a headphone that you might want to tame down the treble heat. The Ananda is one such 'warm to neutral' headphone that benefited from Alita's dense and firm signature, particularly on the low-end.
The LCD-X is a classic example that sometimes sounds a bit edgy for me on the top-end with clean amps. I tend to not use it as much because that treble sticks in my mind, perhaps unfairly so. The smoother and warmer Alita is a lovely pairing with excellent dynamic range, a wetter treble, and a beefy bass response. It makes the LCD-X a joy to use once again.
I was half expecting the Empyrean pairing to sound too dark or veiled because both do not aim for treble brilliance. And true enough, there is not a huge amount of upper treble air with this pairing so this won't appeal to those looking for more sparkle.
On the flip side, it was clear sounding and I never felt the pairing to sound congested. Dense and intimate yes, but with solid imaging and excellent resolution. The low-end was satisfyingly firm and responsive also.
Demanding Headphones
I would shy away from the likes of Hifiman's HE6SE or the 200Ω version of Audeze LCD-4 which are more comfortable with higher output ratings, (2-3W or higher). You might find a bit of clipping or a lack of dynamic range with these two.
The LCD-4 has reasonable current control, but the power is a bit lacking leaving the staging sounding a bit compressed and not as separated as I would like. For those two headphones I would prefer the more powerful DAC-10H for amplification.
The new Hedd Audio Headphones was a reasonably good performer on the Alita but you do need to go balanced to maximize dynamic range and instrumental separation. It has vast amounts of bass extension also so the enhanced density from the Alita PO amplification stage is going to put that front and center with the Heddphones pairing.
Efficiency
For the more sensitive and medium efficiency IEMs, the noise floor on the Alita might be too high. It is pervasive on the likes of Andromeda, Solaris, and unworkable for the Empire Ears Zeus. However, this might be on the extreme side.
For medium efficiency monitors and a smattering of more demanding electrostatic hybrid options, the results were more promising.
The Empire Ears Odin, Noble Audio Zephyr, and the UM MEST all had lower levels of background hiss. So long as you are not playing chamber style music with very quiet passages, i.e. rock and pop, they will give you about 10-15dB of workable current or up to 25 steps from mute.
The channel balancing for all IEMs, hiss or not, was surprisingly good. I got zero channel bias which I am putting down that FPGA implemented switched-resistor ladder network NuPrime have used for the Alita volume control.
IEM Synergy
Once you worked your way down to about 105dB SPL from the Vision Ears Elysium and the 180Ω 105dB SPL OBravo Ra C-Cu the noise dissipates completely with both delivering black backgrounds. Volume control was good and channel balancing excellent.
I did, however, prefer the synergy of the Alita/Ra pairing over the Elysium. The Elysium treble sounded too relaxed with dynamic driver mids perhaps too dense sounding. It actually came across a little too dark.
The OBravo Ra C-Cu also felt a little darker but quite acceptable with a fairly smooth treble and excellent dynamic range. Balanced with the OBravo is superior with a punchier low-end and a bit more separation. The best synergy, however, was the UM MEST. Despite the higher noise floor, the tone was beefy, open, and very dynamic sounding once the music started to roll.
Select Comparison
NuPrime CDP-9
€1695
Although its primary pitch is a CD player it also operates as a DAC and offers an amplification stage, both pre-out and headphones out. I suspect the higher price of the CDP-9 is in part due to the CD player feature which the Alita does not have. The latter DAC and headphones are what we will focus on here.
Technical
The CDP-9 actually comes equipped with a strong DAC, a single ES9028PRO with up to DSD125 native and PCM 32BIT/768kHZ decoding capability. That does compare favorably with Alita's AK4493EQ and its DSD256 and PCM 32BIT/384kHz USB decoding levels. The Alita can do 32BIT/768kHz but via I²S only.
Another win is the CDP-9's excellent user-controlled upsampling capability which gives you a bit more flexibility and interaction with the DAC on the CDP-9 compared to the Alita's fixed output.
However, Alita's power supply and implementation seem to be superior. The CDP-9 uses an external switching power supply which most would avoid in preference to the Alita's quieter ultra-low-noise JFETS. It also has independent left and right power supplies that come from a multi-rail toroidal transformer coupled to a linear power supply. A beefier setup for sure.
On the amplification stage, both have a 99 step, (0.5dB increments), resistor-based volume control pre-amp with balanced and unbalanced outputs at 2V and 4V per channel.
However, it is really the headphone output stage that the Alita destroys the CDP-9 with up to 750mW per channel unbalanced and 1.5W balanced into a 32Ω. The CDP-9 only offers a 3.5mm unbalanced output with a 150mW @1 kHz into a 32Ω load rating.
The best you can hope for with the CDP-9 is some really easy to drive headphones or IEMs due to a less hiss whereas the Alita will drive all but the most demanding of headphones.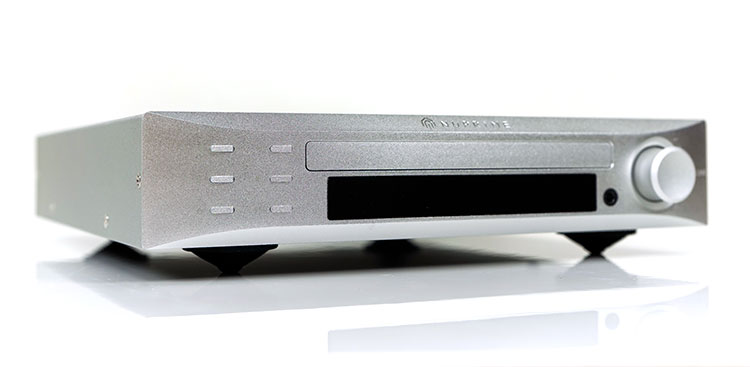 Design
Both are really one and the same with regards to chassis form factor and that's a good thing because if you are considering stacking them they look perfect on top of each other. There is a minor color difference with the CDP-9 in champagne or black compared to the gunmetal grey of the Alita.
The key differences are as follows: the CD tray at the front of the CDP-9, physical buttons as opposed to selector dial on the CDP-9, the more legible LCD panel on the CDP-9, the inclusion of a 6.35mm and 4.4mm PO on the Alita, and the lack of AES/EBU at the back of the Alita.
The remote controls also differ with the CDP-9 using a sturdier metal finish and the Alita using a cheaper but lighter plastic option. You get more controls on the CDP-9 but you would expect that given its wider range of digital features and CD player.
Commonalities shared include the pre-amp volume control dial and duals as a multifunction button on the front, the extension port to the rear for additions such as the Omnia WR-1 streamer as well as USB, coaxial, optical inputs. Both also have RCA and 3-pin XLR analog outputs.
One final difference is really a mutual connection, the additional I²S output on the rear of the CDP-9 can be used to connect to the I²S input on the Alita allowing you to use the CDP-9 as a CD transport and pure upsampler.
Performance
No question the dynamic range and available headroom on the Alita headphone output are superior to the 3.5mm output option from the CDP-9. We are talking unbalanced here, never mind balanced which is on another level altogether.
Even with a moderately easy to drive Hifiman Ananda, you could tell right away which has the more powerful PO. Some of this might also be the inherent timbral differences because it is quite obvious the CDP-9 is neutral to slightly bright up top with a very flat and clean bass response.
By contrast, the Alita is much richer and denser sounding from the low-end up with bags more underlying power. It has a very satisfying weighted instrumental note response which in turn affects the soundstage markedly with much better depth compared to the CDP-9.
On the flip side, the Alita tapers off a little more towards the upper mids and treble. Vocals are velvety and rounded with a broader textural tone. Chest and mixed vocals in particular sound authoritative.
Vocals also seem a little further forward on the CDP-9 but edgier. They have that clean drier tone with more contrast and less body, less to get your teeth into even if they are perceived as being a shade more intimate sounding.
Overall, the Alita sounds deeper, smoother, more relaxed but with less sparkle compared to the CDP-9's peppy but detailed treble performance.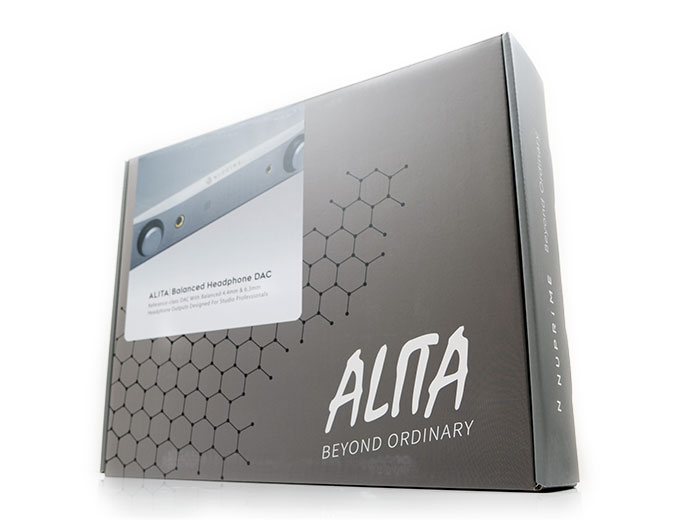 Our Verdict
The Alita is clearly going to appeal to those on the older DAC-9/HPA-9 double stack guys who are looking to remain that smooth warm tone for something a bit more resolving and expansive sounding. It merges and upgrades both into a form factor that is almost the same size and dimension.
It also delivers a very contrasting sound to their older but more powerful DAC-10H Sabre DAC/amp combo and actually for CDP-9 fans, do not ditch that in favor of this.
First, it is such a different sound signature you have to be really wanting to move from neutral to rich and smooth. And second, I²S connectivity on both means you can stack and use the CDP-9 as an upsampling CD transport which would be the best of both worlds.
Caveats? I miss a gain stage to a certain extent and the power specifications are neither here nor there for 'spec peepers'. The power is fine for modern planars but the more demanding types might want 1-2W more on tap akin to the DAC-10H output rating.
Aside from that, the Alita sits well in what is proving to be a very popular 'all-in-one' market space for audiophiles who want excellent sound but also want to avoid time-consuming individual component stacking.
NuPrime Alita Specifications
Inputs

1 x USB PCM/DSD Digital (PCM up to 384kHz & DSD up to DSD256)
1 x Coaxial Digital S/PDIF (PCM up to 768KHz supporting DoP format DSD256)
1 x Optical Digital S/PDIF (PCM up to 192KHz supporting DoP format DSD64)
1 x Bluetooth or WiFi receiver module (optional)
1 x IIS/DSD HDMI connector (PCM 768KHz/32Bit and DSD 256 data streams)
1 x Analog Stereo RCA

Outputs:

1 x 6.3mm headphone out (Stereo):

Output power: 1500 mW, 32 ohms, <0.01% THD (R+L channel)
Output power: 115 mW, 600 ohms, <0.005% THD (R+L channel)

1 x MMCX 4.4mm "Pentaconn" balanced headphone out (Mono Mono):

Output power: 1500 mW, 32 ohms, <0.01% THD (R channel)
Output power: 115 mW, 600 ohms, <0.005% THD (R channel)
Output power: 1500 mW, 32 ohms, <0.01% THD (L channel)
Output power: 115 mW, 600 ohms, <0.005% THD (L channel)

1 pair of stereo RCA out 4Vrms
1 x pair of stereo XLR balanced out: 8 Vrms
1 x Optical S/DPIF out (PCM up to 192KHz supporting DoP format DSD64)

Frequency response: 20 Hz – 20 kHz / ±0.3 dB
SNR: > 110 dB
THD+N: < 0.0005%
Dimensions: 235 mm W x 281 mm D x 55 mm H (including feet)
Weight: 2.5Kg
Worldwide AC voltage: (90VAC~130VAC // 210VAC~ 250VAC) with voltage select switch
AC Fuse: Slow-blow, 2.5A, 250VA