The Noble Audio Zephyr is a brand new triple driver hybrid monitor in universal, Prestige, and custom-design finishing. It is priced from $1450.
Disclaimer: The Noble Audio Zephyr sent to us is a sample in exchange for our honest opinion. We thank the team at Noble Audio for giving us this opportunity.
To read more about Noble Audio products we reviewed on Headfonics click here.
Note, this review follows our new scoring guidelines for 2020 which you can read up on here.
The Zephyr sounds incredibly balanced and engaging, with just the right amount of low-end weight and a good vocal presence to give itself plenty of flexibility for a wide range of genres.
It was June 2020 when we featured and reviewed Noble Audio's excellent flagship monitor, the Sultan. However, since May, I had something else from Noble beside me that turned out to be the Zephyr just launched on September 4th, 2020.
Yup, that is quite a few months and the reason for that is a bit of a long story, too long for this review. Let us just say a fortuitous observation for both myself and Noble led to it landing on my desk back then.
However, the details behind it, understandably, were only sent to me a short while ago such as pricing per format, design details, and importantly, the configuration.
The Zephyr sits somewhere above the traditional Classic range for now at $1450 for the universal format which is not out yet. You can also get it in a custom version starting from $1650. The version we have here is the very unique prestige universal at $2300.
Features
The Zephyr is a very different beast to the likes of the Tux 5 or the Khan with 3 drivers as opposed to 5 or 6. In theory, you could class this as the next step up from the original Savant approach by focusing on the tuning and technical capability rather than the driver count or the latest e-stats fusion approach which the Sultan flagship owns right now.
As always with Noble Audio, tech specs are thin on the ground and they do that on purpose. However, what we do know is that the Zephyr uses a new single 10mm dynamic driver which Noble describes as a "top shelf" pick and two proprietary BA drivers, one of which is from Knowles.
The precise configuration is not declared but given it uses a 3-way system, (triple-bore), we can assume the dynamic driver for the low-end, and a BA each for the mids and the highs.
The sensitivity and impedance ratings are not declared either but from our testing, we found it less sensitive than the recently reviewed Vision Ears EVE20 which is rated at 25Ω and 120.5dB SPL. You can read more about our comparison work on the Zephyr's efficiency on page 2 of this review.
Design
This is my first time handling a prestige version of a Noble Audio monitor and I can see why it is the 'money shot'. I have had a wood material monitor before with JH Audio Lay's Signature Edition but this is the first universal I have reviewed in wood and it is gorgeous looking.
Materials
The Zephyr does have multiple Prestige finishes, however, so you do have more than one choice. This one is a maple burl with a resin finish and gives off a beautiful warm vibe with a mix of grained tan and wine tones.
The construction two-fold with the first stage consisting of stabilizing the maple with the resin and carving out the vacuum chamber. The coloration is then added after and poured into a mold with the wood and finished in a pressure chamber.
The final molds are then CNC finished and ready for the drivers and crossover fitting in the second stage. Once complete the matching Wizard engraved shells are added and then the entire housing is lacquered for that finished shiny look.
These are all handmade and unique meaning each Zephyr has its own distinct grain and color pattern so when you buy it you are getting one of a kind.
Form Factor
The Zephyr does have that distinct Noble Audio form factor that has been more and more of a factor these last few years. It is not a small monitor and the wood does add some weight so it feels more substantial than non-Prestige Noble Audio monitors, even though it has fewer drivers.
It also has a fairly long nozzle which I tend to prefer on my IEMs. That means a deeper canal penetration and closer to that all-important second bend in your ear canal. It also means tips do play a significant final role in comfort, isolation, and performance.
Comfort & Isolation
Due to the long nozzle and contoured quasi-custom universal design, the Zephyr is very comfortable in the ear. That being said the main body is more out than in with the nozzle doing most of the stabilizing work in the canal, especially with the foam tips.
The stock silicone tips will bring the housing close to your concha basin and you will feel the housing presence a bit more in your ear but it is still quite comfortable.
Because it is a hybrid design there is a fairly prominent bass vent port just to the side of the housing's 2-pin socket. However, the isolation is quite good, better than I expected for a vented hybrid universal with used with the foam tips.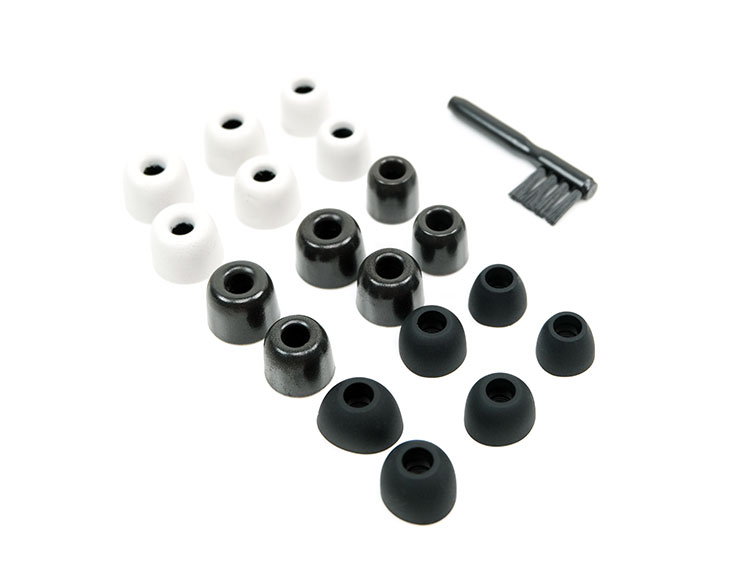 Tips
Noble always supply a healthy line-up of tips and the selection is pretty much the same as the Sultan and Tux 5 with 2 sets of foam in small medium and large and one set of single bore silicon in the same sizes. They do have some strengths and weaknesses for isolation and comfort.
The foam tips isolate the best but do apply a fair amount of pressure inside your ear canal to get that level of isolation. I would probably pick the medium tips as the best compromise between comfort and isolation.
With the stock silicone tips, you do lose a lot of isolation, and, combined with the bass vent, you do become aware of a lot more background noise. They are, however, very comfy to use. I would only use the silicone tips if you like the sound signature and sitting in a quiet area.
If you are tip rolling I highly recommend the Final E tips. They isolate just as good if not better than the stock foam tips and also apply less internal pressure so they do feel very comfy.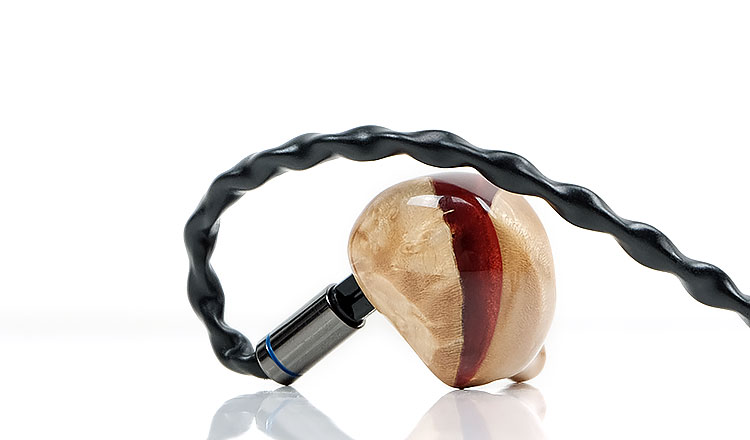 Stock Cable
The Zephyr uses the same cable as Sultan which is a nice bonus for this price point. This is a 1.2m 8-core OCC wire in what seems to be an FEP or PVC jacket. Gone is the two-tone tuxedo style jacket color scheme of the Khan replaced instead by a familiar and very solid all-black finish.
I am presuming this is a 26AWG gauge wire as it is not too wieldy or too stiff either. More than the wire, the finishing in terms of barrels and splitters is really eye-catching.
The 2-pin connectors are encased with a gunmetal grey aluminum barrel that nicely matches a similar thin but long splitter barrel. The chin cinch is a really tasty aluminum pill form factor and slides up and down with minimal resistance. It is also steady enough also not to slide down accidentally.
Handling
This is a supple cable with next to no memory retention throughout. The only caveat is the huge heat shrink insulator at the connectors which adds some girth to the overall size but as with the Sultan experience, they are surprisingly soft and comfortable around the ears. There is no real pressure during use so a minor complaint at best and the microphonics are nice and low also.
Options
You can buy this cable separately in 3.5mm TRS unbalanced or for an additional $20 a 2.5mm TRRS or balanced at the checkout. They have also released a USB-C and lightning terminated version for $250 each. This one is the 2.5mm version that sells for $219 which I prefer due to its wider flexibility with good quality 4.4mm and 3.5mm adaptors.
Accessories & Packaging
This sample did not come with the full packaging but it is actually the same as the new Sultan upgraded packaging which is pretty good value. Noble's retail boxes have gotten slowly more grandiose these last few years and the Zephyr (Sultan boxes) are no different.
The outer retail packaging is a fairly simple box with a graphic of the Zephyr on the front. Its reasonably large for an IEM box but that is more due to the sizeable and very robust Nanuk 903 weather-sealed storage case inside.
QR codes
One thing that you will find interesting is the inclusion of a small QR scannable square on every new Zephyr box. This came out of the feedback from dealers that customers would like to see the IEM on display without opening the sealed packages.
These boxes are tricky to do so what Noble came up with is a QR code on every box which, when scanned, will link you to a picture of the actual Zephyr that is inside the retail box. Noble believe this is a retail first and the idea seems pretty cool.
Accessories
The new Nanuk 903 case is so much better than the older Pelican cases that used to come with Noble high-end monitors. I do not think they have totally done away with the Pelican cases but if you are shopping for the Zephyr et al, the Nanuk is a definite upgrade.
This is like a mini Audeze travel case and something I am hugely in favor of for an IEM at this price point. Granted, a Nanuk 903 is not that expensive at a retail price of around $30 but it is tough as hell and I have a few of them at home I use for storage so I can testify to that.
Inside the foam has been cut and shaped to make room for a small pocketable branded black leather case and the IEMs. Inside the case, you will also find the accessories which include the following:
Narrow bore off-white foam tip in small, medium, and large
Wide bore black foam tips in small, medium, and large
Black single bore silicone tips in small, medium, and large
1 cleaning brush
stickers, warranty card
1 velvet pouch
2 branded rubber bands
Click on page 2 below for sound impressions and comparisons