The Noble Audio Sultan is their new tri-brid universal flagship universal monitor consisting of dual-electrostatic, quad BA, and a 10mm dynamic driver. It is priced at $2900.
Disclaimer: The Noble Audio Sultan sent to us is a sample in exchange for our honest opinion. We thank the team at Noble Audio for giving us this opportunity.
To read more about Noble Audio products we reviewed on Headfonics click here.
Note, this review follows our new scoring guidelines for 2020 which you can read up on here.
Should you wish to skip straight to sound impressions and comparisons you can click on page 2.
Noble Audio Sultan
I honestly cannot pick any holes in the Sultan's performance, at least from a personal perspective. It is a vivid and exciting blend of different driver timbres that tease out some excellent power, clarity, and above-average headroom. If you are sitting on the Savant II wondering where to go to next then this is it.
With the launch of the Sultan, Noble Audio has a new flagship universal monitor on offer as well as a more aggressive dip into the electrostatic hybrid monitor market.
Last year's Top Gear Award winner Khan and its piezoelectric driver has now been replaced by a dual Sonion electrostatic configuration. With this switch, Noble are going head to head with e-stat hybrid TOTL offerings from their major competitors.
Not only that, but the Sultan also has a brand new design that skillfully mixes elements of the Wizard aesthetic with the classic aluminum top universal vibe going back these last few years. Yes, the price also has a redesign at $2900 compared to the Khan's $2399 so this is rarefied air territory.
However, given the current TOTL IEM market prices these days it is in good company.
Tech Inside
Although the Sultan still a 'tri-brid' like the Khan this is most ambitious in terms of configuration. This is a 7 driver with 3 different types of drivers as opposed to 6 in the Khan. The key difference is the change from a single piezoelectric driver for the highs to a gen 1 Sonion dual electrostatic driver and transformer combo.
The remaining configuration is actually unchanged from the Khan with a single proprietary 10mm dynamic driver for the lows and 4 BA drivers for the mids. Noble tend to keep their technical cards close to their chest so I cannot tell you if they are the exact same drivers but I would suspect there to be some overlap.
To what extent the dual electronics drivers are covering the entire treble reproduction is also unknown in terms of crossover. Typically, Gen 1 dual covers the ultra-highs down to around 8k with the BA drivers covering the mids to the lower treble.
One final note is the <35Ω rating for the Sultan. I normally assume Noble has their IEM design impedance set to around 30Ω anyway, for example, the Noble Audio X Massdrop was the only other listed impedance Noble creation and it was 30Ω. This is the first time they have actually stated a rough impedance spec for one of their creations.
Design
The design of the Sultan is beautiful no two ways about it. It is not revolutionary, however. This is more of an evolution of the older universal unibody aesthetic with the more custom universal shaping and unique faceplates of the Wizard creations.
Slightly different versions of this design have rolled out previously with the Kaiser Encore and to some extent, the Katana but neither are quite as striking visually.
The Sultan is long rather than an overly large monitor consisting of three parts, main shell, faceplate holder, and faceplate. The faceplate is adorned with a stunning hand-finished aura or Galaxy swirl type amber facade. Now I believe these are not one-off creations but they are hand-polished, lacquered, and hand-matched so each Sultan will still have a fairly distinctive and unique look.
Noble has also ditched the unibody acrylic main shell which they still use for the Wizard and Classic designs. This is an external ribbed 2-piece uniform aesthetic taken from the Kaiser Encore and Katana. The shells are cut from a single aluminum block and given a more distinctive shape than the aforementioned monitors. It is then finished in anodized two-tone silver and charcoal colors.
Whilst not as aggressive as a traditional acrylic custom universal contour, it does have a shapelier finish than the older creations so it stands out a bit more.
Stock Cable
Noble had a nice little cable upgrade with the Tux 5 late last year and the Sultan uses the same cable with some cosmetic tweaks. This is a 1.2m 8-core OCC wire in what seems to be an FEP or PVC jacket. Gone is the two-tone tuxedo style jacket color scheme and in comes a solid all-black finish for the Sultan version.
I am presuming a 26AWG gauge of wire here as it is no too wieldy or too stiff either. More than the wire, the finishing in terms of barrels and splitters is really good also.
The 2-pin connectors are encased with a gunmetal grey aluminum barrel that nicely matches a similar thin but long splitter barrel. The chin cinch is a really tasty aluminum pill form factor and slides up and down with minimal resistance. It is also steady enough also not to slide down accidentally.
This is a super supple cable with non-existent memory retention throughout. The only caveat is the huge heat shrink insulator at the connectors which is not a classic memory wire but does provide some shape. The wrap is a little on the long and on the bulky side but fit-wise it is not that hard to work with. There is no real pressure on my ears so a minor complaint at best and the microphonics are nice and low.
You can buy this cable separately in 3.5mm TRS unbalanced or for an additional $20 2.5mm TRRS or balanced at the checkout. They have also released a USB-C and lightning terminated version for $250 each. This one is the 3.5mm version that sells for $199 here.
Comfort & Isolation
The Sultan has a fairly long or elongated nozzle. That is a Noble signature design for me and something that made its presence felt on the recent Falcon and Tux 5 builds. It will keep the main body from putting uncomfortable pressure on your concha basis or touching your ears unnecessarily. That does mean the Sultan sticks out somewhat rather than sitting flush to your ear.
It also means there is more emphasis on the tip holding them securely as well as providing the seal for isolation. Interestingly, the Sultan seals better than the Khan which has a much smaller acrylic base. I suspect the additional width on the base of the Sultan helps block out a bit more environmental noise.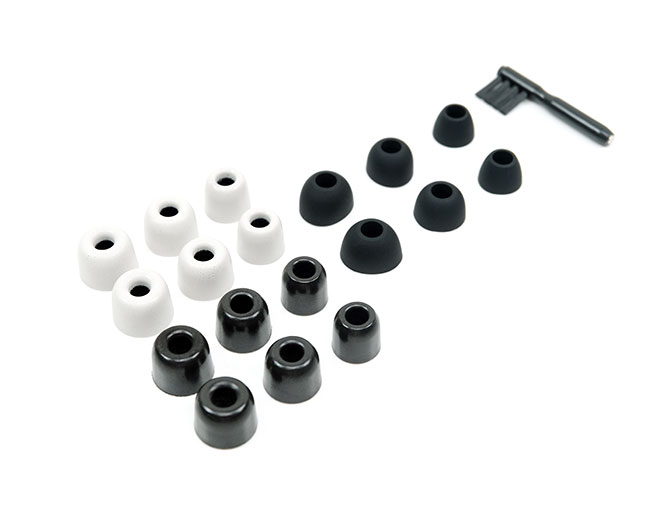 Tips
You get a fairly good tip selection with the Sultan with a selection of off-white and black foam tips in 3 sizes as well as an additional set of single-bore silicone tips. The differentiator between the off-white and black foams is the width of the bore opening. The off-white has a narrower bore than the black alternatives. The single-bore silicone tips also offer a wide bore opening.
I tend to use the foam tips more than the single bore silicone with Noble creations, especially with the Khan and Katana. Of the two foam tips, the narrow bore off-white foams seem a little heavier on the low-end, and the narrow bore a little cooler but the difference is slight.
The more important aspect is to make sure both foam tips are as far down the stem as possible. You want that nozzle as close to the second bend in your canal as possible for maximum effect. Since their stems are quite long that might be something that can be easily overlooked.
The silicone tips toned down the low-end physically and warmth and allowed a bit more midrange and treble presence to shine through. They also do not seal as well but that should not be much of a surprise compared to foams.
Packaging & Accessories
Unfortunately, our sample came without the full packaging layout and just the standard Pelican 1010 case due to cargo restrictions. From what I am told and the stock pictures, the Sultan packaging is very impressive and a big step up on their last-gen flat display theme.
The outer retail packaging is a fairly simple cream/tan box with a graphic of the Sultan on the front. Its reasonably large for an IEM box but that is more due to the sizeable and very robust Nanuk 903 weather-sealed storage case.
This is like a mini Audeze travel case and something I am hugely in favor of for an IEM at this price point. Granted, a Nanuk 903 is not that expensive at a retail price of around $30 but it is tough as hell and I have a few of them at home I use for storage so I can testify to that.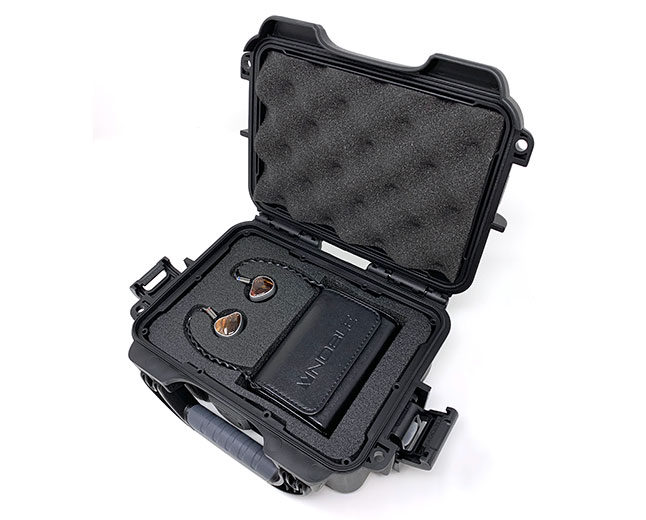 Inside the foam has been cut and shaped to make room for a small pocketable branded black leather case and the IEMs. Inside the case, you will also find the accessories which include the following:
Narrow bore off-white foam tip in small, medium, and large
Wide bore black foam tips in small, medium, and large
Black single bore silicone tips in small, medium, and large
1 cleaning brush
stickers, warranty card
1 velvet pouch
2 branded rubber bands
Click on page 2 for sound impressions & comparisons