Today, we review the Noble Audio FoKus Mystique, which is a flagship hybrid triple driver True Wireless System with aptX Adaptive decoding. It is priced at $359.
Disclaimer: This sample was sent to us in exchange for our honest opinion. Headfonics is an independent website with no affiliate links or status. We thank Noble Audio for their support.
Click here to read more about Noble Audio products we have previously featured on Headfonics.
Note, that this article follows our latest scoring guidelines which you can read here.
Noble Audio FoKus Mystique
The Noble Audio FoKus Mystique is an evolutionary technical step forward from the previous FoKus Pro but also quite a different performer sound-wise. Most importantly, it's still one of the most complete TWS sound signatures in terms of resolving capability and a pleasing tonal presentation. 
Performance & Features
8.4
Pros
Weighty engaging sound signature
IEM form factor
Decent battery life
Noble Audio has been steadily amassing a fairly impressive lineup of True Wireless Systems this last few years from the Falcon back in 2020 up to 2021's then flagship, the FoKus Pro.
This year we have a new flagship TWS called the FoKus Mystique which replaces the now-discontinued Top Gear TWS Award winner from 2021, the FoKus Pro.
On paper, it's not a radical change from the previous Pro model but rather an evolutionary step. It offers a similar driver configuration but with a different tuning profile and some improved features in its overall functionality.
Still top of the tree for audiophile-grade TWS? That is a distinct possibility but with a tweak in the sound signature, the Mystique is a different beast from the Pro.
Tech Highlights
Driver Configuration
The Noble Audio FoKus Mystique is a hybrid triple-driver True Wireless System consisting of a single 8mm dynamic driver for the lows and mids and a dual Knowles customized balanced armature setup for the mid-highs and the highs.
I am going to presume there is some crossover engineering for the drivers though typically Noble does not use electrical-type crossovers in their designs.
Noble has indicated though that the FoKus Mystique dynamic driver, though similar to the FoKus Pro version, has had a tweak in its tuning for a different and heavier bass response. Perhaps something Pro users have fed back to them over the last few years.
Decoding
The FoKus Mystique uses the Qualcomm QCC3040 Bluetooth SoC which supports Qualcomm TrueWireless™ Stereo and TrueWireless Mirroring modes.
This is the same chip the company has been using going back to the Falcon Pro but is still very competitive offering BT5.2 and up to aptX Adaptive decoding capability.
Though I would like to have seen LDAC in 2023, aptX Adaptive is more or less the same as aptX HD rates with additional improvements in latency control. You should be able to get up to 24BIT/48kHz which is equivalent to aptX-HD rates.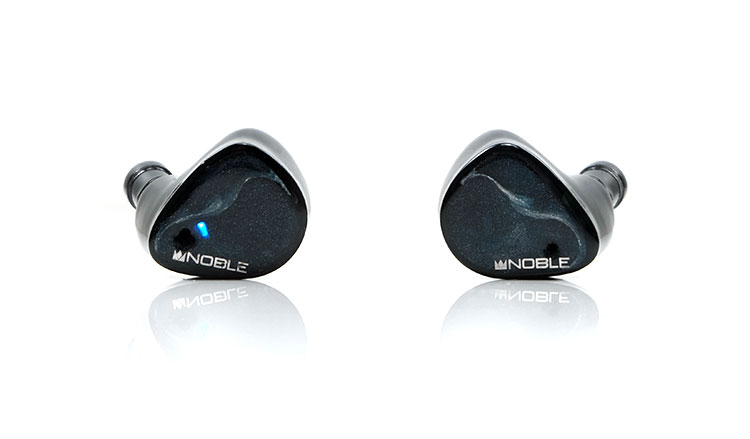 Design
The design language of the FoKus Mystique is quite similar to the FoKus Pro but there are some differences on closer inspection.
One thing I do have to note up front is that the Mystique, as was the case with the Pro, is probably the TWS that most resembles a quality universal IEM 'sans wire'.
Quite a lot of TWS will pay homage to the traditional IEM shell look but the Mystique 3D-printed resin finishing feels like the real deal with its aggressive black glossy shell contouring, designer starry nebula faceplate, and that traditional Noble long top-to-nozzle tip for a deeper ear canal penetration.
If anything, the contouring is more aggressive than the original FoKus Pro shape. Side by side it also has a bigger form factor though both I would classify as less 'TWS-tiny' and more 'IEM-regular'.
The FoKus Mystique also has a few technical changes with the bass venting now moved to the front of the shell as opposed to on the side and also it seems a little bigger than the Pro port version.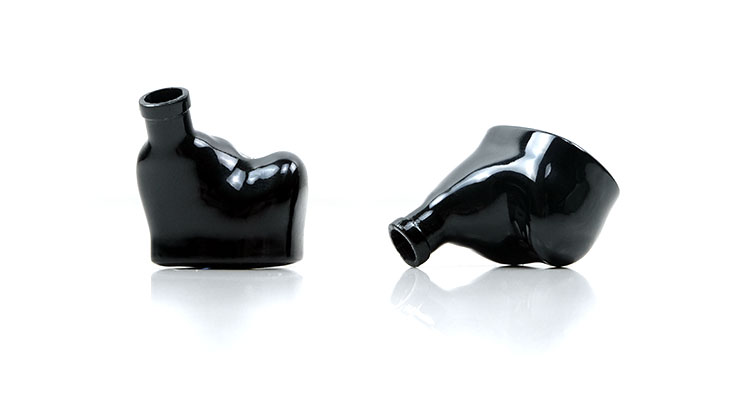 Comfort & Isolation
The FoKus Mystique is a very comfortable fit and pretty much indistinguishable from a good-fitting regular in-ear monitor.
It is a little on the larger side compared to a lot of other TWS so it is not a discreet fitting some of it will stick a little out of your ear but given it lacks ANC the shell does need to cover a larger area of the opening around your ear canal to get the seal optimal.
In fact, I find it an upgrade on the slightly smaller FoKus Pro fitting which feels comparatively looser when sitting in my ear.
The depth of the FoKus Mystique nozzle will help, they are noticeably longer than most stubby TWS alternatives out there so you can expect a secure fit with the tips doing the final mile in terms of passive isolation.
Speaking of tips, the selection and the cool little tip box are unchanged. You can choose between either a single flange wide bore silicone tip in small, medium, or large or dual flange wide bore silicone tips in the same size.
The passive isolating capabilities of both tips are very good though I find the single flange tips a little comfier than the dual flange versions.
Your mileage may vary but overall, for a non-ANC TWS, the FoKus Mystique does a very good job in general in keeping background noise to a minimum due to the deep insertion and improve fit from the contoured shell.
Controls
You can control the FoKus Mystique primarily through its faceplate-embedded touch sensor as well as tinker at a deeper level through an integrated smartphone app system.
And since the FoKus Mystique retains the FoKus branding it fits right into the existing Noble FoKus app system which is available for both Android and iOS platforms.
The default touch controls are fairly intuitive and not too pressure sensitive to avoid accidental touch events. This is a simple multi-click system split between left and right ears for volume controls and track selection.
The touch response system itself is actually quite snappy with very little lag for post-action events such as pause, play, previous, and next track.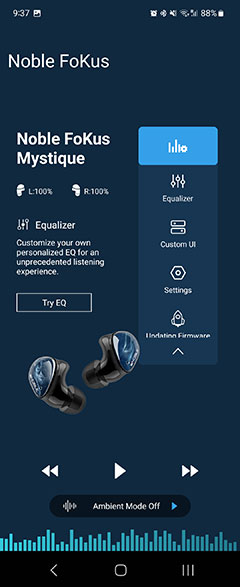 App Features
The Noble FoKus app hasn't changed too much since we last reviewed it in the Pro edition. It is pretty slick and nicely branded with an intuitive UI as well as easy-to-find status indicators such as battery level and playback status.
One new addition is the ambient mode which comes from the FoKus Mystiques' upgraded mic system placement in the actual faceplate. This should give you an accentuated level of background noise and improved call quality in the process.
The EQ is unchanged with 5 similar presets such as Classic, pop, and jazz as well as the ability to create your own custom profiles with a controllable 10-band custom EQ system.
They do change the tuning, most noticeably with the Jazz preset which dials down on the warmth and bass response in favor of its midrange presence.
There is also still a strange jump in gain in the Folk present left over from the last time I reviewed this app that might temper your volume levels. However, personally, I felt less inclined to use any sort of EQ with the FoKus Mystique compared to the previous Pro version.
Battery Life
The cradle and battery life of the FoKus Mystique are relatively unchanged from the FoKus Pro.
That means 7.5 hours per driver, (50% volume tested), with an additional 30 hours from the 500mAh battery inside the cradle itself with no slow trickle drain problem that was an issue with the Falcon Pro's cradle.
I have not noticed Noble mention anything regarding quick charging capability or wireless charging ability but from the testing done to date, it does seem to charge fairly quickly though wireless charging is definitely not included.
The FoKus Mystique cradle itself is almost the same as the Pro version aide for some minor finishing elements tweaked including the small stopper wedge on the inside of the lid being taken away and a gritter sandblasted finish on the blue metal lid.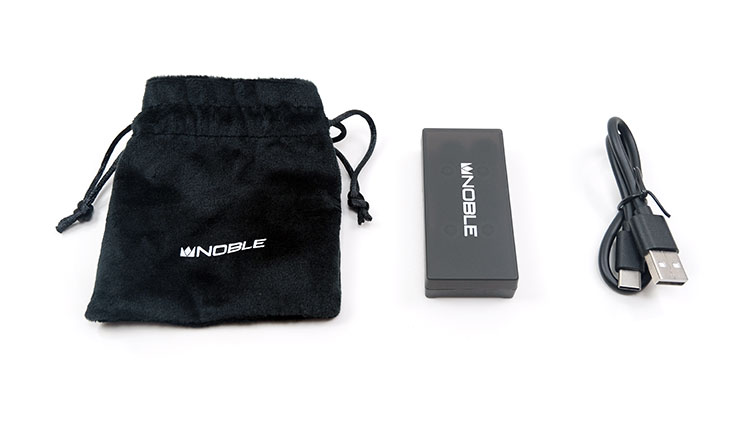 Packaging & Accessories
The Fokus Mystique packaging approach is consistent with the Pro version and almost identical in looks. Just the names have changed on the outer blue packaging and of course the relevant cradle and drivers on the inside.
This is a relatively large but fresh-looking retail package for a TWS system, certainly quite different from their wired packaging designs. I would say it is also quite the retail shelf 'pro level' in terms of design.
I guess if you are shallow enough that might make a difference but it does allow Noble to create a very nice insert display layout for the accessories and the unit itself.
The accessories are all neatly packaged in a small icon-based black box at the base of the box with the drivers housed just above the cradle in some protective foam. Inside the box, you get the following accessories:
Noble branded velvet drawstring pouch
Tips tray (3 x dual flange, 3 x single bore silicone)
A short USB-C cable for charging
Manual and warranty materials
Click on page 2 below for sound impressions and wireless performance.