The Meze Rai Penta is the company's flagship Penta-hybrid universal monitor featuring a single dynamic driver and a quad BA driver design. It is priced at $1099.
Disclaimer: The Meze Rai Penta sent to us for this review is a purchased unit. We thank Meze for this opportunity.
To learn more about Meze reviews on Headfonics you can click here.
The Rai Penta has been out for a few months now but just landed in the office a few days and truth be told I have been quite keen to hear this given how much the flagship Empyrean blew me away at the start of the year. It still does on a daily basis.
Penta means 5 in Ancient Greek. Rai, depending on the language you use, can mean heaven (Romanian) or thunder/lighting in Japanese. Both national languages and cultures conjure a celestial relationship with the use of Rai. So, I suspect the rough translation is a heavenly sound using a 5 driver combo.
In any event, the Rai Penta is the company's flagship IEM and though they have done monitors before, this is by far their most ambitious creation to date. This creation will set you back $1099 so by no means a walk in the fiscal park but already from my initial impressions, I get a feeling that, along with the Empyrean, there is a definite house sound that Meze would like to aspire to.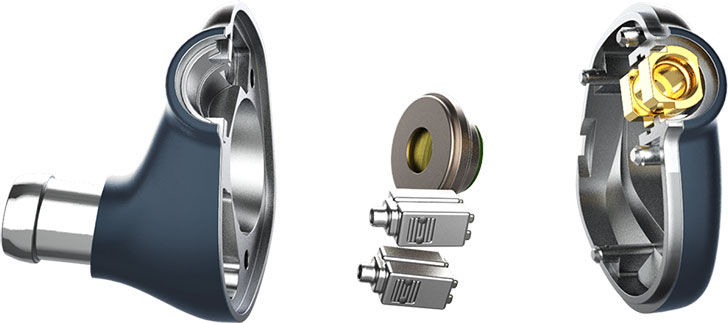 Tech Inside
The Rai Penta is a hybrid monitor using a single 10mm dynamic driver and a quad balanced armature setup. I have yet to find out the exact configuration but I am presuming a 3-way crossover with the dynamic driver for the lows and 2 BA for the mids and 2 BA for the highs. I shall confirm that in the main review.
Now Meze is also pushing a few other technical features of the internals of the Rai Penta that are worth mentioning. The first is their precision milled sound bores using variable-length steel tube instead of silicone or plastics to control the airflow and hence correct or harmonize phasing to produce a cleaner more precise level of sound going to your ear.
The second key feature is linked to airflow also with their pressurized equalization system or PES. The Rai Penta uses a dual venting system in front and behind the driver assembly to allow the dynamic driver plenty of room to breathe.
Unboxing
The Rai Penta packaging is not the smallest due to the design layout they have chosen for the tips, accessories, and case. However, it is professionally done in an all-black and wavy line vinyl finish with the Meze and Rai Pena branding front and center.
Accessories
Inside you get a fairly wide range of accessories as well as a carry case that is unmistakably Meze. The tip selection is decent with 4 pairs of single bore silicone tips, 3 bi-flange tips in various sizes but only one pair of Comply foam tips.
I would have loved to have seen maybe two. Not because they are a bugger to fit but rather their shelf life can often be quite limited and can split in as little as 6 months or less depending on your usage.
The rest of the accessories include their stock SPC 3.5mm unbalanced cable, an airline adapter, a cleaning tool, and a quarter jack conversion plug. The full list of accessories is as follows below:
MMCX braided cables made of silver-plated copper custom wires ending in high quality 3.5mm
Hard Case: protective EVA case with Meze Audio metal logo
4 pairs of soft silicone ear tips XS, S, M, L
1 double-flanged ea tips
2 deep insertion double-flanged ear tips
1 pair of comply foam ear tips
3.5mm to 6.3mm adapter
Airplane 2 pin adapter
Cleaning tool
The little faux leather zipper case reminds me of a lot of the original Neo or 99 Classic headphones carry case with its domed curving and large Meze badge in the middle. The inside has some mesh netting on the top to throw in your tips and adaptors and there is plenty of space left over for the Rai Penta drivers and the stock cable. It is stiffened but not inflexible so you can probably stuff a bit more in there without ripping it apart.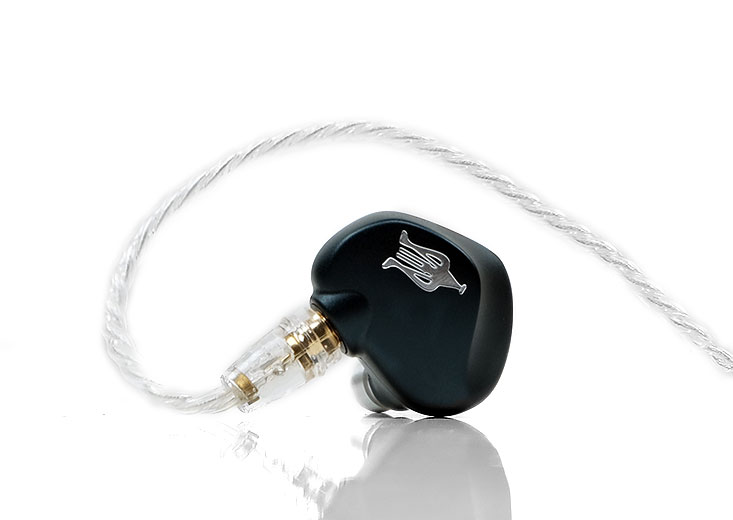 Design
If there is one thing I have come to expect from Anton and the Meze team is a quality design. The Empyrean was stunning, and not just to look at but to also wear. Form and function are a rare combination in boutique audio and Meze nailed that one and then some.
Well then, the initial impressions of the Rai Penta are of another beautiful but more nuanced design. Now there are of course some limitations in bold designs with monitors. After all, they have to fit in your ear and feel comfortable.
That being said, the nuanced curving, milled logo, and shaping of the dark blue CNC sculpted chassis are beautiful if not incredibly difficult to pull off in any CNC process. I can well understand the long time it took to design and launch the Rai Penta now that I have it in my hand.
And yet, this 3-piece monitor remains pleasingly compact and whilst ejecting the custom universal design philosophy of its acrylic competitors it retains a very smooth anodized finish that doesn't irritate the ear in the slightest.
Cable
Stock cable
Meze has included a pretty decent cable with the Rai Penta stock package. This is a 1.2m 4-wire SPC in a 20-strand Litz configuration with some tight braiding inside a translucent PVC jacket. The Litz will keep that silvery shine going so next to no chance of it going green from oxidization.
The jacks and barrels are matching black aluminum with Meze branding on both and the 3.5mm terminated jack on this cable is rhodium plated. There is a little bit of memory wire but it is not the stiff type, more of a springy lightweight feel so very little pressure behind the ear. It doesn't behave quite as well as some of the pricey aftermarket 26AWG options for minor kinks but it is super quiet, very microphonic free and very light.
Connectors
The connectors are MMCX but they use the older style squarish connector female port plates rather than the new rounded ones seen in IEMs such as the IO and Polaris 2 from Campfire Audio. There is no much of an operational difference in truth between old and new.
The connectors on the cables are actually very nicely finished translucent plastic with a nice clean view of the gold and brass plating underneath, The design of the shell leaves plenty of space also to snap on and off the connectors, so you will not be fiddling around so much trying to get them connected.
In The Ear
Very comfortable indeed. With that diminutive form factor and rounded curving, the Rai Penta feels very secure and comfortable in the ear. It also sits flush to the ear's concha basin so you won't find it sticking out either. The MMCX connectors also pass over the ear without eating into the skin so you won't find any pressure build-up there either after prolonged use.
Isolation is fair, not the best and on par with some hybrid competitors due to the use of the dual venting system. I would suggest at this early stage sticking to the foams as they isolate a little better than the bi-flange or single bore silicone tips. They also feel a little steadier in the ear than the other options. Personally, I also like the tone changeups a bit more with the foams, particularly on the vocal weight.
Initial Sound Impressions
Well, I feel I am familiar with this type of tuning coming from the Empyrean, which is no bad thing, especially if you are a vocal lover.
Initial impressions are of a moderately elevated but excellent dynamic driver bass presence and decay, a little dip in the lower mids for clarity and a forward sounding midrange. I would say the midrange of the Rai Penta at its most forward around 1-3k giving most vocals a fair amount of push and stretching the stage deep with instruments just slightly tucked in behind.
There is not a huge amount of lower treble presence with more focus on the 7-10k range for good headroom and air. Staging wise, the Rai Penta sounds deep and reasonably tall with a midrange that varies depending on how much of the instrumental imaging sits on that 1-3k bump.
You can argue the Rai Penta has a fairly polite treble performance but I actually really like its harmonic balance and weight already. Percussion is not muffled but it does sound natural and with excellent texture. Personally, I adore the harmonic balance and timbre of the Rai Penta throughout. It sounds very natural without too much warmth or sharpness. There is some contrast but not enough to suck that rich sustain in-between.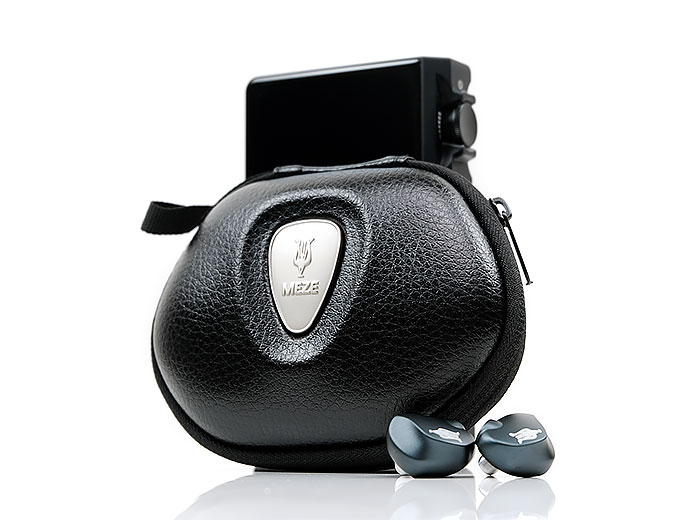 Stay Tuned!
I think Empyrean lovers are going to enjoy the Rai Penta but I wouldn't call it a baby Empyrean just yet. I still need to compare it with some competitors such as the Andromeda and DUNU's excellent DK-4001 to get a feel of how well it performs for the price point. So far, I have tested with it with Cayin's N6ii and Lotoo's PAW Gold Touch and both bring out some excellent detail thought he N6ii might be the more organic sounding of the two.
One final note is that we are missing the optional balanced version of the excellent stock cable. That should be on its way to us before the main review as I am hearing feedback that the Rai Penta can scale very nicely indeed with more powerful DAP balanced outputs. I look forward to that so stay tuned!
Rai Penta Specifications
Driver: PENTA-HYBRID DRIVER
(4 x Customized Balanced Armature and 1 x Dynamic
Driver working harmoniously together)
Frequency Range: 4Hz – 45kHz
Impedance: 20Ω
Sensitivity: 110dB SPL/1mW Sensitivity
Max Input Power: 30mW
Distortion: <1%
Stock cables: MMCX connector ending in 3.5mm, Rhodium-plated
Upgrade cables: MMCX connector ending in 2.5mm TRRS balanced and 4.4mm balanced as extra accessories