The Lypertek SoundFree S20 is a new entry-level TWS featuring IPX5 with up to 48 hours of battery life and fast charging. It is priced at $69.90 US or £69.98UK.
Disclaimer: The Lypertek SoundFree S20 sent to us is a sample in exchange for our honest opinion in this review. We thank Lyperteck with the support of Hifiheadphones.co.uk for this opportunity.
To learn more about Lypertek reviews on Headfonics you can click here.
Note, this review follows our new scoring guidelines for 2021 which you can read up on here.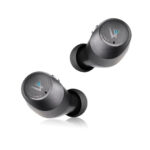 Lypertek Soundfree S20
It might not be the most feature-rich TWS with lots of accessories and a cool app but the sound and convenience for the asking price is quite a bargain.
Product Introduction
Lypertek was started back in 2013 under the Sound Innovation Company which also gave birth to the IEM maker called Oriveti. Some of their IEMs have been reviewed here on headfonics.com. We have done reviews on both company's IEMs and their TWS models actually.
Most headfonics.com visitors are almost certainly familiar with the Lypertek TEVI model which we reviewed a while back and is considered around lots of internet circles as one of the best bang for the buck TWS model and some of us around these halls agree. The TEVI i is a very good budget TWS that sounds better than some costlier models.
This time around Lypertek decided they were going to design a TWS with a very similar sound signature to the TEVI but introduce it at a lower cost to the consumer. They managed to pull it off.
The Lypertek SoundFree S20 also known as the LEVI came in for review and it looks like this model is going to get the same label as the TEVI offering good sound in a small package with some good features and at a price that practically anyone could afford.
Tech Highlights
The Lypertek SoundFree S20 is a True Wireless Stereo Bluetooth 5.0 earbud set with a couple of unique features. This model has voice assistance that is compatible with SIRI, Google voice assist, and other similar services but the feature I like the most is the button control.
The usual controls are there like pause and play, next and previous track, volume control, call answering and rejecting, and of course, the button control also activates the ambient sound feature.
One of the omitted features of the S20 compared to the TEVI is a control app. I tried running the Android app of the TEVI with the LEVI but the LEVI went dry, I mean it did not work, did not detect the S20 and it left me wondering if Lypertek will include one in the future for the S20.
Airoha
At the heart of the Lypertek SoundFree S20 is an Airoha 1532 Bluetooth 5.0 single-chip solution. It breaks the norm of using a QCC chip which is what the TEVI uses. The chip has many features like a Tensilica HiFi EP processor and it also has an embedded 16MB flash.
Airoha claims this chip is capable of 24 – 96 kHz HD audio. It also has features like UART communication along with a long list of other communication protocols and many connecting profile types. However, only ACC and SBC codecs are offered in this set.
Other features like noise reduction and echo cancelation, programmable EQ and dynamic range control along with packet loss concealment. It is also one of the only 1-chip solutions with a built-in Li-ion battery.
Driver
The Lypertek SoundFree S20 uses a single custom and exclusively tuned high-quality 6mm Neodymium magnet dynamic driver to handle the entire frequency spectrum. The driver is rated to produce a 20 Hz to a 20 kHz which is adequate for Hi-res.
Lypertek claims they tried to obtain the TEVI sound characteristics on the S20 and although not specified, it seems the driver is the same or very similar. The TEVI uses a Graphene dynamic driver and is also a 6mm.
MCSync
The Lypertek SoundFree S20 has a feature called MCSync true wireless connection technology which is a native feature of the Airoha chip. What does this feature do for the end-user?
First, it makes it possible to pair each earbud individually and effortlessly. It removes the old master and slave earbud system of connecting Bluetooth earbuds. There is also an on and off auto-pairing feature on this set.
Second, MCSync reduces the average latency of Bluetooth transmissions which is on average a .2 seconds delayed signal, and improves that by 30%. It does not seem like much but it does make a small difference.
Ambient Sound
The Lypertek SoundFree S20 does not have any type of active ANC and relies on passive noise reduction. In my opinion, it does it very well as is by shutting off almost all external noise.
There is a recent trend of TWS makers who are omitting this feature claiming it could degrade sound quality. My way of looking at it is how could it affect sound if you shut the feature off?
But on the opposite view of things, you might not want to shut off completely from your surroundings. That is where this feature comes in handy. It allows you to hear your surroundings clearly. Nothings afar, but the sound is closer in proximity.
This feature works fine for people who use TWS buds in busy places as for example a work environment in that you often have to speak with others. This feature allows you to hear conversations without having to remove them.
CVC 8.0
The Lypertek SoundFree S20 has a CVC 8.0 generation noise-canceling microphone system, but what I am not sure of is if it has a dual-microphone system or not. I only see one hole in the case so this set might just have 1 microphone.
It did sound adequate enough but nothing special about the sound quality. CVC 8.0 has up to 30 decibels of noise reduction and echo cancelation. I find these systems to muffle the sound affecting high frequencies but when it comes to the S20, I have heard worst.
IPX5
Of course, the Lypertek SoundFree S20 has a waterproof rating. I find it almost mandatory to have some protection against rain and sweat when using a TWS ear bus.
Looking at the S20 there are only 2 spots to worry about since the earbuds themselves seem to be sealed al around are the microphone holes and the ear tip spout.
I would not worry much about getting caught in the rain with these. Most times manufacturers take measures internally to shield these 2 openings from moisture and it seems the S20 follows that trend.
Design
The Lypertek SoundFree S20 earbuds are mostly made of plastic with the exception of the function button and the gold-plated charging contact points. The function button is made of metal with a swirl design that makes them non-slip.
The TEVI had touch controls and a badge but the S20 scales down with the use of a push-button and the front badge becomes an embedded image on the casing. It does look quite attractive. The tip nozzles are the notched type and, although not my preferred type because that means you cannot use common tips, they do work well holding on to the stock tip.
The charging case is also made of plastic but it seems to be of good enough quality and well designed as to not fall apart on you. The one aspect I like is the size and shape because it makes the case and easy pocket carry but at the same time, it presents a caveat in where the case will not stand on a tabletop and you have to practically lay it on its back which in time can scuff it up.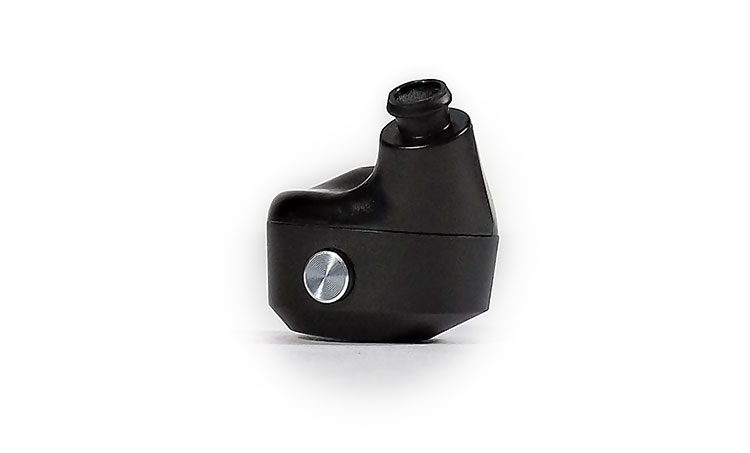 Controls
Touchpads are a sensitive issue, seriously. Not in the sense of being offensive or anything like that but sometimes TWS models go either overboard with touch control sensitivity or there is not enough of it. Lypertek bypassed that by implementing a simple solution.
Lypertek decided to use a push-button instead of touch controls for all the basic functions and to be honest I like it. How many countless times I go to accommodate the earbuds into my ear only to accidentally touch the pad and skip a song or activate the pause function, I cannot say.
What makes the button work so well is the placement of the button. I consider it to be in a good strategic place and in the ideal spot. Working the button takes a 2 finger pinching action instead of the conventional press. Operating it feels assuring, has a good tactile feel to it but not uncomfortable at all to use and operate while you have them on.
Comfort & Isolation
At a hair over five grams, I doubt you will have any comfort issues with the Lypertek SoundFree S20 earbuds. The shape is not too large either for a TWS earbud. The back is rounded some as to not create pressure points.
Isolation is typical of a TWS or an IEM which depends on passive noise reduction and need I remind you, the tip selection is critical, not only to obtain the best comfort level, noise reduction and, sound quality. These earbuds are actually sensitive to positioning inside the ear when it comes to sound.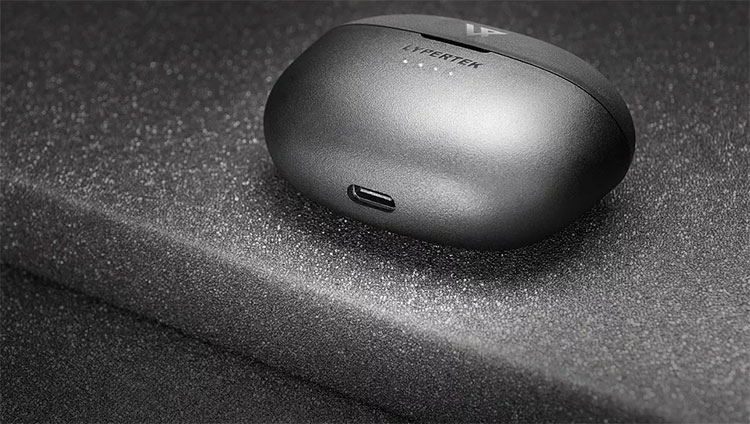 Battery Life
The Lypertek SoundFree S20 has a listed specification of 8+40 hours of battery life per full charge. Well, I did get good battery life but not close to 8 hours and on average got 5.5 to 6 hours of music time and it goes down faster with phone use since you then include a microphone which makes it even less battery efficient.
I Got 4 full charges from the charging cradle so the math tells us total playtime is a more realistic 6 + 24 hours and a total of 30 hours from a single fully charged cradle and fully charged earbuds which is more than enough time to find a charging station. The case sports 4 LEDs and each represents 25% of the charge amount.
One plus the S20 has is the ability to use a fast charger and fully charge up in 2 hours or less using the USB-C port and 10 minutes of charge gives you well over an hour of use. Also, the fact that the charging cradle includes wireless fast charging is a welcomed bonus in this price range.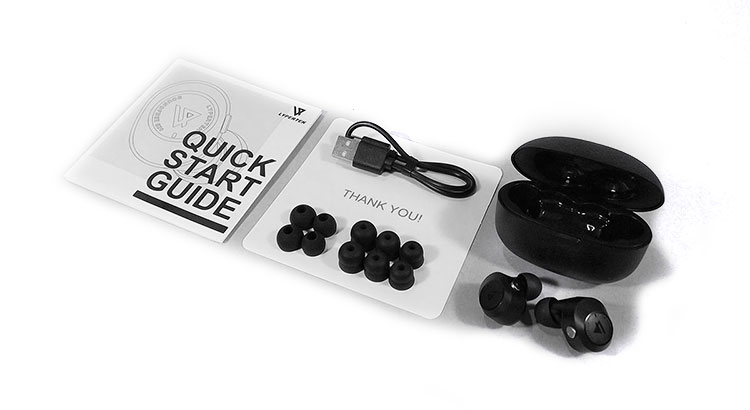 Accessories
For a budget TWS, the Lypertek SoundFree S20 comes with a basic amount of accessories but at least you get more than just 3 sets of 3 sizes of rubber tips. Some budget TWS models only include 3 but you get 6 sets with the S20. Three are the regular black rubber type and the other three are double flanged tips.
What else? You get a charging wire which is a full-size male USB to USB-C short charging wire and a quick start manual. At the price bracket it sits you cannot expect more. A thank you card is also thrown in the box.
Sound Impressions
Lypertek went with a clean-sounding tuning on the SoundFree S20 contrasting other TWS makers who like to take the bass response to hyperspace levels. The S20 seems to have a flat bass response and, decent high-frequency extension with a relaxed midrange section. The full frequency spectrum is presented in a rather flat and neutral manner with a small dip in the center.
What I did wish for was more volume. Just 5 extra decibels would have sufficed or even 3. I often found myself reaching for the volume control to turn it up only to find out they were maxed out already.
Frequency Response
As usual, the first thing I did was to run a tone sweep on these and they did fairly well and fairly better than others. Most frequencies were well balanced with no sharp dips or peaks.
The bass went to an audible 24 Hz before sharply dropping into absence. The Lypertek specs say this driver is capable of reaching 20 Hz but it was not so for me and somehow the amount of bass extension in listening tests seems good enough to remain enjoyable. Most of the punch was down below and lacking in that aspect around the midbass area.
The midrange section is rather flat and perhaps pushed back a couple of decibels. I would not call this a V-shaped signature because the steepness of the curve is small. The midrange is rather detailed but somewhat one-dimensional because of the imaging characteristics.
The high-frequency extension was quite good for a TWS model and I could hear these go audibly up to at least 16 kHz with no noise in the upper extremities either which was surprising to me because most TWS models do get noisy in the upper frequencies.
Tonality
The Lypertek SoundFree S20 has a warm but energetic tonality starting with a strong low bass but somewhat relaxed midbass response. The treble extends well but it is not the sharpest, just adequate not to be bothersome but borders on sounding shrill.
One aspect I like about the S20 is the fact that they are not so finicky and source dependant and sound fine with most genres. I would not throw at them something too complex but with most every type of modern music, they sound pleasant enough to be enjoyable.
Staging
Picture a three-point soundstage. That is what the Lypertek SoundFree S20 gives you for a soundstage. You get a left, a right, and a center channel which is rather wide.
There is very little depth and height to the staging. I sense more width than anything else but again I need to remind the reader of the asking price which is rather low and one cannot expect stellar performance in this area.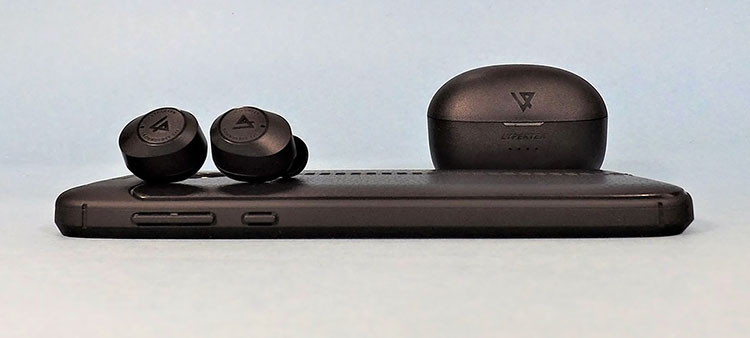 Wireless Performance
Pairing
The pairing was simple and trouble-free. Once the initial pairing is done, which by the way is dome by simply opening the charging cradle door which kicks it into pairing mode with no need to take the earbuds out. Once that is done, simply open the case to initiate pairing.
Range
The Lypertek SoundFree S20 has no specified operating range listed anywhere so I did some testing using two BT sources, one was a 4.2, and the other a 5.0 version.
I usually get to the 30-foot mark with most TWS models before they start to lose the signal but the S20 dropped off at 21 feet putting it on the bottom of the list when it comes to operating range.
One more observation I made was how much the S20 hated my troublesome USB Bluetooth dongles I use to purposely trip up BT devices. These require a quality source far as good Bluetooth reception. My Motorola Android was rock solid and so was a Redmi 9.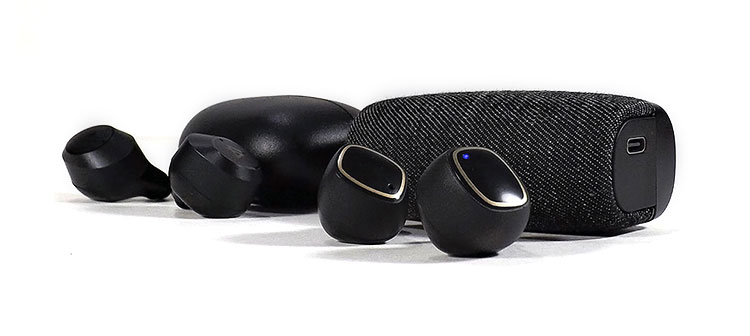 Select Comparisons
Astrotec S80 Plus
Technical
At the same price, the Astrotec S80 Plus is another available TWS set reviewed not too long ago here at headfonics.com and is a decent set to also consider if you are on a tight budget.
Design-wise, similar patterns emerge as both use plastic for the construction of the earbuds and the charging cradle. The Astrotec S80 Plus set has a chunkier earbud and the case is also larger but not by much.
I do like the fact that the Astrotec case will stand on ends or sideways while the S20 case is completely rounded which does make it an easy carry item with no sharp edges but it sits on a desk wobbly and makes it easier to scuff the case up.
Another similarity is that they both use a single dynamic driver which is 6mm in size. The Bio Diaphragm dynamic driver in the S80 Plus is similar in size but the S20 uses a Neodymium magnet, however, the magnet type on the S80 Plus driver is unknown. Astrotec seems rather shy with their specifications. Both models offer AAC and SBC codec support.
Sound
There is definitely a steeper V shape bass-centric sound signature on the S80 plus, with more bass and for that reason, they seem to sound puncher which is best for EDM and music types that depend on deep bass while the SoundFree S20 would do best with acoustic music.
High frequencies do not extend as well on the S80 Plus but do not present noise in the upper frequencies either which I find is a common problem with TWS IEMs. Neither do the S20.
The soundstage is wider on the S80 plus by a small margin with a wider frontal panorama and some height. Imaging is more precise on the S80 plus but not by much.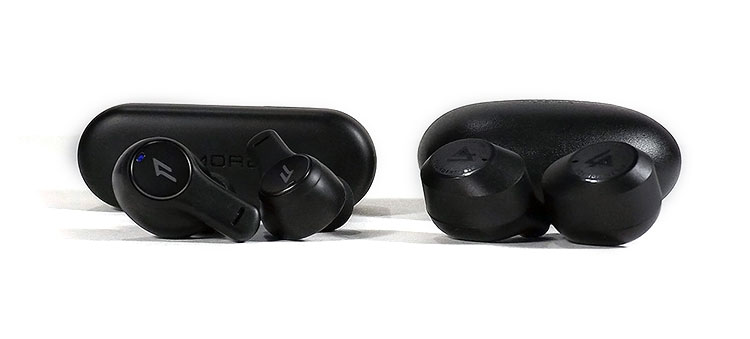 1More Pistonbuds
Technical
Right below the S20 price point sits the 1More Pistonbuds but these two contrast each other in many ways. A simple visual clue and you immediately notice the stem-style earbuds which to me are very comfortable and do stay secure in the ear.
The charging cradles are somewhat similar with a rounded design but the Piston buds cradle is slightly larger and heavier if my senses are correct.
Once again, codec support is similar with SBC and AAC but the 1More Pistonbuds have a 7mm driver instead of a 6mm. but there is one area the Pistonbuds excel in and it's in the fact that they use a 2 microphone system with a DNN (deep neural network) algorithm implementation.
Sound
The 1more Pistonbuds are definitely the heavier bottom end set but the biggest boost is in the midbass response which makes this set sound punchier. However, the high-frequency extension was not that great dropping off at 14 kHz compared to the 16 kHz and above response of the S20.
One aspect of the Pistonbuds sound that I like is the loudness levels one can obtain with this set over others including the SoundFree S20. To me, these went louder than the rest here.
On the staging department, they both do similar with a 3 point stage which is up close and not too wide or deep. The SoundFree S20 does better at layering and presenting elements more distinctly.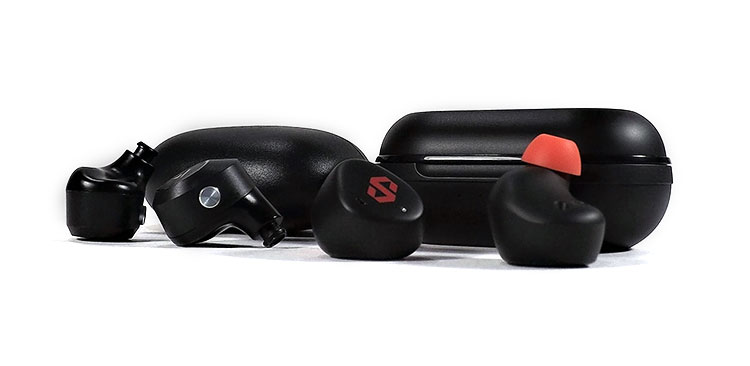 Dyplay ANC Shield Pro
Technical
The first thing I noticed in a visual comparison is the extra girth of the ANC Shield Pro. The case is larger and so are the earbuds. So if size matters to you then the S20 wins that title from all these TWS sets mentioned.
There are similarities not only build-wise but also in the fact that both these sets use Airoha one-chip solutions. They both similarly support the same AAC and SBC codecs. The ANC Shield Pro does use a more upscale version of the Airoha chip.
The one aspect which is not similar in these sets is that the ANC Shield Pro has ANC. I do consider it to be somewhat ineffective on this model and the effect is minimal but it is there if you need it. Of course, this adds extra cost and this set is the costliest of the four.
Sound
Both these sets use different dynamic drivers. The Dyplay ANC Shield Pro uses the larger 9.2mm driver but somehow cuts off at rather the same 25 Hz frequency and both are absent below that frequency.
It seems the Airoha chips are not so source dependant and tend to have similar audible characteristics regardless of source. But one area the ANC Shield Pro is better at is taking a high-frequency boost from an equalizer or a similar enhancement if you so desire.
One negative I noted with the ANC Shield Pro is that there was some frequency shifting when I did the test tone sweep but the SoundFree S20 TWS was more consistent and frequencies seemed to be more evenly distributed on both drivers.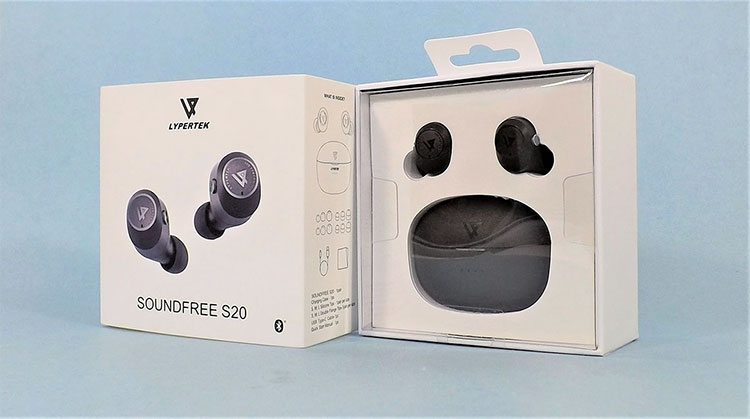 Our Verdict
Rumors are already circling around the internet that these are not as good as the TEVI and unfortunately I do not have a pair to directly compare them. However, the other rumor that will go around soon is that these will probably beat even higher-priced TWS models. This is what the Lypertek SoundFree S20 offers.
It might not be the most feature-rich TWS with lots of accessories and a cool app but the sound and convenience for the asking price is quite a bargain. If you need a quick fix and are looking for an inexpensive TWS then these should be at the top of that list.
Lypertek SoundFree S20 Specifications
Driver: 6mm Neodymium Dynamic Drivers
Frequency Response: 20Hz to 20kHz
Bluetooth: 5.0
Compatible codecs: AAC and SBC
Playtime (max): 8 hours + 40 hours with case
Water Resistance Rating: IPX5
Charging Options: USB-C and Wireless Charging