The Astrotec S80 Plus is an entry-level TWS featuring a beryllium driver, BT5.0, aptX, and a total of 25 hours of playback time. They are priced at $59.00
Disclaimer: The Astrotec S80 Plus sent to us is a sample in exchange for our honest opinion. We thank Astrotec for this opportunity.
To learn more about TWS reviews on Headfonics you can click here.
Note, this review follows our new scoring guidelines for 2020 which you can read up on here.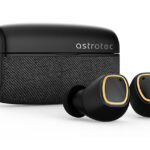 Astrotec S80 Plus
For the asking price of the Astrotec S80 Plus, it does very well indeed. The Astrotec does everything it promises to do. It gives you the convenience of a TWS with little trouble or drama, a good set of touch control features, and sounds decent to boot.
Product Introduction
Astrotec is a familiar name around here at Headfonics.com. We have reviewed more than a few of their IEMs and TWS models. We did one back in February which was the Astrotec S80 TWS. Was it a standout model? The model had some positive points worthy of a look.
The TWS market is completely saturated nowadays and there seem to be hundreds of offerings from various companies. Some are unknown and some are from famous headphone makers.
So here we are with the newest Astrotec offering the S80 Plus. What are the differences from the plain vanilla S80 at the current plus model? What does this model bring to the table? We will try to explore those questions.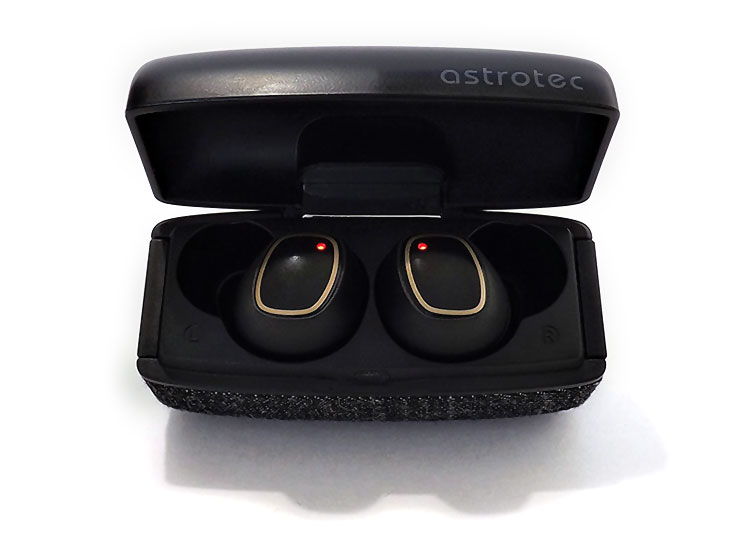 Tech Inside
The Astrotec S80 Plus according to Astrotec is a minimalist design TWS and contrary to the name the plus does not imply added features In this case. The major plus is that you get a same for less money conceptual product so it is convenient for the buyer far as price is concerned.
The Astrotec S80 Plus relies on a single chip solution undisclosed by Astrotec which is a Bluetooth 5.0 all in one chip. I suspect the chip is from a common maker but my lips are sealed.
The S80 hardware from what I could find has a signal-to-noise ratio of 75db with HFP, HSP, A2DP, and AVRCP supported profiles. The Bluetooth 5.0 class 2 RF rated is capable of working at a max 44.1 to 48khz sampling rate.
Codec Support
The Astrotec S80 Plus has only two audio codec capabilities. The standard SBC codec of course is compatible and that is what most devices use as a base codec.
AAC is also available which has become very popular nowadays. I find it everywhere nowadays, even on Android devices which is odd to have Apple codec support on other platforms. The same codec support was available on the S80 and nothing has changed there along with the same profile support.
Drivers
The Astrotec S80 Plus relies on a single dynamic driver. The driver is a 6mm Bio diaphragm dynamic driver instead of the 6mm Beryllium driver used on the S80.
It seems to have good specs and Astrotech lists them on their website and also in the manual. The driver seems to be a fairly efficient one. Efficiency is rated at 105db which is a higher efficiency rating compared to the S80 driver rated at 98db.
The driver specs are listed with a frequency response of 5hz to 25khz with an impedance of 16 ohms. Both drivers seem to have the same frequency response.
IPX Rating
Did Astrotec forget to mention if the S80 Plus is water-resistant or not? Perhaps. It is a spec many people overlook. But in actuality, they did not. If you read the manual it warns against getting the S80 Plus wet with any type of liquid.
I would not experiment with them and would avoid getting any TWS wet regardless. The manual also warns of leaving them in direct sunlight and also in below-freezing temperatures.
They seem to hold up well under a sweaty workout just try not to get caught in the rain with them on. If you do, they will be fine for a while, but dry them and seat them in the case once dried off and I think they will be fine.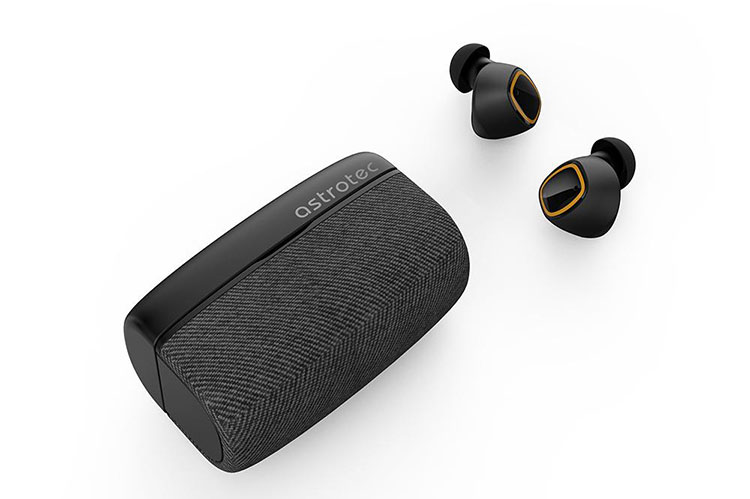 LDS Antenna
The Astrotec S80 Plus uses a high-performance LDS antenna for Bluetooth reception. It has a listed transmission range rating of 15 meters which seems quite good on print. The S80 only had a rating of 10 meters which is the common average range of most TWS models.
My results were also average and could not obtain anywhere close to the 15 meters but the usual 10 meters I did get. I got about 28 feet in a straight line using a BT 5.0 source which is just a hair under 10 meters.
Although overrated on paper, the Bluetooth range seemed adequate and performs commonly well for a TWS set up and has an average range.
MEMS Microphone
The Astrotec S80 Plus uses a micro-electro-mechanical system or a MEMS microphone system. It uses a different approach from the commonly used condenser microphone and is an ideal medium for surface mounting.
MEMS microphones have many benefits over the common microphone with high SNR ratings and low power consumption with good sensitivity making them ideal for TWS applications.
Astrotec does not mention any noise cancelation or reduction but I got a fairly decent usage and performance from these microphones. There is one in each earbud. I have heard worst, to be honest.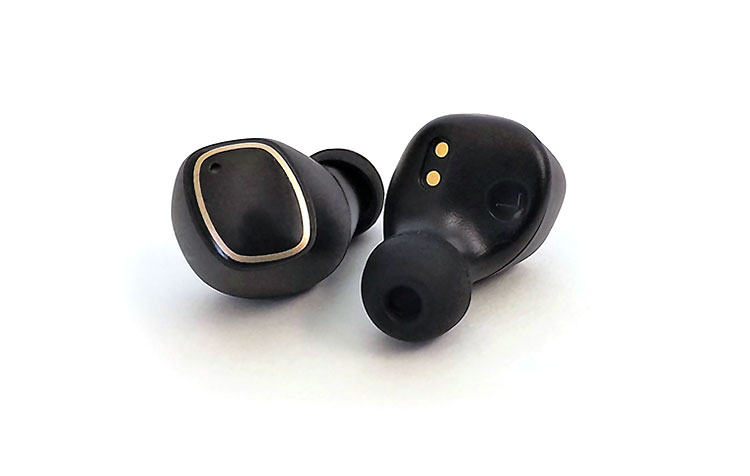 Design
Once again the S80 design characteristics carry over to the S80 Plus model with similar semi jellybean style earbuds. I find them to be lightweight at around 5 grams and extremely comfortable.
There are a few visual differences with one being a small tweak in the shape. One is the touch control panel ring which is gold rather than silver and the other is the 2-piece shell assembly rather than a 3-piece composite body.
The other visual difference is in the charging case. The S80 Plus has a matte unfinished cover with the company name instead of the chrome top. Everything is made of high-quality plastic and the charging case has a jean bottom just like the s80. It seems to be real cloth too.
Controls
Of course, the Astrotec S80 Plus has touch controls. You get all the basic functions you would expect and the most commonly used functions. How do they work? I had no issues whatsoever because they seem to be responsive, not too sensitive, or not too dulled out. Just right is the phrase.
Previous and next song. Volume up and down with the next track and the previous song is also available. Some TWS models miss the previous track function which is infuriating when you want to listen to the same song more than once if you do not want to use repeat.
You also get voice assistance with 3 consecutive taps.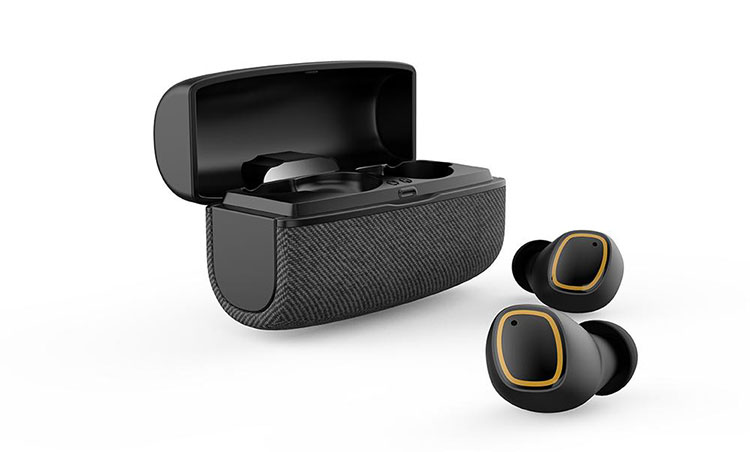 Charging Cradle
The S80 chrome finish is gone and to be honest, I like the matte finish better. It maintains a cleaner look rather than chrome which needs to be cleaned often because of visible smudges. It does have some chrome but only on the hinge and is a very subtle touch.
At 43 grams I would not consider the Astrotec S80 Plus case large but rather compact and not on the heavy side either. It measures 68.6mm x 43.7mm x 30.2mm. The usual 4 LED array displays the battery info plus the inside of the case is marked left and right for easier identification of where each earbud goes.
However, just use proper orientation because the left goes in the left slot and so on so it tends to be intuitive. The usual magnetic array also holds them in place along with the second function which is to activate the pairing mode plus on/off modes.
Battery Life
The Astrotec S80 Plus charging case has a 500mah battery that charges in two hours. I charged it in less than 2 hours on a USB-C 2-amp charger. But there is no wireless charging and at this price, I would not expect it either.
Each earbud has a 55mah battery. According to the manual you are supposed to get 4 to 5 full charges from the charging case once it is been fully charged and that seems about right to me and they charge within the case in less than an hour.
When it comes to playtime, I got the under five hours specified in the manual with the volume at around 60% most of the time.
Packaging & Accessories
The printed and illustrated box the Astrotec S80 Plus comes in cradles the charging case in a foam mold and it also ensures safe transport of the internals.
The Astrotec S80 Plus comes with a basic number of accessories. You get a short USB-C charging wire and a three-size set of flanges. There were two other angled flanges included but the only sizes were small and large.
There is also an authentication card plus some instructions that I could not read but the manual is posted on their website.
Sound Impressions
Summary
The Astrotec S80 Plus has a fair-sized V-shaped sound with prominent bass, tuned down midrange, and highs which are about equal in output as the bass. I ran the tone generator test on these and was quite surprised at the driver matching with very little variances in the frequency response with decent extension and not too many peaks.
There is a slight peak between 6khz to 7khz. The bass also has a hard roll-off below 30hz and most of the bass energy is above 50hz. The high frequencies did not present any abnormal noise like other TWS I have tested and have a decent high-frequency extension.
Bass
The Astrotec S80 Plus has an elevated bass response especially above 50hz to around 150hz. It is not too elevated compared to some other budget TWS models which is a relief, to be honest.
The elevation is just a fun amount, mostly in the midbass region, and does not go into extreme bloat territory. You get some decent clarity and bass note distinction plus a medium amount of impactfulness and body.
The bass tuning works great for popular music, dance, EDM, and music that does not require complexity or speed.
Midrange
The midrange frequencies are recessed a few decibels from the bass level. I would consider clarity to be average for a modern-day TWS. Tonality is average as well. The frequency response is fairly flat.
One possible aspect of the midrange is that since it is recessed it never gets too intense or too shouty. It works good in that aspect but you tend to lose some midrange detail. Vocal music lovers might find a lack of resolution and are best suited for music that is not highly dependent on a precise midrange response.
Treble
I found the highs on the Astrotec S80 Plus to be quite adequate for their price range and compared to many other TWS models out there. The highs are present, fairly sharp, they just lack a touch more of air and crispness for them to go from good to great.
When I ran the tone generator test, on other TWS models I would normally get noise above 13khz but the S80 Plus did not have any anomalies or noise and had a decent high-frequency extension that I could hear reaching almost 17khz.
Staging
The Astrotec S80 Plus soundstage is fairly wide with some frontal placement which is where most sound seems to come from.
Side expansion average but there is no rear projection capability. You do get a touch of height. Rear projection is nonexistent. Placement is also average. Nothing to write home about.
Wireless Performance
The Astrotec S80 Plus is what I call a no drama product. You take it out of the box, make the necessary connection, and put it to use. I actually like that.
Once I did the initial pairing, the Astrotec S80 Plus connected every time. Even with my BT 5.0 adapters which are troublesome, and specifically use to trip up TWS connectivity. Most TWS models leave me desiring just a few more decibels of volume and these are no different.
Selective comparison
Whizzer B6
Technical
This set was reviewed here at Headfonics and was offered at almost the same cost as the Astrotec S80 Plus. It had a unique case and style unseen before in the TWS market and that was their niche.
More positive aspects are that the features list was longer including CVC, IPX rating, EDR protocol, and 3 codec capability instead of two with the addition of aptX. The jellybean style earbuds were fairly unique too but they both were equally comfortable and weighed about the same 5 grams each.
Range and pairing
Although the S80 has a slightly bloated Bluetooth range rating on paper, it still did better compared to the Whizzer B6 which lacks the LDS antenna. They both did well pairing but somehow I got a faster pairing from the Astrotec S80 Plus which states in the literature a 5 second connection time.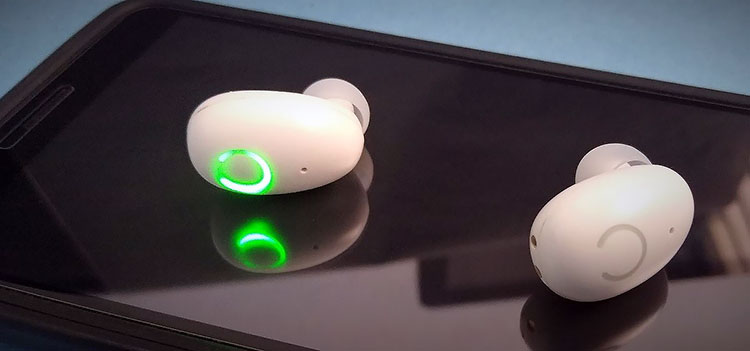 Sound
If you want deep bass the Whizzer B6 would be better because it is capable of going down to 20hz and at that point, it starts to roll off while the S80 Plus drops at 30 Hz. But be warned, you have to turn the bass down with an equalizer because the stock tuning has the bass response too elevated.
The midrange characteristics are almost identical and recessed. They both use a 6mm driver here and have similar sound characteristics especially in the midrange. The difference is the Whizzer B6 uses a Graphene driver and the Astrotec S80 Plus uses a bio diaphragm driver.
The highs are a different story from the bass which extends better on the Whizzer B6. The high frequencies were better and extend further on the S80 Plus. So, I would say, the bass response goes to Whizzer B6 but the highs and all the rest seem better on the S80, plus noise was absent in comparison and the S80 seemed to have a touch of more refinement and detail.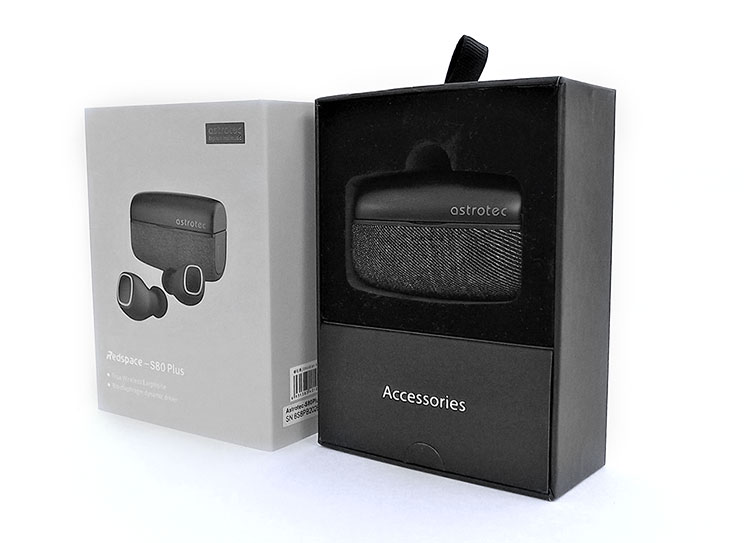 Our Verdict
For the asking price of the Astrotec S80 Plus, it does very well indeed. The Astrotec does everything it promises to do. It gives you the convenience of a TWS with little trouble or drama, a good set of touch control features, and sounds decent to boot.
Any caveats? To be honest, none I can think of considering the price. Perhaps the fact that you have to stand the case on its end and that is it. But they take a small step forward to refinement from past models.
I would put these on my list if you are strapped for cash and need an easy fix. I have a feeling these are going to be durable enough to last long, They are very easy to operate and maintain with a sound signature that does not offend the senses and at a very modest price.
Astrotec S80 Plus Specifications
Driver Unit spec: 6mm Bio-Diaphragm Dynamic Driver design
Frequency Response: 5Hz -25K Hz
Impedance:16 Ohm
Sensitivity: 105±3dB
Charging Methods: Fast charge / Magnetic Charge (Earphones)
USB-C (Charging Case)
Bluetooth Version: Bluetooth 5.0
Audio Codec: AAC, SBC
Transmission Range: About 15m
Earphone Playback Time (Single Charge): About 5hrs
Extra Battery Support By Charging Case: 4-5 times
Charging Time Of Earphones: About 40mins
Charging Time Of Charging Case: About 1.5hrs
Battery Capacity:
55mAh (Single Earphone)
500mAh (Charging Case)