Our review of the Lime Ears Anima, which is the company's latest flagship 13-driver 'tribrid', dynamic, BA, and electrostatic driver in-ear monitor. It is priced at €3400.
Disclaimer: This was sent to us as a sample for our honest opinion. Headfonics is an independent website with no affiliate links or services. We thank the team at Lime Ears for giving us this opportunity.
To read more about Lime Ears products previously featured on Headfonics click here.
Note, this article follows our latest scoring guidelines which you can read up on here.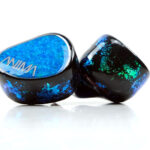 Lime Ears Anima
The Lime Ears Anima is a balanced yet joyful tuning with a deep resonating bass performance and almost ethereal highs with plenty of headroom from those e-stat drivers. It competes well with other hybrid electrostatic standard-bearers such as the Odin and the EXT but is unique enough to set it apart as a viable alternative on your shopping list.
Lime Ears have decided to throw in the proverbial kitchen sink this year with their new flagship in-ear monitor, the Anima.
If you recall, they made an initial big leap on the Aether series with the R version in 2019 followed up by the excellent Pneuma in late 2020. Both pushed the Lime Ear's flagship boundaries with the Pneuma marking the company's first venture into a hybrid driver design.
Well roll on 2 years and we leap from 5 drive hybrid to a 13-driver tribrid which is the summation of all that came before plus a little something new thrown in for good measure. The Anima is their most ambitious IEM to date by a long way and competes squarely with the likes of the Odin and EXT courtesy of some electrostatic icing on the cake.
Like everything TOTL these days, the price tag will draw a sharp breath at $3800 which is why I am mentioning some of those competitors with equally lofty fiscal headline tags. Good enough to compete? Read on!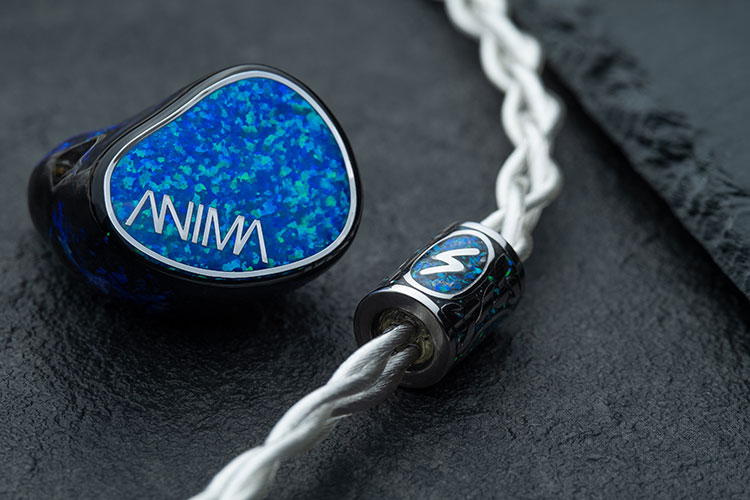 Tech Highlights
Configuration
So, we know the Anima is 13 drivers but what exactly is the breakdown? Well, Lime Ears has stuck in a 6-way hybrid crossover which should give you some clue that this is not your normal configuration.
At a high level, you have a single 7mm dynamic driver dedicated to the sub-bass frequency band up to 40Hz. This is your first crossover point, from there it's 40-120Hz for two BA subwoofer drivers, followed by another 2 BA around 100-300Hz for the 'lows', two vented BA for the mids from 300Hz to 2.4K, and the final 2 BA is for everything else up to 10k.
The final pack of 4 is a 2nd gen Sonion electrostatic driver quad pack complete with energizers which are tuned for the ultra-highs or anything above 10k. These will be responsible for maximizing the perceived headroom and the nuanced coloration in any instrument harmonics pitching in the highs.
BADD™ Hybrid Low-End Technology
The acronym is rather simpler than it looks, standing for BA and DD, the two different types of drivers for the bass performance inside the Anima. We have had plenty of hybrids using multiples of either BA or dynamic for the bass frequencies but only the previous Pneuma flagship has combined both to the best of my knowledge.
That's the twist in the Anima design with a 7mm Titanium-Diaphragm dynamic driver purely for the sub-bass response up to that first crossover at 40Hz, followed by a dual BA subwoofer implementation from 40Hz up to 120Hz.
The question next then is why? Well, if you are a reader of our reviews you will have noticed how we rave about the characteristics of dynamic drivers and just how much more tactile they are in terms of presence at the very lowest end of the FR compared to BA. At the same time, BA is known for being a lot tighter, and mid-bass punchier compared to slow DD drivers.
The Anima proposition, therefore, is quite simple, why not have both and use the crossover to properly phase them to get the best of both worlds.
Ultra-High Tweeters
Lime Ears have kept the Anima Tweeters primarily for the 10k plus region in its response FR. That means less of a direct timbral influence on the upper mids and lower treble and more of a focus on the upper harmonics flavor and creating the necessary extension and headroom within the Anima performance without distortion.
These are 2nd gen Sonion drivers or more accurately 2nd gen energizers that are more efficient than the original stuff from back in 2019. Thus, the Anima is rated at a fairly easygoing 16Ω and 116dB SPL though to be fair, a good quality source and amp stage are preferred to allow it to reach its maximum potential.
Organic Horn Nozzle
Lime Ears have tinkered before with acoustical designs in their IEM creations. So, given the acoustical engineering background of Emil, (owner of Lime Ears), it is no surprise that what goes on around those drivers is equally as important as the drivers themselves.
This time around we have a unique horn design for the Anima called the Organic Horn Nozzle and it's made of pure silver!
All the action is inside the horn so to speak but for those that are not aware, a horn design is basically a recessed bore exit into an additional chamber that allows the different sound waves to have a small window of opportunity to naturally mix in the horn before being delivered to your ear canal.
In doing so it gives a stronger measure of control at the design stage on how the sound will be presented inside your ear and rely less on varied ear canal shapes. It was also remarked to me from a few clients a long time ago that the high-frequency extension can be tweaked a little further than what is possible with a traditional individual tubed bore design using the same drivers.
Lime Ears has gone one step further by varying the internal bore exits physical positions inside a funnel-like resonance busting architecture and how they are delivered through those exits.
For the electrostatic drivers, there is no filtering or tubing so they go directly out and are positioned closest to the nozzle to allow that to happen. Mids and highs from the BA drivers through the slightly wider hole near the top and the final narrowest hole at the very top of the funnel is for the BA and dynamic driver lows.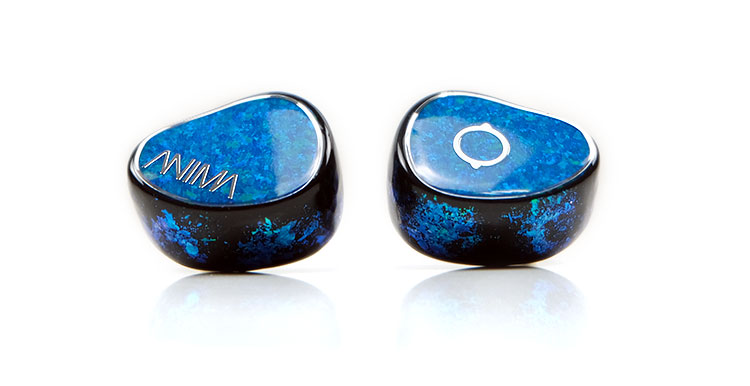 Design
Aesthetics
If you are familiar with the Pneuma design then the Anima aesthetics follow a similar reflective color-shifting flake theme only this time we have blends of green and a base blue.
The exact color combination is never quite the same because they change color depending on the intensity of the light shining on them. The green pops up when you turn the shells towards the light, and then reverts to a blueish tone once you twist it away.
I thought the Pneuma shell design was their best to date so I guess this is equal to their best to date and entirely consistent with the high quality of design the company has been churning out over the last few years.
The faceplate is something entirely new, however, but to my eye, it does blend in quite seamlessly with the flake patterned shells. Lime Ears calls it the Bello Opal and it is indeed a lab-grown opal material with a very unique mix of most blue/green colors inside a slim silver bezel and matching logo designs.
Although lab-grown, every opal design is unique so every Anima faceplate will look slightly different for each user as is, I presume, the flaking multi-color finish on the shells.
The materials are an acrylic hollow body design with the pure silver organic horn nozzle which is made through a combination of 3D printing, jewelry-grade wax printing, and precision metal casting.
Form Factor
The Anima is a chunky monkey and slightly bigger than the likes of the Odin and much bigger than the diminutive EXT from Vision Ears. It shares some common design language with the Pneuma on first looks but if you dig in a bit deeper and you will find some differences.
For a start, you will find a thicker nozzle with that silver horn design on the Anima as opposed to the Pneuma's direct bore exits. The Anima shaping is also a bit more bulbous and not quite as contoured as the Pneuma. The Pneuma shell to nozzle region feels less 'pinched' and a bit thicker and plate dimensions on the top are just a shade more elongated.
Not surprising really when they have 13 drivers to fit in there as opposed to 5 and it will come as no shock then when I say it's also the heavier of the two monitors.
Stock Cable
Let's start with the dry stuff. Lime Ears have opted for a 1.2m graphene-coated 144 strand count SPC wire finished with a transparent PVC jacket for the Anima stock cable.
This particular sample is terminated with matching silvery 2-pin 0.78mm connectors and a fairly weighty stainless-steel 4.4mm terminated barrel, one that I have seen used before by the likes of Astral Acoustics and their Stage 1 aftermarket cable.
And I have to be fair to Astral by saying the Anima cable also suffers a bit from a jack bias due to its size which means the cable swing and pressure direction can be dictated a little from the bottom.
This is a tightly braided but slightly thick wire design that holds itself quite well despite the pendulum effect at the bottom. The microphonics performance is outstanding also very virtually no noise from below a rather attractive splitter.
British-based Viking Weave Cables (Skedra) and Khanyayo Cables will take some credit here for the beautiful finish to the splitter and chin cinch on the Anima.
The external is finely crafted aluminum or stainless steel housing with matching crushed Bello Opal particles in its center opening under what looks like an "s" based on the rune Sowilō taken from Viking Weave's Sowilō design.
The Anima chin cinch itself is made from the same metal materials so its design is quite harmonious with the rest of the design but more importantly, it works. That means you can move it up and down with relative ease and it will keep its positioning just fine when moving around.
Comfort & Isolation
Despite its fairly large form factor, the Anima fits really comfortably in my ear. Of course, this is entirely depending on the tips you use and your own ear shape but I honestly cannot see much of a problem here in getting a comfortable fit.
Two things to note. The smaller 7mm dynamic driver size and the large internal acoustic chamber means the Anima does not require external venting. You will not find any external ports on the shell so the isolation will be very good for a hybrid driver universal design.
The second is due to the tall dimensions of the housing the Anima shells will stick out of your ear a little though not to JH Audio levels.
Tips
This is probably one of the most important sections of this review. Tips have always had an influence on both the level of comfort & isolation as well as some influence on the final sound that you hear in your ears.
The isolation with all the tips I tried was excellent, there is some consistency there. However, the Anima's organic horn nozzle takes tuning to a new level because every single tip I tried produced a very extreme change in the sound signature.
For this review, I tried 5 different branded tips: AZLA, SpinFit CP145, Symbio W, Final E, and generic foams. The reason for trying so many was the fact that this sample came with none. Lime Ears did that on purpose to hear me out on what my thoughts are on their legacy use tips, (Symbio), and what else might be out there.
I can tell you right away that the AZLA SednaEarfit Crystal and Symbio W tips are not a good match for the intricate nozzle design of the Anima. They thinned out the sound horribly with only the dynamic driver shining through with any sort of distinguishable presence with the Symbio tips. The AZLA tips were pretty much all upper mids and treble.
The other three tips did much better for my personal tastes with the SpinFit CP145's offering the most balanced sound, slightly warmer and smoother also with excellent bass and body.
The Final E shifted the presence a bit more to the bass and highs but still sounded inviting and dynamic in its delivery. Foams sounded good in terms of a smooth harmonic balance but pushed back a bit on the dynamics for me and were not as airy.
Packaging & Accessories
Since this was an advance review sample I never actually received the full retail packaging. Lime Ears has very kindly sent some pictures of the almost final packaging and whilst it is no Vision Ears exotic cardboard creation it is a step up on the Pneuma which in turn was a step up on the previous creations from years gone by.
I would say it is fairly tidy-looking and very 'Lime Ears' on its color-coding. However, it could do with a bit of vinyl finishing on the exterior and add a bit more pop and information to the exterior's final aesthetics.
Inside, everything seems to be well laid out in a suede-finished protective tray system. The monitors and cable are neatly displayed on the top layer with accessories all tucked away just underneath.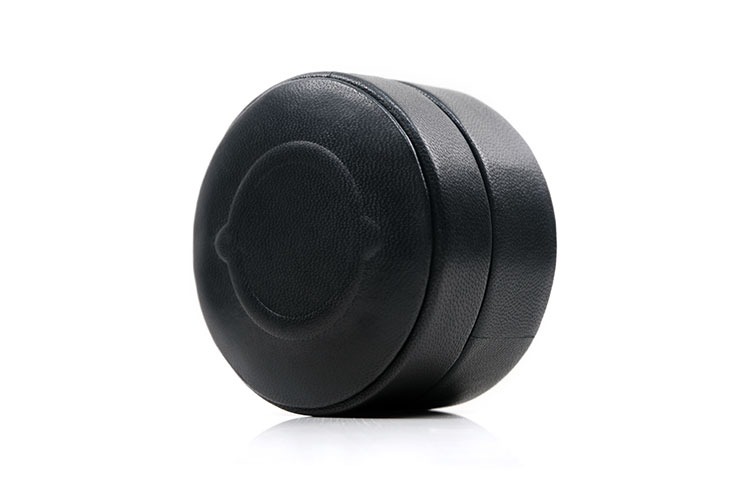 New Carry Case
The Pelican Case 1010 has finally bit the dust. The long-standing carrying case of choice for Lime Ears is now replaced by a rather more fetching and premium leather finished puck-shaped alternative.
Yes, quite a lot of competitors do this case and with some very eye-catching designs. This one is not quite the vivid demonstration of color collages others have used but an executive black for leather is always a timeless classic. It is real leather also and handcrafted so no veggie-friendly or synthetic alternative materials are used.
The inside is finished with a black suede lining and feels soft enough for the drivers and cable to nestle there without fear of being banged around and damaged.
Lime Ears does supply an additional soft cloth pouch if the case is too big for you but I find it better to stick the drivers inside this and then the whole lot inside the leather case with the cable for some additional protection.
Additional accessories include tips (not confirmed which ones at the time of writing), a cleaning tool, and a small warranty card.
Click on page 2 below for sound impressions and pairings
Click on page 3 below for select comparisons