The Swan Song Audio Mini Black is a high-end portable headphone amplifier and DAC capable of up to 1.75 watts into 8 ohms. It is priced at $1600.
Disclaimer: This was sent to us as a sample for our honest opinion. Headfonics is an independent website with no affiliate links or services. We thank the team at Swan Song Audio for giving us this opportunity.
To read more about Swan Song products we previously covered on Headfonics click here.
Note, this review follows our latest scoring guidelines which you can read up on here.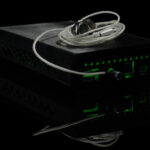 Swan Song Audio Mini Black
The Swan Song Audio Mini Black is one of the better source DACs I've experienced in 2022 so far. At the end of the day, the Mini Black is an elitist DAC at $1600, true. But it is also a rare one that has a less sterile and more musical approach. In that pricing tier, that is not commonplace.
A fair bit of time ago, I reviewed Swan Song Audio's Mini DAC venture and I enjoyed it plenty. If you want to read about that, please click here. But, for today, we are taking a gander at his new stuff, the Mini Black.
A beefier headphone amp and DAC unit that is priced at $1600. Sure, it is expensive, but does it live up to the hype and expectations of an amplifier and DAC unit at this price point in the 2022 market? Well, let's find out!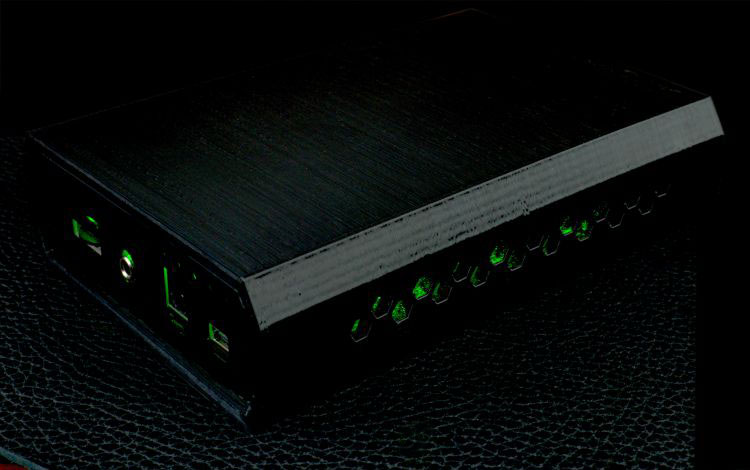 Tech Highlights
Power
This Mini Black is a Class-A design, driving at 1.75W into 8ohm. What does that mean? It means the Mini Black has plenty of power for most headphones out there.
Planar Magnetic headphones will be right at home with this level of power and for a potentially portable unit, such as this, 1.75W is really nice to have. It is more than enough, by heaps, to power the 40mm Swan Song Audio Headphone that I reviewed back in 2020.
Dynamic Driver 300Ω headphones, for example, the Sennheiser HD800, do not really require more than 1W, but they do benefit from more power. How much power? I've never really tested that but it certainly is a good topic for another time. For now, the Mini Black is well equipped to run most, if not all headphones for power needs.
Ground Noise
Tony always does a great job with noise floor needs. By that, I mean the amp has virtually no hiss or static sound that is audible that can interfere with the signal. Lots of voltage, or a kink somewhere in the design, can lead to enthusiasts actually hearing literal noise in the background.
Nobody wants that and it is a constant struggle for designers to set up the internal hardware in ways that will reduce or eliminate the potential for extraneous noise inside of the chassis, due to electrical interference.
In this case, the Mini Black performs very nicely, I detect nothing audible in the way of ground noise. Tony says he achieved this by separating the batteries for the digital and analog circuitry.
Internal Hardware
Solid State
The Mini Black uses a Class-A solid-state design as opposed to Class AB push-pull or cheaper Class D amplification implementations.
The Mini Black sounds pretty damn good to me though for a smaller "portable" capable Class-A amplifier. The DAC section is using a Burr-Brown Circuit, and truly, I am not overly fond of the sound type this circuit produces in the past.
However, Tony has altered what the stock tone of this family set of chips feels like. Sterility has resolved down to a bit of warmth and thickness that I am very fond of.
That is my favorite type of sound, with regard to the overall tone factor. Tony also says the transistors are larger than the set found in the original Mini, but with the same DAC inside with additional power filtering and its own battery.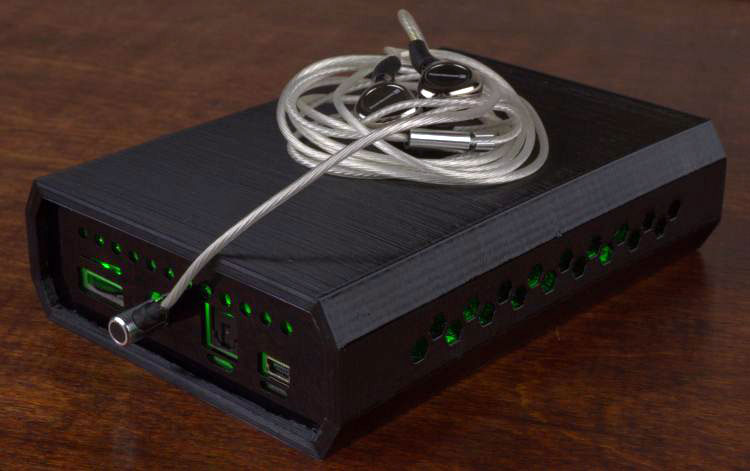 Design
The Mini Black is very unique in setup. The exterior of this product is entirely 3D printed TPU material with a ton of plush added to it. The exterior is not hard like most amps are. The exterior is actually a bit pliable, a bit squishy.
The 3D printed material was generated here in my state of Ohio, apparently! So that is a really interesting design, points there for originality. I legit don't care if it is metal, or wood, or plastic, or anything at all…so long as it doesn't get hot and it has good heat distribution qualities.
And in that regard, the Mini Black performed nicely. It never got too hot to hold, after all, it was intended to be handled and moved around, I think. But let's be real. This thing looks like a spaceship and the owner says that was intended! Those internal green lights on a black exterior really pop and I enjoy the design overall quite a lot.
Packaging & Accessories
Can't speak for anything in the packaging tier, as my unit was a production sample, so there isn't anything I can say for the unboxing experience. But Swan Song Audio does have the best hard cases I've ever seen, military-grade and they are easily my favorite.
You should be able to buy one if you want, but I am quite firm that the best hard cases I've ever witnessed were all from Tony's inventory. You do get a USB cable for charging and computer output needs.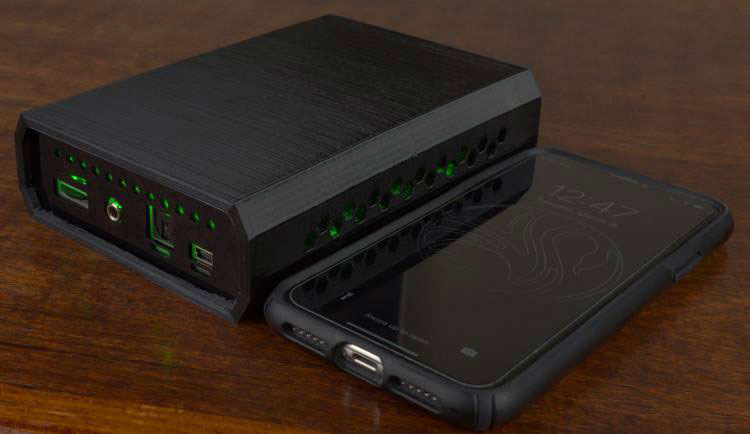 Sound Impressions
Bass Quantity and Response
The Mini Black is quite balanced sounding, which means it does not have a boosted low-end appeal. Sure, you can get it with some EQ toggling, but generally, you cannot achieve a basshead level of bass on this product without software to help out. And yes, you can achieve it.
This amp does my Sony XB300 justice, which is a very fun and bassy portable headphone that is well suited for this type of experience in tone and texture. The Mini Black offers a flat bass response with EQ disabled. So, headphones that are suited for general usage end up sounding best with this product.
You can also use software to boost the EQ and retain a good control factor with high levels of added bass. With that in mind, you can install the bass wooden plates on his headphone and have yourself a supreme bass head experience with Tony's headphones and this Mini Black combo.
Midrange
Swan Song Audio's amps tend to produce a mildly forward midrange, which means it isn't very forward, nor recessive in nature. It is a few steps forward from very neutrally placed in terms of physicality, or middle ground.
And that is also a preference of mine, I subjectively dislike being overly forward, and I also really dislike being overly relaxed and pushed back. In this case, the Mini Black sounds similar to the normal Mini that I reviewed back in 2020, the smaller unit.
As far as quality goes the tone of the product is the star of the show. The density factor is sublime and just where I prefer it, neither thin nor saturated and overly warm. This is a hard place to nail and I think Tony did a good job here with the density factor in the midrange. This really livens up the vocalist experiences that I have with my headphones.
Timbre
Unlike the more reserved treble on the older Mini, this new Mini Black offers a much more interesting and dynamically inclined top end. The entire spectrum is less bright, but also more sparkled and interesting in terms of tonality.
Raw fidelity is also noticeably better. We are nearing Burson levels of sparkle and style here, Tony's amp is the first one I've come across to sound like the older Burson HA-160D, and if you know me, that's literally one of my favorite DAC amps.
I don't have a portable amplifier that can compete with this, but then again, is this really a portable amplifier, or is it just potentially portable or more portable than most rigs? Either way, for what is there on the top side, it is excellent. This amplifier really tamed my HD800 from Drop, which you can read about here. The combo here is stellar.
Staging & Dynamics
The Mini and this new Mini Black are not regarded as titans of imaging, but they are not lacking at all. As I felt with the older Mini, I still feel the same with the new and more expensive model.
The sound staging factor in width is generally very nice, but not specialized for wide-field imaging headphones. The depth of field and height factor is very good, the realism factor is amped up extra by the exciting density factor this model exudes.
The HD800 is not the best model for this amp, but it is clear this amp was really tested and set up with his open-back headphone in mind. That meshing is fantastic.
While that headphone is not wildly spacious, it is hyper-focused and musical, which is a trait that I find to mesh very well with the imaging factor of this Mini Black. Not too wide, but wide enough. This amp is more about intimate sound than stretched wide-field experiences.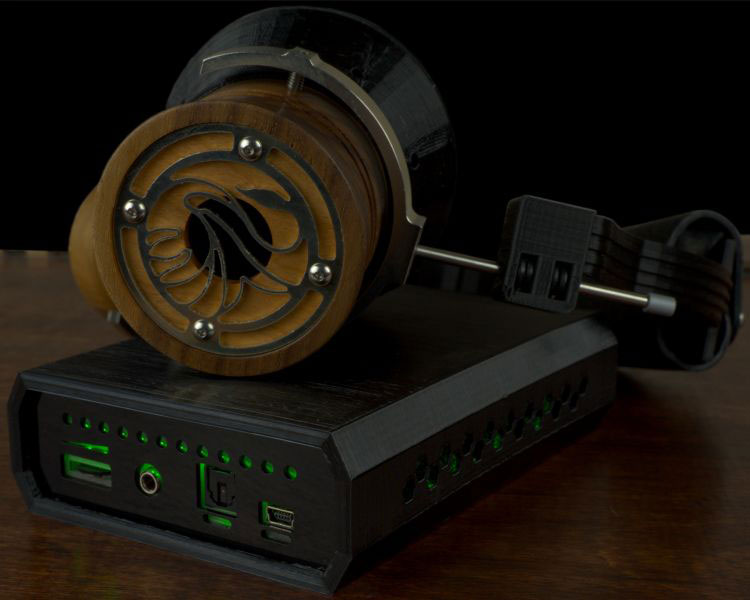 Synergy
Pairings
Swan Song Audio Headphone
(40mm and New 50mm driver variant)
The 40mm headphone that I reviewed from him some years ago had performed very, very well with this Mini Black. The entire imaging experience is improved vs the original Mini + the 40mm headphone rig.
Meaning, the new model here improved the stage depth of field when using the 40mm headphone from Swan Song Audio. I really love my 40mm from him, it is my go-to bass headphone and chill-out headphone in the TOTL tier.
So, to have a nice improvement in imaging with the Mini Black powering was a real treat. Tony also sent a new model that has a 50mm driver, this one has a more spacious feel overall and improved fidelity across the board. This one meshes with the Mini Black in imaging noticeably better. Take the 40mm, improve it in every way a few notches, and that's the 50mm.
Feature Requests
Sure, you can input optical, as well as plug into your computer or your phone with the right cable. These are all nice, but at $1600, I want a balanced output if this product is meant to be an amplifier too. All grounds need to be covered; all exits marked.
In this case, just 3.5mm is included. Is it a big deal? Eh…not really. But yes, sort of still yes. I do consider the Mini Black the typical average offering for outputs and connectivity. But, at this price, for something that can be moved around with battery usage clocking in at 8 to 9 hours of usage, I would want this to have a bass output EQ as well as a treble.
Much cheaper amps include these sorts of extras, and I don't care what the extras are. They don't have to specifically be a bass boost, but something is preferred and would help satisfy me. As far as Synergy goes, we have the basic connections covered. So long as your source has a good EQ function, you can really spread the Mini Black around as a general all-purpose source/amp.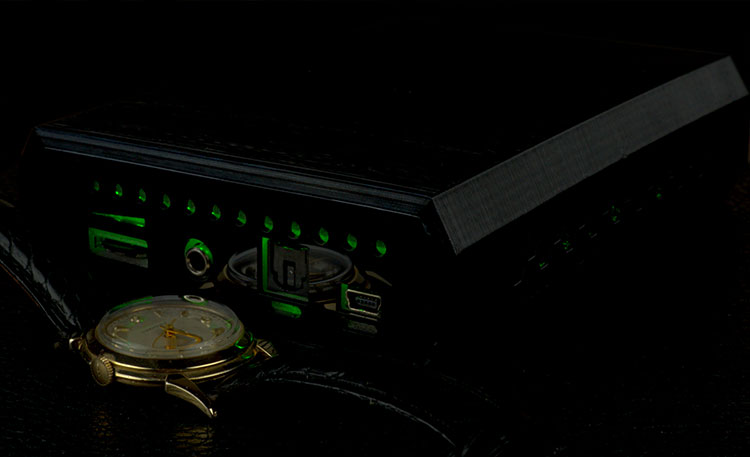 Our Verdict
Swan Song Audio is doing good things. I hope they continue to do good things. I enjoy their headphone quite a lot, it is my go-to bass canon. I enjoy their Mini (original) it is a great portable option that far exceeds the other DACs that are small that I have.
The Mini Black is one of the better source DACs I've experienced in 2022 so far. At the end of the day, the Mini Black is an elitist DAC at $1600, true. But it is also a rare one that has a less sterile and more musical approach. In that pricing tier, that is not commonplace.
Swan Song Audio Mini Black Specifications
Power 1.7 watts into 8 ohms
Batteries (LIPO)

1 – 4-volt digital supply
2 – 8-volt 2.2 amp analog supplies

Run time 7.5 hours
Charge time 6-7 hours
Inputs

1 – 24-Bit 96kHz optical (default)
1 – 16-Bit 48kHz USB (activated by plugging in a USB device)

Chipset

Cirrus receiver
Analog devices 24bit 96kHz upsampler
Burr-Brown DAC

BJT 3 amp Class A diamond buffer output stage
032% distortion at 150milliwatts into 47 ohms
Dimensions 4 inches wide by 5.75 deep by 1.5 inches tall
Weight 1 pound