The Astral Acoustics Stage 1 is a 6-wire, 25.5awg multi-sized stranding copper Litz, aftermarket IEM cable made in Hong Kong. It is priced at $250.
Disclaimer: The Astral Acoustics Stage 1 was sent to us as a sample in exchange for our honest opinion in this review. We thank Astral Acoustics for this opportunity.
To learn more about Astral Acoustics reviews on Headfonics you can click here.
Note, this 2-page review follows our new scoring guidelines for 2021 which you can read up on here.
Astral Acoustics Stage 1
This is an attractively built copper cable with a superbly low-microphonic performance. It has a performance synergy with our tested monitors that is natural and sweet in tone, articulate and airy with a nice focus on producing a clear sounding staging quality. 
After a three-year hiatus, we welcome Astral Acoustics of Hong Kong back to Headfonics with something of a refresh in their cable line-up since we last reviewed the Taurus and Libra cables in 2018.
As of 2021, Astral Acoustics has an entirely new range of cables at different price points ranging from Stage 1 which we are reviewing in this article, to a palladium-plated silver variant called Stage 6 which is their TOTL cable priced at $650.
They also now offer a tailored option so if you fancy something a bit more unique to your needs you can pick the wire and length to match with variable pricing to match budgets.
One thing seems to be common among almost all of their new cable lineups and that is a move away from the standard 26AWG offering. Now we have fatter cables, different wire counts, and improved connector options.
Tech Highlights
Materials & Wire
As with the Taurus, Stage 1 is a 6N OCC copper wire creation. However, things have been beefed up considerably with the wire now slightly bigger at 25.5AWG compared to the more commonplace 26AWG sizing.
6N basically stands for purity level of the OFC copper wire used. This is how purity is defined when acquiring alloying materials. It is not a wholly accurate measure as there are absolute purity and the common metals basis of purity debates. It is generally taken as an approximation but the N stands for numbers on either side of the decimal point.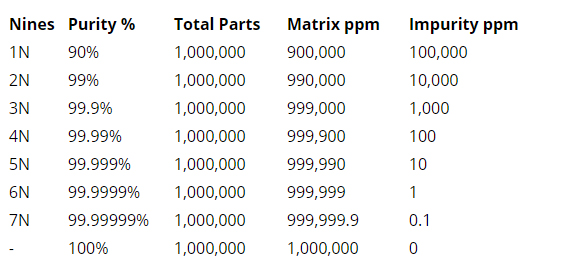 In this case, 6 numbers or 99.9999%, which is a pretty high level to achieve. You will see lower purity standards such as 5N and it works in the same manner at 99.999%. The numbers above give you a broader understanding of the entire range used.
6-Wire
Perhaps more interestingly, the Stage 1 wiring has been constructed with a 6-wire configuration. I am seeing a lot of companies now shift to larger gauges because of the improved response saving them having to add a lot of additional wires and keeping the cable size relatively lightweight in the process.
However, moving to 6-wire is less commonplace with PLUSSOUND one of the more notable companies offering 6-wire with their X6 Series of cables. The enhanced gauge combined with the additional wiring will be smaller than bulky 8-wires, (26AWG), with smaller gauges but at the same time, Astral Acoustics are pitching it as giving an almost equal performance.
Geometry
Astral Acoustics continue to use Litz geometries in their cable builds, however, this time Stage 1 uses a Type 4 Litz with multi-sized stranding over their previous Type 1 constructions with equal length.
The Type 4 Litz geometry features bundles of twisted wire twisted around a central fiber core and is a fairly advance Litz build for reducing the "skin effect" in electrical wiring.
The skin effect is the tendency of radio frequencies to be concentrated at the surface of the conductor. Litz constructions counteract this effect by increasing the amount of surface area without significantly increasing the size of the conductor.
A well-built Litz cable, in theory, will, therefore, deliver a better high-frequency performance than a standard build cable. It will also be more durable than other cables when flexed and less prone to decay.
On an aesthetic level, more and more builds of this type are turning to Litz also to prevent nasty green oxidization tints that develop on regular non-Litz builds. This cable should retain its color for life.
Design
A healthy copper-toned aesthetic, no simpler way to say it. Astral Acoustics has opted for a translucent PVC jacket that lets the 1.2m 6-wire Stage 1 6N OCC copper shine in all its glory. The coppery hue is offset with a strong but consistent stainless steel barrel and connector finish that accounts for much of the cable's overall weight.
There are some translucent PVC overmolds for strain relief but it is quite low-profile with about 0.5cm at the base of the jack barrel. Strain relief seems internal to the matching splitter barrel with a medium-length memory wire mold doubling for strain relief on the connectors.
Braiding on the new Stage 1 is quite different from the older Taurus wire with a much more pleasing short-throw technique that I tend to prefer for its pliant and disciplined quality. It also means has less of a flyaway quality which lighter 4-wire long-throw twists tend to produce.
The Stage 1 6-wire build and stainless steel connectors do increase the overall girth and weight of the cable over the previous Astral Acoustics cables I have reviewed but I would still classify it as a fairly light cable overall. It is not as thick and weighty as some 8-wire creations such as the Ares II 8-wire.
Despite the enhanced density, this cable is incredibly quiet during handling and wearing. The low microphonic performance is superb below the splitter and impressively low above where you would expect the noise levels to be higher.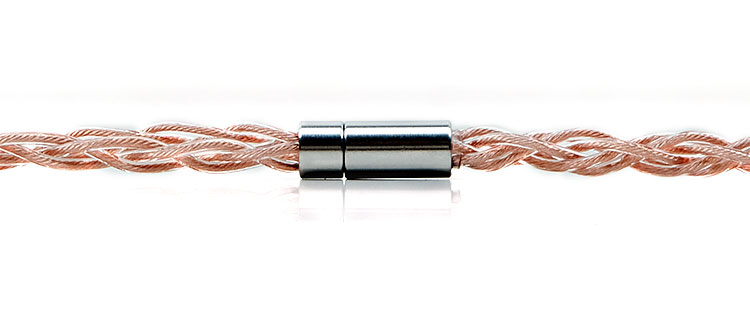 Finishing
Stage 1 uses a matching set of cleanly built jack, splitter, termination barrels, and all of them use stainless steel with the same color consistency. Both the jack and splitter barrel have the Astra Acoustics "A" logo etched into their main housing so they won't fade over time.
However, there is no branding on the termination barrels which are plain and smooth on the outside and with a small decal on the inside denoting left and right channels for accurate connecting.
Both the termination and splitter barrels are fairly lightweight, however, the main jack is a lot denser and weightier. That means you might find your cable movement bias following the jacks lead as a result.
The form factor is still regulation width at the base though more to the narrower and long side to the rear. If you are using a 2.5mm TRRS connection I suggest not putting too much pressure on the socket due to the weight. 4.4mm TRRRS might be the safer option here if you have the option to get one. You can also opt for the regular 3.5mm TRS connection at the checkout.
For terminations, Stage 1 can be fitted with 0.78mm 2-pin or MMCX connectors so nothing yet for Sony, qdc, or fast-growing alternatives like IPX but do email them if this is something that interests you and perhaps you can customize your order.
Comfort On The Ear
Stage 1 will feel ever so slightly heavier than 4-wire versions but nothing noticeable like 8-wire builds so overall quite a comfortable wearing experience.
The use of memory PVC coating will dampen the pressure slightly though I tend to find these springier type memory molds to brush against hair a little more creating unintended microphonics. No issues though if you wear your hair short or shaved.
The additional weight of the jack barrel does actually improve the cable discipline when on the ear. It stays nice and centered when in use with a fairly stable quality to its movement behind the ear also. This is definitely not a flyaway cable so I doubt it will give you any issues.
Of course, that 6-wire will feel heavier around the ear compared to a 4-wire but it is not going to give as many problems as an 8-wire for glasses users. I am still addicted to 8-wire despite the extra weight but when I slap on my reading glasses I do appreciate how much lighter a lower wire count can be.
Packaging & Accessories
A pouch! Thank you very much Astra Acoustics! I do like to see some thought given to how you store your cable when not in use and not every cable maker offers a carry case so this is a welcome bonus.
The Stage 1 bag is a soft black suede front flap pouch with a tie-string for closing. It allows you to roll up the cable and gently slide it in and tie it up for carrying around. It fits neatly inside a simple cardboard black retail box with the Astra Acoustics branding to the fore.
Sadly, no cable organizer strap with Stage 1 which is something I tend to use with all my cables. You can grab one for 50c on most mass retail sites if you go looking for them so the additional cost is not huge.
Performance Impressions
Summary
From my previous experience with the Taurus, Astral Acoustics has always been keen to avoid a stereotypical copper wire performance from their cables. Stage 1 is no different in that respect with almost all our pairings offering a very balanced and articulate tone with excellent imaging.
One salient aspect of all Stage 1 pairings tested is the low-end performance. It does take on a little of that classic copper-toned warmth and body but it is not huge or powerful sounding like some competing cables can deliver such as the PW Audio No. 10.
Instead, it is more defined and airy with just enough warmth and body to give the presentation a nice natural tone. On the flipside, Stage 1 offers a surprisingly pleasing level of high-frequency resolution and articulation. By no means a bright-sounding cable but it doesn't lack headroom or top-end articulation where the paired monitor has some presence.
For example, the 64 Audio tia Trio sounded a lot roomier with Stage 1 compared to the No. 10 and a little smoother at the same time compared to Null Audio's Hakone.
Those already using Astra Acoustics original Taurus copper cable and thinking of upgrading will be pleased to know that the dynamic range has improved considerably. Imaging is more precise, particularly in the midrange, and dynamic interplay between loud and soft on our test monitors just that bit more convincing with a blacker background.
Timbre
The overall presentation from our pairings had a slight bias to a natural with a hint of warmth but nothing too thick or rich sounding. Instrumental timbre is more to the neutral side in terms of body defined with an articulate presentation, particularly through the mids and upper mids.
With dynamic driver monitors such as the Lime Ear Pneuma, you will get a steady bass fundamental but not an overpowering one. Instead, Stage 1 relies on an excellent dynamic range performance combined with impressive layering. Lower pitching instrumental notes will thus sound articulate, well defined but relatively neutral in terms of body.
Midrange timbre is more to the sweet side with what seems to be a very good treble performance from Stage 1. It is not as aggressive or bright as something like the Null Audio Hakone but it does have more emphasis than PW Audio's N0. 10 so you get a nice harmonic mix in those mids.
Vocal tones from the EVE20 and tia Trio came across as easy on the ear but not overly rounded or too euphonic sounding either. Just a lighter touch and a slightly ethereal quality beyond into the treble timbre.
Staging
The 6-wire Stage 1 has an impressive staging quality and this is where it may be playing its trump card. Combine that slightly sweet timbre, neutral weight, and articulate treble and you do get a nice 3-dimensional quality to its performance, especially in the mids.
If you are coming from the Taurus the jump is substantial. The Taurus is more euphonic and smoother with our test monitors but its staging sounds flat through the mids with a less distinct imaging quality to vocals and slightly less air around them also.
Stage 1's background is blacker, notes have a more articulate performance by comparison, and despite the moderate bass quantity it still sounds quite defined on the low-end.
I would say though if you are going with an all-BA monitor, reference level with an accurate tonal quality it will not drive a huge amount of power and slam into the low-end. Nothing quite like the OC Studio Orpheus MK5 8-wire copper cable that produces a very powerful performance to shake up a polite sounding monitor.
In that regard consider the Stage 1'c characteristics to be more about 'speed', engaging imaging, and good instrumental placement. This is less about teasing out low-end rumble.
Click on page 2 for pairings and select comparisons