We review the Lime Ears Aether R, which is a revised edition of their acclaimed original Aether CIEM complete with a refined bass switch system. It retails from €1,200.
Disclaimer: The Lime Ears Aether R sent to us is a custom sample in exchange for our honest opinion. We thank the team at Lime Ears for giving us this opportunity.
To read more about Lime Ears products reviewed on Headfonics click here.
Note, this 2-page review follows our new scoring guidelines for 2020 which you can read up on here.
Lime Ears Aether R
I can understand now why the Aether was so widely acclaimed and loved by many an audiophile. Granted I have yet to hear the original but that sweet timbre, musical but nicely balanced sound signature, and excellent vocal performance can be addictive at times.
We first introduced the new Aether R a few weeks ago in our First Contact feature. This is Lime Ear's reimagining of their classic flagship Aether from a few years back. The original Aether was pretty much the darling of many an audiophile and put Lime Ears on the map for quality custom monitors.
Now as mentioned in our First Contact, this is a first for me with regards to the Aether sound signature having not heard the original Aether before. We have reviewed the Model X so this will serve as a useful reference given both the Aether R and Model X share some common technical features.
For those who have scanned through the First Contact, there may be a degree of overlap in the main review so you can skip to pages 2 and 3 for sound impressions and those all-important comparisons.
Tech Inside
Lime Ears has described the Aether R as retaining all the hallmarks of the original Aether but with some more refinement on the low end compared to the original. Ideally, you should also hear a little more space and texture in the notes to help bring out more 'character' in Aether's vocal and instrumental timbre.
The R stands for revised and instead of 5, we go to 6 balanced armature inside the new Aether R. Not that increasing the driver count is a sure-fire recipe for success but if the implementation is right you do have more potential. It is this potential that Lime Ears are tapping into combined with the new technology they have been developing on their Model X 4-driver variant.
Configuration
What new technology is there in the Aether R? Well, apart from their excellent bass switch from the Aether first-gen, there is now the use of their VariBore plucked from their recent Model X custom. The 4-way crossover is quite unique also.
This is a hybrid crossover meaning that sub/low is split via an acoustical crossover (namely TrueSub) and the split between lows/mids/highs is achieved via an electrical crossover. Thus the configuration is a 'double' subwoofer, 'double low', a single mid, and a single high.
Switchable Signatures
The concept of a switchable sound is nothing new to me in my reviewing capacity. The likes of M-Fidelity, Lear, and Vision Ears have all rolled out switch boxes of varying complexity. Lime Ears have been at the forefront of switching technology now for years also with the original Aether and Model X. The effect of the tuning varies a lot though from company to company.
I wasn't a huge fan of the Cypher Labs Austru bass switch back in our review in early 2017. It felt too subtle to capture my attention unless I had the perfect setup. The qdc Anole V6, reviewed this year, shows off a far more complex system in terms of delivering palpable variations on a stock sound signature.
Fletcher-Munson Law
Lime Ears pitch its switching system a little differently. Their switching system does indeed target the low-end as its priority but in doing so they observe what is called the Fletcher-Munson Law (FML) in how to apply it.
Crudely speaking, this is a refinement of how loud one frequency is compared to another in mathematical terms so that the listener perceives the sound to be balanced rather than skewed to one frequency being louder than another.
The Aether R switching system focuses on shaping the low-end response in accordance with the FML. In their previous Model X notes, they state specifically the sub-bass to lower midrange approx. (everything lower than 800Hz) by up to 8dB. We would expect roughly the same on the Aether R.
In doing so, the Aether R is pitched as having a flexible but balanced sound to either ramp up the low-end response or further refine the mid-to-high focus depending on your preferences.
VariBore
The pitch with VariBore is variable bore sizing for groups of BA or frequency delivery. Each bore has a different width, so you have 1mm for the low end, 2mm for the mid and high end. Different bore sizing will affect the type of signal produced with larger openings lowering the level of resonance and tighter openings enhancing the low-end presence.
TrueSub
TrueSub is the process by which Lime Ears shape and tune their sound bores using custom-designed 3D printed filters to ensure that the resulting audio response, particularly the subwoofer frequencies from the drivers is as "correct" as possible.
Reflections and resonance control are at the heart of design in much the same way the acoustical treatment of a room controls how sound bounces and reflects. Call it a legacy of Lime Ears' acoustic engineering background.
Lime Ears Online Designer
Store
The store hasn't changed so much since we did the Model X review back in 2017, at least in terms of the process. I suspect a number of options and choices have been added or taken away and sure enough we do now have a set of signature designs available which hugely simplify the design process as well as a more complex split-tone control of the nozzle and faceplate.
I would rate the ease of using the store design at Lime Ears up there with Custom Art, Vision Ears, and Empire Ears. Maybe a shade behind 64 Audio's complex designer but 64 Audio's design choices are not as creative IMHO. Using the store is really nice and easy with plenty of design features.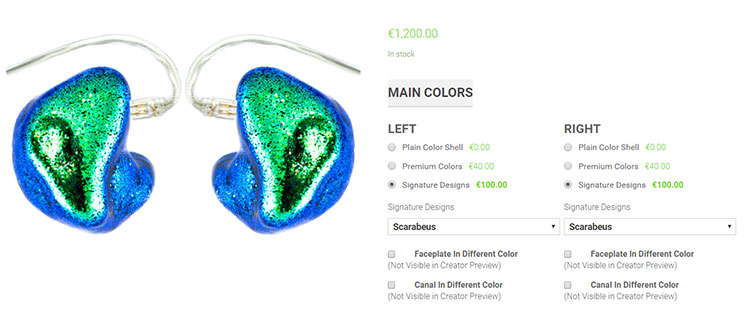 Process
For custom designs, the process begins with accessing the online designer tool which will take you right through all the options including accessories and cables as well as rush order options. You will also have a handy price accumulator, so you can see how much everything will cost as you go along.
With the introduction of the Signature Design series the process is much easier and the design choices are much more dynamic looking. You can literally pick one of these Signature Designs and be done with it. They do cost though at an additional €100 per side but for that €200, you are done.
And that is what I did. I went for their Scarabeus blue/green signature design and you can find how it looks in detail on page 2. One thing I can say is that the image work on the design is fairly faithful to the product so there are no nasty surprises when you get the real thing.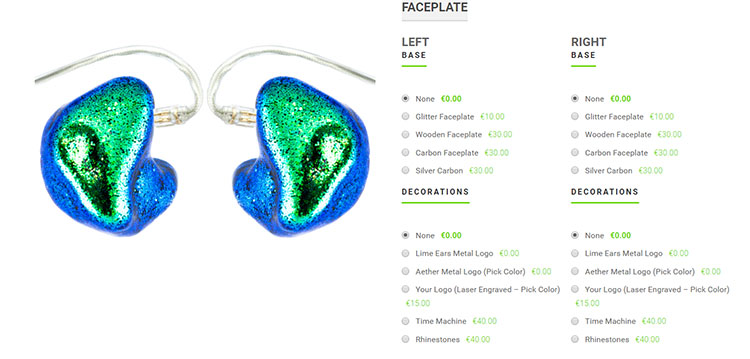 Options
If you do not fancy an all-inclusive Signature design you still have plenty of mix-and-match options such as glitter, wood, carbon, and silver carbon for the faceplates as well as decorative finishing such as Rhinestones.
I find the choices to be quite reasonably priced also at around €30-40 per side of starting from €60 all in for both sides. It will not add too much damage to your wallet beyond the original base price.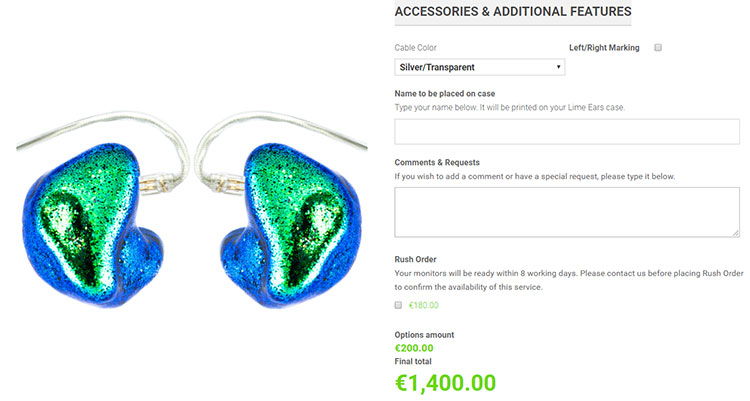 Add-ons
Not too much here in terms of add-ons. You cannot choose a wide range of cables or cable terminations but you can pick the color of the cable and also a name for the top lid of the carry case. You can also ask for specific features if what you are looking for is not available.
There is also an additional rush delivery option but I find the €180 cost a bit much for me personally. I recommend just waiting for the regular turnaround time of 3-4 weeks and save the cash. The delivery fee is a flat rate of €50 anyhow so you need to account for that.
Accessories & Packaging
The packaging is a bit old school but it does the job. This is Lime Ears branded weather-sealed Pelican Case 1015 with some decent contoured internal shock-absorbent rubber to the top, bottom and sides. You will have plenty of room for the custom units plus a few cables of choice though, the case is fairly spacious.
Includes accessories inside are as follows:
Wax pick tool
Drying pellet
Warranty card/Greetings card
1.2m cable in silver or black
You do get some additional customization on the front of the case with your name and serial number and I do believe there is room for some additional artwork on the case if you request it.
Ear Impressions Short Guide
Lime Ears includes an online ear impressions guide in PDF format and we have included the link here for quick reference. You will find all the necessary information including the type of clay to use, how deep the impression should be as well as shipping instructions.
Note that Lime Ears do require open jaw impressions so bring a bite block to your usual audiologist to keep your jaw steady whilst open to prevent the clay impressions from poorly curing. Then it is a simple case of packing them securely and sending them to Lime Ears through your favored courier.
Click on Page 2 below for Design & Sound Impressions