Disclaimer: The InEar ProPhile 8 was sent as a sample in exchange for our honest opinion. Many thanks to InEar for giving us this opportunity.
To read more on InEar products we have reviewed on Headfonics click here
Note, this review follows our new scoring guidelines for 2020 which you can read up on here.
CanJam Europe 2016 was host to InEar's world premiere of the new ProPhile-8 flagship earphone. The product was announced a few days earlier but prototypes were handed around for quite some time.
As the first successor to the StageDiver series, the PP8 opens up a new line of monitors aimed at professionals and audiophiles alike. InEar's universal in-ear monitors are available worldwide and have impressed with
What Is The Pitch?
InEar's universal in-ear monitors are available worldwide and have impressed with a very comfortable finish. The StageDiver series resembles custom monitors on first glance, but thanks to the standard nozzle design with silicone tips, it has proven to be one of the best designed universal shells yet. The aim was to let musicians save some of their hard-earned cash by going universal but the overall success is on a whole different level.
Build
The ProPhile-8's shell design is clearly based on the StageDiver, but this time, the PP8 doubles the driver count over the last flagship SD4. Furthermore, InEar has implemented two switches for bass and treble so the housing had to be altered slightly to make room for 8 drivers, 4-way design and two further crossovers linked to the switches for sound tuning. To prepare for the PP8 demo I have been using the SD2 excessively in the days before the event, so insertion of the PP8 was as simple as a twist. To my surprise they were even more comfortable; at that time I had not yet noticed that adjustments had had to be made.
I have crazy attention to detail and I noticed a spot on the shell what I first believed to be dirt or wear. Actually this is where space had run out and the shell had to be trimmed down. InEar promised me that this will not be the case with the final product that will be shipped to customers.
Fit
While the PP8 can be ordered as a custom (as of yet unnamed), obviously, there will not be a smaller S version, this time around. It does not seem possible at this point and based on my experience it won't be necessary either. This is still the most secure fit I have ever had on any universal earphone.Matt is sexy. No, I don't mean Matt Damon but the matt black finish. At least that is what Apple has proven earlier this month. Opposed to the all black glossy design of the StageDiver, the ProPhile evades fingerprints and looks a lot more rugged.
Color
Matt is sexy. No, I don't mean Matt Damon but the matt black finish. At least that is what Apple has proven earlier this month. Opposed to the all black glossy design of the StageDiver, the ProPhile evades fingerprints and looks a lot more rugged.
Personally, I am not fully convinced if this is an improvement. First of all, I would not describe the shell as black but as dark gray. It feels unpolished (d'uh) and reminds me of what car prototypes look like on the street prior to their announcement. I would expect a company to go the extra mile for a new flagship, especially if they officially target audiophiles this time around. The lack of logo confuses me and is something that bothered me since the very first StageDiver, but this time around even more so.
Logo & Accessories
While it would seem stupid to write InEar on an in-ear monitor, I would have liked to see a "ProPhile" logo on the faceplate at least. Even better in two options: black glossy and silver metallic. It's a personal preference maybe, but I appreciate small details and it shows how much love the manufacturers put into their own products. Instead, we get nothing and an accessory kit very similar to the StageDiver series at roughly double the price. At least an improved cable would have been nice.
Switches
To be fair, bass and treble switches are hidden in the cymba-part of the shell, thus being hidden nicely. It is a very nice design idea of which I will expect many manufacturers to copy.
The switches cannot be reached with your fingers alone so you will have to use the included tool (or a toothpick or a pen). I did manage to calibrate both switches in the middle, an area that has no effect and shouldn't be possible.
You will have to double-check if the switches are all the way up to use either bass or treble boost. Now forget all the minor criticism for a minute as I will try to describe the sound. Because this in-ear does sound amazing!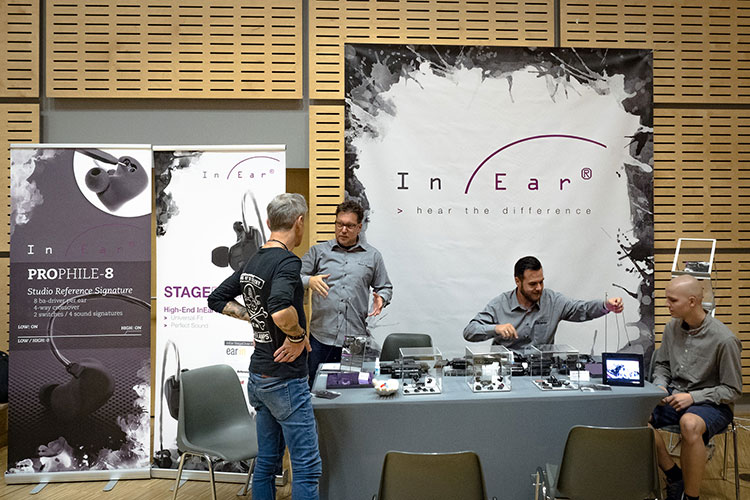 Sound Impressions
I have written an extensive review on both the StageDiver 2 and 3 back in May 2013 on Head-Fi and I was very impressed with the SD2. It is still my favorite universal earphone at an affordable price and I have recommended it to friends many times.
The PP8 is better than the SD2 in every regard, while still holding on to what made the SD2 so enjoyable. InEar will tell you the PP8 is completely flat and neutral. While it is not ER4-flat, it does sound even more natural.
Bass
I perceived the bass as neither shy nor pronounced, but lower extension made all the difference. I heard some multi-BA monitors with dedicated sub-bass tubes that day (inc. prototypes) and I felt like they neither had the PP8's coherency nor better texture. The bass is simply clean and flat and has no thickness in the upper bass either, allowing the mids to breathe freely.
Mids
Just like the SD2, the PP8 yet again reproduces dreamily well-outlined voices. Due to better separation and higher dynamics, voices are intimate and soft with Jazz tracks, but on Classical tracks oboes and flutes also allow the listener to take a back.
They allowed much better imaging than the SD2, largely improving in soundstage depth. When compared to UERR or ER4SR I might expect a small dip in upper mids that make the PP8 sound more enjoyable and musical as opposed to harsh and analytical.
Treble
Treble is tuned very nicely, though. Cymbals had just the right volume and timbre and I was shaking my head in astonishment when listening to Classical. Great air and definition, no sibilance.
Now, a short hands-on cannot replace a review, but right now I am thinking that the PP8 has the potential to be a new reference on several levels.
There is absolutely nothing in the frequency response that sounds off or over-pronounced, the soundstage is wide as it is deep and – most importantly – music is just a joy to listen to, no matter what genre.
Switches On
The impressions above are all based on both switches turned off. Switching on either will not change much, so please do not expect a 4in1 earphone design (neutral, bassy, bright, balanced).
You can add a little oomph to the bass (+3dB to be exact), but it is not the same effect as adding a subwoofer. It is nicely added across the low frequencies and it should compensate lack of bass on some recordings. On well-mastered albums I found the bass boost to add too much thickness, though not reaching bass-heavy amount. I thought the default tuning is just right.
Treble works the same but only adds +2dB. This is the audiophile switch! It's nicely done fine-tuning, adding a slight amount of definition, pierce and air. I quite liked the option as an extra, though for modern music I would probably leave the switch turned off.
Our Verdict
Now please keep in mind that I have not put the InEar ProPhile-8 through a thorough test. These are early impressions and cannot replace a month-long period of detailed listening and comparison. It does sound very impressive right out of the box and most of all, with any music genre I threw at it, it sounded natural and musical at the same time.
1295 € is a hefty price tag. In fact, right now I am hesitant myself whether I would be willing to spend that amount of cash on a naked product that "only" sounds great. However, the packaging is not final, so we will have to wait for the first orders and see what really is in the box (if there is a box in the first place).
Price: 1295 €
Technical Specifications
System: 4-way crossover with 8 drivers per side / 2 switches for sound tuning
Transmission range: approx. 10 Hz–20000 Hz
Output sound pressure: 120 dB
Impedance: 34 ohms
Cable length: 4'7.5″