In this post, we review the iKKO Heimdallr ITB03 which is a wireless LDAC-capable integrated dual AK4437 DAC and portable headphone amplifier. It is priced at $149.
Disclaimer: This is a sample sent in exchange for our honest opinion. Headfonics is an independent website that does not have any affiliate links or status. We thank the team at iKKO Audio for giving us this opportunity.
To read more about iKKO products we have previously covered on Headfonics you can click here.
Note, that this article follows our latest scoring guidelines which you can read up on here.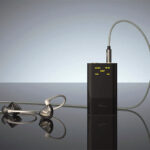 iKKO Heimdallr ITB03
For $149, the IKKO Heimdallr packs a lot of punch, worthy to rival the bigger names that dominate the field of portable wireless BT DACs.
Pros
Impressive overall timbre
Compact and lightweight
iOS cable included
I find iKKO to be quite an interesting company as it makes unpredictable products. Users want a budget IEM, here are Gems OH1s and OH1. Dongles? We have them too with the Zerda. BT DAC? Well, the challenge was accepted!
Here we are with iKKO's first attempt with a BT DAC, the Heimdallr ITOB03, rivaling FiiO and Qudelix which dominate this specific category.
In hindsight, the Heimdallr ITB03 checks all the boxes – a sleek-looking device with a BT chip, NFC pairing, and good DAC with a 4.4mm balanced output. So far so good, with a competitive pricing of $150, we'll dive deeper into the sound qualities and overall usability of this device.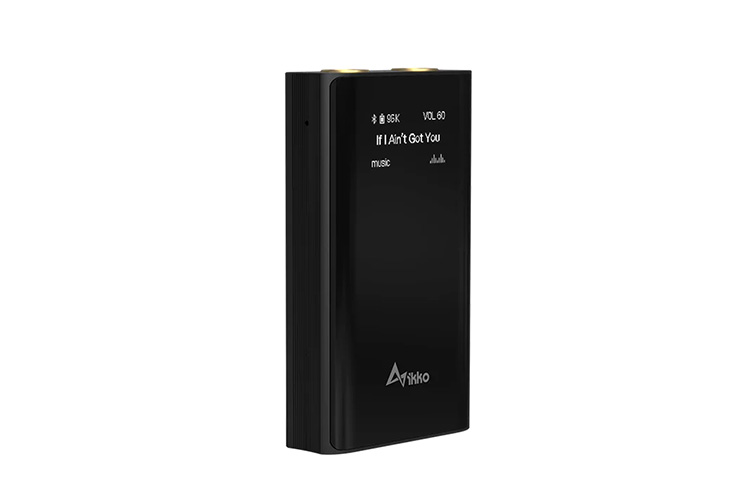 Tech Highlights
iKKO packed a lot inside this tiny device. It has a high-performance dual DAC AK4377. There have been a lot of debates between ESS and AKM chips and this, boils down to user preference and synergy.
An octa-core chip XMOS XU208 is also inside, which promises strong decoding power and low power consumption. A high-performance Bluetooth Qualcomm QC5125 chip is also inside with BT 5.0, enabling support for AAC/SBC/aptX LL/aptX HD/LDAC and mainstream Bluetooth formats that support a 192kHz decoding rate.
The Heimdallr ITB03 didn't only have listening in mind. This also functions as a good device for HiFi gaming and movie support.
A small OLED screen is found in front of the device, which shows different modes. It is operated by a simple 4-button design on the side. Battery life is rated 9 hours, which I say is pretty average for a portable device.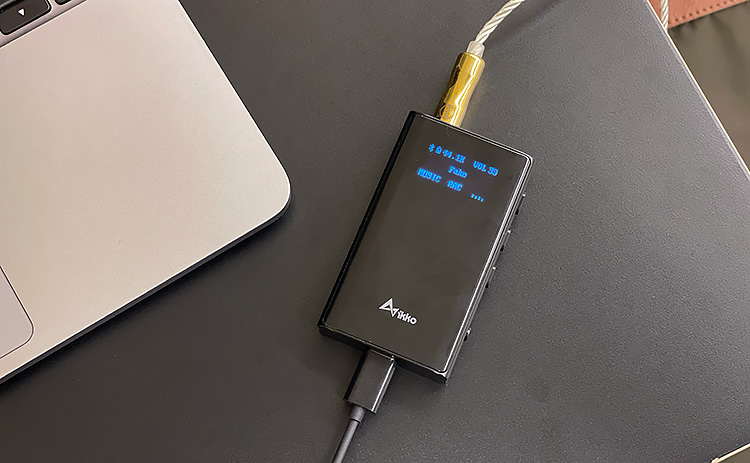 Design
The Heimdallr iKKO ITB03 has an impressively sleek design. It feels premium and a punch above its price range. It does have a minimal design of 4 buttons on the side and a USB C port at the bottom. The size is compact and light, meant to be used on the go.
It has a glass front and back, which do tend to gather fingerprints and also leave me worrying about breaking it. Unfortunately, it doesn't come with a carry case, which I would say is a big boost if it were included.
Nothing much is to be said with the screen. It is very retro looking and reminds me of the budget king DAPs of yesteryears such as the xDuoo X3. This is a 64×128 pixels OLED screen, which I can say is all you will need anyway. This includes the pairing status (wired or wireless), battery level, codecs, volume, and song title.
The iKKO ITB03 takes only 1.5 hrs to fully charge its 550mAh battery, which gives you 9 hours of playtime on the 3.5mm output.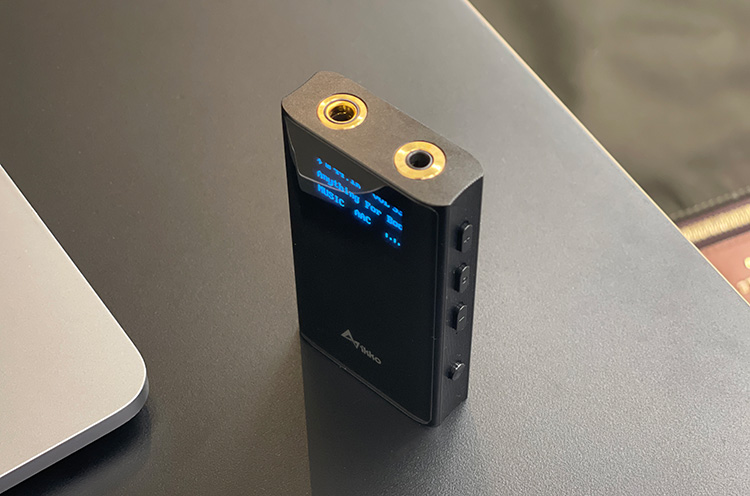 I/O
Similar to other devices, the top panel of the device contains 3.5mm TRS unbalanced and 4.4mm balanced sockets.
The USB-c port is found at the bottom, which can function as a USB-DAC port and charger. And yes, it can be used at the same time. When plugged into a device, the settings can be toggled to draw power from the input device.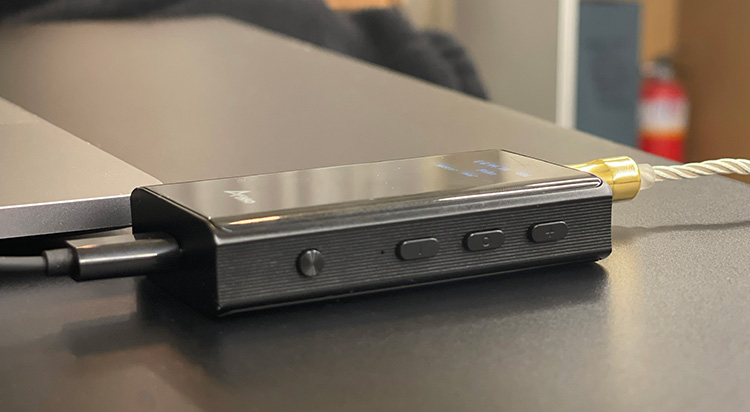 Controls
Controls are very straightforward with this device. The right panel houses the power, volume, and play/pause buttons. The power button doubles as a menu toggle by holding it for 2 seconds. The settings can be set by using the volume buttons.
The menu is broken down into 6 parts – Filter settings, Charge settings, Car mode, Display brightness, Audio mode, HiFi, and Gain. These options can be toggled with the volume button while the play/pause button confirms your choice.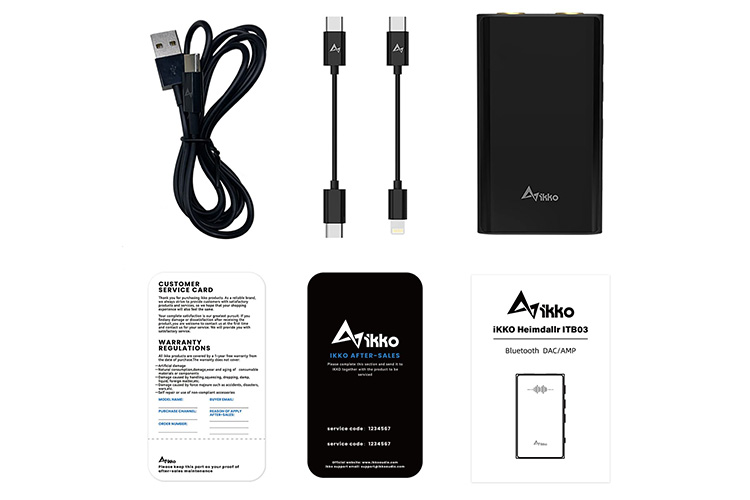 Packaging & Accessories
The iKKO Heimdallr comes in a neat little box, nothing exciting. It does contain the necessary accessories such as the manual and 3 necessary cables – USB-C to USB-C cable, USB-C to Lightning Cable, and USB-C to USB-A cable.
Unfortunately, a carry case or a clip accessory is left to be desired. Sources are saying that iKKO is making a carry case for the ITB03. Hope there is a clip included to make it more usable on the go.
Sound Impressions
Summary
The iKKO Heimdallr ITB03 is a balanced-sounding DAC with superior clarity and rich timbre. There is very little coloration, which makes it best to highlight the IEM natural sound signature. It does extend well in both lows and highs, with very minimal distortion.
Vocals and instruments sound lively thanks to their good dynamic range. It also reveals a lot of articulation, wherein mastering and sublayers are distinct and clear. Busy tracks can be easily stripped apart, hearing every element clearly with accurate timbre.
Timbre
There is no coloration with the iKKO Heimdallr ITB03. It is far from being cold or warm, it is very neutral. Low hisses are also absent, even with very sensitive IEMs. Pitch darkness can be expected when music is paused.
Instruments shine through their natural timbre. The Heimdallr ITB03 enriches the natural sound, supplementing what the IEM has to offer. Even V-shaped IEMs can expect some articulation in the midrange region due to the thick midrange of the Heimdallr ITB03. Strings and wind instruments do benefit a lot, making them distinct and full-bodied.
In terms of the vocals, both male and female voices sound aggressively alive. There is excitement as vocal textures are further revealed with enough body-revealing vocal techniques and textures. Upper frequencies were also well extended. There was no artificial or overall sharpness in the extended frequencies.
Staging & Dynamics
Wide and dynamic soundstage and imaging can be easily expected with the iKKO Heimdallr ITB03. Imaging is well executed, it neither feels monodirectional nor artificially spaced.
Different layers are presented with clarity, with enough gaps to breathe and create a 3d like plane. It's a tad fun to use, energetic, making music sound alive.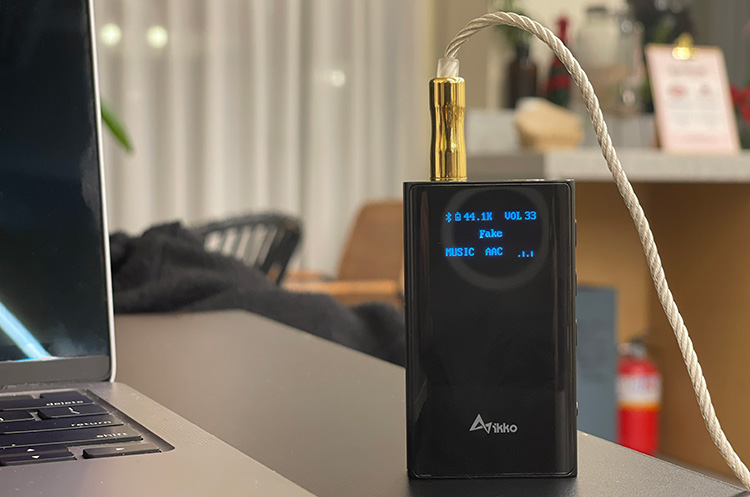 Synergy
Power
On paper, the power output is a bit underwhelming. It has a 32mW(PO) and 125mW(BAL) at 32ohms and 53mW(PO) and 180mW(BAL) at 16 ohms.
Despite the low numbers, it was able to power up the AEON 2 Closed at comfortable levels. It does feel underpowered, but quite useful when in pinch.
The Heimdallr has a low and high gain setting. When using sensitive IEMs such as the Campfire Audio Solaris at low gain, there were no hiss or static sounds. The floor volume output is low enough to use the Solaris comfortably.
Pairings
The Heimdallr is easy to pair since it's a balance-sounding DAC with a very little hint of colorization. The rich timbre by the DAC helps IEM's natural profile.
I find V-shaped IEMs such as the Softears Volume to pair well with the Heimdallr ITB03. It gives more boost to the IEM's midrange timbre, making the midrange thicker and more present. This pairing makes a very good and enjoyable travel companion.
Select Comparisons
Hidizs XO
$99
Technical
The iKKO Heimdallr ITB03 has a dual AK4377 and while the XO has a dual ESS Sabre ES9219C different DAC chip inside. Although both DACs support decoding capabilities of up to 32-bit/384kHz PCM and DSD256, only the XO has MQA support (up to 16x).
Both devices support balanced outputs. The XO has a 3.5mm SE and a 2.5mm Balanced while the Heimdallr has a 3.5mm SE and a 4.4mm Balanced.
The XO can give more power with the balanced side, with 195mW+195m compared to Dawn's 230mW, which are both evaluated @ 32 ohms.
Design
The two are very different in design, aside from the Hidizs XO being a pure dongle DAC and the iKKO Heimdallr ITB03's dual functionality of a dongle DAC and a wireless BT streamer.
As a dongle DAC, both are in a unit + cable form, which is something that I like. Since I primarily run on iOS devices, this makes it convenient to switch cables and eliminates the need for a USB-C to lightning adapter.
The Hidizs XO looks more durable since it's just in a pure metal case while the iKKO Heimdallr ITB03 has a glass front and back.
Performance
Hidizs XO is one of the dongle DACs that I can easily recommend given that it's both affordable and functional. Comparing it with the iKKO Heimdallr ITB03, I still find it to be true, despite the Heimdallr ITB03 being more bang for your buck. Let me expound.
In terms of overall sound impressions, the iKKO Heimdallr ITB03 has exceptional clarity and rich timbre replication. I would have to say that the Hidizs XO comes in a close second. Both have a natural midrange presentation, with the Heimdallr ITB03 having a clearer midrange which also reflects more articulation.
Imaging and soundstage for both devices are pretty good for their price range. Imaging on the Heimdallr ITB03 is exceptional showing better layering and feels more well-composed.
Given that the Heimdallr is better than the XO, the Heimdallr ITB03 is indeed more expensive, around 50% more expensive than the Hidizs XO. If you don't need the BT streaming, and battery support of a stand-alone device, the Hidizs XO is still a close alternative that delivers above its price range.
ddHiFi TC44A
$59.99
Technical
The TC44A has the Cirrus CS43131 DAC chip inside while the Heimdallr ITB03 has a dual DAC AK4377 chip. Both have the same decoding capabilities with support for up to 32-bit/384kHz PCM and DSD256.
The output of the two is also different. The iKKO Heimdallr ITB03 has a 3.5mm SE and 4.4mm Balanced output while the TC44A has a 4.4mm SE output.
TC44A can supply 50mW of power at 32Ωs while the XO can give a lot more power balanced, with 32mW SE and 125mW balanced @ 32Ωs on 3.5mm SE and 4.4mm balanced respectively.
Design
Visually, these are very different devices. The TC44A is a T-shaped OTG plug with a DAC chip inside, eliminating the need for cables. The Heimdallr ITB03 is either in a more conventional Dongle-DAC type with a unit + cable form or in a wireless BT steamer.
The TC44A is significantly smaller and lighter, which makes it more compact than the Heimdallr ITB03. Although, the ease of use of a BT streamer is more convenient than having an adapter connected to the phone.
Performance
In the first few seconds, the difference between the two shows right away. This is not surprising, given the form and price difference between the two.
The bass between the two is very similar. Neither boosts the IEM's natural bass response, so pairing does have a heavier role in influencing the lows. Both do display the IEM's lows quite transparently, with no discernable differences between the two.
Clarity immediately differentiates the two. The TC44A sounded a lot muddy compared to the Heimdallr ITB03. Aside from being muddy, the vocals also sounded a bit dull with the TC44A. The iKKO ITB03 brings vocals back alive, with both great clarity and rich timbre.
I would have to say the TC44A does have good imaging and soundstage for its price range. Nothing to complain about that. Although, when compared side by side with the Heimdallr ITB03, it does feel like a huge gap between the two. The Heimdallr ITB03's soundstage and imaging are far superior to the two.
Moondrop Dawn
$69.99
Technical
The Moondrop Dawn is a dongle DAC with a Cirrus CS43131 chip inside. iKKO Heimdallr ITB03 is both a dongle DAC and BT streamer that has a dual AK4377 chip.
Output on the Moondrop Dawn is an SE 4.4mm while the Heimdallr ITB03 has a dual output – a 3.5mm SE and a 4.4mm Balanced. In terms of power, the Dawn can output 230mW while the Heimdallr ITB03 has a 32mW (PO) and 125mW(BAL) @ 32Ohms
Design
The Dawn is a dongle DAC with a fixed cable while the iKKO Heimdallr functions both as a dongle DAC and wireless BT streamer.
Aside from their functionalities, they also differ greatly in design. The Dawn has a white-silver color palette, which reminds you of winter. The Heimdallr ITB03 is in a sleek black color, with front and back glass.
Both seem durable, although Dawn's cable does worry me with long-time use. I prefer a removable cable design like the Heimdallr ITB03.
The iKKO Heimdallr ITB03 comes in both lightning and USB-C cables whereas the Dawn needs a separate USB-C to Lightning Adapter to be usable in iOS devices.
Performance
Overall, the Heimdallr ITB03 has a more balanced tonality. The Dawn has deeper lows and well-extended highs while the Heimdallr ITB03 pays has more leveled lows and highs. Colorations are very minimal on both devices.
Timbre-wise, the Heimdallr has more accurate tonality. Instruments and vocals sound more natural, with better emphasis on articulation. The Heimdallr also has a lusher and fuller timbre, with the details displayed with more intensity.
The Dawn at times feels to have a more artificially sharp high which makes cymbal crashes sound over-produced. It is rather thin and lacks a body, unlike how the Heimdallr ITB03.
Imaging and soundstage are better on the Heimdallr ITB03. It is wider and the imaging is more natural and coherent. The Dawn is good for its price range, but the Heimdallr just delivers right for its price range.
Our Verdict
Overall, I think the iKKO Heimdallr ITB03 is a good step forward for iKKO. Being iKKO's first attempt with a wireless BT Steamer, I am impressed and excited for what's next to come.
It is designed to be a portable multimedia device to be used both wired and wireless. It has a good set of AK4377 chips inside, which improves and highlights different IEM signatures.
In my opinion, the only thing that's missing is a good carry case and a clip accessory. If I were to nitpick, a device capable of the latest BT technology would've impressed me further.
For $150, the iKKO Heimdallr packs a lot of punch, worthy to rival the bigger names that dominate the field of portable wireless BT DACs.
iKKO Heimdallr ITB03 Technical Specifications
Bluetooth Chip: QCC5125
Bluetooth version: 5.0
DAC Chip: AK4377*2
USB Interface: XMOS XU208 AMP: RT6863*1
Output Power:PO:32mW (32Ω loaded) BAL:125mW (32Ω loaded)
PO:53mW (16Ω loaded) BAL:180mW (16Ω loaded)
Transmission Distance: 10m
Display Screen: OLED (64*128px)
Supported Audio Formats: LDAC/APTX/APTHD/DSD/PCM
THD: -110dB
SNR: 118dB
PCM:384hz
Battery Capacity:650mAh, Battery life:8h, Charging time:1.5h
Compatibility: Android, IOS, Mac OS, Win10, Switch, PS5, Xbox
Audio Jack: 3.5mm (optical + single-ended 2-in-1), 4.4mm earphone jack
Hands-free call/Mic: Yes
NFC Function: Yes
USB port: Type-C/Charge
Size:70*40*10mm
Net weight: 72g