Today, we review the Moondrop Dawn which is a dual CS43131 dongle DAC with a 4.4mm true balanced output capable of 230mW of output power. It is priced at $69.99.
Disclaimer: This sample was sent to us in exchange for our honest opinion. Headfonics is an independent website with no affiliate links or status. We thank Moondrop and Shenzhen Audio for their support.
To read more about Moondrop products we have previously featured on Headfonics, click here.
Note, that this article follows our latest scoring guidelines which you can read here.
Moondrop Dawn
The Moondrop Dawn is a plug-and-play device, very easy to use. It has more power packed in than a lot of the competition, making it a logical consideration for harder-to-drive monitors or even some headphones where a smartphone and some ultra-portable USB-DACs would not be enough.
Pros
Packs in a lot of power
Impressive clarity
Cons
Lack of features
Could benefit from a gain switch
Moondrop has been steadily pushing products here and there, particularly with its IEM offerings of a product for every budget. It's doing the same with its dongle-type balanced portable DAC/AMP. We recently reviewed the MoonRiver 2 and here we are with another dongle, the Moondrop Dawn.
Moondrop Dawn is a fully-balanced portable DAC/amp compatible with full and portable devices alike – PCs, laptops, phones, and tablets.
Judging from the price offering of just $69.99, which is less than half of the MoonRiver 2 by the way, I'm sure audiophiles are very eager to see how the Moondrop Dawn performs.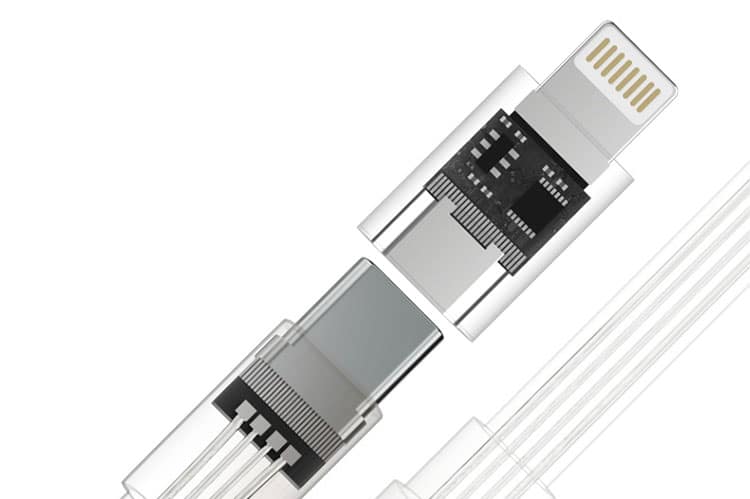 Tech Highlights
Going into the tech inside, Moondrop did a great job on the internals. Inside is two pieces of Cirrus Logic CS43131 high-performance DAC chips with a full-balanced architecture decoding through four channels.
What's great about the CS43131 is that it's a low-power DAC with a built-in amplifier. The power needed is only needing a 2-volt DC power to operate.
It also has a dual crystal oscillator to ensure high-quality digital signals. This enables the Dawn to have ultra-low jitter.
The fully-balanced implementation and hardware configuration implementation resulted in an impressive dynamic range of up to 143dB and a low SNR, reducing background hiss with ultra-sensitive IEMs.
Unfortunately, MQA decoding is not supported with the Dawn, but it does support playback up to DSD256 and PCM 32-bit/768kHz.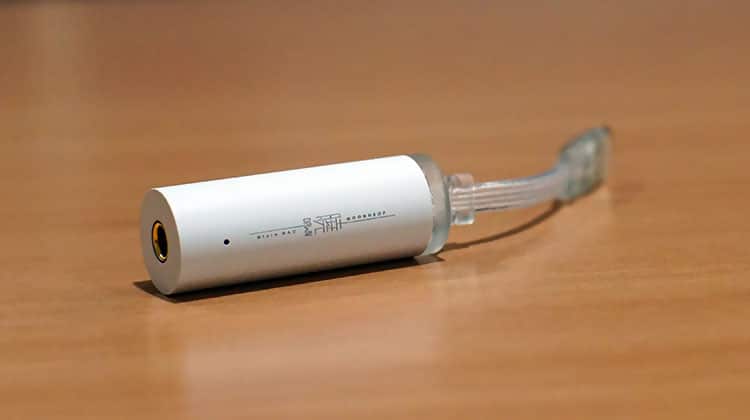 Design
When I look at the Dawn, honestly, it reminds me so much of the Moondrop Aria Snow Edition, thinking they look great used together. They both have a very clean build with white-silver aesthetics in mind.
The Dawn has a matte-white finish, which by the way is great for repelling fingerprints. I found it interesting that it's cylindrical, contrary to other USB-DACs nowadays.
The whole build looks durable. The main circuit is encased in an aluminum alloy with the 4.4mm headphone socket plated in gold.
The only weak point I can point out is that the cable is not detachable. In terms of the cable, it exactly looks like the same cable in the MoonRiver 2, just not detachable.
From a user's point of view, I'm quite skeptical about the durability of the cable as it is fully fixed on the unit itself. However, I did see that Moondrop tried its best to reinforce the weak points, hoping for the best this would be good enough to take a daily beating.
I/O
The DAWN is quite minimal in its form factor. There are no external buttons found here, only a small LED indicator when the device is powered on. No switch to flip the gain or volume controls. Volume is controlled in the main device itself.
The input port is a USB Type-C while the output port is a 4.4mm hack. For iOS users, a separate USB Type-C to Lightning adapter is needed.
Packaging & Accessories
Contrary to usual Moondrop packaging, the Dawn comes in minimal packaging, without anime characters splashed on the front, just circular tin metal packaging with a minimal label slapped on the lid.
The tin case was too big for the items inside. Although, the insides are secured with proper holders to make sure items won't move around when shipped. Inside is the Moondrop Dawn, a USB-Type-C to USB-A adapter, a warranty card, and a manual.
Sound Impressions
Summary
The Dawn is overall a clean and natural dongle-DAC. For a compact form factor, it is a very competitive product as it extends well in both lows and highs. It is very versatile as it gives very little to no coloration, which allows different IEMs to shine on their sound signature.
The lower end packs in a good slam, which helps in making it sound dynamic, rather than boring and flat. The midrange is more forward, which can be more appreciated with its wide soundstage. Both instruments and vocals shine in their own right, claiming the spotlight of this dongle-DAC.
Timbre
There is very little coloration with the Dawn. It is mostly neutral, but it does lean a bit on the warm side, which can be felt with its bass and midrange regions.
The midrange is thick and both male and female vocals possess rich and thick qualities. Various vocal techniques are easily heard and distinguished, especially in group arrangements.
Instruments are also projected well. They tend to take a backseat from the lush vocals, but they do stand on their own. String instruments, and guitars, in particular, are lush with enough weight. Stums are clear and present, accompanying the full-bodied vocals.
One thing that lacks would be its upper frequencies, particularly cymbals and acoustic guitar strums that lack presence. It is there but it was easily forgotten about. Especially with busy tracks, cymbals' thin splashes are easily drowned out.
Staging & Dynamics
The soundstage is impressively wide, above average with the competition. The image is also accurate, especially with the dynamic presentation of various instrument arrangements. Rarely does it sound flat and dull.
Synergy
Power
With the Moondrop Dawn's architecture, it can give more power than the competition. This tiny device can pack a punch with outputs of up to 4Vrms of power, this translates to 230mW at 32Ω and 54mW@300Ω.
I don't usually carry power-hungry IEMs and HPs so I was able to use the Moondrop rather conservatively, with just around 1-2 clicks of volume levels.
It does have a very low SNR, so when handling sensitive IEMs such as the Campfire Audio Solaris, there were no hiss or static sounds heard. The problem however is Dawn's floor volume outputs too much power, making the Solaris too loud and unusable.
Do note that I do tend to listen at lower volumes than average so each case might be different. I found that IEMs with at least 32Ω would be comfortable with the lowest volume settings.
Pairings
Since the Dawn has no gain switch, I would stay away from low-impedance headphones and IEMs such as the Campfire Solaris. Although there is no audible hiss when using the Solaris the output volume is too loud for my case.
It is also easy to pair, with its slightly elevated bass and a natural timbre. Bass shy monitors such as the 7Hz Eternal did benefit with a more boosted bass, adding dynamic range to the overall sound of the IEM.
Select Comparisons
ddHiFi TC44A
$79.99
Technical
The TC44A and the Dawn both have the Cirrus CS43131 DAC chip inside. Since it uses the same chip, it also has the same decoding capabilities such as support for up to 32-bit 384kHz PCM decoding and DSD256.
Both also have 4.4mm input, but it varies in implementation. The TC44A has a single-ended configuration while the Dawn is fully balanced.
The difference in implementation is also translated by its power capability. The TC44A can supply 60mW of power at 32ohms while the Dawn can give almost 4x more power at 230mW at 32 ohms.
Design
The difference in the design of the two is quite big. First of all, The TC44A's design allows it to eliminate the "cable" into the mix, offering a straight-up T-shaped OTG plug. The Dawn. On the other hand, has the traditional dongle design with a unit attached to a cable.
I like the "no-cable" design as I find it to feel more durable and more compact. Both of the 2 have cases made with aluminum, which is lightweight and durable. I believe these are tough to break, even when using them on the go.
Performance
Overall, the two are very similar in terms of their sound signature. Both have clean and natural presentations, with very minimal coloration. Both have above-average performance, especially at this price range.
I'm quite surprised by how similar these two are, perhaps it's because they use the same chip. To put it simply, Dawn's main difference with the TC44A is its power output, which can be both an advantage and a disadvantage.
Since the Dawn has a fixed gain, sensitive IEMs such as the Solaris are played too loud even at the lowest volume. The TC44A didn't have this problem and was able to pair the Solaris well. More demanding IEMs and HPs would benefit more from Dawn's power output, whereas the TC44A will fall short.
In terms of the sound differences, the bass is tighter and punchier on the Dawn than on the TC44A. The TC44A has a slightly slower decay, which can only be noticed on certain tracks. Drums and bass guitars on the Dawn have a punchier attack and slam. It sounds more dynamic, making it feel more impactful with certain tracks.
Aside from the bass response, both are very similar. The midrange region has a clean and natural presentation. Vocals, especially female vocals, have a velvety quality into it, with just the right richness.
Imaging and soundstage are also very similar, with the Dawn having just a bit of an advantage in the imaging. Since it has a more dynamic presentation, it is more accurate in replicating what tracks sound like.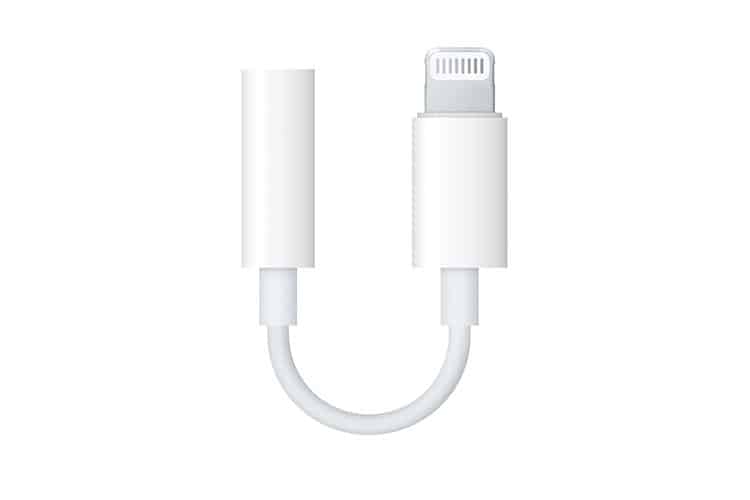 Apple Lightning to 3.5mm Headphone Jack Adapter
$9
Technical
The Apple Lightning Adapter has the Apple C101 DAC chip inside while the Dawn has a dual Cirrus Logic CS43131 chip.
The difference in chips offers different capabilities. The Apple Dongle only has a PCM Decoding Capability of 24bit/48Hz while the TC44A has a 32bit/384kHz PCM decoding capability, along with DSD support native up to 256.
The headphone output on the TC35i is 3.5mm single-ended while the Dawn is 4.4mm balanced. The Apple dongle can only give off 16mW at 30Ω loads while the Dawn offers a much higher power output at 230mW at 32Ω loads.
Design
The design of the two is similar in the sense that it has a cable between the input and output. Beyond that, the two are very different.
The Apple dongle is more compact compared to the Dawn. It is less than half the size and lighter in weight. To be more elaborate, the apple dongle can slip into a small IEM case similar to the one found in the Aria, while the Dawn can't.
In terms of build, both seem to be durable. Although the Apple Dongle is made of plastic, since it's too small, it's tough to break or cause any problem with the cable. The Dawn has a weak point on its cable. Since the output side is much heavier than the input side, there is a possibility of causing strain when used on the go.
The Apple Dongle, of course, directly connects via Lighting Port while the Dawn needs a separate USB-Type C to Lightning Adapter.
Performance
The bass has more lift and a deeper rumble in the Dawn than the Apple Dongle, particularly in the sub-bass region.
The midrange on the Apple Dongle is more elevated, however, the Dawn sounded a lot more transparent and cleaner. When listening carefully, there is some grainy texture with the Apple Dongle.
Treble extension is also higher on the Dawn. Higher frequencies are heard well, where it is rather cut off in the Apple Dongle. The highs are also more crips on the Dawn. Guitar strings sound rounded with the Apple Dongle, whereas natural strums and plucks are heard with the Dawn.
The only problem with the Dawn is that it has higher minimum output power, limiting it to pairing with monitors with higher sensitivity and impedance. The Apple Dongle has much less power, so it matches sensitive IEMs like the Campfire Solaris.
However, there is a massive improvement in the overall sound dynamics and staging when using the Dawn compared to the classic Apple Dongle. While the Apple Dongle by itself was impressive, it rather felt flat and cramped when the Moondrop dongle is added to the mix.
Our Verdict
Moondrop has made dozens of products that have captured the hearts of many audiophiles, beginners, and veterans. This is another step towards giving what the users want – a fully balanced 4.4mm for a very affordable price.
The Moondrop Dawn is a plug-and-play device, very easy to use. It has more power packed in than a lot of the competition, making it a logical consideration for harder-to-drive monitors or even some headphones where a smartphone and some ultra-portable USB-DACs would not be enough.
This device is perfect for people starting out who already have or are planning to have a 4.4mm system in their chain that needs a bit more power than what their smartphones can supply. It elevates the sound quality of a smartphone set-up offering with a fully-balanced implementation.
Moondrop Dawn Technical Specifications
DAC Chips: Dual CS43131.
DNR: 132dB.
THD+N: 0.00017%.
Decoding: PCM up to 32-Bit/768kHz, Native DSD256.
Output Power: 230mW@32Ω, 54mW@300Ω.
Line-Out: 4Vrms(High-Gain), 2Vrms(Low).
Interface: USB Type-C.