In this feature, we review the SJY Audio Starry Night V2 which is a set of 2nd generation closed-back 82mm planar magnetic driver headphones. It is priced at $599 SRP.
Disclaimer: We received this sample in exchange for our honest opinion. Headfonics is an independent website with no affiliate links or services. We thank SJY Audio for their support.
More information about planar headphones that we have previously covered on Headfonics can be found here.
Please keep in mind that this post adheres to our most recent scoring guidelines, which you can find here.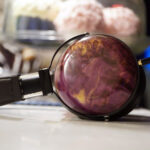 SJY Audio Starry Night V2
The Starry Night V2 is a crazy beautiful-looking closed-back planar magnetic headphone. This wood coloration made me drop my jaw when first showed it to me. The headphones might require a small nuclear blast to power, but you can still get a very good sound out of a good headphone amp like the Burson Conductor 3.
Pros
Gorgeous design
Airy soundstage
Cons
Weighty headphones
Lacks bass response
SJY Audio hails from the US and could be considered a relative newcomer to the portable audio market.
Founded by Jeffrey Yin in his junior year in high school and born out of a desire for a sound that met his own preferences, he started working on building planar headphones to meet his own requirements.
Rather than pick off-the-shelf drivers, he decided to work on his own planar designs from the ground up.
Such was the consistency after a few years that he decided to go full-time at the tail end of his college years and hit the market originally with models such as the Hinode and the Artisan.
SJY Audio's first major release was the OG Starry Night via Indigogo last year which was a closed-back circumaural planar headphone that got some considerable backing.
2023 also sees the launch of a new open-back planar called the Moonlight, however, today's review is on the second edition of the Starry Night, the V2, priced at $599 SRP.
In short, the Starry Night V2 is designed to be somewhat easier to drive than the original, widely considered as a very inefficient or difficult-to-drive planar headphone.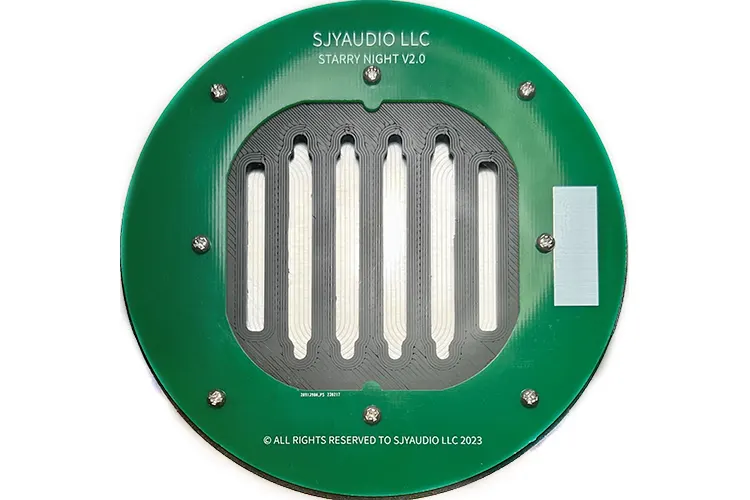 Tech Highlights
The Starry Night V2 is a set of closed-back circumaural planar magnetic headphones. It uses a 2nd generation 80mm planar driver with a diaphragm thickness of 0.001 mm developed from the ground up.
That's about 4mm larger than the original Starry Night driver though I have no detail on the active surface area of this driver. It is rated the same as the original or V1 at 10Ω but at 87 dB @1kHz SPL it's still a fairly demanding set of headphones.
Early on I was told that the interior design of the Starry Night V2 was aesthetically pleasing in terms of what the driver setup physically looks like under the ear pads.
I reached out to the owner for some sample photography shots of the innards of the Starry Night V2. There is just something about how simple and elegant these planar drivers look. From a visual point of view, I consider them stunning.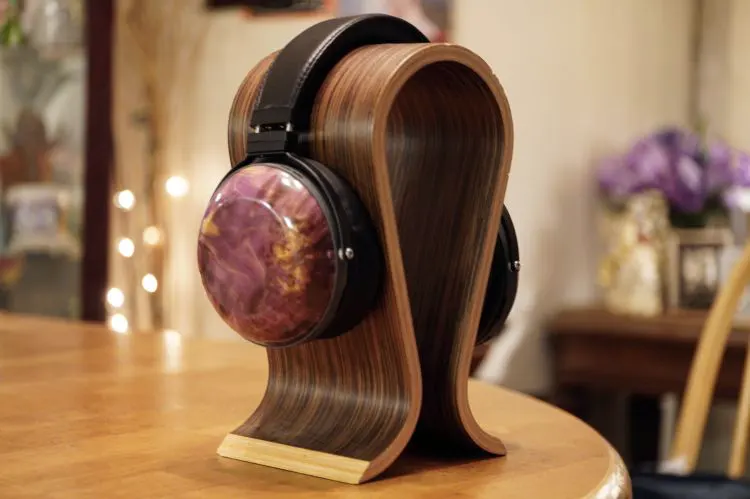 Design
The Starry Night V2 is extremely beautiful. In fact, there I might say they are the most beautiful headphones that I've ever reviewed. I've opted for the purple model because dark purple is my favorite color. Did I make the right choice? Absolutely yes!
The Starry Night V2 headphones are also fully closed back. This means they do not leak any sound and they will somewhat protect from outside noises as well as allow for a small amount of passive noise cancellation. And yes, they are extremely heavy headphones at 500-520g.
The density and the quality of the materials used are second to none and are among the best that I've ever had the pleasure of reviewing in a headphone.
It was clear from the first listen that these headphones had an aura around them, one that screamed someone somewhere designed them with a purpose. My instincts being shown to be correct here after hearing back from Jeffrey had made me happy that my incites were accurate from the first second of listening.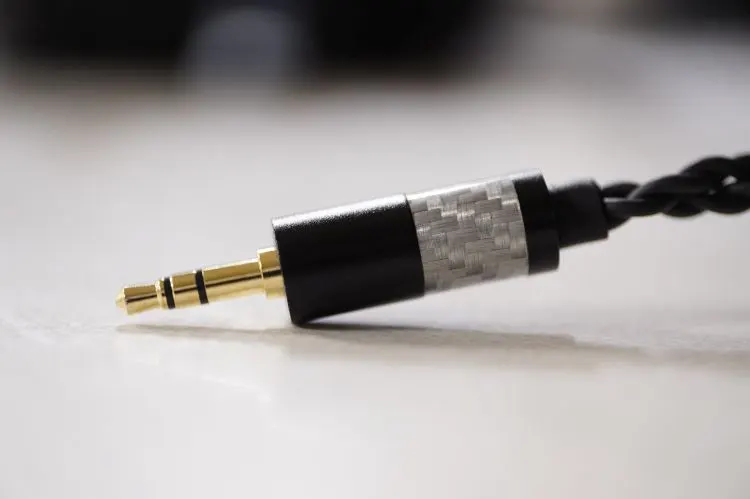 Cable & Pads
The Starry Night V2 ear pads are made of a combination of cowhide and protein leather. The yoke is entirely made of aluminum.
The stack cable is a 1.5-meter-long twisted cable with a copper core. The angled protein leather pads contain memory foam on the inside, And the wood factor is stabilized wood along with a chassis made of nylon PA12.
The ear pads are supremely soft, and the underside of the headband is also equally pliable and comfortable. The Starry Night V2 uses dual-sided plugs one for each side of the ear cup that terminate into a 3.5mm adapter.
My stock adapter has a slight carbon fiber feel and looks to it but the quality of the termination adapter is excellent.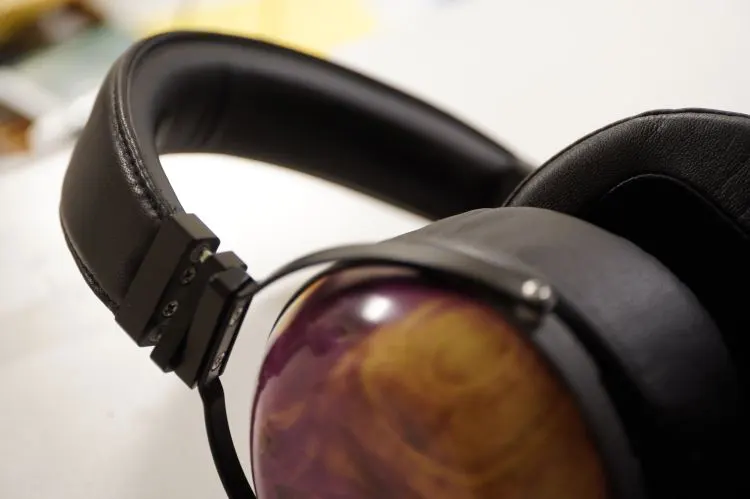 Comfort
While the Starry Night V2 headphones are extremely heavy, they are also extremely comfortable with a very light caliper pressure.
The headphones are excellent in balance and fit and the quality ear pads make the experience plusher than most other closed-back headphones that I've had the ability to review in the last few years.
Many other headphone makers opt for a stiffer and more firm appeal to the leather used in their ear pads which makes the experience less comfortable overall.
This is not the case in this scenario, as the designer has made sure to implement the most comfortable and soft-feeling materials.
More often than that the cut of memory foam in expensive headphones like this tends to be very dense and hard to the touch but in this case the Starry Night V2 they are extremely pliable with the softness factor of the earpads memory foam.
It really gives a nice deep sinking-in feeling when you wear it, and that is very comfortable for someone like me who shaves their head. The overall comfort factor receives high marks.
Packaging & Accessories
My Starry Night V2 headphones did not come with any official box or foam cut-out or insert to protect the headphones. My unit was shipped in a standard cardboard box with some bubble wrap to protect it and nothing else.
To me this is a good thing, I don't need nor want anything significant in the way of the boxing experience. That is a whole world that I don't really understand or relate to. A box is a box, as long as it has the proper protection, it's fine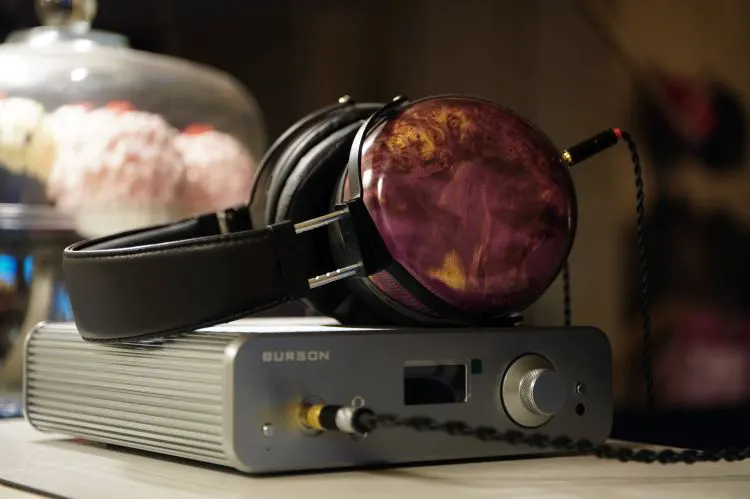 Synergy
Efficiency
The Starry Night V2 is the most demanding headphone I have ever experienced, outside of the HIFIMAN HE6.
These headphones require extremely powerful amplification and I have found that the power from the Burson Conductor 3 isn't enough. It is generally accepted on most audio forums and circles that these headphones need a powerful speaker amplifier to really drive them to the best of their abilities.
Despite that, I am happy with my Burson experience. Now, it is true that amps like my CEntrance HiFi-M8 V2 and the xDuoo XD05 Plus are nowhere near enough and make the Starry Night V2 feel emaciated and very, very thin.
Also, I am able to crank out a 9 or a full maxed 10 on the dial on the volume of these amps before I get to what I consider normal listening volume. So thankfully, I have found that the Burson Conductor 3 is capable of driving this headphone to enjoyable levels, but still lacking.
Tone With Power
What happens when you drive it with a huge amount of power is that the treble and the effortlessness factor bump up a few steps beyond.
The scaling of the Starry Night V2 exceeds every other headphone that I have ever used, minus the HE6 and any other headphones similar that require a power amp. You cannot and will not achieve what I consider "Greatness" without it.
This headphone's overall tone is on the thin side, and with excessive power, this changes to a creamier and more natural flare, quite like the Audeze Maxwell, which starts out like that to begin with.
The Starry Night excels with excellently recorded material, specifically, fusion guitar. There is a track called Sleeping Waves from Dhalif Ali, a great guitar player, you can find him on Spotify.
The Starry Night feels so aired out and effortless sometimes, but only on high gain through my Burson amp.
I really enjoy how deep the headphone sounds sometimes. It doesn't perform like a typical closed-back, and it absolutely sounds like a good open-back in terms of how dynamic the tone and presentation can become.
Click on page 2 below for sound impressions and our selected comparisons.