Select Comparisons
ddHiFi TC44C
$119.99
Technical
I often scratch my head listening to these recently released dongle DACs including the DC06 and what a ridiculous amount of driving power and performance they have for their size. The TC44c seems to have more power than what's stated on paper but the DC06 seems to be more honestly posted with its specifications.
Sitting at an identical price bracket the ddHiFi TC44C offers the same dual headphone jack output and an identical configuration consisting of a 3.5mm, and a 4.4mm with a USB-C port for input connectivity. The only lacking feature here is the lack of MQA rendering capability.
Instead of using ESS tech, the TC44C uses dual Cirrus Logic CS43131 chips which in general use less power to operate and tend to run cooler on average temperature-wise. Perhaps the onboard type of amplification has something to do with that since the CS amp section operates at a class H GND-centered stage level.
The power draw numbers of both these chips are similar, however. For comparative reasons, the ESS draws a maximum amount of 45mW and 10mW on standby while the Cirrus Logic draws 40.2mW max and 6.25mW on standby.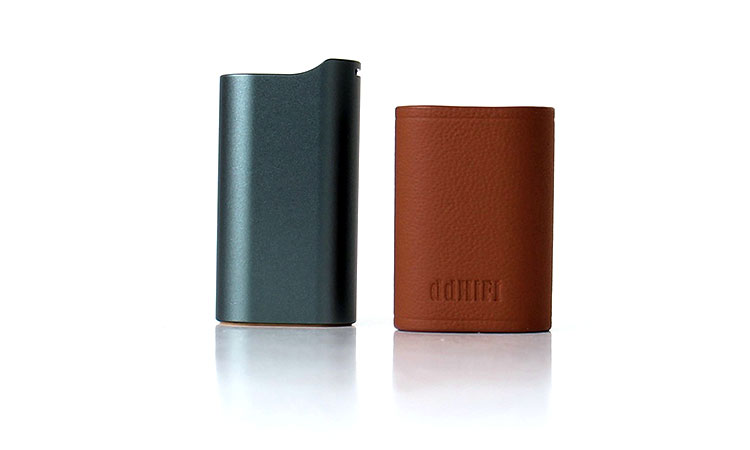 Design
The ddHiFi TC44C is a unique dongle DAC and its small stature increases its appeal. The size and performance ratio were obtained by using two smaller boards instead of a larger one, placing them both in a sandwich type of mounting configuration, and linking them together with OCC internal copper connection lines.
One of the unique features of the TC44C design is the incorporated lanyard hole that allows you to hang the dongle off a neck strap. However, it does get in the way of using wide 3.5mm plugs. The 4.4mm connection doesn't have that issue since the lanyard hole is off to the 3.5mm side.
Another cool feature is the included cover that looks hand stitched and organically made with materials from nature rather than the usual synthetic stuff. ddHiFi also has great ears when it comes to pleasing their customers because this cover was supposed to be a limited run but ddHiFi had a change of heart.
ddHiFi actually went out and sourced similar materials to include a cover with every unit now since we mentioned that by excluding this cute accessory sales appeal will drop. It should not be a determining factor on purchase day however since it does perform well and it's not just a fancy dresser.
Performance
The TC44C seems to be the most efficient at driving a load at the same volume level and using the same headphones. This is at or below half volume levels but when the volume is turned up the DC06 jumps in front of course.
Both units seem to have a very dark background with no present hiss and both dongle DACs perform well when it comes to tonality and frequency response, distortion levels, and dynamic response although the DC06 seems to be the warmer sounding and more energetic sounding again probably due to the higher power output.
When it comes to imaging and staging, the TC44C pans are smoother transitioning using the same test tracks. There seems to be better wider height and depth as well but perhaps there's an extra teaspoon of defined placement.
The TC44C seems to have a leaner, drier bass presentation that somehow contrasts the warmer and more forward blossomed bass of the DC06. Midrange response seems leaner on the TC44C and sounds more vivid and forward while high frequencies remain well controlled on both models but more so in particular on the DC06.
HiBy FC5
$159.00
Technical
Perhaps the larger model in this comparison in size but with fewer features the HiBy FC5 is a similarly priced dongle DAC that relies on a single ES9281PRO which is a flagship SOC and paired together with a pair of ES9603Q amplifier chips that were designed to work in perfect synergy with the ESS SOC line.
The FC5 only has a 4.4mm balanced out but in the box, a 4.4mm to 3.5mm single-ended cable is included which is odd. I thought balanced circuitry was different in the fact that both channels had isolated ground connections similar to a comparison between floating ground and chassis ground wiring in automotive sound gear.
Perhaps they're just using a similar setup as iFi's S Balanced topology. HIFIMAN also uses similar connectivity on their DAPs. But it seems more manufacturers are using a similar circuitry since out of curiosity I used that same adapter on other dongles only to find they work on their 4.4mm connectors as well.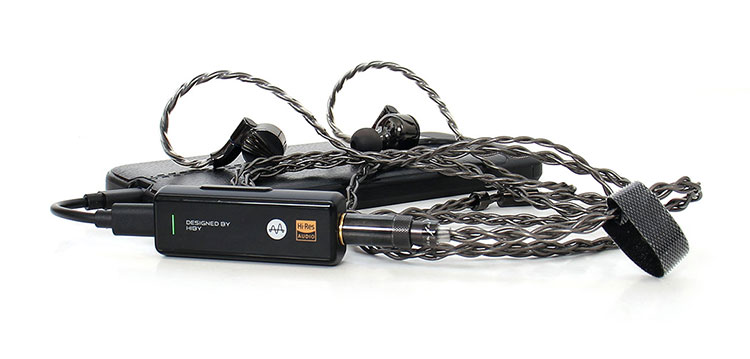 Design
The FC5 is slimmer but taller in design. One of the good points about the shell design is that the FC5 has all the corners rounded off and it feels better in your hand because of that and is certainly more pocket friendly.
The shell seems to be made in a composite way by incorporating an aluminum shell with some sort of tempered glass side panels where the product logos are displayed. One side has a volume control which is absent on the DC06 but to its credit, the UAC app gives you a 64-step volume which is the most precise of the bunch here.
The DC06 format indicator is also novel and emits a soft subtle glow that doesn't light up your room when the lights are off. The DC06 does have a format indicator LED which is located between the two headphone jacks.
The FC5 dongle DAC does MQA as well but is limited to an 8X folding capability. All the other digital formats also run on the FC5 but DSD capability drops down to 128. PCM remains a capable 32 bit/ 384 kHz max.
Performance
The FC5 seems to have a low-ball tuning to keep noise levels or power consumption down and it does considerably so. Again, this model seems to have some sort of muting or sleep function that puts the output stage on standby so all you hear is dead silence between tracks.
The FC5 also seems more neutral although both share ESS tech for their DAC sections. Perhaps a bit more detail comes through off the FC5 because of the flagship ES9281PRO chip but its output seems to suffer the most at high volume levels since it's somewhat overpowered by the DC06.
Imaging quality seems to sit in the middle between the DC06 and the TC44C which does best at this task. The FC5 presents imaging in a 3-point process but it tends to transition with wider points compared to the left, center, and right more focused points produced by the DC06.
FiiO KA3
$89.99
Technical
I consider the FiiO KA3 to be a high-value model that offers good performance plus one of the best accompanying apps available out there for dongle DACs. The app is called FiiO Control. The only issue is that FiiO does not open up all the features for all the compatible models.
Some features like the equalizer, for example, are excluded but you still can set low pass filters, set the 2-stage gain, adjust balance plus a couple of other features and there's even a user guide. Firmware updates are also not executable from the app. You have to download 3 separate files to do so and it only works on desktops or portables, not from a mobile device.
The KA3 sports a single ESS ES9038Q2M which handles most PCM and DSD formats but there's no MQA. However, for brownie points, it does reach higher DSD levels of 512 and the same PCM 32 and 384k playback capabilities.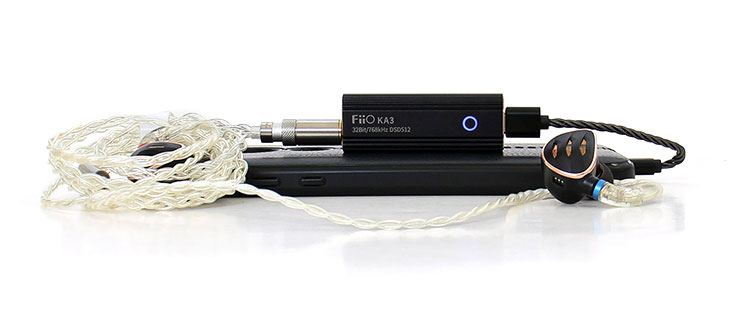 Design
Boy, these two dongles look as if they were made at the same factory. They both have an all-metal shell with cooling fins and they even wear the same general color and same color writing. What makes them look slightly different is that the FiiO KA3 has gold-colored end caps.
Connectivity is the identical USB-C input along with 3.5mm and balanced 4.4mm headphone outs. This is what I consider to be standard fare nowadays. There's no onboard volume control on either unit but the iBasso UAC app gives the user a more precise 64-position volume which is independent of the source volume.
Performance
The FiiO KA3 has a neutral to warm sound signature with a slight vocal emphasis. The KA3 also has a polite signature that sounds smooth overall and there seems to be an absence of harshness. The high frequencies seem to be the most relaxed within this bunch but too much so at times and I prefer the highs on the DC6 which are slightly more vivid and present.
Power seems to run closer to a hybrid class A on the FiiO KA3 where the volume halfway seems too low at times but beyond that, the volume rises very quickly. The KA3 seems to have almost the same amount of driving power although it has a lower power output rating of 240mW which is still ample enough power for most situations.
The KA3 soundstage seems wide and tall but not much depth is there but just a small amount. I would consider it an introvert signature if it wasn't for the width which is probably on par or the widest of the bunch. However, the DC06 does better placement and it's probably due to the more upscale SOCs which were also doubled up.
Our Verdict
The iBasso DC06 is a very good dongle offering good sound and works flawlessly every time. If there's one positive point to start it is the power and watts per dollar aspect but of course, it has a few more.
The power output levels compete with some of some higher tier models and in its tier particularly but the only cons observed were some pointy edges and perhaps a slight underfill in imaging. To counteract that, placement in staging was better than most.
If you use the iBasso UAC app you get one of the finest volume controls available on a dongle DAC which in general are poorly implemented on other similar dongles.
The frequency response is linear and hiss was never present. You don't get a fancy ample app but you do get great sound in a small package that won't drain your battery much or your pocket which are other points of appeal you can add to the complete package.
iBasso DC06 Technical Specifications
DAC Chipset Dual ESS ES9219C Quad DAC+
PCM up to 32 bit/ 384 kHz
DSD DSD64, DSD128, [email protected]%^
MQA 16X
Weight 23 grams
4.4mm Balanced
THD+N 00035% at 600Ω / 0.0005% at 32Ω
Output voltages 2Vrms at 32Ω / 4Vrms at 300Ω
S/N 123dba
Dynamic Range 123dba
Frequency Response 20-40 kHz
Output Impedance <0.5Ω
3.5mm Single Ended
THD+N 00056% at 600Ω / 0.0007% at 32Ω
Output voltages 2Vrms at 32Ω
S/N 120dba
Dynamic Range 120dba
Frequency Response 20-40 kHz
Output Impedance <0.3Ω