The Hifiman HM1000 is a high-end portable integrated amplifier and DAC with a classic R2R PCM1704K DAC chipset, BT capability, and balanced connections. It is priced at $4891.
Disclaimer: The Hifiman HM1000 sent to us is a loan sample in exchange for our honest opinion. We thank the team at Hifiman for giving us this opportunity.
To read more about Hifiman products we reviewed on Headfonics click here.
Note, this review follows our new scoring guidelines for 2020 which you can read up on here.
Hifiman HM1000
The sound performance is world-class and I enjoyed using the OTG DAC mode with my phone or my laptop. If price, GUI experience is no object and you are looking for smooth, unaltered, rightful reproduction of sound, the HM1000 will be a solid recommendation.
HiFiMAN has been a leading player in the High-End Digital Audio player and headphone market with pioneering concepts and solutions. Once again they come up with a very unique product "HM1000" which bears their "1000" flagship hallmark.
The three variants of HM1000 come without a screen and house R-2R chipsets, reminiscent of the year 2000 times. Stepping up from the predecessor R2R2000 the HM1000 marches one step further to trim down components for the best audio quality, you could either use it as a USB DAC or navigate the playback on your phone remotely.
We are covering the highest-end model with four legendary Burr brown 1704K 24Bit R-2R chipsets once used on various high-end machines, for example, the Mcintosh MX-5000 CDP/ Esoteric D-01 / Wadia 27 for True-24Bit, full balanced D/A conversion.
What makes it more interesting? The HM1000 is not just a DAC Amp and it carries onboard memory to serve as a turntable/decoder. While other manufacturers are bulking up their flagship level DAPs with the latest Delta-Sigma chipsets, Hifiman courageously uses a different approach which could get us the most natural and organic sound.
As always implementation is always the key, is this just a gimmick or a true performer? Read on.
R2R DACs
The HM1000 houses the highly regarded 24Bit R2R decoding chipset onboard with an FPGA main controller also the latest wireless technologies. It does not use modern oversampling and noise filter technology for true 24Bit decoding but it is supposed to sound much more musical and organic than the competition.
The R-2R technology becomes obsolete for mass production as it is not cost or space-efficient, so we rarely see any portable audio products with this technology. Sidekicks, there is no GUI and screen on the HM1000 for better noise control and less power consumption.
You can use the HM1000 as a BlueTooth receiver, a USB DAC, or a digital turntable/ player remotely controlled on your phone.
There are 3 versions of the HM1000 currently available with the DAC chipset version and number of chips deployed being the main separator of each type:
Gold version: 4pc of 1704K
Silver version: 2pc of 1704K
Rouge version: 2pc of 1702
Design
This fusion of modern chipsets, wireless standards, and retro R-2R audio technologies comes in a magically compact form factor. To my relief the HM1000 isn't a heavy chunk of brick which I imagined it would be like the Chord Hugo, it is measuring merely the size of a pack of cigarettes (115*62*18mm) and will not drop your pants.
The HM1000 has a clean aluminum housing, inheriting the R2R2000 series's palm-size form factor and is a joy to carry, possibly the most portable higher end portable audio device at its price range.
The semi-transparent glass panel reveals the 1704K chipsets behind, under stronger lighting you could see some patterns on the lower part of the glass panel. The case design is masculine, with bold corners and rectangular buttons. Carefully look at the power button and you will see Hifiman's logo embossed.
A pin rejectable card slot sits below the volume button for internal memory expansion and there are no onboard memory. On the other side, you will find an output/input switch and a gain switch (high/ low/ very low) for different loads. On the bottom, you will find 4.4mm / 4.4mm lineout outputs also its counterpart in 3.5mm.
You can find the signature of Hifiman's founder Dr. Fang Bian on the back of the device.
The design is incredibly simple and stylish albeit having some old school components inside. Again I am very impressed with the unbeatable cassette tape size which won't make you look like a geek nor a bomb terrorist.
Tech Inside
While the custom-coded FPGA controller and Bluetooth chipsets are all new, the PCM1704K R-2R DAC was launched in 1998 and it is based on a totally different circuit than the modern Delta to Sigma chipsets.
R-2R circuits are always around for high-end audio designs and have been a preferred option in the old times. However, due to the increasing need for smaller design size, digital volume controls, and mass production needs, manufacturers lean towards producing Delta to Sigma chipset with multi-bit support.
You can build a resistor network consisting of hundreds of resistors to form an R-2R ladder for multi-bit decoding even beyond 32bit. However, matching resistors for accuracy will be a huge pain and integrated chipsets will be more accurate than a scrap build. That is why the old integrated R-2R chipsets become highly sought after.
Mainstreams flagship players/ DAC amp focuses on AKM/ ESS's Delta-Sigma chipsets i.e. AKM4499/ ESS9068 or FPGA designs with heavy oversampling filters, but niche audiophile brands have started working on R-2R again for their flagship releases.
Nevertheless, it is welcoming to see a great DAC USB-C device with NOS 1704K chipsets and according to Hifiman, this is the "last batch of new 1704K" ever made.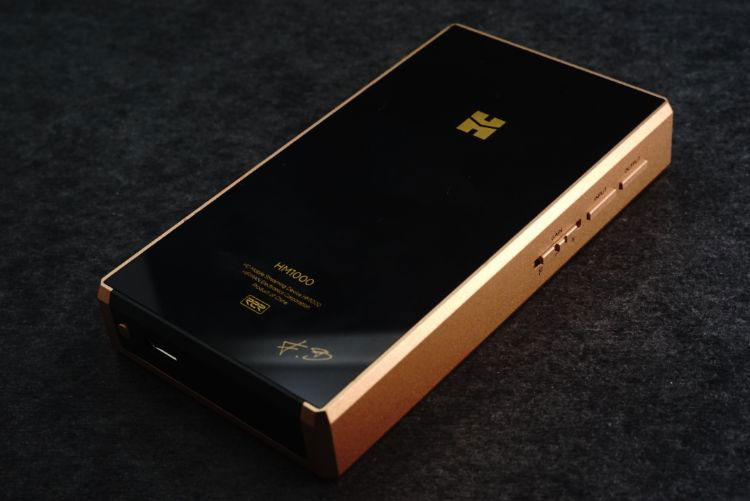 BurrBrown PCM1704K
If you started the hobby more than a decade ago or if you are a DIYer/Hi-fi enthusiast, you shall remember the halo on PCM1704K, which is regarded as a perfect chipset for ultra organic, energetic sound.
The PCM1704K is a high precision, 24bit digital-to-analog converter with exceptional dynamic performance, ultra-low distortion, and more importantly excellent low-level signal performance which helps it pick up more details and present more micro details than its rivals.
The chipset features a BiCMOS sign-magnitude architecture which helps to eliminate glitches and other nonlinearities around the zero-crossing point, giving you more perfect waveforms when compared to its oversampling counterparts. It is capable of running with an input data clock of 25MHz, which allows sample rates of over 700kHz, doubling what we are still listening to (384kHz) in 2020.
Multiple pieces of the true multi-bit Burr-Brown PCM1704K DAC are connected in parallel inside some of the top class machines in the older times for stronger current output and it is still a perfect R-2R decoder in modern standard.
Circuitry
The HM1000 runs on an architecture that fuses the merits of old and modern sound circuitry design. Such resembles desktop sources and with the 4pc of 1704K, it is achieving a true balanced D/A output path and ample power after two stages of amplification.
Looking into the device you can see a symmetrical layout with a minimal pathway from the controller to the R-2R chipset.
(FPGA+DAC ->I/V->LPF->Step Attenuator->Amplification).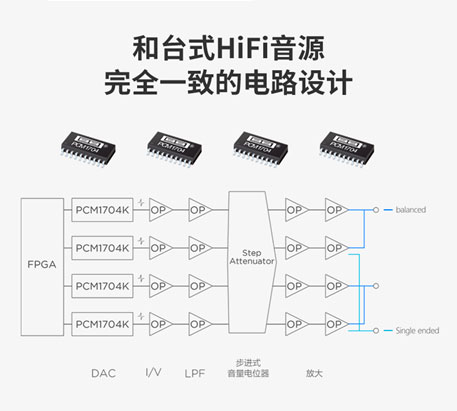 Remote Server
Probably to allocate the maximum amount of power to the decoding circuitry, the HM1000 is not designed as a DAP but as a "remote server" on-the-go, eliminating CPU load from GUI/OS which will as well introduce more noise into the output.
On HM1000 Hifiman offers 4.4mm balanced line out on the HM1000, with 2pcs of 1704K on either channel to realize true balanced outputs, and is convertible to a fully balanced output for desktop amplifiers/ headphones. Again implementation is always the key but a good DAC will always be a great sign.
DSD & 32Bit Support
Since the R-2R chipsets are designed in the 24bit era, this device will not replay DSD or 32Bit files unless the player application down-samples the file. Audio files with 32BIT decoding can be displayed in the controller app but will be skipped when selected to play.
Remote Mode
This is the most fascinating feature of the HM1000. A Hifiman Remote App is built for the HM1000 to play local files on a TF card and is currently at the Beta stage.
You will need a TF card loaded with songs to initiate the syncing process and start the app, which takes a while to read the content inside. During the library update, the white led on the card slot will light up.
On a Bluetooth connection, it takes quite a long while for the library to be scanned and I strongly recommend updating the library through OTG mode, which will finish scanning quicker.
Once the media is loaded the overall app experience is quite smooth with a large library and the interface is clean and easy to use. I like the timer function in particular. I just hope Hifiman could include an in-app equalizer and a USB-C to USB-C cable to better take advantage of the current platform.
USB DAC mode with OTG support
Connecting the HM1000 to my laptop is smooth with no glitched experienced or popping sounds. No drivers are needed, so it is basically 'plug and play' after Windows recognizes the device for the first time.
The HM1000 connects to my android phones instantly too with USB-C to USB-C cables and it sounds as good as, if not better than the onboard memory playback. Decoding via USB/OTG audio mode supports up to 24bit/384kHz.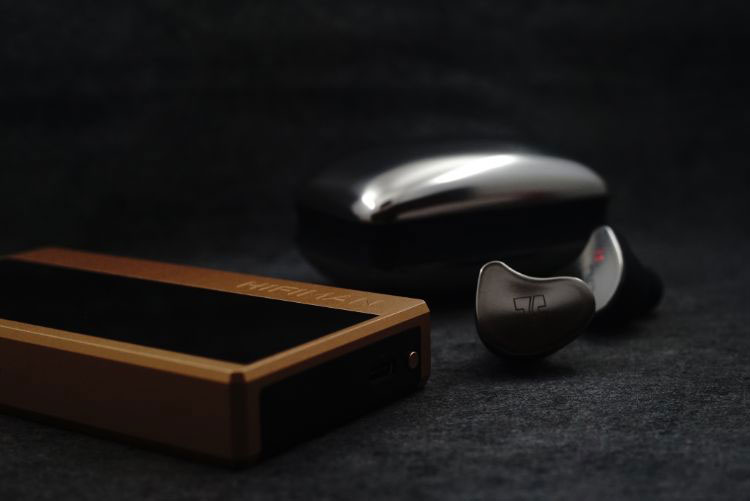 Bluetooth
The HM1000 is equipped with the latest Bluetooth 5.0 standard, supporting LDAC, aptX-HD, and aptX up to 24bit/192kHz. Once connected to my LDAC capable smartphone the LDAC label shows up and it becomes the default codec for decoding. This is the best mainstream Bluetooth codec right now and is recommended to take full advantage of the HM1000's streaming capability.
The experience with Bluetooth mode is stable and smooth, latency is nearly negligible and the connection/reconnection is instant. Signal strength is excellent, and I experienced no signal drop/ interference during daily use.
It is quite handy to hook up to your HiFi system with HM1000's output using Bluetooth. However, the internal memory/OTG Audio mode is noticeably better in performance as the wireless connection sacrifices a bit of dynamic range as well as adding additional noise.
Battery time
One merit of having no screen on this "DAP" is the lengthened playback time. During the initial run-in, I was getting roughly 9 hours on Bluetooth connection on high volume connected to another amplifier. The HM1000 gets quite warm after 1 hour though the performance is quite stable even when the battery level is low.
The HM1000 supports battery level display on your phone but like many other SoC devices the power lever counter is not too precise, so it serves only as a rough reference. With the level of output on heavier loads, the playback time is more than satisfactory.
Packaging & Accessories
The HM1000 comes in a leather gift box, nicely adorned with a metal plate on top. Since the HM1000 is without a screen it has no screen protectors nor USB charging cables coming as accessories, instead, there is a lab report print that shows the S/N ratio and channel separation measurements of the machine.
Click on page 2 below for sound impression and comparisons