Synergy
The AP80 Pro-X has quite a flat tuning and it works well with anything, especially with its balance 2.5mm connection. The AP80 Pro-X is not a bass-heavy source, it is more a mid-centric DAP with a focus on the lower midrange.
Technically, AP80 Pro-X is still a budget DAP, not as dynamic as flagship, it does pair well with L-shaped or V-shaped monitors, adding a boost on the lower to upper midrange. It also does well with peaky, bright monitors as its treble tuning is more relaxed, more forgiving for piercing highs.
Efficiency
A silent black background is found on the AP80 Pro-X. We have tested this with numerous monitors in the sub $500 range having above 100dB sensitivity and found no hissing or unwanted noise on both SE and Balanced ports.
There was also no audible channel imbalance at low volumes. The dual ES9219C DAC chip did deliver its promise of lower distortion and output noise.
Power
The AP80 Pro-X powers the Sony MDR7506 63 ohms 106dB with room to spare. At just 40% volume on a high-gain plugged in the 3.5mm SE, sound can be heard at comfortable levels.
The technical sheet says AP80 Pro-X can power monitors as high as 200 ohms, which is quite impressive given its size.
Pairings
V-shaped monitors such as the 7Hz Timeless and Moondrop KATO pair well with the AP80 Pro-X. With the Timeless 7Hz, a fuller midrange can be enjoyed with Timeless' articulate mids. KATO's midrange was also elevated, making the body fuller and smoother overall.
I'm not fond of pairing the AP80 Pro-X with mid-centric monitors such as the Kiwi Ear Orchestra. The bass further sank and feels so lifeless without it. Of course, you can always tweak the MSEB to optimize the tuning according to your taste, which I was glad that Hidizs offer this customization in this budget-friendly DAP.
Select Comparisons
Hidizs AP80 PRO
$168
Technical
The AP80 Pro is the third iteration of the predecessor to the Hidizs AP80 and AP80 Cu. Hidizs has refreshed each time with either a new chip or a new build, improving from the previous. With the AP80 Pro-X, it's no different.
It finally ditched the ES9218P chip found in the AP80, AP80 Cu, and AP80 Pro(dual), and replaced it with the new ES9219C.
Balanced output remains the same at 190mW @ 32 ohms. Channel separation is improved for both SE and Balanced Output, from 70dB to 119dB from 98dB to 117dB, respectively.
For some reason, the AP80 Pro-X doesn't have the FM feature which is perfectly fine, since I mainly listen through my SD card anyway.
Apart from these slight changes, the AP80 Pro and Pro-X are 99.9% the same. They have the same OS, battery, size, and power outputs.
Performance
With the new chip under the hood, it would be interesting to know how much has changed between the two DAPs.
However, I find both DAPs to be tuned similarly, perhaps what we can now refer to as the AP80 house signature. The midrange is impressively warm and rich. Treble properly tuned, very forgiving even in peaky tracks, with a slightly dry lacking bass response.
However, after prolonged listening to these 2 DAPs, there do seem to be some subtle differences. The midrange on the AP80 Pro-X is cleaner and more articulate. Treble also has improved, with the Pro-X model having a more airy and fluffy texture. Higher frequency also extends a bit better, making it sound wider and clear.
Soundstage is similar on both DAPs. Not cramped but not expansive as well. Imaging though is better on the Pro-X. Layering has more noticeable gaps in the Pro-X model, resulting in a more accurate replication.
However, these differences are very subtle, not much different from one another. I would not recommend Pro users to upgrade to the Pro-X.
It would be better to save money and get a higher tiered DAP perhaps a Hiby RS6, Shanling M6 Pro, or even an older iBasso DX160. But if you're coming from an older DAP and want something light and handy, then definitely skip the Pro and go for the Pro-X model.
HiBy R3 Pro Saber
$209
Technical
There are a lot of similarities between these 2 DAPs, which is not surprising since they are competitors at a similar price point. For one, both have the same DAC chip and FPGA chip, a dual ES9218P and HBC3000 respectively.
Both use a HiBy OS with MQA support, with the AP80 Pro-X having a slight advantage of MQA rendering to 8x compared to the R3 Pro Saber's 4x.
One significant difference between the two DAPs is the streaming capability of the R3 Pro Saber. The R3 Pro Saber has WiFi capability that connects streaming support to a built-in Tidal application. The R3 Pro Saber also has Bluetooth 5.0 that is more power-efficient and supports a longer range.
R3 Pro Saber also has a larger 1600mAh compared to the 800mAh polymer battery found in the AP80 Pro-X. Due to the larger battery, the R3 Pro Saber has a rated standby by the time of 50 days and playtime of 19 hours single-ended, 14 hours balanced while the AP80 Pro-X falls around half, with a rated stand by time of 40 days and playtime of 8-11 hours single-ended, 6-8 hours balanced.
Another consideration between the 2 DAPs is the amp output. Under 32-ohm loads, the balanced output of the R3 Pro Saber is more powerful with 280mW compared to AP80 Pro-X's 190mW.
Both DAPs have no internal storage with a maximum storage of 512GB on AP80 Pro-X and 2GB on the R3 Pro Saber.
Design
The first thing you'll notice about these 2 DAPs is their size. The AP80 Pro-X is significantly smaller than the R3 Pro Saber, but frankly, the difference in size doesn't make the other more travel-friendly than the other.
The finish on both DAPs is pretty good. They are both colored in a metallic matte color with a glass back panel. The AP80 Pro-X does seem to have put more thought into the shape as it features more futuristic geometric curvatures than the R3 Pro Saber has a uniform curved design.
What I like about the R3 Pro Saber is its bigger screen size. More information can be displayed with fewer gestures. For example, to navigate to your files with the AP80 Pro-X, you have to press the file icon then go to files. But with the R3 Pro Saber, these options are in the music player's extra tab bar, which eliminates an additional step.
The tactile buttons of the two are similar, other than the AP80 Pro-X's scroll wheel that doubles as a power button. The R3 Pro Saber doesn't have a scroll wheel, instead, has a – and + button found on the left panel to adjust the volume.
Performance
Both DAPs support a balanced 2.5mm, which is great to find in budget DAPs nowadays. With similar DACs inside, I was expecting a very similar tuning between both monitors. However, I did notice some key similarities and differences here and there, the more time spent with these 2.
The lows of the R3 Pro Saber do have a lot more punch than the AP80 Pro-X. The bass and mid-bass are more pronounced, have a thump that is otherwise dry and lacking with the AP80 Pro-X.
Both DAPs have a warm lower midrange, with the AP80 Pro-X having a slightly thicker and richer midrange tonality. Both male and female vocals sound a bit fuller with the AP80 Pro-X compared with the R3 Pro Saber. The R3 Pro Saber does have a more articulate midrange, wherein vocal and instrument's textured tonality are easier to discern.
Compared to the R3 Pro Saber, the AP80 Pro-X has a more relaxed treble tuning. When using bright monitors with the R3 Pro Saber, it did sound peaky and unpleasant. It was a different experience with the AP80 Pro-X since it has a more relaxed treble tuning. It was more forgiving, more flexible in terms of gear pairings.
The soundstage and imaging of the R3 Pro Saber are significantly better than the AP80 Pro-X. Don't get me wrong, the AP80 Pro-X is great in its own right, but the R3 Pro Saber just exceeds my expectation.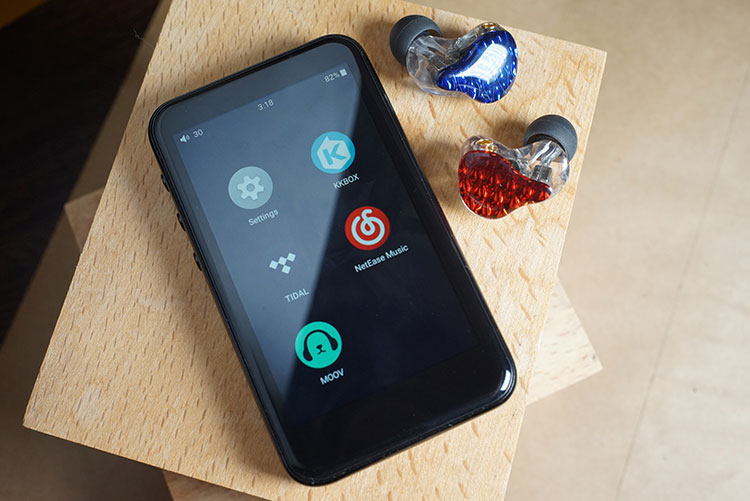 FiiO M6
$149
Technical
Inside the FiiO M6 is a Single ESS Sabre 9018Q2C chip, which has a 50% higher output (70mW @32 ohm) than its predecessor, the M7. Although compared to the AP80 Pro-X with a Dual ESS Sabre 9019C chip, the AP 80 Pro-X has a more powerful AMP with a 70mW SE at and 190mW with balanced.
The M6 also supports WiFi streaming, a feature that is not found in the AP80 Pro-X. It supports some of the famous music streaming apps such as Spotify and Tidal.
Both DAPs support dual-Bluetooth functionality, meaning it can serve as a BT Dac, as well as a BT music player. Both have Bluetooth 4.2 that supports LDAC, aptX, aptX HD.
When it comes to storage, FiiO M6 has a built-in storage of 2GB with external memory support of up to 2TB. The Ap80 Pro-X doesn't have internal memory and only supports external memory of up to 512GB.
The M6 has a bigger battery with a 1600mAh with a rated standby time of 26 days, 13h playtime on a wired connection, and 15h over Bluetooth.
The AP80 Pro-X only has an 800mAh battery but can support a 40-day standby with play 6-8 playtime in balanced mode and 8-11 hrs playtime in SE, which is quite impressive given it has only half the battery capacity of the M6.
Design
Side by side, they have the same width, with the M6 being taller among the two. A bigger screen is also seen in the M6, a 3.2-inch IPS HD touchscreen, vs the 2.45 inch IPS HD touchscreen on the AP80 Pro-X.
The tactile buttons have similar functionalities but have strikingly different layouts among the two. For one, the AP80 Pro-X has a Japanese ALPS volume knob that doubles as a power button, and basic playback functional buttons. The M6 on the other hand has a dedicated power button, a play/pause button, and a + – button for volume control.
The M6 also has more plain features, with a black metal body with rounded corners. The AP80 Pro-X has more refined details such as its elegant geometric cravings on a matte-painted metal chassis.
Performance
The M6 has a 'boomier' lower-end compared with the AP80 Pro-X. Emphasized on midbass is more felt in the M6, especially with Hip hop and R&B tracks. It gives the extra thump that is quite dry with the AP80 Pro-X.
The midrange is more forward with the AP80 Pro-X. Although, the lower midrange appears to be equally thick and warm between the more DAPs. It's in the upper midrange whereas in AP80 Pro-X felt a bit more energetic, giving female vocals a richer and warmer tonality. AP80 Pro-X also seems to be more articulate, with the M6 a bit lacking in resolution.
M6 is a bit treble shy, and it shows when comparing both DAPs. AP80 Pro-X has a more energetic treble, extending to the upper higher frequency. The M6 has a more relaxed tuning, with a conservative treble where higher frequencies take a step back and sound thin and rounded.
In terms of soundstage and imaging, both DAPs are pretty average, although the AP80 Pro-X is better. The soundstage of the AP80 Pro-X is not amazingly wide but it's wider than the M6. FiiO has a more intimate presentation but not that far along compared with the AP80 Pro-X.
Vocal layering is more articulate and precise with the AP80 Pro-X. Multiple vocals are more distinguishable on the AP80 Pro-X, while it felt bundled in the M6.
Our Verdict
With Hidizs's new refresh on its AP80 series with the AP80 Pro-X, there's nothing to complain about. New DAC chip? Put in a new dual ES9219C. Futuristic chassis? Slap on more detailed geometric shapes.
They played it safe this time, stuck with what works and what is a sure hit. So now I wonder what if they put in a bigger screen, bigger battery, BT 5.0, and maybe a 4.4 balanced termination?
The AP80 Pro-X is a budget powerhouse, priced at a budget of $189, and should make a lot of people happy with its nearly invisible pocketable size that functions as a DAP, USB DAC, BT DAC, and even as a phone dongle.
Hidizs AP80 Pro-X Specifications
Supported MicroSD card: up to 512GB
OS: HiBy OS3.0
Output Parameters(Single-Ended)
Output Power: [email protected] 32Ω
Frequency response(±3dB): 20-90kHz
THD+N: 0.0015%
Dynamic Range: 115dB
SNR: 119dB
Channel Separation: 110dB
Output Parameters(Balanced Connection)
Output Power: [email protected] 32Ω
Frequency response(±3dB): 20-90kHz
THD+N: 0.0015%
Dynamic Range: 116dB
SNR: 120dB
Channel Separation: 117dB