The Helm Audio DB12 AAAMP is a THX-certified mobile in-line headphone amplifier with up to 110mW of power and 8 hours battery life. It is priced at $199.99.
Disclaimer: The Helm Audio DB12 AAAMP that was sent to us is a sample in exchange for our honest opinion in this review. We thank the team at Helm Audio for giving us this opportunity.
To learn more about Helm products reviewed on Headfonics you can click here.
Note, this review follows our new scoring guidelines for 2020 which you can read up on here.
The Helm DB12 AAAMP is a great little inline amplifier that has an uncolored sound with lots of power on the go, enough for most cans. If you need more power from your phone then this would give it to you and as clean as possible.
I remember when THX certified equipment first came out. They were usually big, expensive equipment that set the benchmark especially in the home theatre scene back in the 80s. Did I just somewhat disclose my age?
THX was sold to Razer back in 2016 by Creative Technology which obtained 60% of THX in 2002 making them the major shareholders at the time. Headphone users are the latest group of consumers that can now enjoy THX sound and can even go portable now.
Now Helm Audio and THX got together and made what Helm audio claims to be the smallest THX-certified amplifier made up to date. The Helm Audio DB12 AAAMP is a THX-certified portable inline headphone amplifier.
The DB12 is battery powered, promises great audio quality and the unit comes with a 1-year warranty.
Tech Inside
The THX AAA headphone amplification top of line chips starts at the Vanguard line with the 688 chip up to the 888. These are for home audio use and are very powerful chips.
Helm Audio does not mention which particular chip they used but looking at their comparison chart on their website we can assume by specifications. They do highlight the THX AAA line which has similar chips in specifications to the Helm Audio listed specifications.
The THX AAA used is customized from the AAA Vanguard line, it is THX-Certified and promises excellent amplification and long battery life. However, when viewing the THX chart the DB12 specifications could be mistaken with the THX AAA-28/38 chip from the Frontiers line especially if you look at the power output numbers.
Battery Power
The Helm Audio DB12 AAAMP is powered by an internal battery that is rechargeable by the use of a USB type C connection.
Helm Audio claims 6 to 8 hours from one charge and I honestly got about 5 hours tops. I do like high volume and that was probably the culprit of a lower than claimed battery life which I believe to be rated at 50% volume.
3.5mm 4 pin Connectors
Portable inline amplifiers are rarely fed by a 4 pin 3.5mm plug and the Helm Audio DB12 specifies being stereo compatible and does not have a balanced input or output. So then why?
What the 4 pin connector does is offer microphone-equipped IEMs and earbuds a working port so you do not lose the use of the microphone.
It seems the DB12 AAAMP has a 4 pin passive bypass. In other words, if you turn off the DB12, the power output from the source will be passed through to the output port. Plus the microphone will work as well on or off.
Many inline portable headphone amplifiers miss these key features even though a passthrough system is very easy to implement.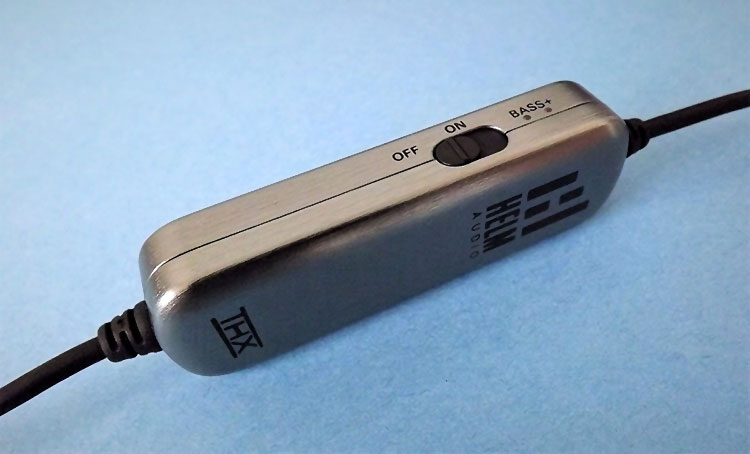 Design
The unit itself is made of lightweight brushed Aluminum. It measures 70mm x 22mm x 12mm. The shape has a no-snag design and has no sharp corners. Then at each end of the main unit, you have your input and output.
A 12-inch wire terminated with a 3.5mm 4 pin metal plug feeds the unit while the other side has a 2-inch wire terminated with a 3.5mm metal jack for your headphone connection. Short strain reliefs are used.
I would have preferred one wire and a jack directly on the unit to connect your 3.5mm headphone plug. Or perhaps replaceable wires altogether. The Helm Audio logo along with the THX logo is displayed at the bottom of the unit which weighs in at a low 1.08 ounces.
Jumbo Buttons
You cannot miss these in sight or touch. The 3 top buttons that operate the unit are pretty large. They remind me of the keys found on phones sold for the visually impaired.
Only thing is that these are very nice, give good tactic feedback, and the size makes them very functional and very easy to find and operate even while the unit is tucked away inside your pocket.
The Helm Audio DB12 AAAMP has digital volume up and down controls plus a pause/play and for picking up those annoying phone calls in the middle of your favorite song. Or you could just double-tap to hang up and keep rocking.
Since we are technically still in build let me not forget the power button on the side which has a double function. One is to turn the power on and off and the second is a bass boost feature enabler.
Bass Boost
If you need an extra kick in the bottom then just push the switch a second step. Bass boost is enabled with an extra sidestep over on the 2 position power switch.
The bass boost is centered at around 60Hz to 100Hz frequencies and boosted by a modest 6 decibels. I would have preferred a lower frequency point of 30 to a max of 80Hz to avoid touching the midbass and perhaps a four-decibel boost.
The bass boost works okay for some bass light headphones but I prefer the use of an equalizer if anything. For some of my IEMs and cans, this bass boost was a touch overwhelming at times.
Two LED indicators are next to the Power and bass boost switch, one for each function. The second LED lights up when the bass boost is enabled.
Power Output
The Helm Audio DB12 claims a 12 decibel gain over source. However, power output varies and is given as 109mW at 16 ohms and 111mW at 32 ohms. These power numbers were given with distortion levels of 0.1%. Output impedance is given as 0.4 ohms.
Somehow it seems to me that the advertised power output is modestly stated. None the less the THX chip mobile lineup is rated to operate well up to 300 ohms.
I can say that the DB12 has enough power to push most headphones on the market today except for perhaps about a dozen very hard to drive cans. My daily cans are the Hifiman Sundara and the DB12 drove them fine and up to a pretty loud level.
Noise levels
Signal to noise ratio is pretty high at 114 decibels and crosstalk is at 91db at 10k ohms. Distortion levels seem to be very low at 0.0008% at 10mW 16 ohms and 0.00035% at 0.049mW 10Kohms. That is a lot of zeros and the numbers look good. Even at maximum power, the distortion level only rises to 0.1% which is undetectable by the human ear.
The lowest Intermodulation Distortion levels posted are 0.01% at their lowest point measured at 32 ohms.
My only concern with noise and the DB12 is using a source with a dirty output and then amplifying that apparently could produce some undesirable results but most modern devices have very little noise and the one area they suffer from is from a low power output capability.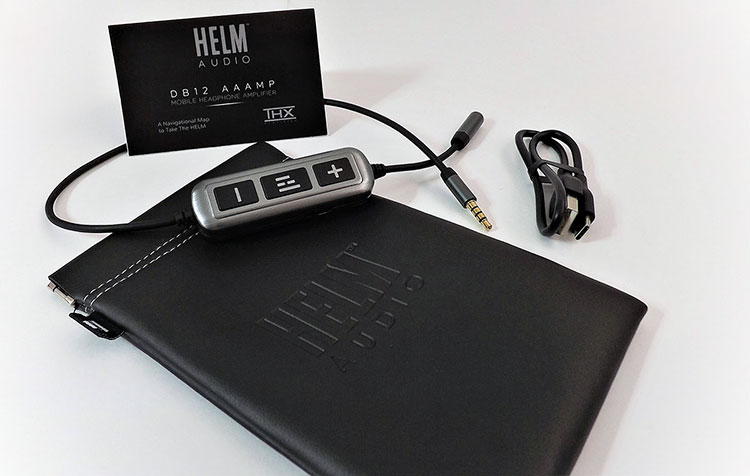 Packaging and Accessories
We received the retail box version and inside the main unit was cradled in foam and displayed in the center.
The black box was well illustrated and had plenty of information about the product. Not much was included though. Inside the box was a vinyl carrying bag and an instruction pamphlet plus a one-foot USB-C charging wire.
I was not expecting trinkets because I thought about what accessory would benefit the DB12 AAAMP and I could not think of any.
HELM DB12 AAAMP Sound Impressions
THX headphone amps seem to have a clean, lean, analytical and unblemished from source sound and the same heritage is passed on to the DB12. The general characteristic is the lack of color unless you put the bass boost on.
The midrange seems more forward than usual and just by a hair. This amplifier has no color in tone but the midrange seems to take center stage. The highs come through clean and with no audible hiss or artifacts detected by my ears. Frequency extension is good both ways.
Power output seems to be adequate but at the very top, perhaps the last step in the volume control my ears detected IM distortion. The sound became confused and mingled but to be fair I believe the source of the IM distortion was the source and not the DB12 AAAMP.
At that point, it is fair to say volume levels were reaching an almost dangerous level. This little amplifier can get quite loud.
Synergy
Of course, the DB12 AAAMP worked flawlessly with everything I hooked it up to. It is a very simple device and you just plug it in and hit that switch. It does benefit from being fed directly from a DAC instead of amplifying a headphone output that most times do not have the cleanest of outputs.
The DB12 AAAMP does seem to have the ability to clean up the outputs of a phone before being boosted, however. I purposefully used inferior phones to see if this is true and I did notice a slight change in cleanliness that I could not obtain using the source output port directly.
I did notice a darker background while playing music and there were times I heard slight noises with no musical activity but when there was I could tell a silencing of the background. This device has some tricks up its sleeves and seems to have an advanced noise suppression system aboard.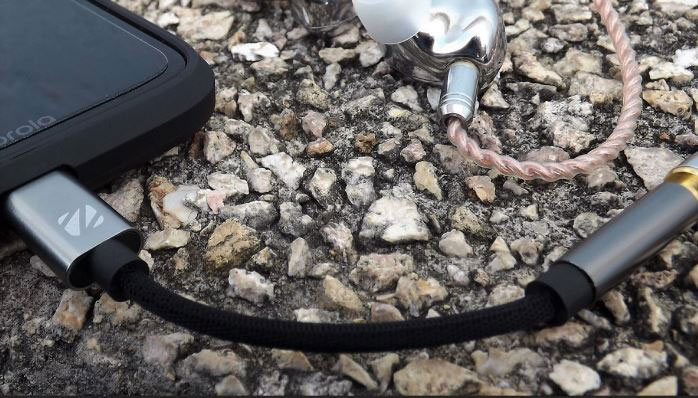 Selective Comparison
Zorloo Ztella
To be honest this is not so much a comparison but the fact that they both connect to a phone and improve the sound is why they should be compared but with a twist.
The Zorloo Ztella by itself is an excellent piece of audio equipment with an ESS Sabre DAC and very clean output. However, the power, in my opinion, is not enough to power a list of headphones.
Its main niche is the size which is basically like adding a few more inches of wire. If you have efficient IEMs or headphones you will be fine with the Ztella alone. But what happens when you combine these two?
When you feed the Helm Audio DB12 AAAMP with the Zorloo Ztella then you can tell what the DB12 can do, to the point where I can say this is a very good portable setup. Not the most powerful portable setup but very loud and clean.
The entire setup will set you back 300 bucks or less and for the audiophile performance you get, I would consider it a bargain. Plus you get extremely versatile. You can take many routes with just these two pieces.
Our Verdict
The Helm DB12 AAAMP is a great little inline amplifier that has an uncolored sound with lots of power on the go, enough for most cans. If you need more power from your phone then this would give it to you and as clean as possible.
I do have some mixed feelings for the reason that I know I can get more portable power for less money. Even some units with built-in DACs that cost less have higher power outputs.
However, I understand this unit has very clean power and that has value over inferior amplification with higher outputs in many cases. I would absolutely be willing to pay extra over the asking price for the Helm Audio DB12 if it had a built-in DAC. But as you see there are solutions to that also nowadays.
Again my only concern is that most phones have dirty or inadequate output and amplifying a noisy source might not be the best way to obtain the best sound quality.
Try it out if extra power is what you are looking for and if it does not sound good enough for you then get a micro DAC. It sounded great alone with my Motorola. Either way, it would make a solid and versatile setup to buy. By itself? A versatile piece.
HELM DB12 AAAMP Specifications
HELM Audio
THX Certified
Amplifier: THX's AAA™ amplifier
Material: Aluminum
Input: Stereo TRRS 3.5 mm male connector
Output: Stereo TRRS 3.5 mm female connector
Frequency response: +0.01 / -0.2 dB 20 Hz – 20 kHz with 32 ohm load
Output impedance: <0.4 ohms
Output power: 109 mW at 16 ohms with <0.1% THD (watts per channel,) 111 mW at 32 ohms with <0.1% THD (watts per channel)
Output impedance: < 0.4 ohms
THD: -102 dB, 16 ohms, 10 mW: 0.0008%
THD: -102 dB, 32 ohms, 5 mW: 0.0008%
THD: -109 dB, 10 Kohms, 0.049 mW: 0.00035%
IMD: -70 dB, SMPTE 70 Hz + 70 kHz, 16 ohms: 0.03%
IMD: -80 dB, SMPTE 70 Hz + 70 kHz, 32 ohms: 0.01%
IMD: -80 dB, SMPTE 70 Hz + 70 kHz, 10K ohms: 0.01%
Crosstalk: – 91 dB, 10K ohms: 0.0028184 %
Noise (A-wt): 10 uV, potentiometer at nil
SNR: 114 dB, 300 ohms, <1% THD
Gain: +12 dB (full range), +12 dB and +6 dB on 60–100 Hz frequencies (Bass Boost)
Power supply: Internal USB rechargeable battery
Battery life: 6+ hours in use
Weight: 1.08 oz (30.55 g)