The Fir Audio M4 is a hybrid 4 driver universal monitor using a proprietary tubeless design and their 3rd gen Atom pressure release system. It is priced at $1899.
Disclaimer: The Fir Audio M4 sent to us is a loan sample in exchange for our honest opinion in this review and was sent back right after. We thank the teams at Fir Audio & Project Perfection Pte. Ltd for giving us this opportunity.
To read more about IEM products reviewed on Headfonics click here.
Note, this review follows our new scoring guidelines for 2020 which you can read up on here.
With excellent stage presentation, high amount of detail regardless of its warmth, and very well-balanced output, the M4 is something that should be considered if one is thinking about getting a TOTL-level IEM.
The Fir Audio M4 is the penultimate monitor in their current range, preceded by the M2 and the M3, and proceeded by their TOTL M5 electrostatic hybrid design.
The M5 is the only model right now that uses a triple blend of electrostatic, dynamic and balanced armature but all in the range are hybrid configurations using a mix of dynamic and balanced armature drivers.
Tech Inside
The M4 features 4 drivers consisting of a dynamic driver and 3 balanced armatures that are set up with a proprietary tubeless design, as well as the 3rd generation Atom pneumatic pressure release system.
These systems are supposed to result in a larger soundstage presentation and a pressure-free listening experience for the user. It's a great way to reduce the amount of listening fatigue.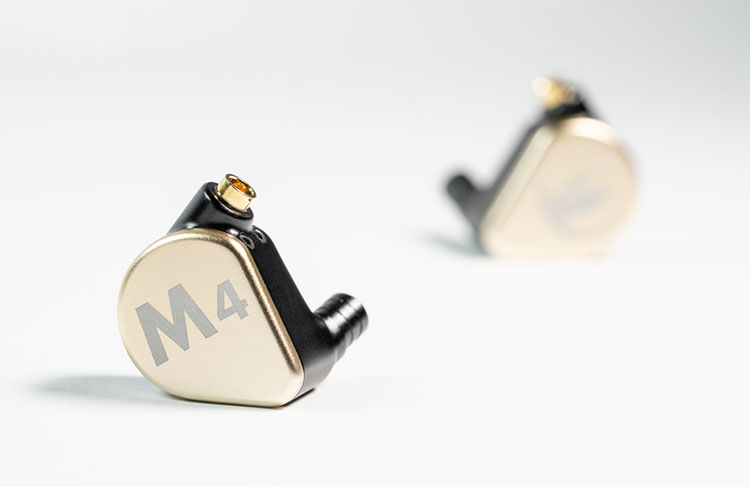 Design
The M4 that we received has a two-color 3D-printed shell with the faceplate utilizing a light blonde tone, and then a contrasting black for the main casing. The overall texture of the shell is relatively smooth and does not show any fingerprint residue when touched.
Each faceplate has its own design. The right has the M4 characters printed on it, and the left one has the rabbit ears logo.
Also printed on the underside of each shell and just beside the nozzle are the IEM model name, left-side and right-side markers, as well as the product serial number. You can also find two vents just beside the connectors on both shells.
I love how the M4's overall shell size is small enough for my ears, and that it has no pointed edges that can be the cause of immediate hot spots due to long usage. I also like how the shell's nozzle is long enough to reach inside my ear canal without being too intrusive.
My ears, although small, prefer to use large tips for a snug fit. The M4 is comfortable in this regard.
Cable and Connectors
Connectors
The M4 that I have uses black angled RCX male connectors. These RCX connectors are a standard with any of the M-series IEMs. The female connectors on the drivers are not embedded, so the male connectors on the cable have skirts that appropriately cover the female ones.
You will hear/feel a click after successfully attaching the cable ends to the drivers much like MMCX connectors. However, the RCX is relatively easier to detach compared to MMCX based on those that I have previously used.
Anyway, Fir Audio says that it'll take around 5,000 insertions before the RCX fails so those who aren't satisfied with the stock cable's performance can safely perform cable rolling.
Using an after-market cable is still possible if one can procure those that already have RCX connectors. However, if you do not wish to add more stuff to your cable collection, you may instead get RCX-to-MMCX adapters.
To determine which RCX connector goes to which driver, you will have to closely look at each one to locate the small R and L characters. You will not find the usual color indicators found on most standard connectors unless you choose one when you purchase via the Fir Audio website.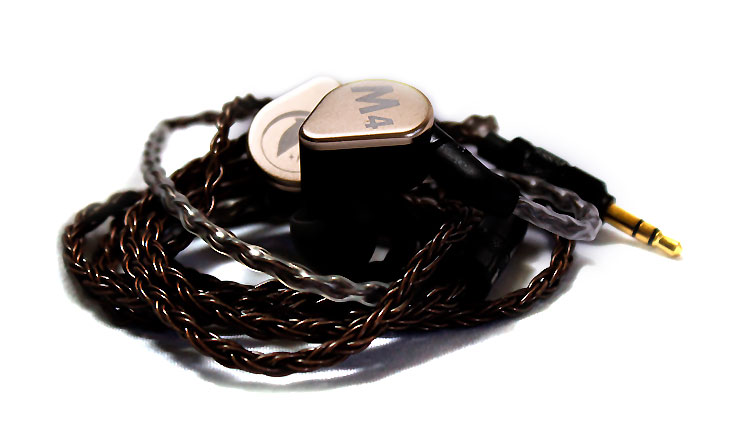 Stock Cable
The stock cable measures a total of 1.2 meters exclusive of the connectors and jack. It is made of silver-plated copper with 8 wires and is in whiskey color. The demo unit that I have also comes with a small straight black 3.5mm TRS jack.
If you order via Fir Audio's website, you can choose between 4 different types of cable colors as well as 13 various termination options.
The cable is quite light except for some weight from the black alloy y-split and chin adjuster, but it does not have enough weight (grams) to be of any significant burden on my ears. The braid holds well, does not tangle very easily, and produces no microphonics regardless of my body position and movement.
Comfort & Isolation
Comfort
The M4 shells are noticeably light in weight considering it has 4 drivers in it. The smooth and small form factor makes it pleasant to wear for long periods of time with my Azla Sedna tips.
I initially attempted to use the large-sized stock tips included with the demo unit, but it just was not for me. I found them to be a bit stiffer compared to my Azla tips.
Comparing it to the Dita Audio XLS and the Campfire Audio Andromeda, the Fir Audio M4 has the most comfortable fit for me. I used the M4 for at least 4 hours almost daily after receiving it, and I never experienced any discomfort at all.
Tips
The loaned demo unit that was sent to me did not have the complete set of tips that were included with the standard brand-new retail package. The leather hard case has 10 slots for 5 pairs of various-sized silicone and foam tips with an additional pair of silicone tips attached to the drivers.
That is a total of 6 pairs. However, I never found these tips to be useable for my ears.
I use large-sized tips regardless of the brand. Although the stock tips provided a good seal, my ears felt uncomfortable after only two to three songs.
This immediately made me switch to my go-to Azla tips – my ears thanked me for it.
Accessories & Packaging
I only received a small-sized circular hard leather case that contained the universal M4 drivers, stock cable, some stock tips, and a standard IEM brush. According to Fir Audio, the M4's standard package includes the following:
1 small box
A round hard tin case with Fir Audio's rabbit logo (with an option to add custom text if ordered via Fir's website)
M4 drivers
An 8-wire silver-plated copper cable with 3.5mm TRS jack(cable color and jack size varies based on the buyer's choice)
10 pairs of ear tips: 4 silicone and 1 foam
Standard IEM brush/cleaner
Warranty card
User manual
The overall packaging is rather good, but I expected a bit more from its hefty price tag. Maybe a separate Pelican 1010 case, a soft pouch for less encumbered EDC usage, and a cable winder to hold the cable together during storage would be great.
I'm one of those guys who love unboxing new gear, so if I got my very own Fir Audio IEM, I'd still be happy with the whole unloading process.
Fir Audio M4 Sound Impressions
I've owned and used some pretty good fun-sounding IEMs from Acoustune, Campfire Audio, Fitear as well as Dita Audio, and Fir Audio's M4 is something I consider to be one of the better ones from those that I've already heard.
The combination of the dynamic and BA drivers driving through their own individual rooms within the shell makes everything almost sound natural.
Staging
The M4 has superb staging. I believe this is due to its tubeless design with the assistance of my Cayin N8. It was rather effortless for me to identify and capture everything that's going on stage with the tracks that I used.
Digesting Pearl Jam's Black, The Aristocrat's Last Orders, and Plini's Electric Sunrise was now less of a challenge than before. However, I briefly tried lesser audio players like my AR-M200 and iPhone 6S+ and found that the whole stage became a bit more congested.
So, in this regard, the M4 is something you wouldn't want to use with anything below mid-fi level equipment. Because of this, I will not be writing about other DAPs for the Source Synergy part of this review since I have nothing on hand that is at the same as or better level than my Cayin N8.
Bass
I immediately grew out of enjoying brain-busting bass drivers several years ago when I got my first true taste of a detail-oriented sound coming from an Etymotic IEM. However, this doesn't mean I've lost my appreciation for it.
The M4 has a low end that's deep and detailed enough for my taste. It's the first time I really enjoyed listening to Pearl Jam's Black's fretless bass lines with a dynamic driver from an IEM. Peaking at around 40Hz and slowly moving down towards 100Hz, it produces enough impact, accuracy, and attack for that satisfying need to feel the authority from the tracks I listened to for the past couple of weeks.
There is some roll-off at the low end of the range but enough of an extension to hear and feel the rumble without the bleed. If you are a casual bass fan and you still want excellent details from the left side of the sonic range, you'll want to try the M4 out.
Mids
Listening to the M4's midrange is a real treat. To be honest, I love listening to instrumentals.
In fact, 80% of the tracks in my micro SD card are rock, jazz, blues, fusion, and progressive instrumental songs. So even if I listened to vocal-centered tracks, I still end up listening to the band behind the vocalist.
With the M4, there is a dip around the 800Hz area so most of the tracks I listened to for the past several weeks had their vocals just a bit behind everything else. It's not really an issue for me but listeners who love their vocals truly upfront may find it a bit lacking in that area.
There is some warmth to be heard here, however, the N8's solid-state mode takes some of that away. It won't turn it cold, but it will very slightly reduce the warmth and smoothness and replace it with some more of that neutral sound as well as precision.
The bass doesn't bleed into the midrange, but the lower mid area sounds smooth since there is a gradual decline from the high base range moving into the middle section of the midrange. I enjoyed listening to Sara Bareilles singing Let The Rain Begin in this regard because of the smoother presentation compared to the Dita XLS' and CA Andromeda's performance.
Phil Collins' True Colors was presented in the same manner. In addition, there was no reduction in details with an altogether satisfactory body – it's just right.
Instrumental tracks have the same amount of detail and more, and I believe it's also because of the pairing with the N8. There's a ton of information that's delivered here such as the acoustic guitar parts from Rodrigo y Gabriela's track, 11-11.
Much of the pre, during, and post sound artifacts from the Cajon drum and acoustic guitars are clearly heard making the listening experience sound like I'm also in the same room as the performers. Overall, the midrange has a satisfyingly smooth, natural, and full-sounding quality that can be enjoyed for hours.
Treble
Even though the M4's treble range begins to gradually slide down around 5kHz up to around 12kHz, it pumps up enough energy at 16kHz to keep things energized and provide some extension for the higher-frequency instruments. The cymbals sound relatively natural, although some may find the succeeding extensions to be lacking.
There may be some slight overemphasis of affricates when listening to vocal tracks as well as the cymbal hits with my instrumental songs, but I don't regard these as sibilance. It's just its latent energy and sparkle that adds to the articulation of the voices and instruments in the songs.
Synergy
Efficiency
With a rated impedance of 6.4 ohms, the M4 is really easy to drive. I played around with the N8's gain, volume, dual output mode, and finally settled with the high gain, P+, and level 25 volume settings for the most optimal aural enjoyment.
Using the settings that I previously mentioned, I didn't hear any perceptible hiss nor noise in the background even if I turned the volume several notches up using my N8. It's relatively quiet.
Source Pairing
The M4's scalability is impressive; its performance improves as the source gets better so it's best to partner it with a mid-tier source at the very least.
As I've mentioned earlier, I will only be using the Cayin N8 for this part of the review primarily because the N8 is the only high-tier gear that I have on hand, and also it would be meaningless to do it with low-tier equipment.
This is a great pairing to use since the M4 has a touch of warm tonality that's coupled with either the N8's clean sound and bite in solid-state mode or a slight increase in warmth to its low end and lower midrange frequencies in tube mode. What I also found is that there is an intensified presence in the midrange coupled with a slightly augmented energetic treble as well that complements the abundance of micro and macro details.
I prefer to utilize the P+ dual high gain mode with the M4 since it provides me with a more overall impactful and dynamic sound compared to the standard dual high-gain mode that has a cleaner and flatter overall result.
Select Comparisons
Campfire Audio Andromeda
Technical
The Campfire Audio Andromeda is $800 cheaper compared to the Fir Audio M4. The Andromeda includes 11 pairs of ear tips, a lapel pin, a cleaning tool, driver soft pouch, a Litz cable with industry-standard MMCX connectors and a standard 3.5mm TRS termination, and a premium leather earphone case all packed inside a premium square box.
On the other hand, the M4's includes 5 pairs of ear tips, a cleaning tool, an SPC cable with RCX connectors and a standard 3.5mm TRS jack (other cables, connector, and termination variations are offered as options when ordering via their website), and a premium round leather case placed inside a premium rectangular box.
The M4 edged the Andromeda out with its no-additional cost for customization that also includes a decent selection of shell form factor and colorway when purchasing directly from their website.
Campfire Audio Andromeda includes 5 balanced armature drivers inside a universal aluminum shell and has an impedance rating of 12.8 ohms as well as a frequency response of 10Hz-28kHz compared to the Fir Audio M4's 4-hybrid driver tubeless configuration within its 3D-printed shell that has a rating of 6.4 ohms and a response range of 10Hz-20kHz.
I'd score a point to the M4 for the abundant custom options and a very comfortable form factor. Even so, I have to give props to the Andromeda for including a lot of really decent accessories in its standard package.
Performance
Still utilizing my preferred volume level setting, the Andromeda was surprisingly more sensitive and efficient with its louder output. I had to increase the M4's volume by 4 notches to match Andromeda's level which still makes the last-mentioned IEM more sensitive and efficient to changes in gain and volume.
Immediately noticeable is the low-end difference between these two IEMs. The Andromeda's balanced-armature timbre clearly stood out with its cleaner and leaner sound compared to the M4's dynamic driver that has a warmer and more rounded output.
Even though the M4 has a smoother overall sound, it still has really good detail retrieval but just not enough to exceed the Andromeda's. Both IEMs utilize a U-shaped signature that can be enjoyable to listen to for prolonged periods of time.
However, the M4 has a more natural and fuller sound compared to the Andromeda's inherent BA timbre. The former is virtually noise-free when weighed up against the latter.
Dita Audio Dream XLS
Technical
For $400 more, the Dita Audio Dream XLS has a lot more included inside its box than the Fir Audio M4 based on the information from their respective websites. Nevertheless, the M4's got more packed in its aluminum shells with 3 more additional drivers than the XLS' single dynamic driver inside its titanium shell.
The XLS' small shell form factor gave me the most comfort after long hours of use. Its nozzle isn't as long as the M4's but it had enough length to reach inside and seal my ear canal without any feeling of discomfort.
With an impedance rating of 22Ω, the XLS required a higher volume setting to reach my ideal music enjoyment level compared to the M4. It also has a much flatter low and mid-frequency than the M4 but with a bumped up high-frequency range that may be an issue to those who aren't used to a more energetic treble.
Performance
The XLS' stage is relatively wider but has everyone positioned nearer the front of the stage, whereas the M4 has more space between instruments. Just remember that this is still partially influenced by the source that's being used.
The XLS has a more neutral sound that has a souped-up treble which brings female and most high-pitched male vocals closer to the listener. Instrumental tracks are quite energetic to listen to but, at times, a bit too much to handle during multiple cymbal hits or anything that's found on an octave or two higher or in the higher frequencies.
On the M4, the instruments sound fuller and more natural compared to the XLS. The M4 presents a more natural sound as well.
The XLS has a slightly better resolution than the M4. Yet, the M4 brings more low and low-midrange details into the mix and a smoother detailed treble.
Our Verdict
At $1,899, I'd expect nothing less than a truly exceptional performance from an IEM at that price point. However, I really like my candy, so it couldn't hurt to add more accessories to its standard package.
With excellent stage presentation, high amount of detail regardless of its warmth, and very well-balanced output, the M4 is something that should be considered if one is thinking about getting a TOTL-level IEM.
As long as you're pairing it with high-quality sources, you'll definitely get the sound that you paid for.
Fir M4 Specifications
3D-printed shells
SPC cable with RCX connectors
Various jack/termination offerings
4-driver tubeless system (1 x dynamic driver, 3 x balanced armature drivers)
Range: 10Hz to 20kHz
Impedance: 6.4ohms