The Kinera Freya is a 4 driver hybrid universal IEM featuring a single dynamic driver and 4 balanced armature drivers. It is priced at $249.
Disclaimer: The Kinera Freya was sent to us a sample in exchange for our honest opinion in this review. We thank the team at Kinera and HifiGo for giving us this opportunity.
To read more on Kinera products we have reviewed on Headfonics click here.
Note, this review follows our new scoring guidelines for 2020 which you can read up on here.
I enjoyed the Kinera Freya and I believe it to be exactly where it should be price-wise. They strike a balance in performance and price that works in the modern market.
"Stagnant love is not my thing. I am born of storms.. and passion is my fire". A quote from Freya quotes. Freya is the goddess of love and beauty among other things that for the sake of keeping this article suitable for the general public I will not mention. Yes, we got our hands on a Kinera's new Freya 4-driver hybrid universal monitor for review.
This launch seems to be fairly popular among certain IEM fan groups. Let us see if the Freya lives up to 'her' promise of ruling over her heavenly fields. Take us to Valhalla!
Tech Inside
The Kinera Freya is a hybrid IEM which driver configuration consists of 4 individual units. Many IEMs today use five but Kinera must have their reasons for using this driver configuration. More is not necessarily better.
To start, there is a Kinera custom made 7mm micro dynamic driver that handles the bass department. For the midrange, Kinera decided to use two Knowles Balanced Armatures. A maker that is well known for producing Balanced armatures that excel in vocal reproduction particularly.
However, for the high frequencies, Kinera did not leave well enough alone and went with a custom made single balanced armature.
Design
Freya was also known for war besides beauty and love and every good warrior needs good armor to please the nine houses of the Gods.
Each shell is hand made, hand-painted, and hand-assembled. Just as one would do in the old days, with craftsmanship. Six hours are taken to complete each individually made pair of shells not counting assembly time.
From what I gather not a single machine was used in assembling the Kinera Freya. These are made by Artisans' hands one by one and no two look the same.
The connection type is a female .78mm 2pin. This is my preferred type of connection. I dislike MMCX because of the spin and sometimes it takes fiddling around with the IEM to reorientate the earbuds correctly.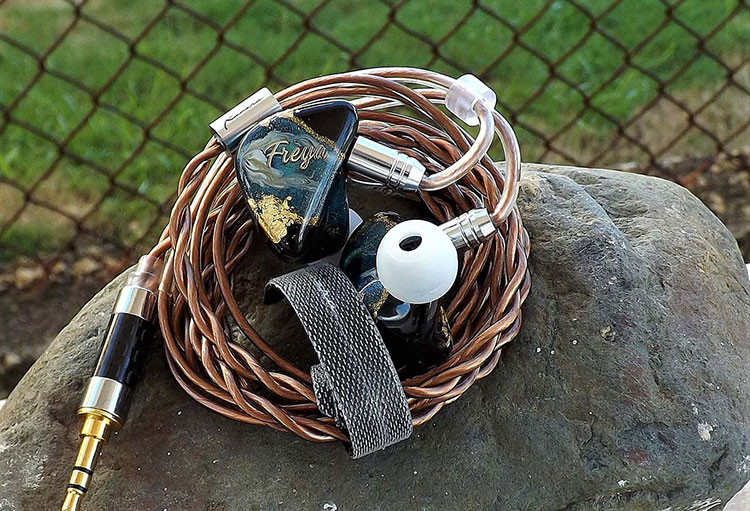 Finishing
Kinera spent three months experimenting with several materials and combinations of hand painting techniques to give us what we see before us.
Most of the colors associated with Freya are mingled into the shell and packaged artwork. There is even gold leaf on the shells which again is associated with the colors of Freya.
My set has a section with a spiral that upon closer inspection resembles the Milky Way galaxy. It made me feel I was holding a marble from the end of the movie Men in Black. The universe at my fingertips.
The artwork is beautiful and I must say, so is Cynthia, the lead artist at Kinera audio. With her, I guess beauty is not only skin deep but deep. Great work. Not only to her but to the entire Kinera team.
There are two color schemes available. One with a black background and artwork and then one with a softer and more feminine aspect using pink and lighter colors. Choose wisely.
Stock Cable
This is not the Brisingamen Necklace for sure. Once again the wire is not a raving beauty to match the IEM but it works well and is a good cable. The same 3.5mm two-tone metal plug I mentioned being familiar in my last IEM review is here again. Even the .78 male connectors look very familiar.
The only variance here is the wire. Even the piece at the Y break is familiar however, this one is branded with the Kinera signature logo. The wire is a twisted 2 core and from the Y break up it is the same wire but a single core. It looks to be a type of OFC wire.
Comfort & Isolation
The comfort level is good and I could wear these shells for hours. Their weight is minimal also and they almost feel weightless.
The resin is good quality because I tend to get irritated with cheaper earbuds but not with these. Isolation I would consider average and like always depends on the type of seal you get with the chosen flanges.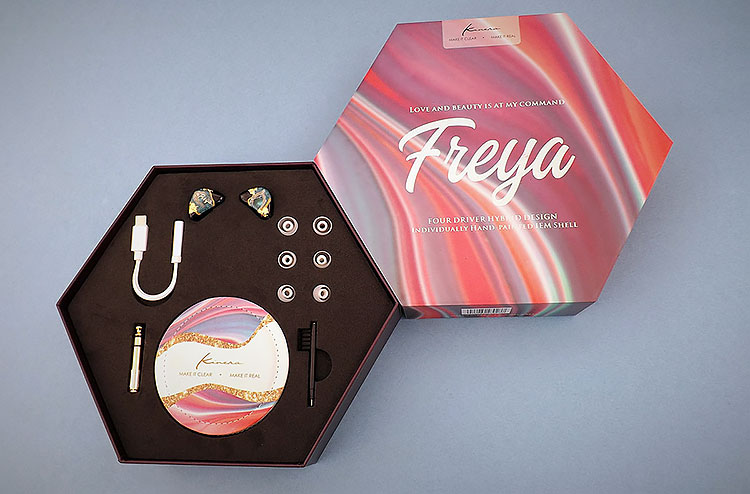 Packaging
The mystical hexagon-shaped six-sided box is also something to behold. The literature that comes in the box is very poetic. There are hex-shaped inserts with poetry and soft colors inside the box. Descriptions of Freya abound.
Once you read one particular insert, you will understand the color scheme of the box and the rest of the contents. It consists of poetry mentioning the colors of Freya and there is a strong conceptual presence of Freya.
Accessories
The complexity of the Kinera Freya IEM build is unfortunately unmatched by the included accessories. They are simple but work well none the less. The Flanges you get are three sizes of white silicone flanges and six sizes of black rubber flanges. I prefer the white medium ones in this case and used them for sound testing.
You also get two 3.5mm female terminated adapters. One terminates in an Apple lightning connector and the other in a USB-C connector. A slim designed 3.5mm to 6.35mm adapter is also included.
There is also a small brush in the box. I assume it is for keeping those output nozzles clean and free from dirt that can clog them up and possibly ruin their sound quality. A carrying case is also supplied but is pretty large and I could probably fit two IEM sets inside. It might be my assumption again here but it could be a storage case instead.
Sound Impressions
As mentioned before I used the white flanges because with the black flanges, I perceived a reduction in bass and an abnormal peak around 7khz. Once I found the right flanges, the sound became quite pleasant. The bass was present, the peak was gone and the midrange became smoother.
I do recommend breaking these in and experimenting with different flanges because I sense there is even more potential than what I perceived at first and flanges made all the difference. Perhaps you will find one that works even better for you.
The sound signature on the Kinera Freya is very balanced with perhaps a touch of forwardness in the midrange.
Bass
Balance is key here and the bass is mostly on par in volume and quantity with the rest of the frequency spectrum give or take a few decibels. The bass is on the lean side and I would classify it on the medium amount in impact and slam. It digs deep enough to give some deep bass. However, it does dip just a touch below 30hz.
It does respond well to an equalizer but honestly, people who are looking for the Freya type of IEM are usually looking for a balanced signature and I think most people will enjoy the bass quantity and quality of these IEMs with no further adjustment from the stock sound signature. It is quantitative enough to please most listeners.
They are not bass cannons by any means but with little equalization or DSP, you can get some heavy bass just do not expect them to rattle your teeth.
Midrange
As mentioned earlier, the midrange seems to be just a smudge forward in the sound signature. When I did my usual tone generator test I did notice a hump starting at 2kHz up to a touch beyond 5kHz. The tallest peak is at around 3kHz giving these their forward character in the midrange.
However, their forwardness becomes their virtue most times. Because they do have a pleasant and spacious midrange only getting edgy at times with high volume levels. It seems to be the peak at around 3khz producing this slight harshness which is piercing at times.
The pitch on instruments and vocals are correct, presented coherently, and the midrange rarely gets congested. The midrange has lots of detail.
Treble
These have a very pleasant treble response. Kinera has a good driver here. The highs seem to be a highlight here with the midrange being second. However, do not mistake these for being too bright. They are not flat either with a peak at around 8khz.
The highs never get harsh or piercing even though the highs seem to extend very well and are not recessed. The highs here are present and well and are not hidden away in the background. There is no ringing or graininess. No sibilance either. I did detect a touch of hiss at certain times but I am unsure if it was a character of the recording or the Balanced Armature hissing away.
Perhaps even my amp was the culprit but I did use more than one amp. If you do some research you will find that hiss occurs at around 8khz and these have a spike at that frequency. The high frequencies on the Kinera Freyas have good air, a medium amount of sparkle, and can handle complexity fairly well.
Imaging and Separation
The Kinera Freya has a fairly wide soundstage. They can project fairly far. There is a good amount of width, height, depth and I even perceived some rear projecting at times.
Left to right shifting is precise. Instrument positioning is very good with a good frontal soundstage presentation.
Micro details are present and I would rate detail extraction very good, just not excellent. There is enough detail to keep you interested and you hear many nuances better than most cheaper, inferior IEMs.
Synergy
These do not need a powerful amplifier and can run off your phone. However, they do scale a bit if you use a more powerful amplifier but not by much. These do tend to sound sonically the same with the balance of the signature staying the same with any amplifier I used.
They almost do not have any character of their own. I would say these are very predictable. I know of some IEMs that change with different music genre and change with different amplification. The Kinera Freya IEM always maintains the same balance in tone and stay true to what they always do.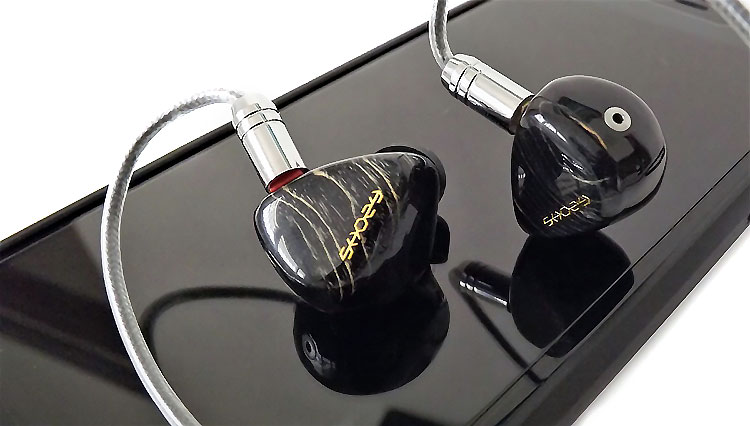 Selective Comparison
Shozy Form 1.4
The Shozy form 1.4 is 50 dollars less than the Freyas however sports 5 drivers. They both have resin made seamless shells. They both have handwork done but there is more so on the Freya.
If you are looking for a warmer signature, a polite midrange, and highs that are shy to shine and that will not hurt your senses I would go for the Shozy Form 1.4.
In my honest opinion when I ask myself would I pay the extra 50 bucks for the Freyas with better artwork? Are they worth extra just for that?
Well, it is not that simple because for me the Freya has the edge in sound quality. The highs are improved. The midrange is more present. You also get more accessories. A Lightning adapter alone will cost you 20 dollars.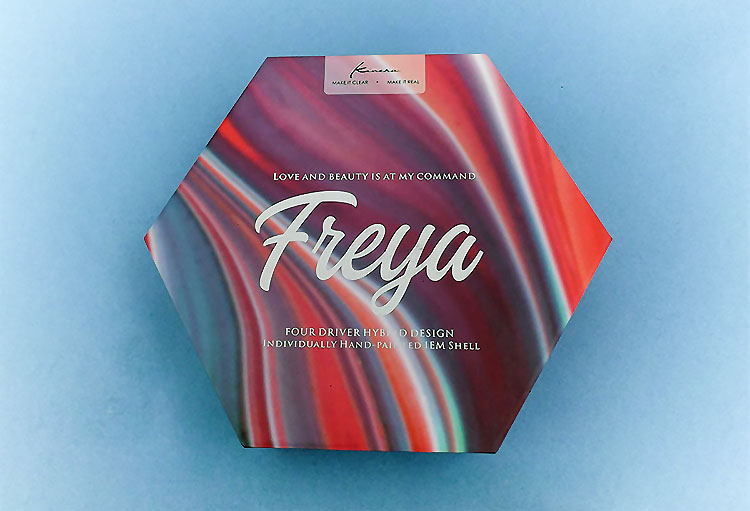 Our Verdict
I enjoyed the Kinera Freya and I believe it to be exactly where it should be price-wise. They strike a balance in performance and price that works in the modern market.
The balance also exists in the fact that the Kinera Freyas has a touch of the old world charm and craftsmanship mingled in with modern technology.
Do I have any complaints about the Kinera Freya? First of all, I dare not say because I do not want to insult the Gods. But it is not that at all. It's the fact that I do not have any. The Gods are happy. I can tell. The Seidr magic has worked and it has pleased the Gods, myself, and I am sure it will please you. Enjoy!
Kinera Freya Specifications
Interface 0.78mm 2pin
Rated Power 3mw
Impedance 22 ohms
Wear Type in ear
Driver Combination 3BA – 1DD
Sensitivity 110db +or- 2 decibels
Frequency Response 20hz to 20khz
Plug 3.5mm
Cable Length 1.2m