In this article, we review the FiiO X5iii which is the company's 'next-gen' Android digital media player featuring a dual DAC AK4490EQ DAC. It is priced at $399.99
Disclaimer: The FiiO X5iii sent to us is a sample in exchange for our honest opinion. We thank FiiO for this opportunity.
To learn more about FiiO products we have previously featured on Headfonics you can click here.
Note, that this article follows our latest scoring guidelines which you can read up on here.
FiiO X5iii Review
The FiiO X5ii should be considered an important benchmark for DAPs in this price range for 2017. There is no DAP out there right now at this price point that offers more in terms of technological talking points, features, aesthetics and generally an all-round pleasing musical tonal quality.
Generational revisions are usually evolutionary in nature with often a well-advised approach to retaining legacy plus points from previous technological "wins" as a core production and marketing process. It is safe, keep the fans on board, and keeps the sales ticking in.
We have come to expect these generational revisions from FiiO, in fact with any tech company these days. Truth be told when I heard the rumor and the discussion that 2017 would herald the next-gen DAPs of the X series I was not sure how much click wheel revisionism I could suck up whilst retaining a marked degree of gaiety.
And then FiiO told us all about it, sent the pics, then sent the sample. Cue the merrymaking because the X5iii is a positive quantum leap in DAP design making for the mid-fi market.
To compare their brand new $399.99 3rd Gen X5iii with the older 2nd gen X5ii is a bit like comparing the steam engine with the bullet train. There is simply nothing left in the 3rd gen that links with the 2nd Gen technology and design-wise bar the name FiiO X5. This has to be a good thing.
What Is The Pitch?
Casual & Audiophile
Well if the X7 was a nod and wink with 4.4 then the X5iii is the full headbanging with its out-and-out Android 5.1 makeup, endless wireless, and digital options, and a sleek new squat candy bar design.
For me, FiiO has pitched the X5iii to two key target markets. Those with an eye for style, perhaps crossovers from the smartphone market who want familiarity, and those who want a kickass topology loaded with chips, and modules packing a good quality sound as a result.
At $399.99 the X5iii is not budget level but it could well be the type of value proposition to both groups on a certain budget.
Design Acumen
FiiO has been alluding to design improvements for years now and whilst you could argue that the X5ii has a subtle homage to higher priced competitors it still doesn't take away from the fact it is probably the sleekest looking DAP in the market today at this price point.
Others would seem to agree with no less than the iF International Forum Design GmbH giving the X5iii a design excellence award for 2017 just a few weeks ago.
Crossover DAP
Those using an Android smartphone should be able to relate quickly and easily to the X5iii key features and stylistic talking points such as the sim card style memory slots, touchscreen, aptX BT, wifi, and downloadable apps. It is as thoroughly modern as a modern DAP can be without a phone module stuck in it (Hello Onkyo!).
Dual Chip
Of course, all of this would be moot if the innards are dull, old school, and simply sound bad. FiiO's big tech pitch with the X5iii this time round is the use of not one DAC chip, the AK4490EN, but, like the AK380, it will use 2 AK4490EN DAC chips in a dual-channel configuration.
Hooray for a premium association, additional exciting technical measurements that punch way above the X5ii, and for playing the numbers game that we all secretly love to do but thoroughly deny it. Is 2 better than one? Sometimes, but for marketing purposes it nearly always is.
Design
Aesthetics
The FiiO X5iii looks sexy, no doubt about it. It fits wonderfully in your hand and feels sturdy and heavy enough not to get too worried about its physical durability. I love the fact that FiiO saw fit to include a leather case as standard with the X5iii, one in the eye for others that charge a small fortune for just such a case.
The FiiO X5iii measures 66.2 x 114.2 x 14.8mm and weighs in at 186g. It is a fairly stocky DAP with differing and shorter dimensions than the X7 long candy bar and on the hand that stubby approach works awfully well in terms of handling.
Ranged up against competing DAPs is it marginally taller, wider, and lighter than the Cayin i5 but over 12mm shorter. It is also slightly taller and wider than the Shanling M5 but again up to 6mm shorter and 50g heavier.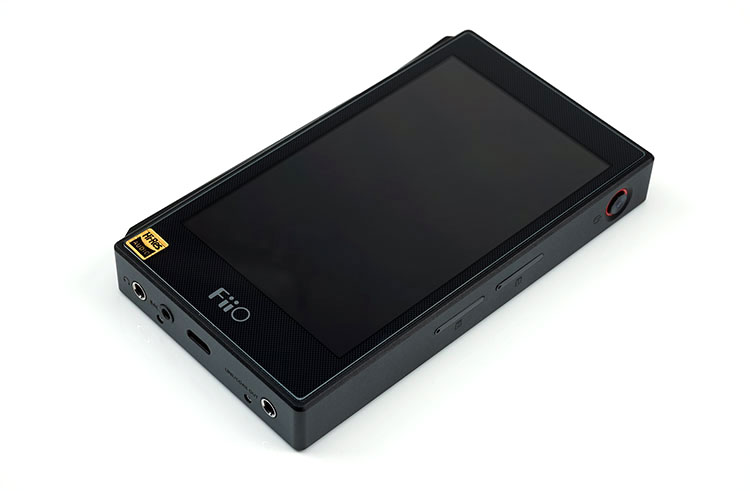 Design cues on the X5iii have a familiar but well-executed tone. This is a solid stainless steel composite chassis with zero flex, smooth cornering, and a little accent on the left-hand side for protection of their new physical volume knob control.
Gone is the focus on the X design physical knobs and click wheel of the old X5 and X5ii and in comes a more modern 4″ IPS touchscreen on the front.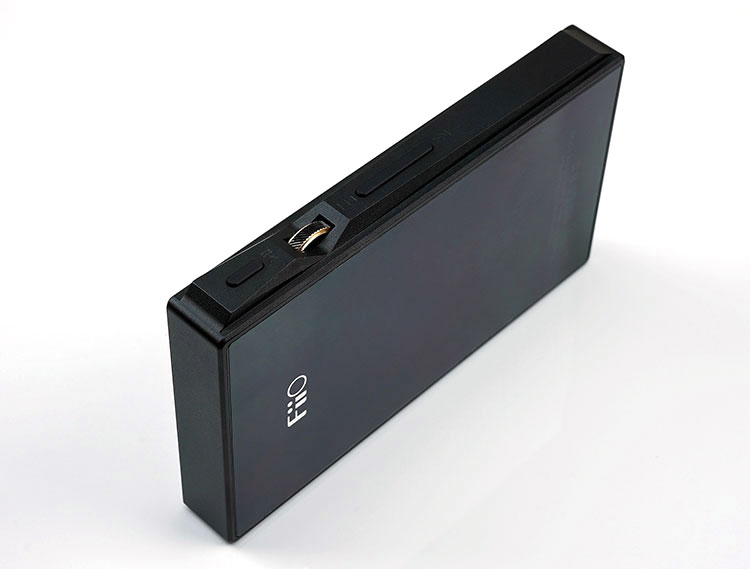 Buttons are now more discreet in the X5iii design with playback functionality on the left panel on either side of the volume wheel and the multifunction and beautifully designed power button on the right.
The Power button doubles as the screen on and off and charge indicator with its glowing centered LED light. Functionality in terms of inputs and outputs are now all on the bottom panel with nothing at the top.
Screen
I have to say the quality of the X5iii screen is simply superb and miles better than the old X5ii squat display. The new screen is a 3.97″ IPS TFT touchscreen with a tempered glass finish and a 480 x 800-pixel resolution measuring in at 233ppi.
To give you a point of context it is the exact same screen FiiO has put into the X7; the same type, same resolution, and same ppi. Both have the same viewing angle at 178 degrees and both have an excellent saturation of colors (16.7m to be precise).
The only difference is the chassis of the X5iii is shorter making one-handed gestures on the X5iii that bit easier than the X7 even if both have the same screen.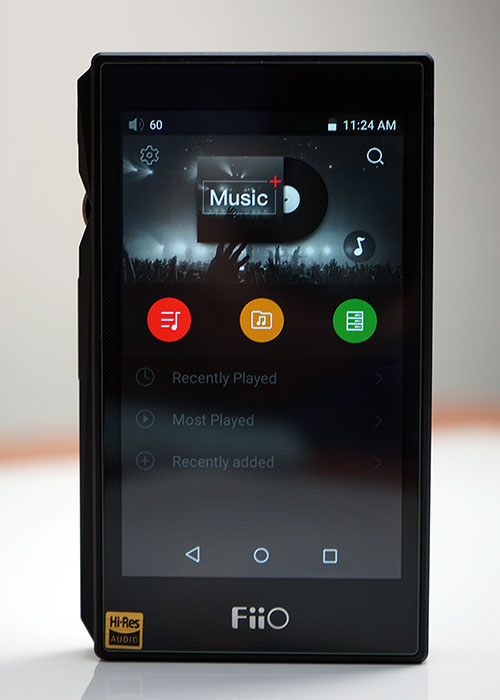 This is a precise touchscreen, capacitive in nature, and very easy to work with. Touch sensitivity is excellent and very responsive.
Out of the box, it does have a tempered glass film on it but it is not the matte type so whilst you get wonderful clarity unlike the duller matte but often it comes with the propensity to hold onto a thin layer of prints and grease when in use making it a very smudgy choice. I am not sure if it can be changed, perhaps FiiO will introduce new matte options down the line.
Battery
Lifespan
FiiO has put a 3400 mAh High-voltage quick charging Li-polymer battery inside the X5iii which on paper will give around 8-10 hours battery life depending on whether you go balanced or unbalanced for listening directly from the DAP.
FiiO is not yet offering solid battery specs on using the FiiO X5iii as a DAC out from your PC or on OTG simply because it is not 100% functional yet, something which I expect to be the case with the next firmware.
Lifespan is average, to be honest, and will be shorter if you spend all day using 3rd party apps with unmeasured resource usage as well as heavy button and screen mashing or high bit rate decoding.
Variability
As with the X7, the decision to use an open google platform and allow 3rd party app downloads means that your own personal setup battery lifecycle could be very different to mine.
The only way to get those rated numbers accurately is to switch the X5iii into Pure Player Mode. This does away with the Android open system and apps and locks you into their themed OS bootup meaning you can only use the player and minimal resources from Android.
Rapid Charging
One thing to note with the X5iii battery management is the new support for a rapid 9/12v charging system on top of the regular USB BC1.2 design. To cut a long story short this means you can charge your X5iii in about 1.5 hours rather than the more standard 4 hours.
The new battery config allows both this and temperature management when opting to rapid charge and tells you all of this on the screen during those 1.5 hours.
Memory Capacity
Unlike the previous X5 generations which had no onboard memory, the X5iii comes packed with 32Gb of onboard memory with 26Gb available for use. For light users, this is plenty to start with for both OS and app requirements as well as a small selection of lossy and lossless music files to get going.
512GB
Those from an iPhone background will have spotted those two "sim slots" on the right side right away and yes they do operate exactly as you would expect with FiiO supplying a key to push into and thus drive out two small trays for memory card management. Simply put your microSD cards into the trays (up to 512GB in 2 x 256gb configuration) and slide them back in again.
0.2mm Gap
Certainly, it looks more seamless than the two gaping holes before with just a 0.2mm gap from top to bottom, and definitely more durable than the rubber flaps of X5 Gen 1. Quite stylish but for the fact you have to carry that key with you if you want to change cards.
Inputs & Outputs
Bottom Plate
All inputs and outputs on the X5iii are now located at the bottom of the unit. It is extremely clean, and well laid out. Whilst you have four ports they look far more spacious in their layout than previously on the X5ii. Credit to the guy who picked the No. 180 Zirconium sand chassis finish because the port gaps are nonexistent and super flush to the body.
As before you have a 3.5mm stereo unbalanced headphone output and a 3.5mm fixed line-out/coaxial output on the far left and right of the bottom plate. In the center, FiiO has opted to retain the micro-USB charging and data transfer interface rather than "upgrade" to USB 3.0 or USB-C.
Balanced
The big news is that for the first time FiiO has included balanced headphone output in the form of an additional 2.5mm TRRS output beside the unbalanced port. This brings FiiO's DAPs right up to speed with modern audiophile demands and the fast-growing balanced IEM cable market.
DAPs such as the DX200, N5, Opus#1, and Onkyo's DPX-1 all sport an unbalanced connection. It is not a sure-fire guarantee for better audio quality but as an option on a DAP, it is almost mandatory in 2017.
Accessories & Packaging
As ever FiiO's packaging is professional and well thought out. Even more so with the X5iii with the addition of the leather stitched case which fits fantastically on the X5iii with no slippage issues as well as a silicone gel back case.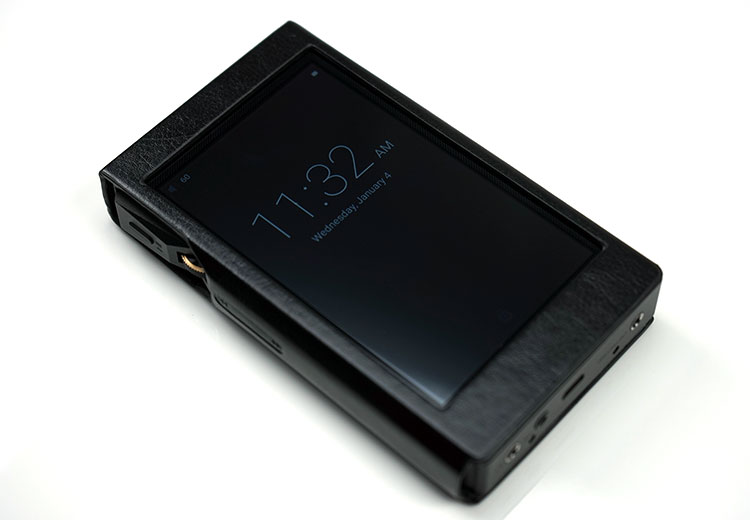 The leather case doesn't feel cheap and does a great job of protecting the X5iii whilst at the same time giving complete access to all the main physical buttons and touchscreen. It looks especially good on the black version of the X5iii.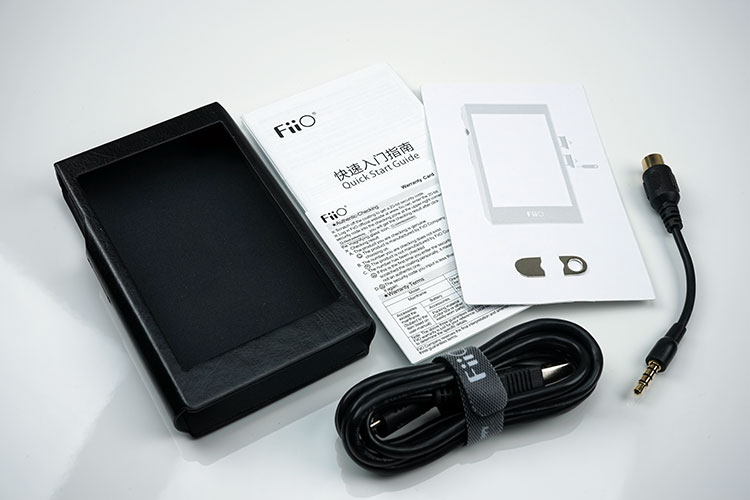 Beyond the leather case and a nice clear silicone gel back case you get what I would call the standard FiiO DAP accessory package and for a DAP at $399.99 it's reasonable if not spectacular.
You get FiiO's quick start guide, the warranty card, the memory tray quick release key, their short coaxial adapter for hooking up to desktop units if needed, and a micro USB to USB A data transfer and USB charging cable.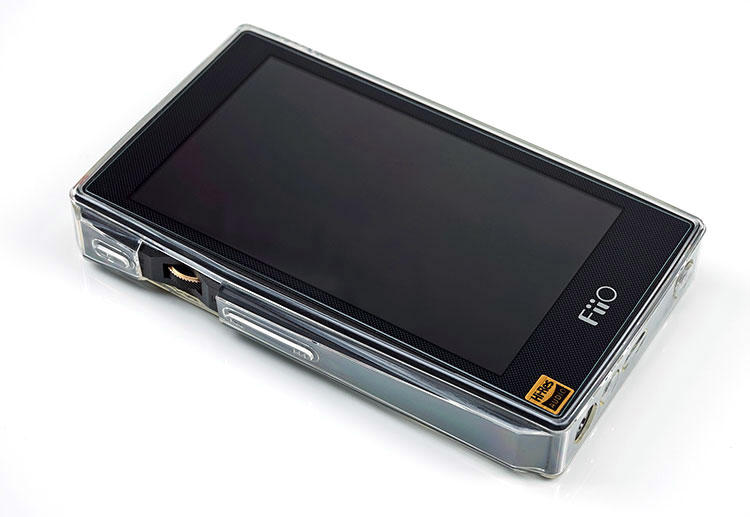 For those wondering about screen protectors the X5iii comes with the tempered glass screen protector already on the IPS screen, you simply just peel off the sticker and you are good to go.
Click on page 2 below for functionality & Software