The Soranik SK1 is a single BA designed universal monitor that is designed specifically to appeal to vocal lovers. It is priced at $450.
Disclaimer: The Soranik SK1 used in this review was a sample in exchange for our honest option. We thank Soranik for giving us this opportunity.
To read up on previous Soranik reviews we have done on Headfonics you can click here.
Note, this review follows our new scoring guidelines for 2020 which you can read up on here.
SE Asia is fast becoming an epicenter for quality IEM and customs companies but even so, IEM maker brand label Soranik came as a surprise to me late last year because of their SE Asian origin, Vietnam. This is not the typical country for audio manufacturers. At least not yet.
Yes, hunt around the web and you will see this is a fast-growing hobby for the Vietnamese and Vietnam is a fast-growing economy and country in general. It is also a heck of a beautiful country to visit for tourism purposes.
So where does the name Soranik come from? Well DC Comic readers should know, it is none other than Soranik Natu, a member of the Green Lantern Corps in the DC Comics Universes so, Hieu Trung Tran, owner of Soranik has a beady eye on the world of comics as well as audio.
What Is The Pitch?
Soranik has two high profile releases out right now; their flagship ION in universal and custom from IEM which is a 5 BA design tri-bore passive crossover system and their mid-fi SK1 which is a single BA design.
Horn Principle
The $450 SK1 has a very interesting integrated titanium tubing and acoustics horn design which I have seen used, at least with the horn principle, on very high-end CIEMs from the likes of Rhines and Vision Ears. This is a subtle but important pitch and one which I think gives IEM's that use this design a slight advantage. When I spoke to Hieu he explained the advantages to me in detail:
This kind of horn is used extensively in audiology, especially in traditional CIC hearing aids. The horn works as an acoustical impedance adaptor (smoothing) and amplifying specific frequency (boosting) at the same time depending on the ratio of the mouth and throat of the horn you get different kinds of effects."
The first company to use this tech was Ultimate Ears, then it progressively rolled out via Unique Melody, Vision Ears & Rhines then Fitear with the F111. You typically see it on CIEMs as a single wide-bore rather than the traditional multi-bore tubes that go right to the tip of the nozzle.
Basically, instead of getting a distinct frequency in each tube to your ear and then making your ear do all the mixing, the mixing occurs in the horn and a single sound is delivered to your ear that in theory should sound more natural.
Single BA
The second pitch and one which has its pros and cons is the use of just a single BA driver. Now in crude terms the marketing of a single BA has dropped in price significantly in the last few years but a quality well designed single BA will always give you an advantage in terms of audible coherency but you may also lose some detail on the very top and bottom of the range as it is difficult for one BA to master the entire range, hence dual, triple BA and so forth.
Once you move to multiple BA and hybrid you start working with crossover technology and filtering which can be challenging to construct and getting a coherency presentation so that's where the advantage of a single BA lies.
Build
Connectors
You can get the SK1 in custom or universal format, this one is the universal format but it has some custom design sensibilities in it that make it unique and interesting and also a real joy to fit in the ear.
Unlike most IEMs and CIEMs these do not use the Westone 2 pin or MMCX type connectors. They instead use the Fitear 2 pin connector system and it super easy to connect and reconnect. Yes, it is not as discreet as the other two systems but it is much more functional and feels sturdier.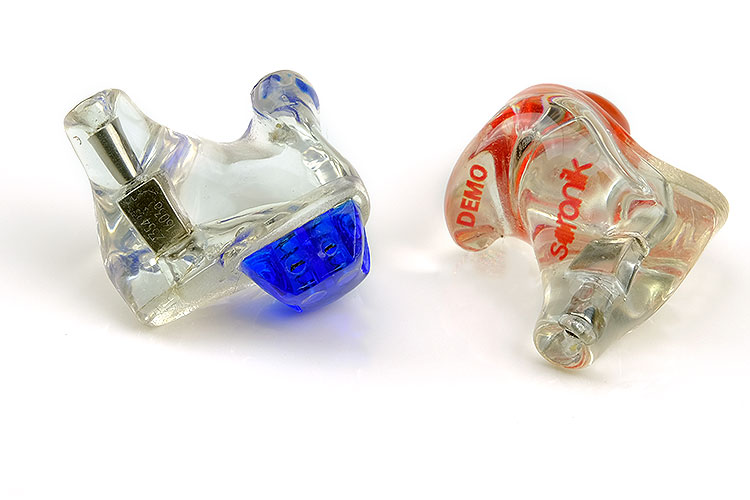 Shell & Materials
Soranik has wisely color-coded the left and right terminal casings in the traditional blue and red scheme on top of a transparent acrylic shell so it sticks out a little but I think it adds a little bit of unique to the design.
The acrylic shells are semi-contoured so you do get a remarkable level of comfort and fit but its universal at key corners and in the nozzle to allow for wide bore tips to slip onto it for universal fitting purposes.
Because the SK1 universal is lacking a faceplate as such I cannot say how the final custom build will look as there is a slightly rough feel to the plate on this demo unit where the faceplate would normally be smoothed out and on top with a final layer of acrylic over the entire piece.
The rest of the shell though is very well made and free from dust, bubbles, and imperfections and feels very solid indeed.
Internals
Being translucent you also get a good peek inside the shell at the BA design with the driver smack in the middle just above the nozzle itself and the wiring very well hidden in an acrylic tube up to the fitear connector module. Towards the nozzle, you can see the titanium tubing horn system.
Nozzle
The nozzle on the CIEM, of course, would be substantially longer but in the case of the universal fitting it is much shorter, slightly angular and giving enough length to slide a wide 5mm tip onto it (aka t-500 possibly but recommended for silicone).
Comfort & Fit
Even as a universal the SK1 is a perfect fit for my ears. Whilst all ears vary you have to assume that for the vast majority the experience will be similar.
They also sit rock solid with no movement and a top-notch seal. Isolation is excellent. The SK1 is an over the ear headphone so Soranik does use memory hooks to secure them and lower any possible microphonics from the cable.
Tips
Now the tips supplied where a simple single wide bore silicone tip, I didn't get any other tips with the demo package but luckily, they fit well. You can use I believe a T-500 size Comply on the SK1 or a silicone tip around 3.8 to 5.5mm in the opening.
The drawback of the universal fit is that there is no nozzle lip or overhang to securely hold the tips in place so even if you have got them on successfully they do not always stay there and can slide off when not in use.
It is possible to use other tips like JVC Spiral Dots but sadly I have none to hand to confirm but technically it should work. Of course, none of this matter if you opt to have a CIEM
Cable(s)
The current cable we have here in the office with the universal SK1 is Soranik's upgraded 8-core SPC cable which is a pretty heavy-duty intertwined design and terminated with the excellent fitear 2 pin cables for connecting to the driver units and at the bottom terminated with a thick silver-plated 3.5mm jack.
Cable length is 1.2m in length and finished with fairly typical plastic memory hooks, y-split, and chin strap also in plastic.
From my discussion with Soranik, the inference is that the stock cable on offer will be a lower grade copper material with standard jacks but also with a similar black cable finish and length as well as fitted with memory hooks, y-split and chin strap plastic tubes.
Packaging & Accessories
The standard Soranik SK1 package is relatively standard with 3 sets of small, medium and large side single bore tips, a black cloth pouch with the Soranik logo, a Pelican 1010 micro case and the stock Plastics One copper intertwined cable with right angle gold plated 3.5mm jack and fit ear terminations. All of this is neatly packaged in a classic understated black bow with the Soranik logo on top.
Nothing too fancy here, though if anything, what it is missing is a cleaning brush/pick for the universal package and perhaps some additional types of tips for rolling of similar bore sizes such as foams and dual flange.
The 1010 micro case is as always, a welcome piece of kit and also comes with a carabiner clip for attaching to backpacks, etc. Though a bit big to be pocketable it is weather-sealed and dustproof and provides plenty of space to carry all your accessories and the SK1, as well as an additional cable, should you opt to get the 8 core SPC edition.
Sound Impressions
Tonality & Presentation
The SK1 is a relatively n-shaped warm and intimate presentation with an emphasis on a nice smooth and rich midrange as well as a prominent and very likable vocal performance. This is a presentation that errs to the musical side of things rather than anything analytical or reference tuned.
Like most single BA designs, it has a wonderfully coherent response given it has no tricky crossover hurdles to jump but also like most single BA designs it lacks a little in extension and presence at both extremes.
You get a touch of roll-off at the bottom sub 100Hz and it also drops away and rolls-off post 5k on the top end so the detail and headroom are not there or at least the quantity and articulation are a bit lacking.
As such the presentation is more on the intimate side with vocals to the front, instrumental positioning just ever so slightly behind with a soft percussive attack and full sounding midbass to underpin SK1 with a decent if not super-extended depth and power.
What it will do also is scale with a quality amp. If you are lacking in dynamics or feel the staging is not holographic enough then give it a more resolving amp (not power but quality) and the SK1 can deliver a very vivid and immersive staging quality.
Bass
The SK1 low end has a midbass emphasis with a gentle up and down start around 50Hz, peaking at 100Hz then a slow but steady drop into the upper bass and on into the lower mids.
The roll off has a 4-5dB drop into the sub-bass so you won't get a lot of rumble and power from the SK1, but rather a full sounding midbass sound with a nice impact. It is also that elevation that provides that nice sense of warmth and fullness in the SK1 signature.
Those lovers of trance, relatively consumer-driven electronica and house sounds should take well to this kind of bass performance. There is nothing anemic about the SK1 bass response.
Just check out David Gray's closing kick drum sequence on Please Forgive Me from the White Ladder album for evidence aplenty that the SK1 can deliver noticeable impact and a fun level of PRaT suitable for modern genres.
Mids
Lower mids have a classic mild tuning dip from 500Hz to 1k which drops a fair bit of instrumental work behind the elevated vocal stage from 1-3k but it's not a huge dip and certainly not recessed.
Just enough to keep the bass from bleeding into the lower mids and unnecessarily bloating the instrumental work. It's has a smooth euphoric midrange timbre, slightly rounded in its note attack, not too sharp and very forgiving to listen to for extended periods.
If you are a vocal lover this is a good IEM for you. Note though this is not a vocal specialist IEM, not in the same vein as the cleaner sounding Vision Ears V5 which is an amazing but niche sound. I dare say though Soranik has tuned this with a bit of vocal focus but instrumental work does not fall way behind vocal staging to the extent of the V5 sounding more blended and natural sounding.
As a result, vocals have a natural, full-sounding quality to them with zero sibilance for both male and female vocals with perhaps female vocals standing out a touch more, especially earthy husky vocals which are sublime.
Treble
The SK1 treble is smooth, laid back and rolled off beyond 5k with only the usual hifi peak around 12k to prevent it from sounding dark or overly attenuated. In some ways, it keeps the focus firmly on the mids and for treble sensitive listeners, it's very inoffensive in its presentation. Percussion attacks are rounded, soft and slightly muted though they do have detail and stay relatively tight.
It is not a syrupy presentation but it doesn't have huge headroom or sound that airy. The rapid drop from 5-10k means you lose a touch of sparkle which can often provide a perceptible level of top-end clarity. One aspect of the horn design is that the smoothing technique may require another driver higher up for the additional energy and articulation or a different level of filtering.
Click on page 2 below for Comparisons & Matchability