South Korea seems like the mecca now for modern DAP revivals with Astell & Kern coming out of iRiver and Cowon moving forward with their Plenue series and now we have a new player on the block, a company called The Bit who have just released a DAP called the Opus#1. Not to be confused with a world famous winery in the US or the war time Tommy Dorsey Orchestra hit, the Opus#1 is thoroughly modern looking DAP with more than a nod to the spirit of AK and a very competitive price of $599.00.
The Bit as a company has actually been in operation now for about 12 years starting off as an ICT R&D company and working its way into multimedia via the engineering and innovation side. They also know their Android and started working on multimedia hi-res devices such as the Opus#1 for around the last 2 years. The Opus#1 is their first such DAP though I am told there is another in the works and they have also launched a highly capable looking slim line portable OTG DAC called the Opus#11. It seems The Bit is here to stay and is serious about audio gear.
What Is The Pitch?
$500 to $800 is starting to become a sweet spot for mid-fi good performing DAPs with FiiO, Cowon, Cayin and AK all releasing units in the last year within this price range. Even more so is the harmonization of form factor and functionality between most of the major players, with a large touchscreen firing out some sort of Android OS and panels chock full of functionality. I get an impression this styling will stay with us for a while and is fast becoming the common standard.
In a sense, The Bit are tapping into the current hegemony of technology in hi-res DAPs and producing a design and level of functionality that we tend to associate with high-end players at a price that is a little lower than most. It is not a standout design but it is a very familiar looking design. In the hand, it feels like I have known the Opus#1 longer than I actually have and that could well be a good thing.
Build
From the pictures the common assumption would lead you to believe that the Opus#1 is another machined CNC block with a screen in the middle. In fact, it is not, rather it is constructed instead from ABS plastics which is highly regarded for impact resistance and toughness and creates a stable environment for electrical properties. Yes, it is not metal and given the Cayin N5 and N6 are hunky all metal affairs for a similar price I might have expected the Opus#1 to take the same route.
However, the payoff is that it is lighter than a lot of its peers coming in at 185g which is 10g lighter than the Cayin 5, 35g lighter than the N6 and 15g lighter than the FiiO X7. It doesn't sound much on paper but in the hand you do feel the difference. Pleasingly it simply doesn't look like it is made out of plastic. Without the medium of touch, you could be forgiven for thinking this is a chunk of machined metal instead.
Dimensions wise it is more in tune with say the FiiO X5ii, N5 and iPod Classic size than the candy bar type approach favored by FiiO and Cowon's higher Plenue range. It is marginally taller and about 10% wider than the AK240. Side by side it looks much bigger actually than the AK240 due to AK's clever beveled design making it seem much smaller than it really is. You do tend to appreciate smaller things like that once you line them all up and compare. Having said that the Opus#1 does have a small amount of bevel design also with the top and bottom panels and a more aggressive bevel on the right panel giving it a right sided emphasis with a more traditional left side straight up and down. However, its rather conservative in comparison and presents less of a sensory illusion than the AK240's equivalent shape.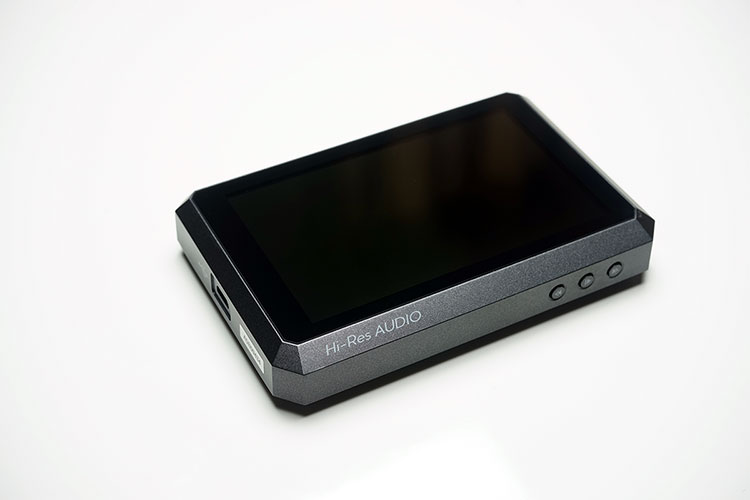 The Panels
Top & Bottom
The top panel is where you will find all the audio signal outputs. The Opus#1 sports both unbalanced 3.5mm which doubles as an optical SPDIF output, (mini toslink 3.5mm jack), and a recessed balanced 2.5mm TRSS set of ports on the far left side as well as your power on/off and screen off button to the far right. The bottom panel is a simple affair with the serial number and a micro USB socket for mounting the inbuilt or dual memory on your PC/MAC of choice as well as for charging purposes. The USB can also directly interface with MAC and Windows (using proprietary drivers) to allow you to use the Opus#1 as an external DAC. Note though DAC functionality is not yet enabled though the Windows driver set is available to download.
Left & Right
Both panels have physical buttons designed to interface with the UI though I must admit they are a bit on the small side and sit very flush with the panel itself making physical interaction less intuitive without first casting a quick glance. On the left panel you have 2 round small buttons for volume up and down and on the right panel you have three buttons to control playback; reverse and fast forwards and play/pause.
I would have liked to have seen more of a raised edge on all of these buttons and a slightly larger gap between them. They are manageable when the Opus#1 does not have its snazzy Dignis case on but much less so when they are behind the thickened leather of the case. Despite this concern the buttons are accurate and reasonably tactile with a reassuring click to denote a successful execution.
Slots & Back
At the opposite side of the left panel, you have a dual MicroSD slot which uses a flap type cover but is much easier to manage than the DX80 equivalent and can hold microSD cards up to 200GB in each slot. The back panel has a tempered glass finish with all the pertinent details such as the name of the unit, who made it and where. It's quite a smoother and glossy finish but prone to a few fingerprints if you are not using the accompanying leather case.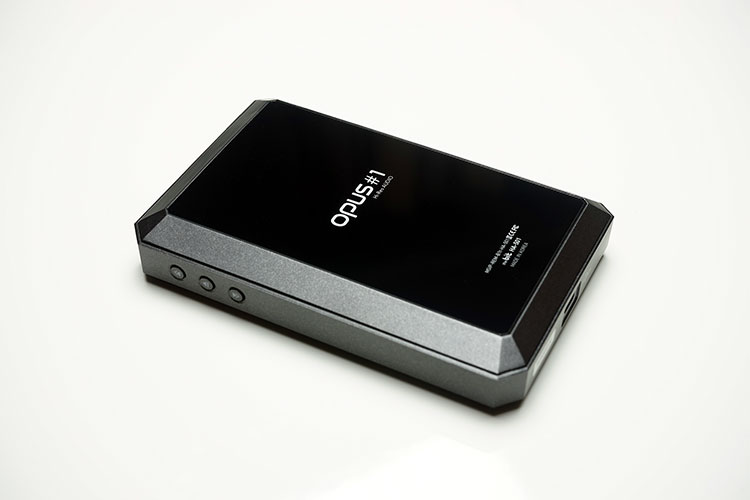 LCD Screen
The centerpiece of the Opus#1 design is the large 4inch TFT Wide Touch Display (480 x 800) for general interfacing and control behind a touch tempered glass panel. There are some pros and cons to this screen though. Physically it's a TFT screen so it is not as competitive as the newer players on the market that use IPS such as FiiO. It suffers from a little bit of light leakage in the corners, most noticeably during the boot up process and has a limited viewing angle as well as a rather bland presentation of colors. On the plus side the touch sensitivity is excellent. Unlike the DX80 from Ibasso there is no lagging or dead spots on the Opus#1 screen that simply refuse to do their thing.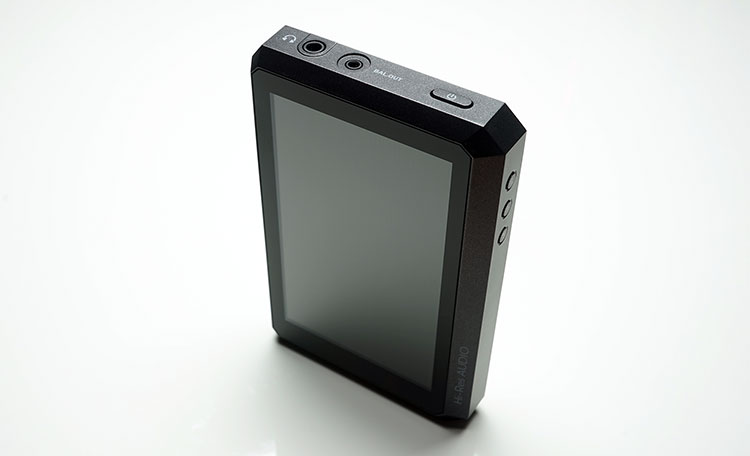 Accessories
The Opus#1 comes in two small cardboard packages, the smaller of which contains the Dignis designed gray leather case branded with the Opus#1 insignia on the rear. Further accessories included in the main retail unit box include a warranty card, a quick user manual, a spare LCD screen protector and a USB charging data transfer cable.
The real leather case is excellent in terms of the quality of materials. It really does feel like a premium leather case. I believe though the case is an optional extra and sells for around $50. That might seem a bit on the expensive side but it looks the part and worth the cash. Functionality wise there are two minor gaps at the bottom which I am not 100% fussed on but I understand it helps to get the actual unit back out of the case. The already small physical buttons are also a little tougher to use behind the leather. Perhaps a version with cut out areas like the X7 case might be worth investigating. It is though a small price to pay for an excellent piece of cowhide offering good protection and a nice grip in your hand.
Functionality
At the heart of the Opus#1 is a Cirrus Logic CS4398 x 2EA Dual DAC setup with a quad core ARM Cortex-A9 1.4GHz processor and 1GB of RAM to power it. Given that the Android OS in the Opus#1 is very paired down to just the audio experience and file management, the 1Gb should be more than enough for quad core resource management. Anything more and it might get a bit slower.
I have covered the CS4398 DAC chip quite a lot in previous reviews. Seven reviews to be precise going back to the International from ALO Audio in 2012. The same chip is also used by iBasso on their new DX80 (also in dual config), the Shanling M3, the AK240, FiiO X3ii and the Creative E5 (though not optimized for DSD).
This is Cirrus's flagship 192kHz multi-bit DAC and is mainly used in home theater and 2.1 hi-fi units but newer high sampling variants are now finding their way into portable units due to the chip's superior low pass filtering and jitter control. It also helps that the CS4398 is a bit more power savvy than some other DAC chips in the market meaning the Opus#1 has a relatively decent battery life and some an excellent power saving mode.
Codecs
Codec wise the Opus#1 is very competitive, handling everything from the lossy MP3 right up to Native DSD256 24bit/192KHz decoding which pretty much covers most of the bases. The full range of codecs outside of those two include; WAV, FLAC, ALAC, AIFF, WMA, OGG, APE, (Normal, High, Fast). No MQA support as yet but future firmware might be able to tease that one out. As of April 29th 2016 the Opus#1 DAC drivers are available for download but as yet the Opus#1 has no DAC functionality for either PC or MAC, we presume there will be a firmware release shortly to activate this.
Battery Life
The Opus#1 packs a fairly hefty 4,000mAh/3.7V Li-Polymer and pumps out about 10 hours playback time before requiring a 4 hour USB charging cycle. Playback tests got in and around 8-9 hours depending on what I was doing but what impressed me is the power saving mode which is rated at up to 4 weeks. This mode is pretty useful for travel where a battery charging opportunity is not always available.
It reminds me of the similar power saving mode from FiiO on their X3ii and X5ii but you do actually have to put it to sleep via the menu system on the Opus#1 which I prefer over the FiiO power button duality. Very often I have come back to my FiiO to find it the battery is dead due to putting it to sleep by accident instead of turning it off properly.
Page 2: UI