The RIVA ARENA is a compact multi-room "+" wireless speaker in RIVA's WAND series capable of an audiophile level of sound quality and priced at $249.
Disclaimer: The RIVA ARENA was sent to us a sample in exchange for our honest opinion and does not have to be returned. Riva is not a site advertiser or affiliated with Headfonics. We thank the team at RIVA for giving us this opportunity.
Note, that this article follows our latest scoring guidelines which you can read here.
RIVA Arena Wireless Speakers
This is still one of the best, if not the best $250 speaker I've heard as a whole unit. It lacks just a little on the treble and imaging, but otherwise sounds very good in quality across the board. I didn't think it would sound better than the Sonica, my previous under $300 best speaker of choice.
I have recently covered Riva's $499 Festival model and found it to be quite adept at offering a very nice fidelity to consumers. Today, we are looking at the $249 Arena from Riva. This model is a bit different and offers a more budget-oriented flare and appeal.
The sub $250 tier for portable speakers is very dense from the likes of JBL and even Oppo, so I am very excited to see if Riva's Arena can live up to the hype around it.
Build Quality, Case, and Battery
The Arena doesn't have a wooden internal, as the more expensive Festival offers. But, it still shares the same exterior build that I find to be very good. Metal adorns much of the interior and you can really feel it in the weight of the unit.
The Arena feels very dense and just like the Festival, does not give off a plastic-like or low-end vibe. Quite the opposite. The Arena feels very nicely constructed and very hefty for its size.
When connected to the optional $99 portable battery made for the Arena, the unit, of course, becomes a little heavier. You also get the option of a cool $29 carrying case if you prefer that too.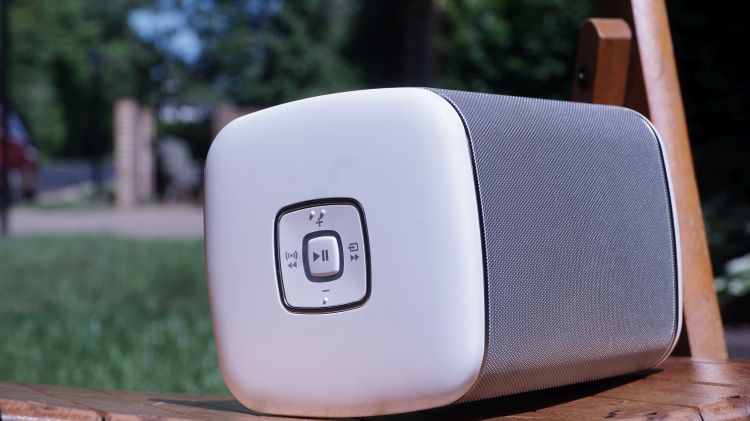 Buttons and LEDs
Each button has a brail-raised area to denote the usage and feature accordingly. They also feel tactile and responsive when you click and push on them.
The center Play button has some light rings around it that denote what mode the Arena is currently active in. I think the blue LED inside is quite lovely and deeply rich in visual flavor. Meaning, the light isn't bright and annoying.
It is very thick looking and lush in vibrancy. It is great to be able to have the speaker connected to Bluetooth at night and not have the LED light rings light up my entire room. A soft glow such as this is very appreciated.
Connections and APP's
The Arena lets you connect via Airplay, DLNA, Bluetooth, Wifi, and a standard 3.5mm input. If you want, you can also jack in via a USB port to an external drive and play that instead. The Arena also, of course, offers connection outputs from Spotify and Pandora, and a few other popular choices.
I prefer to connect to my Spotify Premium account and then Bluetooth streams directly to the Arena. With the Riva App, you can control some of the features as if your phone or tablet were remote for the speaker. Connections are always quick and strong. I have not had a single cutout throughout my testing phase.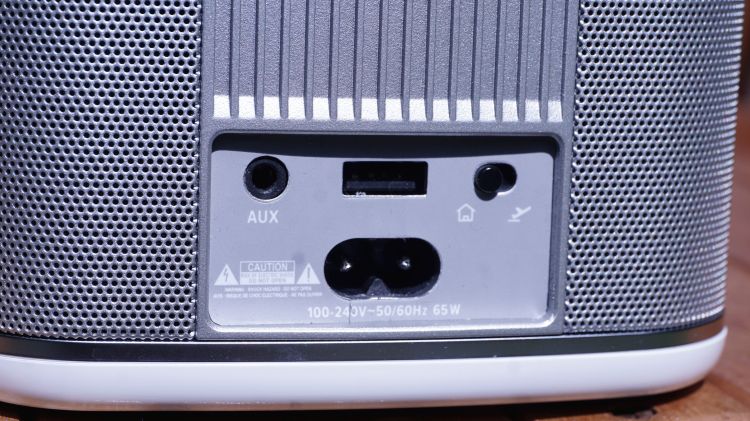 How to Connect to Bluetooth
I've found that the Arena will not always pair quickly after plugging the unit in and powering it on. If I try to hold the ">" button to enable the blue flashing LED (which denotes Bluetooth connection pairing mode) the Arena will likely not connect at all to my source or show up on my source BT list.
Why? I've no clue. I have found that if I just let it sit for 30 seconds or so without touching anything, then, holding the > button to enable BT pairing mode, the connection will always show up.
Issues with Sony Bravia TV's
For some reason, these Arena speakers will not pair with Bravia Sony TV's. I have a higher-end Sony X900E and neither the Arena nor the Festival will pair with it. But, the likes of my JBL, Oppo, and other Sony BT speakers will.
Why? I found out that Sony's audio codec is extremely finicky and doesn't like Bluetooth.
This is important because I spent a long time trying to figure out what the problem was here and why these two speakers would pair with my other Bluetooth TVs from other brands and not the highest-end Sony 4K TVs on the market.
Has ZERO to do with Riva. They are not at all at fault. This is a Sony Bluetooth issue. Because these speakers connect to literally everything else very easily.
So, if you have a Bravia TV, you will likely not be able to use the TV's Bluetooth output to connect to the Arena or the Festival. I am deeply saddened by this. Again, not at all a fault of Riva.
I want Riva and Sony to talk to each other and figure this out, because the Festival and Arena are great speakers for media usage in general and outperform my Audio Engine HDP6 2.1's in a lot of areas.
The workaround? A digital output from the TV directly to the Festival. Or, Digital out to my Fiio D3 which then outputs to RCA. Then, I use an RCA to 3.5mm cable to connect directly to the Arena, since the Arena only has a 3.5mm in and the Festival has more options available for sourcing.
Sound Impressions
Bass – Tone and Density
The Riva Arena has a broad sense of appeal when it comes to low-end. While plentiful, it comes across as a bit overly dispersed feeling at times. Meaning, coherency, and density are a bit of a factor on a subjective level.
True, the Arena houses more low-end than my Oppo Sonica speaker, which sells for roughly the same price, but it also has a totally different texture and feel.
That is not a negative statement. The Arena's depth factor is very good for its size. My issue is the sense of broadness is actually overly broad and in turn, the density factor of the bass you are feeling feels a bit thinner than I would like it to be.
Speakers like this project a great deal outward and that is a fantastic quality to have when you are in a very large room or a party of some sort. The Arena will fill that room nicely, no doubt.
But, if you want concise, tonal density, I'd be opting for the Oppo Sonica instead. If you want projected broadness, that ability to really fill an area with a sense of low-end, then I would say invest in the Arena.
Unlike the Festival, the Arena will distort a bit more than I prefer at maxed volume. But, then again, who is going to play the Arena at 100% volume? You should not be doing that in the first place, but I do have to test for robustness, and in that sense, it has performed admirably for $249.
Bass Quality
Quality is not at all an issue, for the price, it is a very clean feeling. Definitely purer sounding and feeling than my JLB Xtreme by a significant margin and just a bit better than the Sonica.
Therein, again, lay the issue. This is a texture of the low-end war between the Sonica and the Arena. One of them (the Sonica) is dense, intimate, and very solid feeling.
The other (Arena) is extremely broad and much larger sounding, reaching deeper in response, with excellent projecting quality and potential, but ends up feeling more dispersed and less focused.
Midrange
I have noticed that with many of my favorite vocalist tracks, such as Zombies, by Childish Gambino, there are cues in the track that sound very forward and lively on many other pieces of gear.
Yet, the subtle cues of certain background singers do not appear nearly as forward feeling as with the Festival, Oppo Sonica, or even my HDP6 for that matter. I am not sure what to think about this.
No, the midrange is not recessed, it just does not have the push and broadness factor that the lower end has underneath it. I think the Arena feels a bit too unbalanced here with the midrange, for the most part.
Without subtle background noise in the track, extra singers, for example, behind the main vocalist, the track sounds plenty enjoyable. It doesn't improve with the volume raised though.
Those singers in the background simply do not sound as centered or as upfront as they do on other products I have here for testing. Yet, the primary vocalist (Donald Glover) is pretty much the same. I suspect the reason is the design of the speaker itself in the physical sense of the word.
Placement
I think the placement of the speaker is immensely important and that can make or break the experience for you. If I am offset from the center just a bit, it feels not too much to my enjoyment on a subject level. What I do enjoy is the push and room-filling nature the speaker houses.
Again, if the primary singer and vocalist are front and center on the recording and there isn't too much going on off to either stage left or right, then the track will feel much more coherent.
If not and if there are vocalists off to either side or behind the primary artist (backup singers) the entire physical tactility of the midband feels askew. This gets a bit worse if you yourselves are offset from the center-facing section of the speaker.
Midrange Fidelity
Purity and cleanliness are both very good. The Arena sounds audibly superior in quality to my Oppo Sonica speaker and that is a hell of a great thing to be compared to. Once again, push and projection can really fill a moderate-sized area and really fill my bathroom and bedroom, for example.
With that large feel to the physical presence, you can really get a good sense of midrange appeal when the track calls for it.
Very well-recorded tracks, also with a prominent midrange-centered recording and setup, tend to feel of a moderate density factor. I've heard some portable speakers that feel more solid but many feel a lot thinner too. Quality in the Arena is very good at the $249 tier, no doubts there.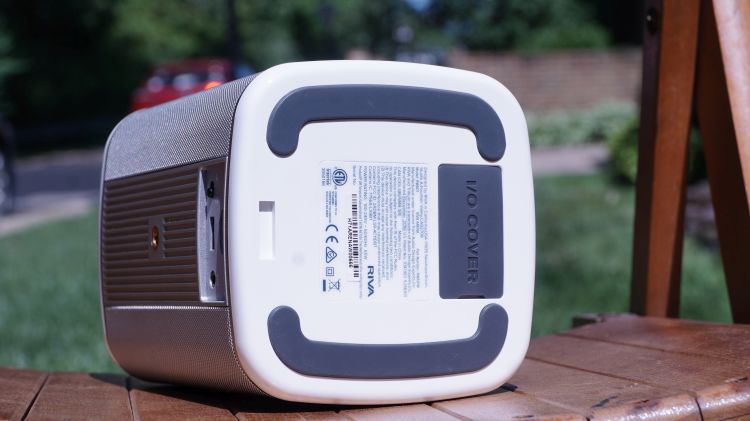 Treble
What is there feels lacking in terms of physical quantity, but more than satisfactory in terms of fidelity and quality. I do notice a grain on my Oppo Sonica, but I do not hear that same grain inside the Arena.
The problem is that high volume can come too powerful of a top end. It seems at very high and unrealistically loud volumes, levels that are not suitable for home usage, at least not in my opinion, the Arena loses a moderate kick factor and turns into something just one step into what I could consider potent.
Testing outside in a park, I was able to crank the volume to max and I noticed that the top end simply felt too powerful in comparison to the low end and midrange.
At very high volume and with very treble-happy tracks, the vocalists inside said tracks were just a bit too overshadowed by the top end. The Festival doesn't have that issue and remained in control, amazingly so, even at very high dB levels.
Treble Tone
The Arena isn't as subtly bright or sparkling as its older sibling, the Festival. Rather, it feels drier. More of a neutral experience up there and one missing the more refined presence in tone the Festival had.
It sounds a lot like the Sonica in that regard. It is neither bright, nor lacking, or dim. It is of a moderate quantity and physical dynamic kick at normal volume levels.
For what is there, it is just fine for the price. It doesn't amaze me or make me want to critique it negatively. It doesn't lean too far in either direction and that might be a good thing for parties and home usage.
A neutral top end that doesn't get harsh or feel lacking is probably the wisest route. But, with that, the Arena lacks a soul up top that I wish it had in a similar sense to the Festival.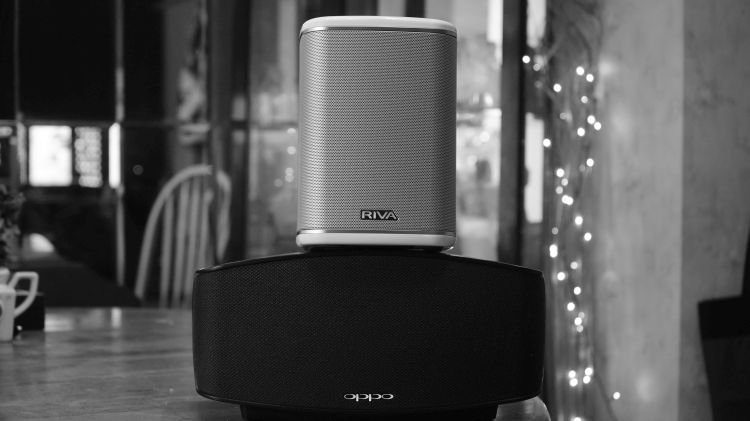 Imaging
The Arena projects very well for a unit of that size. That much is true. However, the Arena also feels a bit odd in terms of the shape of the sound signature.
The Festival, in comparison, feels natural and of an equal height and width factor. The Arena feels taller sometimes than it does in width and that means intimacy takes a hit.
The ability to portray stage left and right does not extend far enough to satisfy me and it is only when I use the speaker in my bathroom or a small room that I am okay with the sound-stage factor it presents.
Otherwise, it is instantly noticeably lacking in width factors until you get to extremely high volume, where the push and projection of the speaker are very filling to the area, that you hardly notice it.
Stage depth and height are not a problem. Neither is realism. For the most part, the imaging properties for this smaller-sized model are just okay to my ear. I desire a lot more out of it. But, I may be asking for too much.
Yes, the Sonica and even the JBL Xtreme feel more shapely and desired in that sense of sound-stage void shape than this Arena.
If there is any real lacking quality this speaker has, it is, in my opinion, the stage shape. I do not find it attractive. But, this speaker was clearly meant to be used loudly and in a larger space. Or, very quietly in a small space. The middle areas, of a typical living room size, don't seem like the place most well suited for the shape of the Arena's imaging presentation.
Our Verdict
At $249, the Arena bested the Oppo Sonica audibly across the board and matched it in treble quality. It can get much louder than the Sonica and also comes with that nifty portable battery for an extra $99. This means you can tote that bad boy anywhere really and not need to worry about a wall outlet.
I was not happy with the lacking staging presentation and the odd shape the Arena gives off. But, that doesn't become much of an issue when you are outside playing with the Arena at more than suitably loud levels for a bedroom or living room.
The speaker really can thump in your chest on the low end but feels like it is lacking a focused feel to the entire low end sometimes. Does that make it not worthy? Absolutely not.
This is still one of the best, if not the best $250 speakers I've heard as a whole unit. It lacks just a little on the treble and imaging but otherwise sounds very good in quality across the board. I didn't think it would sound better than the Sonica, my previous under $300 best speaker of choice.
But, the Arena definitely sounds cleaner in some ways. If you want intimacy and an elegant sound, this might not be for you. If you want more of a thump and imposing projecting sound, something suitable for outside venues, this is a great option.
RIVA Arena Specifications
Three passive radiators
AMPLIFIER POWER:50 Watts
REMOTE CONTROL APP: Yes, RIVA WAND App for iOS and Android™.
DIMENSIONS: 5 in (127mm) x 4.87 in, (123.8mm) x 7 in (180mm)
WEIGHT: 3.0 lbs. (1.36 kgs)
BLUETOOTH RANGE: 33 FT
AUDIO CODECS SUPPORTED: MP3, ALAC, APE, FLAC, FLAC HD, HLS, WMA Streaming, RTSP and PCM/WAV
HIGH-RESOLUTION AUDIO: Supports up to 24-bit/192kHz.
STEREOPHONIC SOUND: ADX Trillium™
BATTERY PLAYING TIME: With optional Battery 20 Hours at 75 dB (Playing time varies with listening levels.)