Today, we review the Topping L70 which is a new balanced desktop NFCA headphone amplifier capable of up to 7.5 watts of output power. It is priced at $349.
Disclaimer: This sample unit was sent to us in exchange for our honest opinion. We thank the team at Shenzhen Audio and Topping for giving us this opportunity.
Click here to read more about Topping products that we have previously featured on Headfonics.
Note, that this article follows our latest scoring guidelines which you can read here.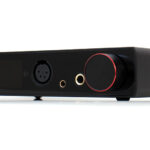 Topping L70
The Topping L70 is an A90 disguised within a smaller chassis, with a digital display, and a resistor ladder volume control that has an additional remote control capability but for less money. In other words, you're getting a lot for a modest investment.
Pros
Lots of clean driving power
Low noise floor / good for IEMs
Cons
Features are not intuitively operable
As promised, today we're tackling another component of Topping's 70-series and their L component line which consists of a couple of DACs and a desktop amplifier. Will Topping release other 70-series components down the line? Perhaps or perhaps not, who knows?
But for now and to recap, Topping offers three distinct models which consist of two E70 DACs, one with an ES9028PRO DAC section, one with an AK4499EX Velvet Sound DAC, and then there's the L70 matching amplifier.
All three components share the same design aesthetics. Just the same, each one of these three components is available from Topping in two distinct color schemes, a black cabinet with a black fascia or a silver cabinet with a black fascia.
So far we gave the E70 ES9028PRO DAC a run but might not cover the Velvet sound variant due to too many similarities between the two. However today we're gonna tackle the L70 headphone amplifier plus go more in-depth about how well it pairs with the E70.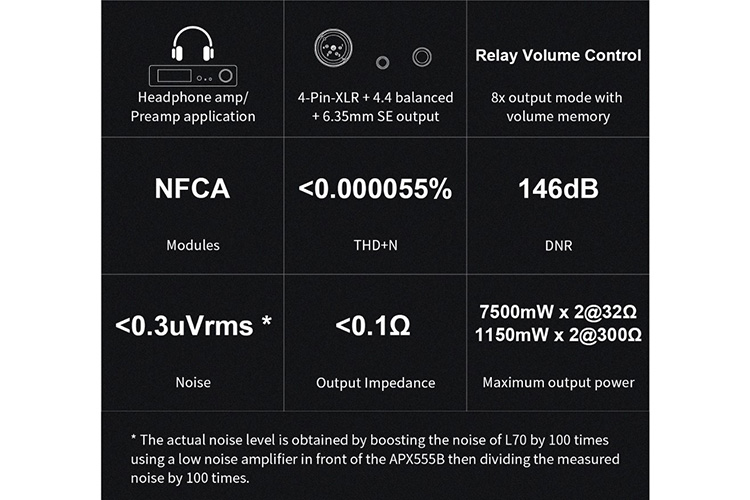 Tech Highlights
The Topping L70 seems simple upfront but there's a complex personality behind that simple-looking front panel. There are many hidden features and I might even miss one but we'll try to cover them all here. The one feature I can't overlook is the implementation of NFCA module amplification.
Topping uses these modules rather exclusively on many of their headphone amplifier models. They use them on their top model, the A90 and the A90 discrete, down the line and on their portable amplifier, the NX7 alike.
The L70 shares the same nestled composite module ultra-high gain feedback design tech that was used inside the A90 and that's why they share similar power specifications. Topping claims incredibly good specs with this particular amplifier design like a 146 dB dynamic range measurement along with a low 0.3µV noise floor.
The L70 amplification section is also low output impedance rated, has a 1.4 amp high current output capacity, and a high voltage output capability with a peak voltage of 52Vpp on the balanced output and 26Vpp on the single-ended side. Topping posts many more measurements on its website.
The maximum power output is similar to the A90 with a rated 7500mW max output on the balanced side at 32Ω and 3500mW at 16Ω which is an ample amount of driving power. But most important is that the L70 also plays nice with sensitive IEM due to a low noise floor on low gain.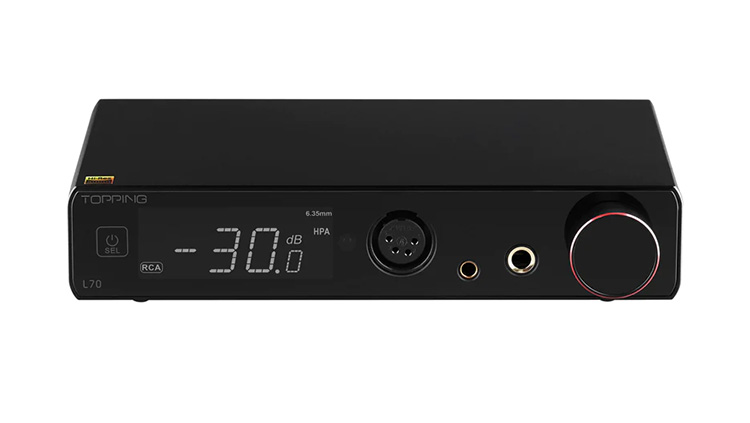 Design
The same appearance was carried over from the L70 DAC section and some of Topping's other components. To be honest, one could almost mistake the DAC and the amp except for the visual cue and the inclusion of those headphone jacks upfront.
The outer shell is made with a coated metal and the front panel is a tempered glass fascia with a single touchpad at the left end and a rotary knob at the right end of the front panel. The headphone jacks sit to the left of the volume knob and the rest is occupied by the monochrome LCD.
Not much is said about the L70 screen by Topping but it displays a lot of essential information that you need to know to operate this unit efficiently.
That's because all the inputs and outputs are electronically selectable and the screen is the only source of visual information you get on what's active as far as what ports are in operation.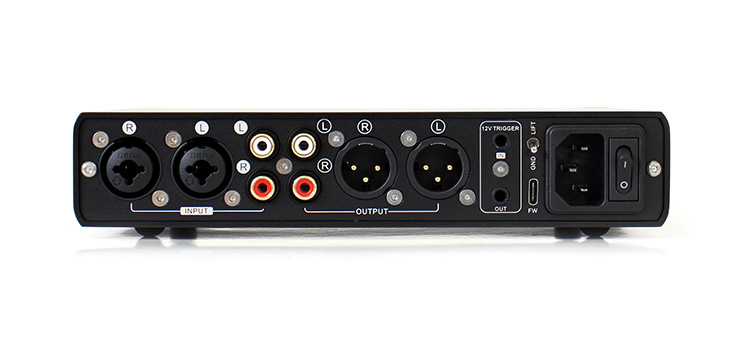 I/O
The Topping L70 is very versatile because not only can you select what rear output is active but you can also select what headphone jack and what analog out is active. So you could have headphones or IEMs connected on all three jacks simultaneously and you could simply select which one to listen to.
This particular feature makes the L70 an excellent test bed because each port has a memory feature that independently retains its last volume setting. The L70 could also be used as a preamp section due to the ability to select inputs and outputs separately to then be able to control these analog outputs with the volume control.
The front panel has three of the major modern headphone output connections, a 6.35mm, a 4.4mm, and a 4 pin XLR. The rear panel seems rather busy back there, unlike the front panel, and doesn't convey simplicity as the front panel does.
The rear panel is crammed and sports XLR 3-pin inputs and outputs with balanced topology plus the XLR inputs accept 6.35mm connectivity. There are also some RCA inputs and outputs. There's also a USB-C port marked FW, two 12v trigger ports, and a 3-prong power plug along with a ground loop switch feature.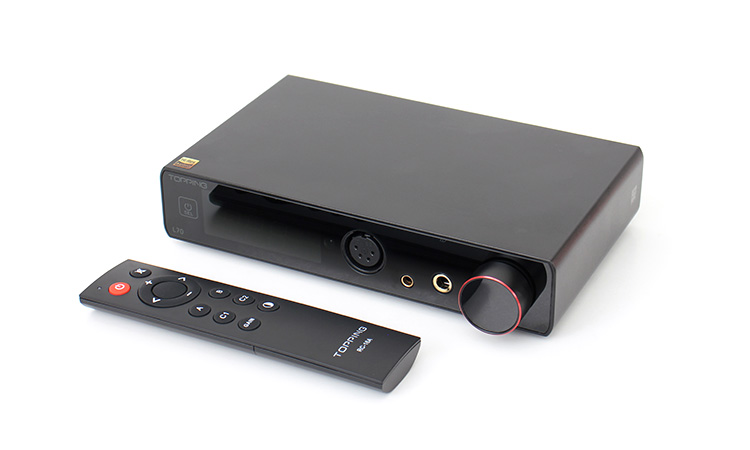 Controls
The Topping L70 multifunction volume control has a few features that are worth mentioning. The first feature is the implemented R2R ladder system which conceptually should eliminate the inherent channel imbalance of analog control knobs while simultaneously retaining analog fidelity.
Another feature it has is the mentioned ability to store separate volume settings for each one of the inputs and outputs and you can store up to eight altogether. This gives the user the ability to adjust and run all their gear at a constantly equal volume level.
Separately, the headphone outputs have a 2-step selectable gain which uses unique settings for the balanced and single-ended sides. It employs a low gain of +6 dB and a high gain of +19.8 dB on the balanced side and the single-ended side has a low gain setting of 0 dB and a high gain of +13.8 dB.
The volume knob also seems very precise and apt to make fine adjustments due to its 0 to 99 adjustment range and 0.5 increment adjustment capability. So, the volume knob has approximately 200 steps between the minimum and maximum settings.
Features
What else is there as far as features on the L70? There's a max safe volume setting in which you can set the max volume level including the 8 output volume memory and a mute feature.
There's another feature on the L70 rear panel worth mentioning. There's a ground loop switch which is useful if you detect noise due to a ground loop which could happen if you connect multiple differently designed pieces of gear to the inputs simultaneously.
The switch has two usable modes, normal and lift. I never had to use the switch up to now although I only connected 2 pieces of gear and separate components to the rear panel simultaneously. But it seems ground isolation is well controlled but aside, it's good to have that feature there just in case.
I'm guessing future firmware updates are coming looking at that rear USB-C port marked FW. I haven't had any issues, found any bugs, or run into any issues that would require one but if Topping finds ways of improving the L70 through that port in some way I'm all in.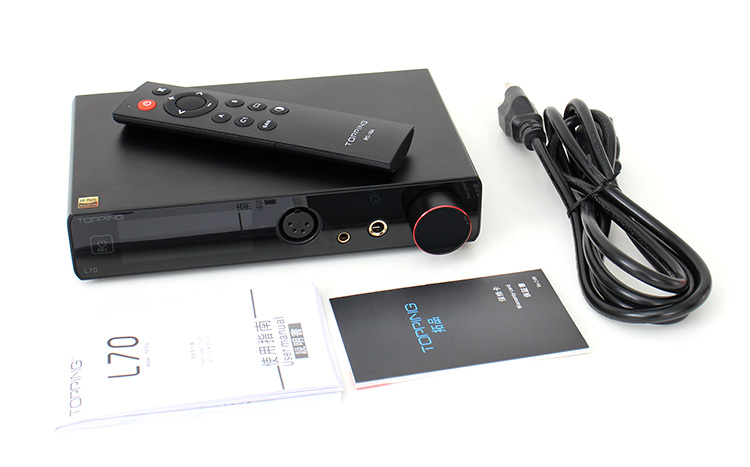 Packaging & Accessories
The Topping L70's included remote control uses two AAA batteries but Topping does not include a set and that's fine since there seem to be a lot of battery shipping restrictions plus they will perish with time in storage anyway. I do prefer using fresh locally bought batteries.
The rest of the contents are the heavy-duty power cord, some literature and that's it. There are no RCA or XLR cables included or any connectivity medium for that matter.
All the contents come well protected. The main unit sits inside a custom foam mold. The power cord also comes in its own smaller protective box. The remote is just the same.
Sound Impressions
Timbre
Every NFCA module amplifier I've heard from Topping to me seems to have the same characteristics sonically including the L70. They portray an overall neutral sound signature which seems to be absent of coloration that also tends to share an impactful and vivid presentation.
The general sense you get seems to come from the high DNR rating which brings forth a punchy, energetic, and speedy character that seems similar to THX amplification but with the absence of the THX sometimes hot and ardent characteristics.
It seems although the frequencies ride a smooth rail they do not lose any of the dynamics of the source. The L70 seems very linear in frequency response and flatline from top to bottom. It seems to not present any edginess of any kind either.
The L70 noise levels seem to be very well-tamed since even with very sensitive IEMs there seems to be an absence of hiss. Operating the unit is also silent since switching sources does not seem to present any thumping or clicking artifacts. All you hear are the clicks as you raise or lower the volume coming from the R2R relays.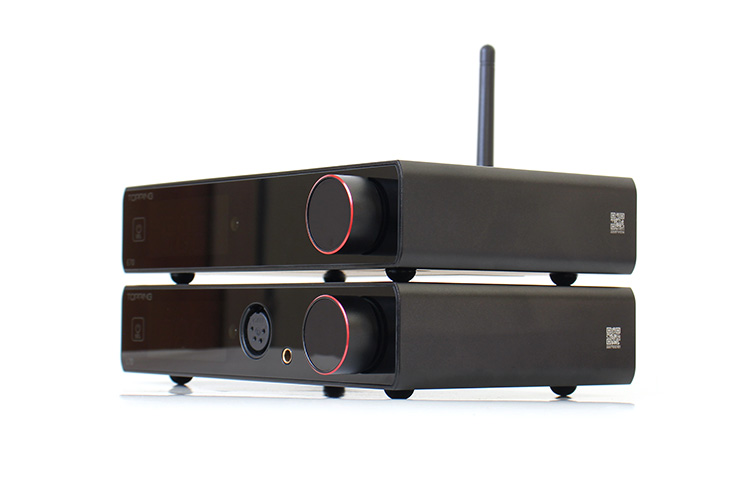 Staging & Dynamics
Judging the Topping L70 in combination with the E70 presents a true-to-life stage size that doesn't veer into airiness or excessive expansion. So, there's a good sense of spaciousness but with a lifelike present character.
You could hear nuances and soft passages within the loud passages very well with this setup. This L70 / E70 combo does well as far as micropositioning since I can detect high notes, position-wise, and also good panning.
The L70 is capable of a nicely done frontal stage that can portray a deep, distant sound alongside a frontal secondary tone. This, alongside an ability to extract reverberance and a credible 3-dimensional panorama that envelopes due to the inclusion of some rear projection, all make this an interesting combo to listen to.
Click on page 2 below to read up on pairings and our select comparisons.