We review the FiiO Q11, which is an affordable CS43198-equipped portable DAC and headphone amplifier with up to 650mW of output power. It is priced at $89.99
Disclaimer: This was sent to us as a sample for our honest opinion. Headfonics is an independent website with no affiliate links or services. We thank FiiO for its support.
You can click here to learn more about the FiiO gear we have previously highlighted on Headfonics.
Note, that this post follows our latest scoring guidelines which you can read here.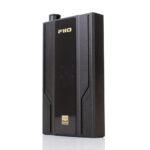 FiiO Q11
FiiO has focused on improving the sound quality this time around since there seems to be some features on previous models now removed. So, you lose a bass boost feature plus a line input which is a type of connectivity that's losing popularity nowadays but, in its place, you get an upgraded and refined tuning.
Pros
Neutral and natural sounding
Plenty of driving power
Long battery life
Cons
Missing some legacy I/O features
FiiO Control's limited functionality
We recently received FiiO's Q11 which seems to be an updated branch-off from their popular Q1 Mark II portable DAC amplifier. At first glance, it's obvious that a lot has changed and the differences between Q1 Mark II and the Q11 are pretty substantial.
Not only did the outer design change but the inner component configuration went through some major changes as well. So yes, there are obvious visual cues that are all superficial but most of the changes took place under the hood.
The numbers speak for themselves here. It seems that the Q11 surpasses the Q1 variants by a rather large margin, particularly in its power output specification. Most of the other numbers on paper seem to stay rather similar, however.
By the way, the FiiO Q11 was made in collab with Jade Audio which as a team seems to have a niche and a keen ability to combine high value with good sound quality to a point where at times I fail to see how they can even make a profit.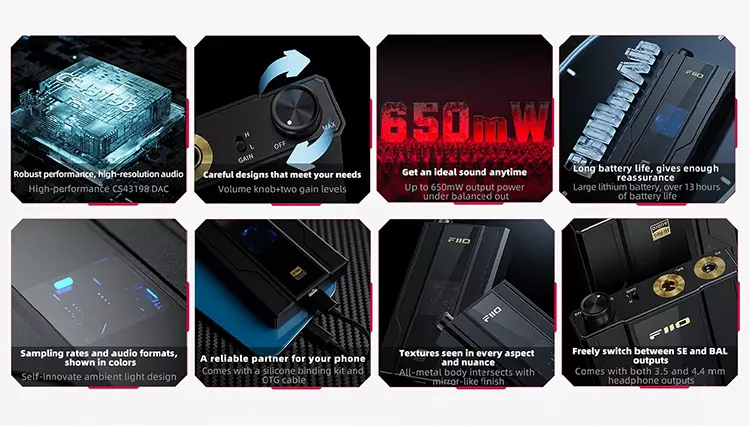 Tech Highlights
The highlight component within the FiiO Q11 portable DAC amplifier seems to be a single CS43198 DAC. I would say it's a step up from the previous PCM 5102 and AK4452 DAC implementations.
FiiO seemed to be more concerned about sound quality over aesthetics and included features this time around but they also seemed more focused on obtaining a beefier output section.
One aspect I found curious is that even though FiiO state that a careful selection of components was chosen. they do not mention any part specifics and even less so compared to the Q1 Mark II, for example.
A closer inspection through the ambient window you can see a couple of opamps that seem to be configured in a dual-channel output mode and is more than likely the source of the power output gain over its sibling.
Decoding
One aspect that didn't change much was the digital format playback capability. Both the Q1 Mark II and the Q11 can similarly handle PCM at 32-bit at up to 384kHz rates plus DSD up to DSD256.
Both these models handle DSD natively, meaning it's all handled at the hardware level. But what's missing from the DAC section is MQA capability. However, those who are following the latest music trends know that format is fading in popularity.
Another similarity both models have is that both use dual crystal oscillators. Dual crystals for one DAC chip? One handles the PCM portion and the other DSD and each one is tuned to work best with the format and task assigned.
Design
The FiiO Q11 design scheme seems to have gone back to a more industrial design and this time abandoned the curvy lines and rounded edges.
The Q11 uses a black-on-gold accents theme and a classic brushed metal finish. We already covered the ambient light window.
The body is an all-aluminum constructed case top to bottom including the end caps plus the halfway-knurled volume knob.
The overall color scheme uses black with gold-plated connectors and a gold FiiO logo with a Hi-Res symbol. Lines and angles decorate the front fascia.
The other side gives off the same Jekyll and Hyde character as other FiiO and Jade Audio collab gear. This one displays the Jade Audio logo plus some useful info like the model number, voltage, and amperage requirements.
Ambient Light Window
The FiiO Q11 has a small glass see-through window upfront that lights up and shows off some of the internal electronic components but it's more than just a window.
The window LED backlighting looks good but it also serves up three distinct colors according to what format is playing so they're slightly informative.
The LEDs glow blue if you're on PCM but anything playing at above 48k turns it yellow. Playing back DSD gives off a green hue.
I like clear window implementations like this one and did mention so once in a review in which the item only had a circuitry diagram painted on. Is FiiO listening?
One thing the window does for me is that it denotes confidence in their handy work and are proud to show off the internal components.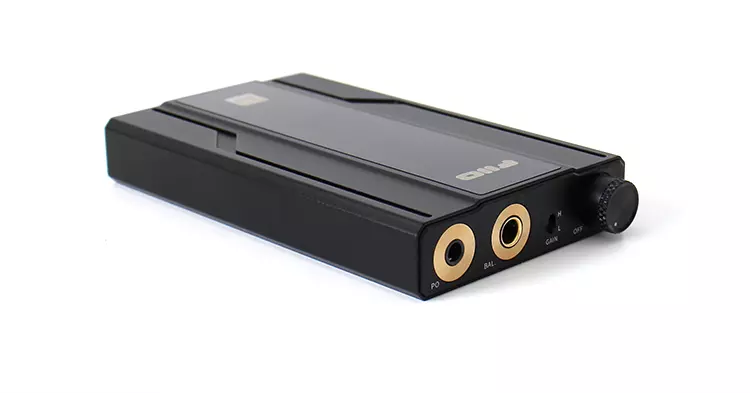 I/O
The Q11 is a very simple device to operate and it starts at the volume knob which is assigned a double duty and also powers up the unit. The glass window lights give you a visible cue that the unit is on.
Next to that volume knob is a two-stage gain switch that operates on both headphone connection jacks which sit left side of the gain switch.
The two headphone connections consist of a 3.5mm single-ended jack plus an additional 4.4mm Pentaconn balanced output. Both have a gold-plated fascia that adds contrast to the all-black color scheme.
On the backside, there's a single female USB-C connection that supplies the input and charges the internal battery. It sports a small LED that emits a different color depending on whether it is charging, fully charged, or in use.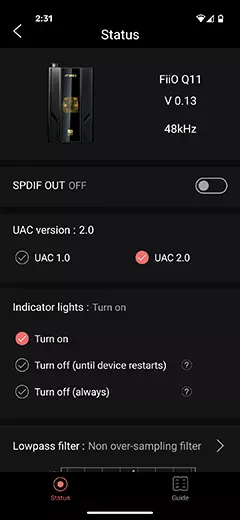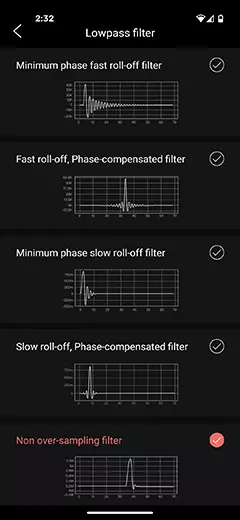 FiiO Control
The FiiO Q11 is compatible with their free-to-download FiiO Control app but it seems limited in function. With this app, you could only change DAC filters that don't do much audibly plus there's a user's guide and a couple of other features.
There are features like the ambient window light turn-off or on feature which might help you to obtain better battery life plus there's a SPDIF toggle on and off switch which I'm sure runs off the 3.5mm connector. FiiO does not include an adapter.
There's a UAC select feature available but you have to update the firmware to obtain the feature which oddly cannot be updated through the app. You have to download a separate tool that only works on a Windows-equipped PC.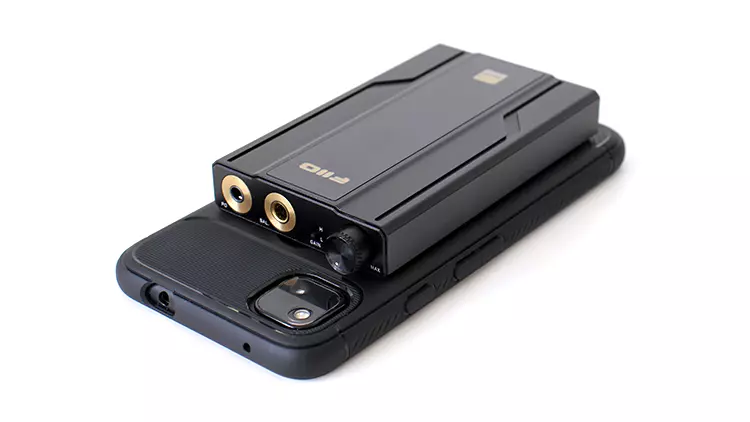 Battery Life
The FiiO Q11 has a built-in 2600mAh Lithium battery that is quickly charged by using a high-capacity charger of 2 amps or more in capability. There's no wireless charging available so it has to be done through the rear USB port.
If you use the Q11 in a desktop scenario, the full-sized USB cable will keep the unit charged constantly. But if you use the short wire to a mobile device, then the battery power will be used exclusively and not your mobile device's internal battery.
I couldn't verify if the Q11 would work with a depleted battery and similarly to a dongle DAC and switch over its power source to the internal mobile device's battery because it's rather difficult to kill off that battery.
However, one thing is for sure, FiiO is being modest far as the battery time longevity rating because I got over the 13 hours FiiO says you'll get from a full charge.
I truly had a hard time fully draining the battery in one day so I would say the Q11 is excellent for long trips or an all-day long session.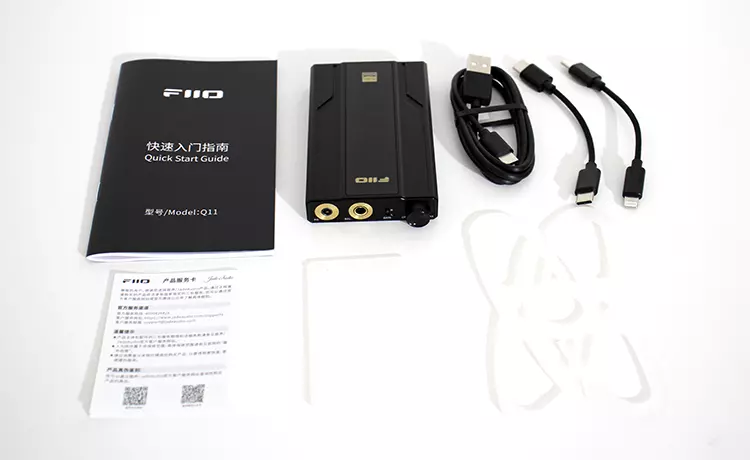 Packaging and Accessories
FiiO includes a generous amount of useful accessories. For example, they throw in a short USB-C to USB-C cable plus a longer cable with a full-sized USB connector.
They also throw in a USB-C to a Lightning connector which should confirm that the Q11 works on iOS and iPhone mobile devices.
The two other accessories that I found interesting were not so much the silicon pad to slip in between your mobile device and the Q11 for an anti-slip effect and it also prevents scratching.
But FiiO also includes a butterfly-style silicon piece that couples the Q11 way better to a mobile device compared to the traditional rubber rings.
This piece holds onto your device by stretching over the corners enabling you to engage the screen without having a rubber band across the screen.
The rest of the accessories list consists of paperwork. You get a warranty and registration card plus a quick guide. The contents are comfortably slipped into a modest size box along with a gel sack to keep the contents dry and moisture free.
Click on page 2 below for sound impressions and our selected comparisons.