Today, we review the SIMGOT EA500, which is a 10mm dual-magnetic-circuit & dual-cavity structure dynamic driver universal in-ear monitor. It is priced at $79.00.
Disclaimer: This was sent to us as a sample for our honest opinion. Headfonics is an independent website with no affiliate links or services. We thank the team at Linsoul and SIMGOT for giving us this opportunity.
To read more about SIMGOT products we have previously featured on Headfonics click here.
Note, that this article follows our latest scoring guidelines which you can read up on here.
SIMGOT EA500
The SIMGOT EA500 is crazy bright at times, but it offers some physical alteration potentials in different nozzles that are included, so you can tame the treble a bit. Ultimately, they are very well made, offer a fantastic cable, and dish out excellent, even amazing quality imaging for the price.
Pros
Good imaging
Nozzle Filters provide tuning choices
Good quality cable
Cons
Treble quantity is high
The budget tier is expanding like a beached whale, primed and ready to explode and cover the entire area with meaty good deals. One such company, SIMGOT, made headlines with us a few years back with models such as the SIMGOT EN700 PRO
SIMGOT has had a product refresh recently with the EA500 as one such example. This is a new IEM that currently sells for $79. Jam-packed with features and customization potential; it seems tailor-made for the budget world.
This one is a little different though and includes some interesting features for us to enjoy.

Tech Highlights
The EA500 uses a 10mm dual magnet and dual cavity chamber design for the driver. I find this especially interesting that there is extra space allotted inside an all-metallic chassis.
SIMGOT says that the standard design of most other models out there includes circuitry around the magnets only on the inside of the internal driver structure. However, they have designed their EA500 to house both internal and external magnetic circuits.
The reasoning for it was to force a much more powerful magnetic field than the standard fair that is available on the market. SIMGOT's intent, as they tell me, was to invoke a strong sense of forward presence in the sound field.
They have a 4th generation DLC composite diaphragm that is intended to present the owner with a robust treble experience, which is composed of specific materials aimed at being as light-weight as possible.
I can attest to the treble of this IEM housing some significant treble response, so at least to me, their goal was achieved.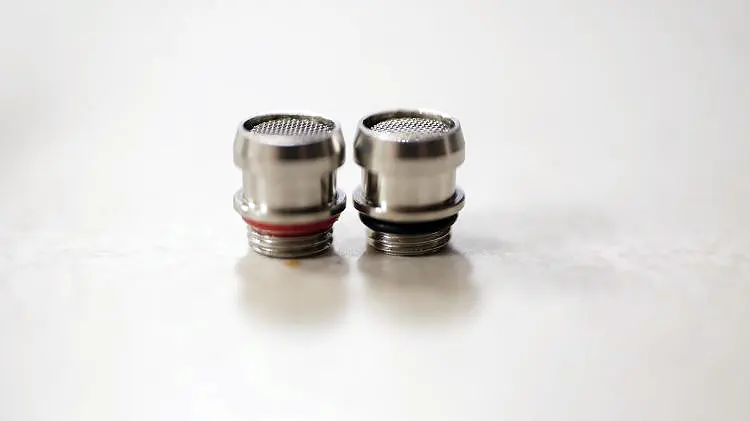 Detachable Nozzles
SIMGOT included two sets of detachable nozzles that are easy to remove and install. Each variant will provide a different tone and presentation.
The nozzles with the red ring offer more bass and are aimed at the H-2016 target response from the low end and up through the upper mids.
In this configuration, the experience has heightened bass depth and a much more prominent treble drop-off, meaning it is both less physically impacting and less bright, more tamed on the top, and more plentiful on the bottom.
The H-2016 curve and the response of the red ring version of this experience taper off significantly once we get to the treble area.
The alternative set of nozzles (black ring) is set to SIMGOT's own house sound curve. This set offers a much flatter sound and tone than the red ring nozzles, allowing for a smoother, less physically impacting bass response and a noticeably more prominent treble top side.
With the black ring variant experience, female songstresses and vocals in Jazz, in general, are much more prominent and stronger in texturing.
This is a preference thing, if you like the general sound of a good IEM without it being a specialized product aimed to be good at a few things, then opt for the red ring. They are the generalist sound type.
The black rings are more specialized and focus more on the top side, invoking a significantly stronger presence and treble tone at the cost of low-end thump.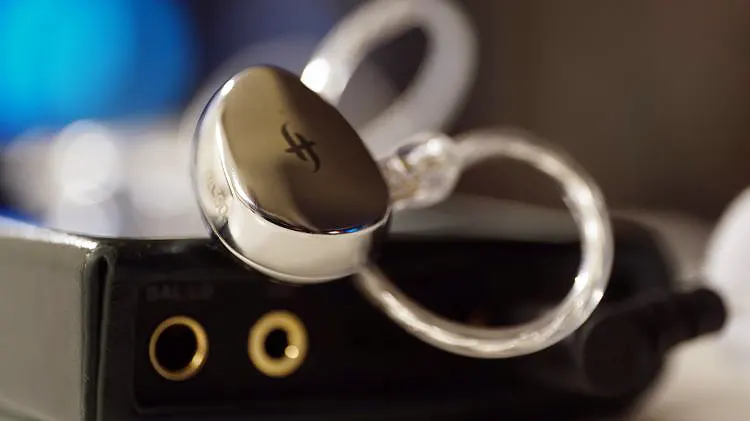 Design
The housing is all aluminum, inside and out. Apparently, SIMGOT wanted the interior shell cavity to be dampened in such a way that the metallic structure retains the treble bounce and reflective properties that often come with a full metal shell.
The interior is lightly dampened but it seems the intent was to allow as much of the metal interior to play a part in the sound and tonality offering.
The IEM is fully closed and doesn't leak any sound. Also, the shells are melted and cast with CNC fine engraving techniques.
The inner surface area of the shells is slightly uneven in physical texturing design, they say, which allows for the suppression of standing waves on the inside of each earpiece. Moreover, the exterior of the shells has a magnificent polish job that really invokes a "much more expensive than they actually are" vibe.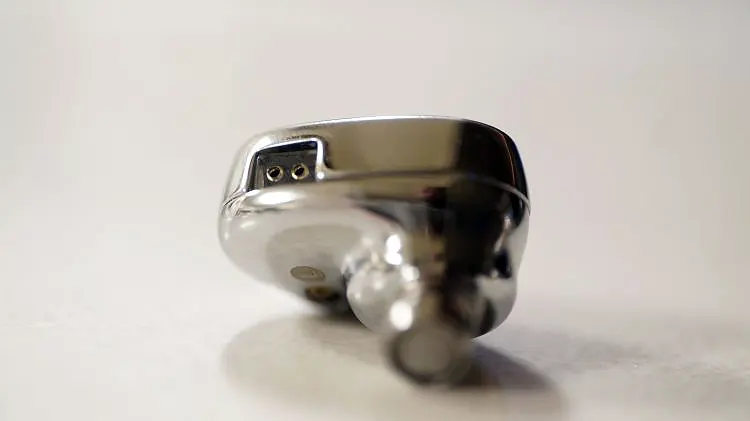 Comfort & Isolation
The shells are bottom-heavy and tend to flop out of my ears with minimal movement.
Perhaps, it is the way the audio gods designed my ears, perhaps not. But I have a lot of trouble with slick non-textured IEM designs like this. The fact that the bottom nozzle side is that much heavier than the top side of the shell only makes that a bit worse for me.
Are they uncomfortable? Certainly not. They are lightweight overall, small, and fit fine so long as I don't walk around much. I've found that walking around in a market or going on a short walk is something that I cannot do with the EA500 and without readjusting very often.
I rate the comfort levels high, due to its stature and dimensions being so small. But for me, I cannot get a good fit with them even with 3rd party ear tip replacements that I have on hand.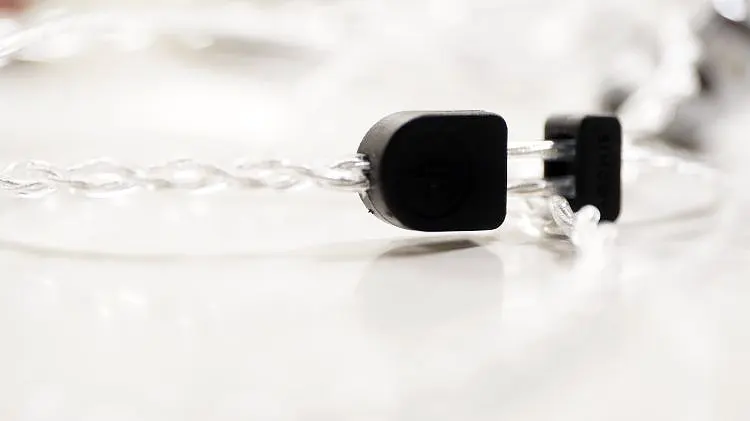 Stock Cable
The EA500 comes with a standard 2-pin silver-plated OFC cable. The exterior of the cable is super nice, again, it looks like the budget world is finally on board with excellent quality cables these days and I couldn't be happier.
I just got off a slew of other portables that came with great cables for such a low price and now this EA500 is added into the mix. What a fantastic little cable! The cable material looks high-end and I enjoy the braided appeal that terminates into a standard 3.5mm adapter.
I am also super elated that the splitter piece is not obtrusive, or heavy. When you wear headphones all day and you move around, you tend to notice things like that.
They become a serious problem when implemented poorly, always getting stuck on your shirt, rubbing, and causing some microphonics issues, etc.
Thankfully, the EA500 doesn't have that problem despite the piece being blocky in physical design and not rounded. I prefer rounded, but in this case, the piece is lightweight and rubberish, it seems, so it doesn't become a bother at all.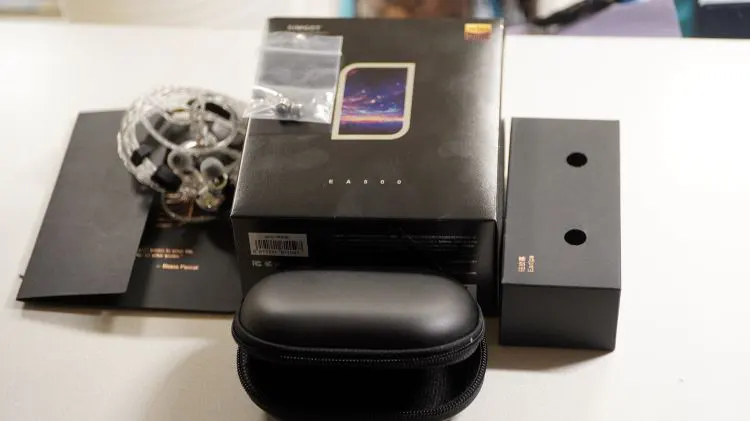 Packaging & Accessories
The SIMGOT EA500 comes with a standard and very small cardboard box. Inside, you get some molds to hold the IEMs in place, paperwork, a set of ear tip replacements, and extra nozzles.
My set came stock with the red rings attached. Also included is a standard small and portable hard zipper case.
The artwork on the box made me think they sent me a portable music player because the front-facing artwork looks like a portable player with the screen on and some SIMGOT-inspired design on its face.
I thought it was actually a really cool design for a portable music player, with those slight curves on the top left and bottom right, but the top right and bottom left were standard right angles! Hey, SIMGOT! Design a portable music player that looks like that for me!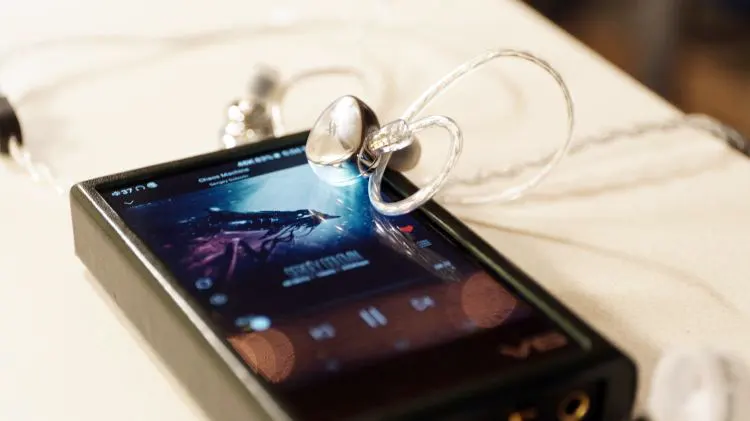 Synergy
At a lowly 16Ω, the EA500 requires no amplifier or even a powerful portable source to max out its potential. Extra juice does nothing for this model and piping in a ton of wattage is a really bad idea.
In fact, the EA500 is so efficient that I cannot swap between the Stellaris and a few other IEMs and then swap in the EA500 without first making sure I drop the volume down.
The volume levels are absurdly and comically low on my source when I use the EA500 and require a massive bump and high gain active for numerous other models I have on hand that I use often.
Hell, even the Flare Audio E-Prototype requires a ton more power than this EA500 and sounds massively dim with the same volume settings that I find at normal listening volumes on the EA500.
Warm-sounding source and amps did nothing for this EA500. It sounds cold and sterile no matter what I toss at it, so your source won't matter.
It plays nice with cheap sources and middle-tier ones, I like the EA500 on my Hidizs AP80 portables and my TempoTec V6.
Just be careful with the volume settings and make sure previous volume levels from the models you used before the EA500 are not set to active. Some sources let you disable retaining the previously used volume setting, so be careful because the EA500 is supremely efficient.
Click on page 2 below for sound impressions and our selected comparisons.