The FiiO M5 is the company's latest miniature touchscreen digital media player designed to fit into both the lifestyle and audiophile category. It retails for $99.99
Disclaimer: The FiiO FH7 sent to us is a sample in exchange for our honest opinion. We thank FiiO for this opportunity. 
To learn more about FiiO reviews on Headfonics you can click here.
It is not the first time we see a small cubic Digital Audio Player, but FiiO truly surprised us by differentiating its latest model M5 from all competitors. Featuring not only Hi-res Bluetooth receiver function and high-quality microphones for recording the M5 also includes pedometer for sports as well as working as a watch!
Preinstalled with a clip case with an extra silicone band option, the Japan HP FES AWARD holder M5 is a fully functional and wearable DAP. The small design also does not compromise what FiiO have chosen internally either with some excellent hardware behind some good DAP functions and a level of performance above its price point.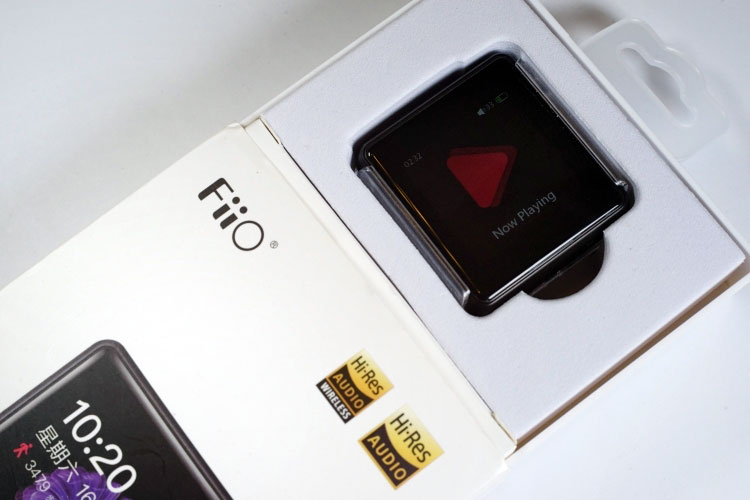 Packaging and content
The M5 comes in FiiO's budget series signature and fairly simple white packaging. Inside you will find a USB-C to USB-A cable for data transmission and two screen protectors for the front screen. There is a removable clip preinstalled that acts as a protective case. After removing it you can find a protector film preinstalled on the rear side of the player also.
Silicone Watchband
The silicone watch band is sold separately under the model name SK-M5. It is soft and light with a nice molding quality. You can hardly spot the molding line on the finish of the watchband.
The material is soft but it actually works just fine and doesn't slide when you get sweaty. According to FiiO, the SK-M5 is now discontinued and a new model under the code SK-M5A will be replacing the SK-M5 so expect an even better version to be available soon.
Design
The M5 has a very tiny form factor and much smaller than the size of M6. Honestly, it looks just slightly bigger than common smartwatches. From FiiO's official data, the M5 weighs just 38g which is very compact and feels light in the hand.
There are 5 colors you can choose from and we received a black version for test. The M5 has a concaved top panel and at the deepest point sits the socket and buttons. This should prevent you from accidentally activating something on the go.
The front and the back panel are both fitted with 2.5D glass on CNC machined aluminum housing. It is a very clean looking design with a quality finish to match.
Button layout / Control
You will find a volume bar and the power button on the top but otherwise, the M5 is very much a touch screen navigation DAP.
The buttons layout is carefully planned to save space but you will notice that any sort of dedicated "play" button is missing. I only found out the power button doubles as the play button when I started playing songs.
You can also play/pause the current song by clicking on the power button once you connect to your phone via BT. You can answer calls by clicking it once as well. By double hitting the same button you can turn on and off the screen.
Screen
Onboard under the beautiful but very small 2.5D glass is a 240*240 IPS touch panel measuring 1.54″. The screen can get very bright soit is actually not that difficult to see everything clearly under sunlight.
The touch navigation is fairly sensitive and it does feel very smooth and responsive when attempting to navigate on the M5. The only downside is that the screen doesn't detect surrounding brightness so it cannot auto-adjust.
Memory
The FiiO M5 is no onboard memory. Instead, you have a single microSD slot which officially supports up to 2TB. You will need a card for recording and also for firmware updates. There are no OTA updates, instead, you download the latest firmware from the official site and put the zipped file in the root folder of the memory card. To update, you will need to go inside the settings and manually select the firmware update.
Rather interestingly, you can hook up the M5 to your phone as an OTG flash drive device to access the memory card inside it and copy and paste songs from one device to another. Neat!
Battery
According to official specs, the M5 has 10.5 hours playback time and 13.5 hours as a Bluetooth receiver. Idle mode lasts 22 days on its 550mAh battery. That reasonable for the size of the battery which is rather small but it will vary according to your usage patterns. Leaving the screen on and BT will drain it fairly quickly. Turning the screen off, low ohm monitor usage and MP3's will get you closer to 10 hours playback.
Hardware
The M5 uses a Qualcomm CSR8675 and AK4377 decoding chipset. Do not let the small size fool you, the M5 will support up to Native DSD128 replay and covers all hi-res audio standards including LDAC for wireless transmission. Much like the larger M6, there is only a single 3.5mm output that fits most listeners so no balanced output here.
DAC & USB host
Surprisingly this small DAP can also work as a USB-DAC or connect as the host for other USB DAC, enabled by it's Ingenic Semiconductor's X1000E solution.
On a Mac OS, it works right out of the box without any drivers but Windows drivers are needed unless you use a Creator's Edition or above with Universal 2.0 drivers. The M5 drivers can be downloaded on FiiO's official site. You can also make use of its lineout function to hook up via a 3.5mm AUX input of another amplifier.
The M5 can also host other USB audio devices so you could connect to other DAC amps, for example, the Chord Mojo. DoP/D2P options are selectable in the settings and you can also link up to other decoders using its Spdif output.
Bluetooth
Receiver
The M5 will allow you to answer phone calls over a Bluetooth connection. While you are using Bluetooth mode you cannot access the local library on the M5 and can only hear the media on the host machine. When you connect to your phone via Bluetooth you can answer phone calls by pressing the play button on the M5 .
The M5 supports a wide range of codecs including SBC/AAC/aptX/aptX-HD and the latest LDAC codec. For LDAC Hi-res connections,  I am using the M11 as host and connecting to the M5. The connection is swift and there is no interference heard. The signal is also strong and it connects quite well even when I put the M11 in my bag and M5 clipped on my pocket in front. You will see "LDAC" showing up on the top bar on the M11 when it is transferring at LDAC rates.
Transmitter
You can turn on Bluetooth transmitter function in the settings menu. The navigation is similar to a phone system and you could search other Bluetooth devices and listen from Bluetooth headsets or other receivers. When used as a transmitter the M5 supports SBC up to LDAC so Android Oreo pairings will benefit.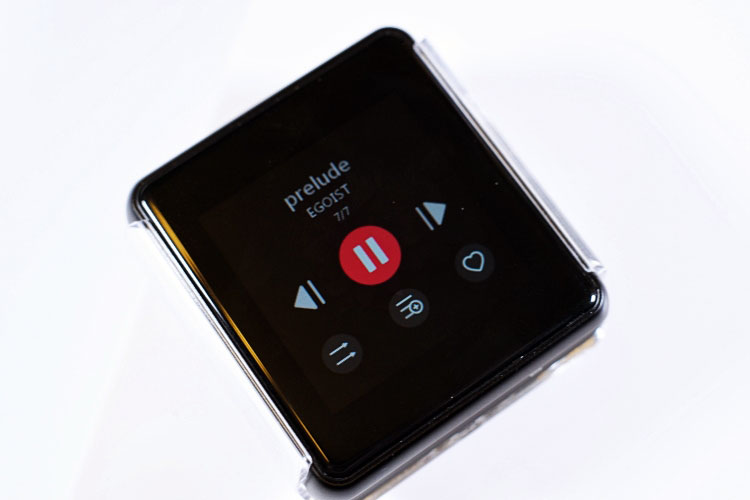 Software Navigation
It takes around 10 seconds for the M5 to boot up and it is very smooth and snappy to navigate and enter different modes. The battery time is very sufficient for a few days of use.
My concern would be the volume buttons being a bit hard to reach but at the same time, you will not accidentally press on them. When turning off the screen during audio playback you will have to double press or else you will be pausing the song. This is a quirky feature that also takes me some time to get used to.
To fast forward/ go to next song you will need to turn on the screen and unlock from the watch screen to enter the currently replaying song page. This is a bit clumsy and I hope there is a future update with an option to choose not to display the watch screen and let the screen wake up to the playback screen directly.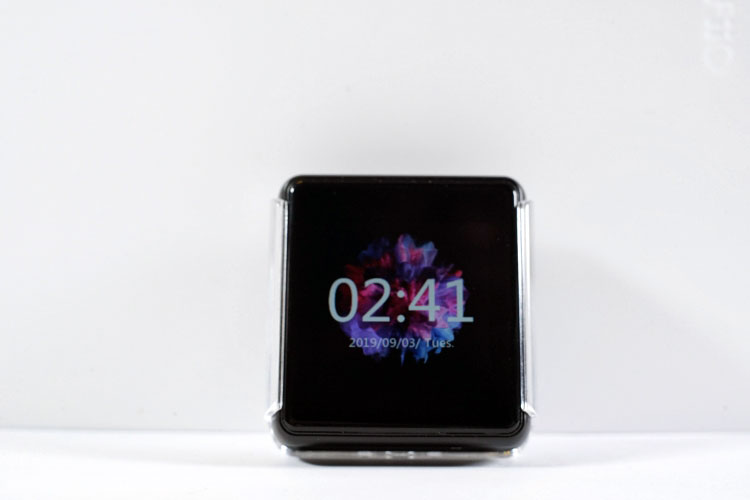 Click on Page 2 for Features, Sound Impressions & Comparisons