Sound Impressions
Summary
The FiiO KA3 has a very familiar presentation which is rather warm, soft-mannered, and quite balanced simultaneously. The background is definitely dark and there seems to be very little to no hiss production especially when you kick the KA3 into low gain within the app.
The bass response is relaxed and warm sounding, the midrange is very balanced and clean. The high-frequency response is a tad relaxed but sharp and airy notes come through nonetheless. The lateral extension is very good with no lack of energy at either end of the spectrum.
The overall dynamic response is also somewhat relaxed and there seems to be a deliberate tuning decision implemented here to soften things up and not portray any aggressive characteristics.
The general staging has been pushed forward some, depth and height are portrayed well but width seems to be bought inward some and all this in combination gives off a personal space that is somewhat large but still seems realistic in size.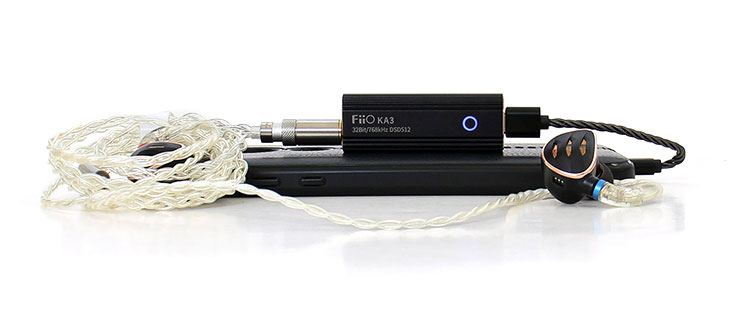 Synergy
Efficiency
When you connect the KA3 to a phone or a PC it does get quite warm and at first, I thought to myself that this character was an obvious clue that the KA3 was going to cut my battery life drastically. You do not have to worry about this fact if you are on a PC running off a full-sized USB port and just when used with mobile devices.
But surprisingly I was only seeing on average a reduction of about 30% battery life which is not bad. For most dongle DACs I know of I would have to raise that number to around 50% of reduced battery life.
Power
What can the FiiO KA3 power up far as headphones? Obviously, there is no IEM I have here that will not reach a very loud volume level including planar IEMs running directly off the single-ended side and even more so running off the balanced connector.
But off the balanced plug, you could power up some not so efficient and somewhat demanding cans rather well especially if you're the type of user that listens to music at moderate volume levels.
Pairings
What IEM would I pair the KA3 with? I would probably pair it with an IEM that has a bright sonic character. For example, I find the FH5s to be bright-sounding IEM but when paired with the KA3 which has a warm character combined makes a very nice combo and they complement each other very well.
A good point which always goes unmentioned is that It really doesn't matter much if you use a PC, Apple device or an Android phone, performance will be the same which is a virtue in my opinion. That is one of the good points of all dongle DACs and this consistency is probably why they have become such hot items today.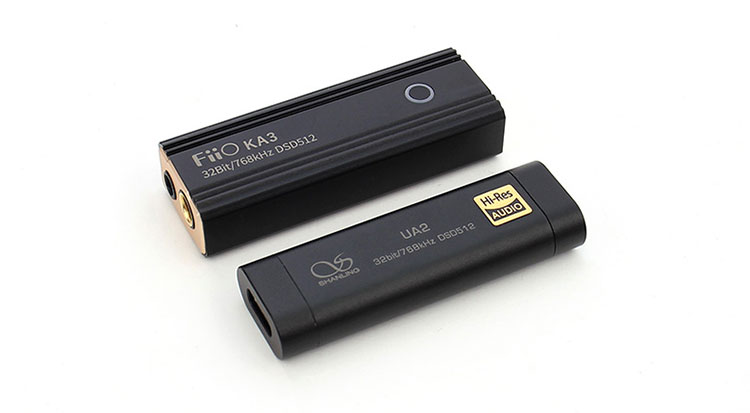 Select Comparisons
Shanling UA2
$85.00
Technical
When it comes to features, similarity in appearance, and connectivity these two are very much alike albeit with the 2.5mm balanced output and some reduction in girth. Both these dongle DACs incorporated the same wire-free design which I like and prefer over other designs.
Both these devices have a USB-C connector on one end and two separate headphone outputs on the other end similarly configured with a single-ended 3.5 mm plug but the UA2 switches over to a 2.5mm balanced output plug in place of the 4.4mm Pentaconn.
Power output numbers are rather decent and rated at 195mW off the 2.5mm and 125mW from the single-ended 3.5 mm side. Both power specs are rated at 32 ohms with distortion numbers at 0.0008% with the SN ratio at 116 decibels.
Design
The all-metal shell houses a similar 32-bit dual-channel variant ESS Sabre ES9038Q2M with an additional RT6863 OPAMP with the promises of good synergy between the two chips since both chips were engineered and designed to work together.
The Shanling UA2 is somewhat smaller in size and has a slim curved shape in contrast to the FiiO KA3 with a squared-off ribbed shell. It might be larger but that might give the KA3 a slight edge with heat dissipation.
Performance
Power output on both these dongle DACs are very similar off the single-ended side but the KA3 has a slight edge on the balanced side with an additional 50mW of power so it might play a smidge louder.
Codecs are on par with each other and both could do 32 bit 768 MHz along with DSD512 but neither can do MQA decoding or DXD so they both do equally well here.
Both these dongle DACs are warm sounding with a smooth character and a proper amount of dynamic range. After all, they both use an almost similar ESS DAC chip. Both these units sound very similar to me and what makes the difference list here is the extra power output of the balanced side on the KA3 and the different connectivity types.
iBasso DC04
$74.99
Technical
When it comes to power output the iBasso DC04 is a good candidate if you plan on exclusively using a 4.4mm equipped headphone or IEM which I think is actually the only drawback of the DC04 plus the attached wire.
It seems dual-mono circuitry is not just for the rich audiophiles anymore since this dongle DAC Sports a dual Cirrus Logic CS43131 chip set up with a balanced output rated at 195mW at 32 ohms, a 4V output capacity with a noise floor of less than 0.9uV.
The DC04 had a somewhat rough launch due to compatibility and firmware issues but all the issues were solved with recent firmware update releases.
Design
The all-metal shell of the DC04 comes in two available color schemes but negatively has an attached wire which I feel could be a weak spot and could cause issues later on and with no possibility of a remedy.
One of the positive iBasso DC04 niche points is the fact that you could, through its app give the user the ability of a more precise 64 step volume adjustment feature which is the most precise of the other dongle DACs in this comparison and most others on the current market.
Performance
Since the iBasso DC04 has just a single balanced output then it's only fair to compare it to the balanced output of the FiiO KA3.
For some reason, the DC04 can play louder when I use full-sized planar headphones on it even though the rated output is 50mW lower. Or perhaps it's a perception of mine due to the more aggressive tune with more midrange bite which is contrasting to the KA3's smoother midrange character in general.
One area which was an obvious win for the KA3 was hiss levels. Again, the FiiO dongle has an adjustable gain and impedance match feature. The DC04 gives you 100% all the time and there is no gain adjustability. Perhaps it's also the reason it uses more battery power by a small amount.
Far as frequency response, the DC04 is more forward yes, but bass extension reaches 22 Hz and then starts to drop sharply while the KA3 extends below 15Hz audibly. Up on top, the DC04 has a brighter edge.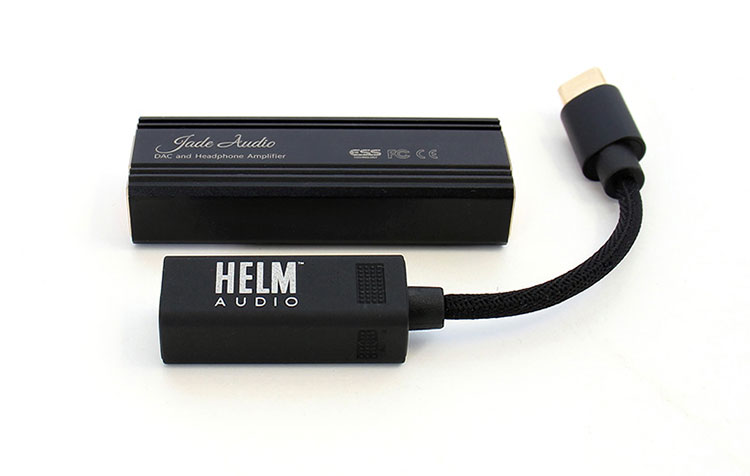 Helm Audio Bolt
$109.99
Technical
I always like to look in all directions. The Bolt is a different design with a single-ended 3.5mm output in a smaller chassis. What is Bolt's niche point? The Bolt is one of the less than a handful of dongle DACs which are THX certified out there.
This piece of gear uses a Hyper Stream 2 ES9281APRO quad DAC with synchronous and asynchronous sampling modes. This is the only dongle DAC from the bunch that can do MQA. However, PCM and DSD take a hit and spec out lower at a max of 32 bit 384 and DSD128.
Design
I personally like black-themed devices and the Bolt comes in a single all-black theme with a robust resin housing with a paracord-wrapped cable but again if the wire fails you're in trouble so be gentle and do not yank on that wire too hard accidentally.
A bonus aspect of the Helm Audio Bolt is that it's the lightest at a mere 7 grams and probably the smallest of the bunch plus probably the best far as battery consumption is concerned. It is the most efficient and uses less power but this reflects in its power output.
Performance
Since we compared the DC04 which has a single balanced output to the KA3 balanced output, the Bolt is on the other end only has a single 3.5mm output so to be fair it should be compared to the single-ended side of the KA3.
Performance-wise, the Bolt is one of my favorite dongle DACs because of its high dynamic range, somewhat forward midrange with some bite, and a general clean sound signature which to some might be too dry but you just have to pair it with a musical sounding IEM.
The Bolt sound signature has a brighter top end with more shimmer. The transient response seems almost accelerated contrary to the KA3s in general polite character and soft mannered tone.
I probably would not use full-size headphones with the Bolt because of its limited power output capability which is around 60mW versus the 130mW off the KA3 and if you jump to the balanced port then the scale tilts even more. Hiss on both models has been mostly quelled so your decision of which one to get should be based more on power output.
Our Verdict
My description of the FiiO KA3 would be that it's a formidable dongle DAC that is very well constructed which has good connectivity and compatibility, a higher-than-average power output capability over other models in its price bracket, and does so with reasonably low power consumption as an added bonus.
If you are looking for a model with dual headphone output ports and balanced output driving capability the KA3 deserves a good hard look. The only lacking feature is a more in-depth app but most mobile players have equalizers which is one of those lacking features and actually rendering the complaint neutral.
Sonically it performs just as well or even better than most of its competitors and does well in many sonic areas. The well-mannered, polite, and gentle character of sound you get from the KA3 will please almost anyone that enjoys music on the go.
It will also be especially fitting to those buyers who are looking for a dongle DAC with a non-fatiguing nature, a respectable amount of power and high PCM bit rates.
FiiO KA3 Technical Specifications
Flagship-grade ESS ES9038Q2M Decoding chip.
Optimized HiFi audio architecture.
Dual independent HiFi Op-AMPs.
Dual headphone output (Single-ended + Balanced).
Suitable for both desktop as well as portable use.
RGB multi-color indicator lights.
App controls.
THD+N: <0.0008%.
SNR: >122dB.
Noise: <1.7uV.
Output Power: 130mW @ 32Ω (3.5mm), 240mW @ 32Ω (4.4mm Bal).