In this feature, we review the Effect Audio Code 23 which is the world's first 16.5 AWG solid core UP-OCC copper in-ear monitor aftermarket cable. It is priced at $599.
Disclaimer: This sample was sent to us in exchange for our honest opinion. Headfonics is an independent website with no affiliate links. Many thanks to Effect Audio for this opportunity.
To read more about Effect Audio gear previously featured on Headfonics click here.
Note, that this 2-page article follows our latest scoring guidelines which you can read here.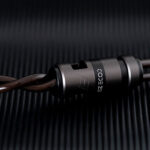 Effect Audio Code 23
The Effect Audio Code 23 possesses many excellent sonic qualities which will please bass enthusiasts and those seeking to add additional volume and body to their IEM's performance.
Pros
Impressive sub and mid-bass impact
Immersive holographic soundstage quality
Very useful cable pouch & accessories
Cons
Fit of IEMs is impacted by cable stiffness
Limited Treble impact
Effect Audio is back with its new flagship copper cable, Code 23, which follows on from the success of the Signature Series cables we reviewed last year, of which the Eros S, was given our "Bang for Buck" 2022 cable award.
For any bass-head audiophile out there, including myself, any release of a flagship copper prompts intrigue, excitement, and the hairs on the back of my neck to stand up.
Before going into this review, I must say that I was skeptical about the cable given its thickness however I was pleasantly surprised. Code 23 represents one of Effect Audio's best copper cable achievements. Why is that so? Read on to find out!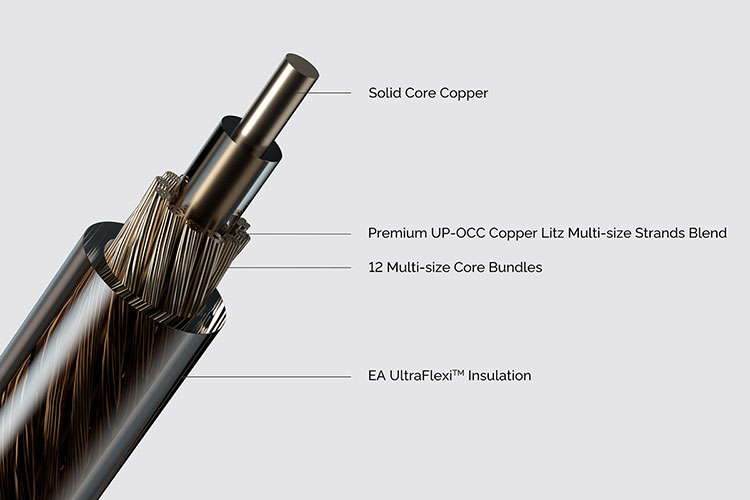 Tech Highlights
Code 23 is an Ultra-Pure OCC Copper Litz cable with a 16.5 AWG, 2-wire configuration. The 16.5 AWG gauging is really thick, and I mean, thick. In fact, the Code 23 is probably the thickest IEM cable available on the market at the time of writing.
To give you a visual example, Code 23's 16.5 AWG has roughly a 10 times bigger cross-sectional area compared to a regular 26 AWG cable.
Within each wire, there is a solid copper core which is surrounded by 12 multi-size Core Bundles. Each bundle comprises of Ultra-Pure OCC Copper Litz multi-size strands that come together to form one single wire.
A solid core is a non-stranded wire structure and is considered a superior electrical conductor providing a higher-level stable electrical characteristic and a very low resistance level whilst being vibration and corrosion-resistant. It has traditionally been used in home audio speaker systems so you could consider this a first for portable IEM cable designs.
To finish, the Effect Audio UltraFlexi Insulation material, which essentially feels like a thick plastic coating, is used to cover the cable. Furthermore, it is important to note that Code 23 is a cable that is available for both IEMs and headphones.
Design
Aesthetics
Before we dive into Code 23's usability factor and comfort on the ear, let's talk first about the cable's aesthetics.
Although the cable is quite thick it is still quite stylish looking. Code 23 comes in two colorways: Dystopian Black and Cyber Green. The cable under review is the Dystopian Black version, however, in reality, it has a lacquered, brown color with a "strand-like" texture to it.
Finishing
Code 23's splitter and plug come in a gun-metal finish and are very thick and heavy. The cable ring is quite thick as well and it does take a bit of effort to move up and down the cable. The plug is quite large however it does well in holding the cable in place whilst connected to a source.
The connector barrels are black and gold connectors that bode well with the dark brown undertones of the cable.
When paired with the Empire Ears Legend EVO, you are left with a classy-looking pair of IEMs and cable to match. To finish, both connector barrels and the splitter are stamped with the Effect Audio logo.
Comfort on the Ear
Code 23's cable stiffness and thickness translate into an interesting discussion surrounding the cable's comfort on the ear.
Although Effect Audio has done its best to make the cable as flexible as possible, the part of Code 23 which sits on top of the ear or the ear hooks does not sit as flush or snug on top of the ear when compared to a traditional 2 or 4 wire, 26 AWG gauge cable.
This is due to the cable's natural thickness of 16.5 AWG. The result is that the cable's ear hooks uncontrollably rise or stick out. This can be mitigated by positioning the cable ring higher up the cable during use which pulls down the ear hooks and sets them in place.
This also means the fit of smaller IEMs may have a harder time sitting in place as the cable wire naturally finds its way to wriggle out.
Surprisingly, there are little to no microphonics during use which is due to the stiff and rigid structure. Hence, if you can look past the cable's stiffness, the Code 23 sound qualities will definitely be worth having once you make those minor adjustments.
Packaging & Accessories
Code 23 is a stealthy-looking cable that is suitably backed up by its noir packaging. It comes in a black rectangular box with the Effect Audio and Code 23 logos embossed on the side and cover. The box has a basket or weave-like texture to it which provides a nice and classy finish.
Inside the box, Effect Audio has included a generous number of accessories I have come by with a cable in this price range.
This is quite a large cable that will not fit in smaller, more traditional cables or IEM cases, especially with IEMs attached. However, Effect Audio is one step ahead and has included a decently sized, rectangular pouch to store and transport the Code 23.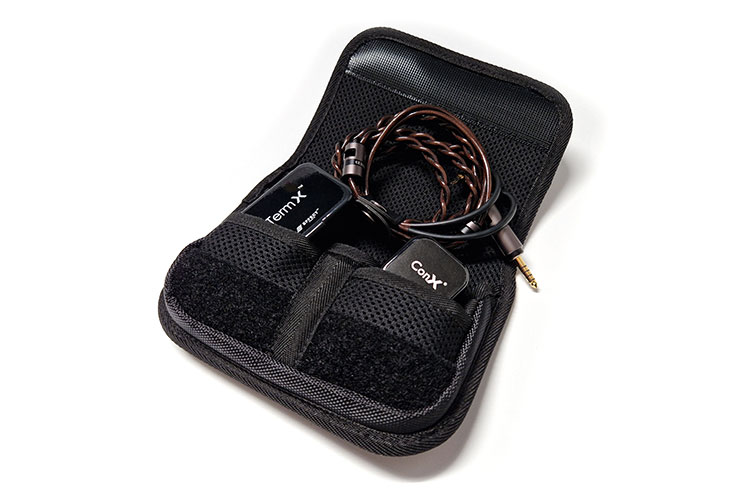 Carry Pouch
The pouch has a Velcro opening/closing and is a fantastic accessory where you will find both TermX and ConX connectors inside. TermX refers to Effect Audio's interchangeable plug system which includes 3.5mm, and 4.4mm adapters whereas ConX relates to the interchangeable connectors being MMCX, 2-pin, and so on.
The ConX set included with Code 23 is 2-pin and MMCX connectors allowing it to become a very versatile cable. I must say that Effect Audio has really done a fantastic job with the accessories.
One other important point to note is that Effect Audio offers many customization options for Code 23 on its website. As such, it is possible to choose between different connector types and plug types when purchasing the cable even though it already comes with pair of TermX and ConX connector sets.
Performance Impressions
For this review and performance impressions, the Empire Ears Legend EVO and Empire Ears ODIN were used alongside the Cayin N8ii and Cayin RU6 as a source.
Summary
Performance-wise, this is one of the most impressive cables in the sub $1'000 category to date. Code 23 meticulously colors and enhances the sub and mid-bass whilst creating a lush undertone in the midrange and expanding the soundstage in all directions.
Coloration
The first thing Code 23 hits you with is the gigantic enhancement to the sub and mid-bass. Bass heads will rejoice as it not only increases the quantity of the bass frequencies, but it creates a subwoofer-like effect which is a result of improved bass texture coupled with expansive staging.
As a consequence, low-end instruments such as bass guitars become more life-like and more prominent in the overall sound frequency. Bass notes become slower to decay albeit with fantastic quality and a high level of control.
The lower midrange takes flight whereas Code 23 brings this forward whilst fleshing out the micro details. Male vocals and string instruments come off crispier, with a remarkable level of detail and resolution.
The upper midrange receives the same quality enhancements as the lower midrange, however, Code 23 does not bring it as far forward. Treble is colored in a subtle yet effective way in the sense that the detail improves with increased extension that leans more towards being slightly bright and above neutral.
Another impressive feat is that there's a high level of cohesiveness between all sound frequencies with very minimal bass bleed into the midrange. Timbre-wise, Code 23 leans slightly warm due to the large mid-bass presence however the impact of this is highly dependent on the IEM and cable pairing.
Staging
Code 23 adjusts the stage to become very expansive, ultra-wide, and tall. It has the ability to not only increase height, width, and depth but give the overall stage a very holographic effect.
Layering and separation of vocals and instrumentals are excellent with more than enough spacing coupled with pinpoint accuracy when it comes to placement.
Click on page 2 below for our pairings analysis and selected comparisons.