Our review of the Custom Art Go One, which is a single 6mm graphene dynamic driver IEM that can operate in both wired or wireless mode. It is priced at €350.00
Disclaimer: This was sent to us as a sample for our honest opinion. Headfonics is an independent website with no affiliate links or services. We thank the teams at Custom Art for giving us this opportunity.
To read more about Custom Art products previously featured on Headfonics click here.
Note, this article follows our latest scoring guidelines which you can read up on here.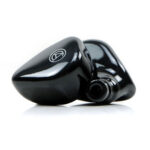 Custom Art Go One
In its universal format, the Custom Art Go One is a finely balanced and coherent-sounding tuning that will definitely appeal to those who want a bit more midrange presence and vocals to the fore.
It has been almost a year since we last reviewed a Custom Art product with their excellent value Project 4+2 monitor in partnership with Singapore's AAW. I had been wondering what they were up to in a chance chat with some of their office mates just last year only to be told that things are happening for sure.
Well, the new Go One is 'one' such happening but in a surprise move for these custom wired specialists, this is both a single dynamic driver creation and a wireless one at that.
No, not quite a TWS but rather one of those BT-capable short cable varieties similar to the likes offered by Esrsonics with the Birdy, and PLUSSOUND. The Go One is also detachable so that means you can go wired or wireless depending on your preferences and available cables. You can also stick the cable on your own favorite monitors depending on your preferences.
Tech Inside
There are basically two components to the Go One tech; the Bluetooth-capable stock cable and the units themselves which use a single 6mm graphene diaphragm dynamic driver in a pressure optimizing design for staging prowess. You can get the drivers in either a custom format via their online design software or like our review sample, a universal option.
6mm is quite a popular sizing for wireless TWS drivers and I do wonder if the choice was made based on performance compatibility when paired with the BT SoC inside the cable which is where the amplification comes from. This is a fairly efficient dynamic driver at 16Ω and 110dB SPL so the size could make sense.
If you do plan to go wireless, the Go One cable is Bluetooth 5.1 capable of decoding up to aptX HD, and includes AAC for Apple fans with playback and voice call control capability.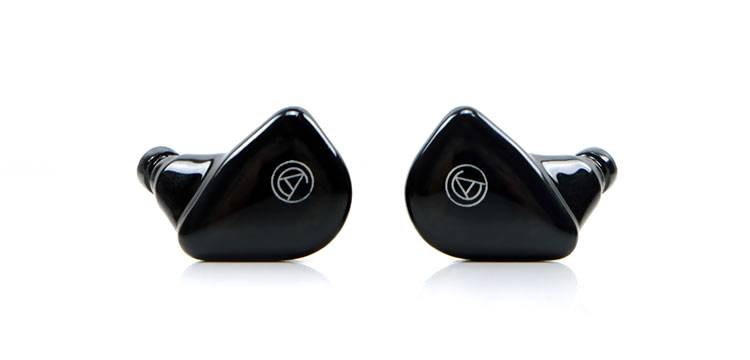 Design
The Go One form factor is a heck of a lot smaller than I was expecting. Given the 6mm driver size, Custom Art has been able to shrink both driver units down to almost Westone levels of tiny but still include a bit of custom know-how in the final contoured shaping.
The materials are a light polished acrylic with a 3-piece mold including the branded plates, main shell, and nozzle piece. The only interruption to the clean design is the bass venting port for the dynamic driver at the rear of the main shell.
The aesthetic is all black for the universal so nothing terribly eye-catching. However, you can vary it up a bit with different shell and plate colors if you decide to go custom. Mind you, from the plethora of online pics of the custom version, the size will be a lot bigger since it needs to be an accurate fit of your ear.
The nozzle itself is fairly long and combined with a flattish main shell with minimal height its insertion depth should be good. It also has a recessed single bore with a visible filter that is user-replaceable with a $5 damper mounting tool.
This particular filter does some subtle things to assist CA in the tuning of the Go One and keep the bass and highs in check. If you know your stuff, you can also change the filter to a different type altogether that will further modify the sound much like the Filter Tuning Kit from Etymotic.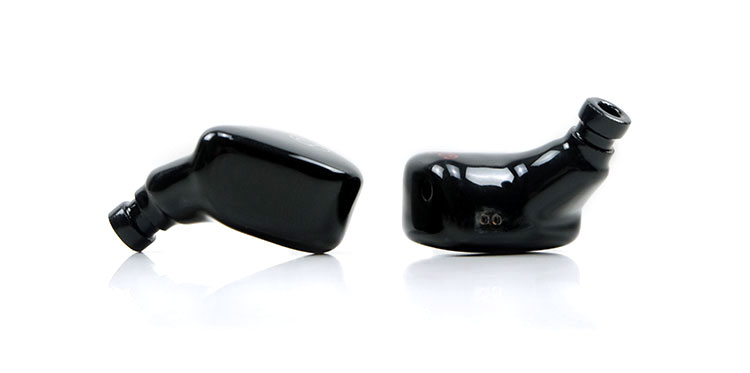 Comfort & Isolation
Excellent comfort and a surprisingly good level of isolation from the Go One despite being a vented dynamic driver design. Because of the small size, there is very little surface area in direct contact with the sides of your ear. The slightly flatter underside and general lack of physical depth also mean the Go One shells will not stick out, rather quite flush actually.
The long nozzle will place a bit more emphasis on a combination of insertion depth and tip sizing. Custom Art has included two types of tips including a most useful double flange silicone and a single flange narrow bore silicone alternative.
I found the double flange to suit me perfectly keeping the Go One shells steady in the ear and isolating really well. The single flange narrow bore tips I had to just push in and then out gently to get a good level of isolation but never quite as secure as the double flange stock tips.
In terms of performance though, I felt the single flange narrow bore tips offered a more satisfying presentation with better staging in terms of power and width and an altogether more dynamic sound.
The double flange sounded a bit more neutral and distant. This reminds me of how tips greatly affected 6mm dynamic driver TWS performances. The change may have something to do with the longer stem of the double flange pushing the nozzle position further back than the single flange relative to the second bend in your ear canal.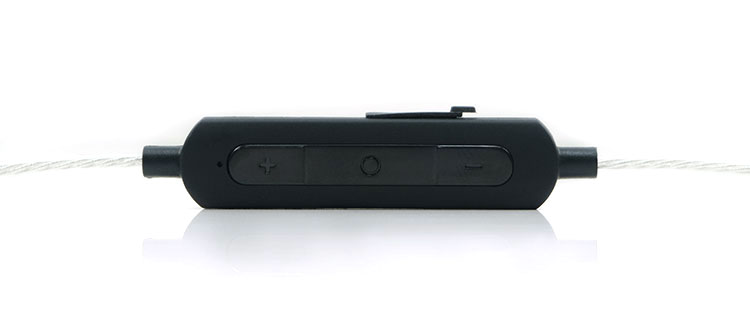 Stock BT Cable
Custom Art has used a 2-pin terminated twisted 4-wire SPC Litz geometry inside a PE jacket so it is quite tight and more rounded with no braiding technique.
That's probably a wise move given it's going to hand just around your neck. You do not want too much weight on the loop dragging downwards on the small driver shells and disrupting the fit and balance. You can wear the cable in front or to the rear depending on your preferences. I think the rear is more discreet but front and lazy get my vote most of the time.
The majority of the weight is from the in-line modules that house the BT5.1 QCC5125 SoC, battery, mic, and antennae. Both are similarly shaped and made of lightweight plastics with nice smooth contouring to the corners and finished in a matte black.
The controls on the right-sided module are in a polished finish to stand out a bit more but also a bit more fingerprint retentive. This module also houses the battery with the USB-C charging port on the side protective by a small sealable rubber flap. The module is not just for audio playback either with it being capable of voice call handling.
Playback time is very good, somewhere around 15-20 hours depending on the resolution of the audio or codec being used and other factors such as volume levels and amount of button mashing you will be doing when paired. A full 0% to 100% charge is around 2 hours with roughly around 300 cycles for the battery.
There is multi-point capability with up to two devices being connected at the same time and you can switch from one to the other though both cannot run at the same time.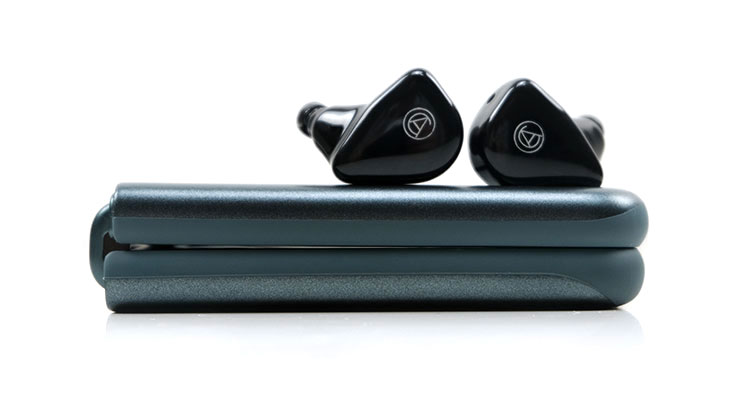 Wireless Performance
Pairing
Pairing the Go One with a Samsung Z Flip 3, Huawei P20, and the FiiO M17 was a pain-free experience and no different from any regular BT pairing from a modern TWS. You will see no left or right channel labels as the cable does not produce independent driver control.
Some phones or DAPs will display the codec rate and others can fine-tune for stability or the highest audio quality. For example, the Z Flip 3 will not automatically show something like aptX but the P20 will. If in doubt open up your developer options in your phone settings and scroll down to the BT audio codec section to find out what codec the Go One is using.
Pairing the Go One with Windows 10 was a little on the slow side but we got there in the end after about 30 seconds of scanning. It will show initially as a peripheral device until it is properly discovered and then with a speaker icon as opposed to a headset. After that, it works very smoothly with media playback and good control integration, (Foobar 2000), on the PC.
Stability & Range
The stability and range of the Go One cable are excellent on smartphones and dare I say it is superior to almost every TWS I have tested thus far. My old, albeit rather unscientific range tester easily got to about 15 meters behind two walls without a single signal drop or stutter. I probably could have gone further outside with the Go One range largely unaffected.
The Go One performance with DAPs was a little bit behind but unlikely due to the cable, rather a slightly weaker module inside a DAP or a more signal-resistant casing. Still, DAPs like the M17 came close with stutter kicking in on the Go One around the same distance as a good quality TWS or 1-2 meters behind the smartphones.
Latency
The Go One latency for media streaming on Windows 10 was better than what I expected from the cable's BT SoC. You can get away with very little sync tweaking, perhaps 0.1s for most local media playback files using VLC.
For Netflix, it is a bit more noticeable but still fairly useable. For gaming, the Go One will likely have some shortcomings for latency with a lack of aptX LL but personally, I would be happy enough to use this pairing for watching movies.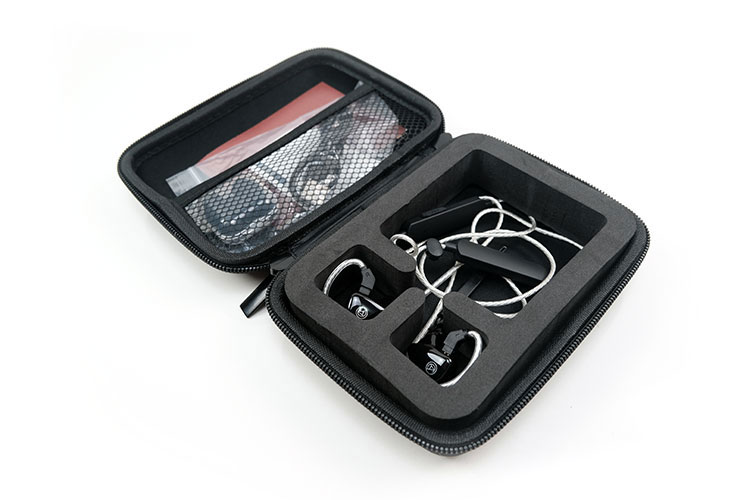 Packaging & Accessories
The packaging is good if a little on the large size for such a small device. Personally, I would create a more compact box and carry case to save on the logistics costs on the business side but for the user side, I do not see too many issues unless you wanted something more pocketable.
The Go One external box is clean, functional, and branded well, a step up on previous stuff that came in a glorified black mini shoe box. Inside, everything is neatly packaged and arranged in a sizeable but nicely finished carry case.
The Go One carry case is too big for the pocket but small enough to slide into a travel bag. Personally, I would like to have seen a small pouch for pocketable carriage throw in there for more flexibility. On the plus side, there is plenty of room to fit the Go One drivers, cable, and accessories safely in some roof netting with plenty of foam contouring to protect the drivers also.
Accessories include the tips with a single double flange set in large, 3 sets of single flange narrow bore in S, M, and L as well as a USB cable for charging the BT cable module. You also get the usual Custom Art welcome pamphlet and a small function guide card for the Go One BT cable controls.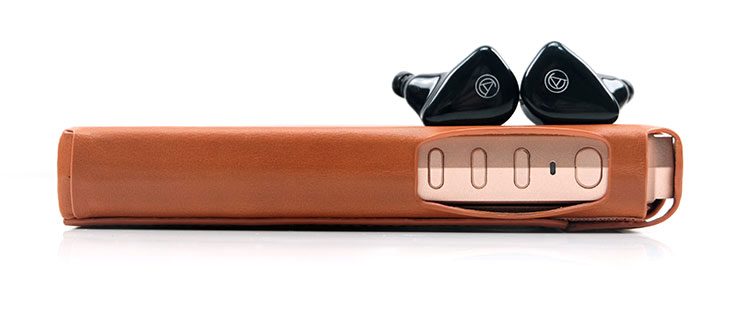 Sound Impressions
Summary
The Go One is much better than I expected it to be with its BT cable in tow. This is a smooth sounding and slightly w-shaped performer with a nice full-bodied tone, especially with the single flange tips which add a bit more meat on the bone compared to the more neutral dual flange alternatives.
There is not a huge amount of sub-bass emphasis, it is largely in line or just slightly behind a punchier mid-bass tuning with a slow dip into the lower mids and a nice vocal focus from a 2-4k rise.
I initially felt the treble was a little relaxed but the initial testing tracks I tested were more of a factor here due to their inherently ambient warm quality. Once you start pushing those highs a bit more you do find a bit of upper treble sparkle and it does some fine things to the overall timbral balance of the Go One sound signature.
Some BT alternatives such as the Xelento Wireless and the Flares Pro 2 are going to have more heft or more lower-treble presence and create a cooler less mids-focused sound. I call it the classic consumer sound in a way suitable for modern pop and rock.
The Go One is different with its stronger and more open-sounding midrange performance. It is a nice option for wireless users who listen to a bit more mid-tempo classic rock or Emo performances with vocals more to the fore. It's largely sibilant free also with surprisingly good levels of instrumental separation and clarity.
Frequency Response
The Go One is tastefully tuned on the low-end with a slight mid-bass bias over sheer power rumble below 50Hz. I would say the peak is more 50-80Hz but the rise and fall is gradual and shelves a little from 60Hz to 100Hz before it starts a slow drop to around 800Hz-1k.
Lower-midrange instruments and guttural male death growls will image a bit further back but not so much that they are drowned out by an overly aggressive low-end curve. The pinna gain is good with a gradual rise from 2-4k bringing some prominence to mix and head vocal performances from male virtuosos and naturally high-pitched female deliveries.
There is a secondary peak from 8-10k that brings in a nice blend of sparkle on top of higher pitching instruments with the lower-treble tuning dipped to siphon off any overbearing harmonic dissonance and unintended sibilance. The resulting coloration has a nice blend of warmth and a very subtle shimmer on percussion and string notes as a result.
Timbre
Finely balanced and coherent is an apt description here. There is just enough warmth traveling up into the mids from that mid-bass rise to give each note a satisfying amount of body. At the same time, it is not a rounded intonation with that upper treble sparkle creating a little lift in percussion and string energy.
The resulting combo creates a timbre that's smooth on leading edges and clean enough to create some welcome clarity, especially through the mids which is where I think the Go One excels.
That suck out from 5-6k to 7-8k prevents too much treble brightness from seeping into percussion timbre also so not too soft nor too splashy sounding.
The odd time very high note synth and some hi-hat deliveries can have a bit of a hi-fidelity delicate sound to them but I tend to find that tracks that deliver this sound often replicate the same result with most other IEMs unless you get something very dark.
The PRaT on the Go One is very good with a discernable bass fundamental. It is not overly exaggerated either which I tend to prefer for rock and live performances. Others might prefer the deeper sub-bass response from the likes of the Xelento with modern pop and R'n'B which generally tend to produce a sparse or uncomplicated midrange.
Staging & Dynamics
I would say the Go One best characteristic is the open sound it can deliver in the mids leaving them sounding reasonably uncongested for a BT performance. This is primarily due to the pressure optimizing design for the internals drawn from the FIBAE Black and is a known characteristic in that model also.
I also suspect the upper treble elevation is creating a little more energy drawing your ear upwards here. Certainly, wide airy spatial cues are quite easy to pick out within the Go One soundstage.
The Go One sounds a lot wider and more dynamic in the mids than the likes of the Xelento and the Flare Audio Flares Pro 2, two models we compared it with. Not quite as forward though as the Xelento on the upper-mids and lower-treble performance which sounds a bit cleaner in comparison.
Lower-mids male vocals will drop back a bit in comparison to higher pitching head and mix performance that catch that 2-4k rise. Female vocals sound very enticing indeed with a forward yet smooth non-shouty performance.
The only characteristic some might be looking for is the absolute depth with the Go One opting instead for a bit more mid-bass emphasis. It creates an interesting alternative for me and leaves a bit more room for the mids to breathe also.
One thing I keep coming back to. The Go One sounds at its more dynamic and expansive with those single flange tips compared to the dual flange which shrinks the staging a bit for me, pushing you further back and delivering a flatter neutral sound signature.
Click on page 2 below for select comparisons