This review covers the new Westone Audio W80 which is a 2nd generation flagship universal IEM using 8 balanced armature drivers. It is priced at $1499.
Disclaimer: This is a sample that was sent in exchange for our honest opinion. Headfonics is an independent website that does not have any affiliate links or status. We thank Westone Audio for this opportunity.
To learn more about previous Westone Audio products featured on Headfonics you can click here.
Note, that this article follows our latest scoring guidelines which you can read up on here.
Westone Audio W80 Review
The Westone Audio W80 is a huge upgrade on my old W4 sound and much superior to the W50 I reviewed a few years back but I just would love to hear something out of the envelope a little because otherwise, the people who will be delighted with the W80 are those who enjoyed the W60 - Westone Fans.
Pros
Forgiving tonal signature
Very comfortable fitting
Excellent ALO Audio cable
Cons
A little conservative in dynamics
I remember reading a few times the concept of the Westone Audio product numbers being akin to the Star Trek movie franchise with the odd-numbered ones never being as good as the even numbers.
Certainly, I was not a fan of the W50 nor even the UM10 but I absolutely adored the W4 and used it as a mid-fi reference point for many years so there may be some truth in that analogy. Sadly, I never got to hear the W60, but by all accounts, it was well received.
Well, by way of a small referral Westone sent us the W80 recently. This is their all-new, and not insubstantially priced, flagship IEM retailing for $1499. It is a bit of a jump up from the W60 price wise but it is an even number and I am a betting man.
What Is The Pitch?
TOTL
The flagship W80 is an 8-BA universal IEM with a passive 3-way crossover touted by Westone as their most reference sound to date. It packs 2 full-size BA bass drivers, two BA for the mids, and a total of 4 for the highs.
That is pretty much the same spread of drivers in flagship customs such as the Vision Ears VE8 which retails almost $1000 higher. Eight seems to be a magic number for a few IEM companies this year and truth be told Westone was in a bit of a catch-up mode with the W80.
ALO Audio Collaboration
The second stand-out pitch for me is the collaboration with ALO Audio with the inclusion of their $300 Reference 8 MMCX terminated cable. This cable has been getting some pretty good reports and you can see where some of that pricing has gone into as this is by no means a cheap cable.
I have quite a few ALO Audio cables and they generally stand out as a solid upgrade from feeble Plastics One creations so I have a feeling this is a welcome addition for serious buyers.
True-Fit Technology
The final pitch is the ever-welcome True-Fit technology that Westone pioneered and many have tried to copy. They fit so well and they are tiny, the W80 is no different in that regard which is astounding considering how many drivers are in there.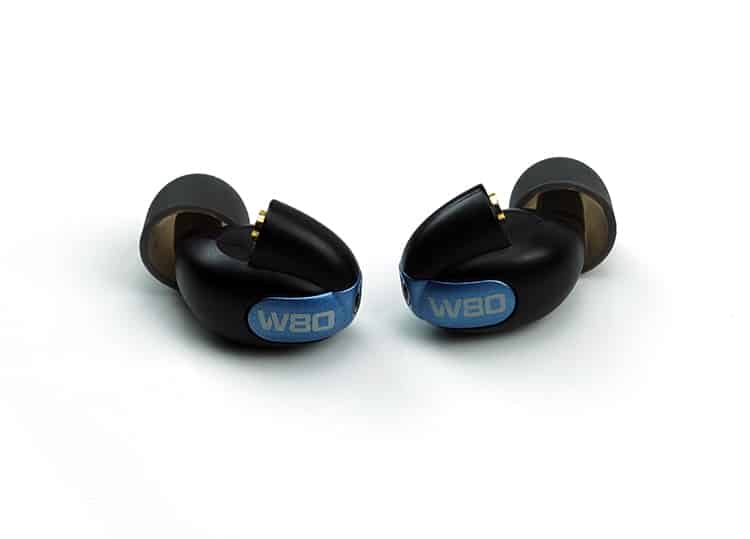 Design
Form Factor
The W80 is really small for an 8-driver BA design, even by today's minuscule standards Westone does it smaller and lighter than anyone else in the market today.
You can argue that at the price point a hard plastic resin should not be the primary molding material for a flagship headphone but then I will give you that 12.7g strap-line and you may think twice. Given the old Westone W4 only weighed in about 1g lighter with a quad driver design that is remarkable.
True-Fit
The True-fit design is very streamlined, possibly more so than the old W4 I had. It has a small but slightly bulbous chassis though the main depth of the housing is pushing out and away so the inside is relatively flat and unobtrusive.
Nozzle
The arch of the chassis curves seamlessly into the MMCX termination at the top so you really can't wear the W80 any other way but over the ear. The nozzle is really thin, maybe a T-100 at best. It is fairly long compared to the body but in real terms, it is a mid-length nozzle and the final aspect of the comfort and seal will rest with the tip choice.
Face Plates
The W80, much like the W50 I reviewed in 2014, has changeable faceplates. I liked the face plates on the W50 when they first came out. Whilst purely an aesthetic thing it was a nod in the direction of a lifestyle choice or user customization.
It is a positive distraction but nothing more. You can be 'ultra creative' and stick a red on the right and a blue on the left for a nice visually easy IEM to use but that is about it.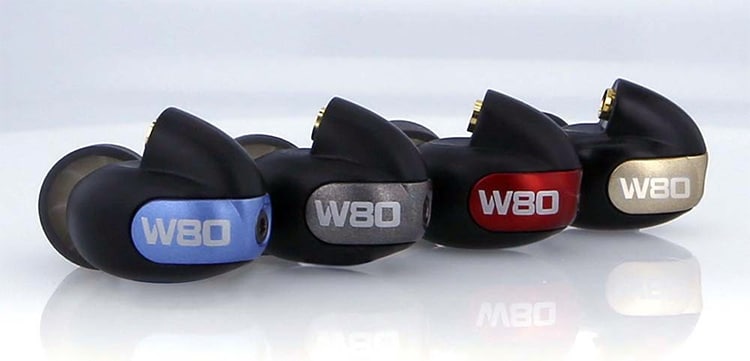 Much like the W50, you get a total of 4 choices but this time the colors differ slightly. Out of the box, you get a blue-colored plate which is a new one to me and comes with the previously available gold, gunmetal, and metallic red plates.
The plates are held in place with a small screw at the rear of the housing and you also receive a small screwdriver in the box for taking them on and off.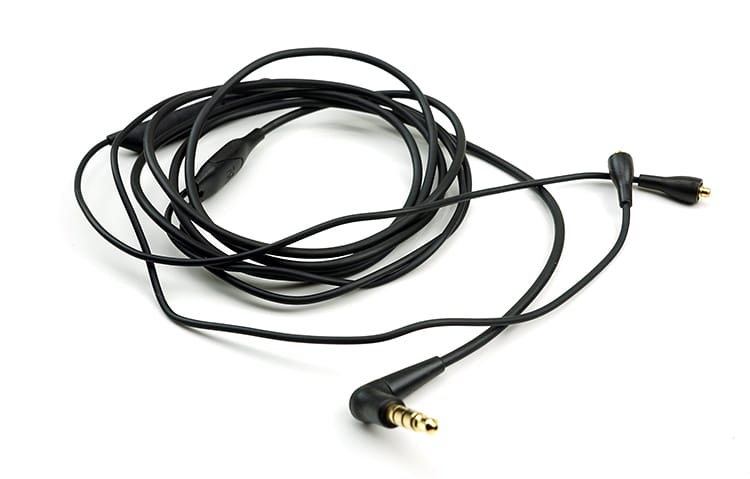 Cables
Stock
The Westone W80 comes with two cables. Gone is the old EPIC braided cable of yesteryear and in comes a new stock rubbery OFC Epic G2 cable measuring 1.2m in length with low microphonics and memory retention.
It is fairly lightweight in construction and most likely a copper-based cable and whilst I prefer the pliability of the older EPIC braided cable this one seems reasonably robust. Is it flagship level? Probably not hence the inclusion of the additional Reference 8 alternative.
The stock cable also sports a large inline remote playback/mic for iOS and Android DAP control (optional cable choice) and is terminated with a right-angled 4-pole 3.5mm gold plated jack at the bottom and MMCX connectors at the top. The Y-split is a rubbery type finish that feels pretty solid but there is no adjustable chin strap.
Strain relief I would rate as a bit average on the stock with nothing that substantial on either the jack or MMCX terminations though there is a degree of flex in the MMCX strain reliefs. Left and right are denoted with a dot system with 2 dots for the left and 1 dot for the right.
ALO Audio Reference 8
The W80 comes also with ALO Audio's new reference 8 cable which retails at $300 and was launched at the end of 2016. This is a four high-purity silver-plated copper (SXC) conductor cable combined with four OCC copper conductors in FEP jackets.
It is built on a similar premise to their Litz series they use with their own Campfire Audio range and is relatively light and easy to work with. Certainly, it is a much higher grade of cable than the stock Epic G2 cable. Microphonics though are a little higher on this cable than the Litz variant though and even more so than the stock cable.
The Reference 8 is terminated with a durable right angle 3.5mm gold plated stereo jack, is 1.2m in length, and finished at the top with a custom-hardened beryllium/copper alloy that is more durable than standard gold plated or brass connectors so there should last a bit longer.
The stems are also a bit longer and less slippery than the Epic G2 MMCX connectors so they are much easier to snap on and off with the W80.
MMCX Issue
The MMCX connectors, particularly with the stock cable, are tricky to work with for two reasons. The first is the angle, it makes getting a decent grip on them hard and you tend to slide down as you apply a bit of pressure on the stock cable with the housing also getting in the way. They are much easier to work with using the ALO Audio Reference 8 though which has a longer stem.
The second is the pressure to apply is hard to gauge and you could end up doing damage if you get it wrong. The manual simply states to pull in a straight line but they are a complete bugger to disengage and nothing like the quick snap of most MMCX I have used before.
Comfort & Seal
True-fit technology is best in class for a universal and weighing in at 12.7g, even with 8 drivers, makes the W80 one of the comfiest fits I have ever had. Once in the ear, you get a tiny bit of pressure but mostly from the tips themselves sealing rather than the W80 body touching anything.
With the right tip, you get a very high level of isolation, a good seal whether in a relaxed or open jaw position and a fit that is almost negligible in terms of pressure and weight awareness. The W80 has a very small form factor for a very flush fit.
Tips
The thin nozzle does make the tip choice more critical to get the best seal with the W80 but to that end, Westone has supplied their usual very generous array of tips.
This includes their branded Star tips (silicone) as well as the True Fit (foam) tips. There are no less than 5 sizes of each in the bag from the truly enormous to the regular small size.
One thing they all have in common is their length. Westone tips are much longer than most regular tips so the depth of insertion on the W80 is really good. Foams will dampen the top end a little but thicken the sound and create the best seal. Silicone will bring in a bit of an airier sound but isolate a little less.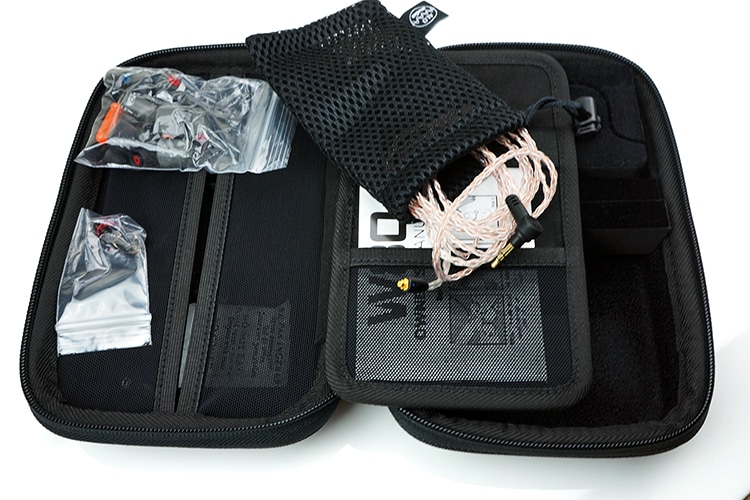 Accessories & Packaging
The W80 has probably the largest and most useful carry case I have ever seen for an IEM. It is bigger than some headphone cases and it is packing a lot inside.
Clearly, a lot of thought has been put into the W80 accessory packaging with little compartments and netted restraints for everything as well as a little flap divider to reduce knocks as well as hold the user guide. The dividers are actually customization also on the left side so you can keep the compartment system or ditch them and stick in whatever you like.
Despite the size, you do get a much smaller semi-stiffened zip case that is pretty pocketable because the standard case for everything is strictly something that goes in a large bag. Inside you get the following:
STAR silicone tips (x 5)
TrueFit foam tips (x5)
3-button Westone cable
ALO Audio Reference 8 cable
Switchable color faceplates
Soft carrying case
Hard carrying case
Small travel case
Wax removal tool
Cleaning cloth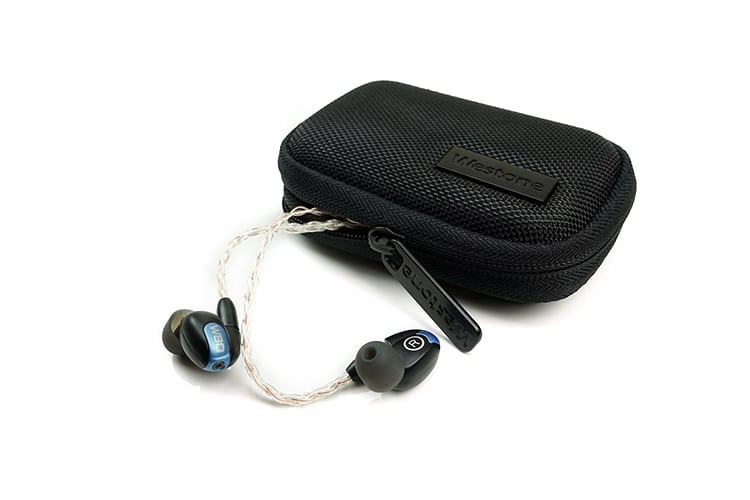 The Reference 8 cable also comes in its own little ALO Audio netted carry pouch which is consistent with their own line of cable packaging.
You also get a small screwdriver for changing the faceplates as well as a quick user manual guide which I found useful for confirmation on how to remove the stock cable safely.