The ALO Audio Rx is a second-generation single-ended portable solid-state amplifier, noted for its expansive soundstaging properties. It is priced
...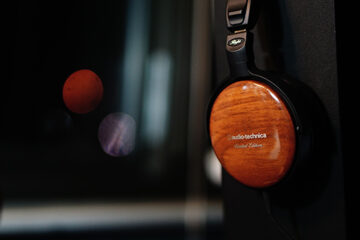 Well, good on Audio Technica for trying to better one of their long discontinued headphones and actually succeeding. Fans of
...
Chinese IEM specialists Fidue have just recently released their new flagship hybrid IEM, the A83, and Headfonics was lucky enough
...
The Ultimate Ears UE900 is a three-way quad BA-driver universal in-ear monitor, (IEM), and the next step after their famous
...
The FiiO X5 is the second digital media player launched by the company and a class higher than the original
...
The Miniwatt N4 is a portable amplifier and integrated DAC capable of 32BIT/192k decoding and 100mW into a 32Ω load.
...
Disclaimer: The Alessandro MS1000 is a DIY unit based on the original Alessandro MS1 and is not supplied to us
...
The AKG K495 is the company's latest active noise canceling closed-back full-size or circumaural headphones. It is priced at $349.
...
The ALO Audio National & The Continental are a solid-state and vacuum tube-based portable amplifier respectively. They are priced at
...
The Asus Eee Pad Transformer is a multi-touch IPS display panel with optional keyboard dock and retails at launch for
...
The HD650s are pretty much what I was looking for. Basically a smoother, less-fatiguing version of the DT770-250. In fact,
...
The Westone UM3X is a triple-balanced armature driver universal IEM with a detachable cable system. It was priced at $350
...