Sound Impressions
Summary
The Campfire Audio Orbit wears its dynamic driver heart on its sleeve with a bombastic and very planted sub-bass bias and a contrasting clean mid-treble tuning to counter.
It's the perfect casual yet rhythmic listening experience for EDM and synthwave listeners and a dab hand also for those heavily focused higher pitching female lead vocals in pop.
At times it can flit between clean and clear to slightly warm and smoother depending on the tips you use. I find the stock silicone tips to be the strongest for both ends of the extension and the foam tips do better if you want to soften the treble overtone and give intimate vocal and percussion performances a slightly more liquid intonation.
What it is not ideal for is complex mid-centric rock standards where a more pronounced pinna gain region is required. The Orbit will push back on the 2-3k range which will diminish instrumental and vocal performances in this region.
Luckily, the Orbit responds really well to EQ so there is a welcome degree of flexibility in the tuning. For example, if you are a vocal lover and want something a bit more euphonic I do advise going for the custom EQ either in whatever 3rd party app you have or the supplied Campfire Audio app.
A small gradual lift from 1k-2k, perhaps a minor nudge around 3k and some additional 6-8k attenuation combined with the foam tips fleshed out a much stronger vocal presence and a more natural percussion timbre.
Frequency Response
The Orbit has two dominant peaks, the first is that powerful sub-bass from 20Hz up to 80hz then a gradual slow drop that stays north of neutral until about 500-600Hz or just as you start moving into the lower-mids.
That will generate an incredible amount of power so bass synth notes or keyboard bass and kick drums will sound very planted with a decent amount of punch but there will also be a bit of bloom and warmth into the upper bass and lower mids.
From 500Hz to 3k is about the lowest point in terms of gain in the Orbit's FR. That should generate a perception of space between you and the stage and might also lead to sounding slightly narrower and more congested for busy musical passages or where lower pitching vocals can reside.
Higher pitching vocals will benefit from the Orbit's stronger 4-8k presence or the second peak. By that, I mean a little bit of sparkle or shine in this region that gives some necessary energy and prevents the tone from being overly rounded or dull in its delivery.
It may not translate necessarily into a more open or airy sound signature but it does bring some nice moments of clarity to female solo vocalists, especially those in R'n'B mixes where the background acoustical arrangement can be quite sparse.
Beyond 8k things tend to drop off fairly quickly but nothing unusual for me with a TWS setup. Even more complex driver arrangements such as the GeekFly GF8s has a fairly relaxed top-end despite using a piezoelectric tweeter.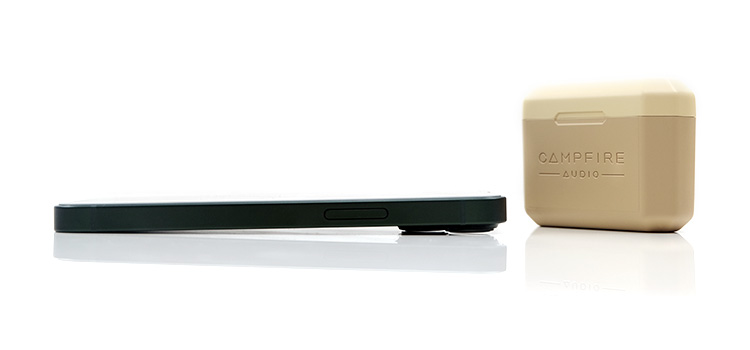 Timbre
I find the Orbit timbre to have a bit of flexibility with the ear tips being used as a stronger factor in the final presentation. It can range from high energy clean and high contrast with the silicone tips to something a bit warmer and smoother with the foam tips.
The common thread in both is the weighting on the low-end which beefs up a lot of low-note fundamentals. But take note, compared to something like the mellower GF8s and even Noble's new FoKus H-ANC, the clarity and quicker-sounding impact of the mid-bass punch was quite impressive for a large TWS dynamic driver.
The Orbit mids and highs with the silicone tips were fairly clean though through the upper mids and lower treble it felt a little north of neutral.
That means a bit more mid-treble dominance creeping into the percussion timbre and some higher-pitching vocal deliveries. Perhaps a bit spicy for my taste and not as rich in tone compared to the foam tips which did much better at producing a more natural or softer timbral coloration from both instrument and performer.
For vocals, the overall tonal coloration flirts between neutral to natural depending on the tip choice but the higher up the vocal pitch the more chance of a treble overtone creeping in.
Again, slip on that EQ and bring up the 1-2k range by a few dB and drop the 8k bar by a corresponding amount and you get that vocal prominence combined with a fuller tone. This is just a personal preference by the way if you enjoy a good vocal delivery at the heart of your sound.
Staging & Dynamics
As with any V-shaped curve you will find some impressive depth and a sense of grandeur in the delivery and the Orbit is no exception. Absolute upper treble headroom is less strong but the overall imaging has some impressive chops sounding less compressed and 'samey' as the likes of the popular Samsung Galaxy Buds2 Pro, for example.
Despite the obvious 2-4k dip which can pull vocals into the mix on some tracks, there were times when the Orbit delivered some impressively wide presentations, especially with layered vocal mixes.
A good example is Kesha's 'Sleazy' from the 2010 Cannibal album mix which starts with a very obvious wall of layered vocals underpinned by a very strong and punch mid-bass drumbeat.
The Orbit did a cracking job delivering a surprisingly wide lead vocal imaging experience without all the different punchy higher energy bass layers muddling it up at the same time. Everything was properly positioned and very clear to my ear which I simply was not expecting for a single dynamic driver TWS.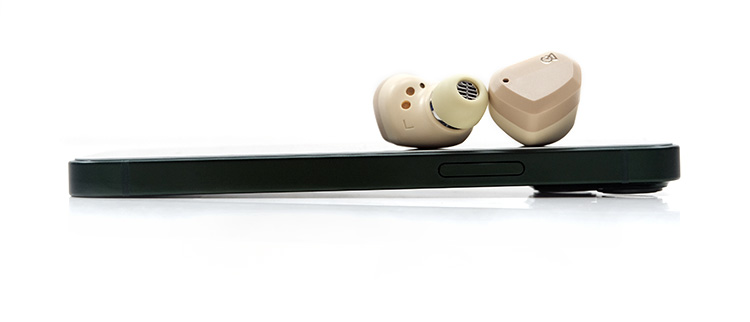 Wireless Performance
Pairing
Pairing the Orbit is a relatively painless affair for both PC, iOS, and smartphone though you do have to be careful if two labels show up in the pairing process.
The first is a standard one with four icons in a square arrangement. This is the one you should pick for calls and audio and should work smoothly when your source is paired with the Orbit. The second is more of a data link denoted by a phone and PC overlap icon. Just ignore that one when pairing.
Once the Orbit is paired you should hear a little digital bell in your ear. One thing to note is that the Orbit has no vocal prompts that I could find during this review process. Even when you turn them off you will just see a visual alert on your phone that the BT connection has been severed, (the manner of the alert will depend on your phone model).
From time to time I found the pairing process might drop the master/slave connection to the right bud. Perhaps anecdotal but I found it was easy enough to reset by placing the buds in the cradle, closing the shell, and taking them out to connect again.
It's also ideal to open up the Campfire Audio app once paired on your phone to get a full status check on the drivers once paired. That includes battery life so if you see one driver with 0% right away that normally means a bad connection and might need to be paired again or reset.
Stability & Range
I was actually quite pleased with the range I got with the Orbit and would place it up there with the standards such as Sony's WF-1000XM3 and WF-1000XM4 in terms of how far I got away from a source before the signal broke up or started to stutter.
I tested the Orbit range with 3 different smartphones, an Apple iPhone 13 Mini, a Samsung Galaxy Z Flip 3, and a Huawei Mate Xs 2, and of those three the weakest was the Huawei by around 1-2 meters.
The iPhone Mini 13 matched the range of the Z Flip 3 which was about 10-12 meters and two partial walls before I hit the end of the apartment space. Also, note that the mate Xs 2 was weaker even on a lower AAC code compared to the Mini 13's AAC performance.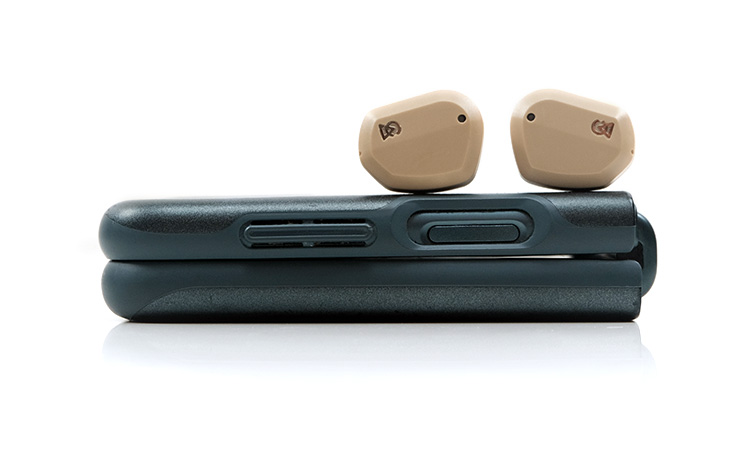 Latency
I you are working the CA Orbit into your main desktop PC system then the latency experience is much the same as most of the previous TWS I have reviewed save for maybe the Sennheiser Momentum True Wireless performance.
What that means is a slight bit of lag that required a 0.02s hasten adjustment in VLC on a Windows 10 device with playback on a 2-channel MP4 48k media file. I pretty much find that to be the case with a lot of TWS so it's nothing unusual to get the sync between audio and video super tight.
The Orbit fared much better on the Z Flip 3 using aptX Adaptive with a very smooth video-to-audio sync on the exact same media track from YouTube. I also got similar results with the iPhone Mini 13's AAC transmission so I would not have too much concern about general media consumption from smartphones using the Orbit.