The Geekfly GF8s is a quad driver TWS featuring a titanium-coated dynamic driver, a single BA, and a dual piezoelectric tweeter. It is priced at $229.
Disclaimer: The Geekfly GF8s was sent to us as a sample in exchange for our honest opinion in this review. We thank Geekfly for this opportunity.
To learn more about TWS reviews on Headfonics you can click here.
Note, this 2-page review follows our new scoring guidelines for 2021 which you can read up on here.
Geekfly GF8s
The Geekfly GF8s really is a powerhouse performer for a TWS with excellent power and Prat, a smooth mids and vocal presence, and just enough sparkle up top to give higher pitching notes a gentle lift. This is not your typical high-contrast boom and splashy sound. It is much more natural in its delivery than that and it stands all the more for that reason.
In today's multi-faceted IEM world, a quad driver triple hybrid monitor is definitely interesting but not wholly unusual. Quite a few companies have launched piezoelectric or electrostatic driver-infused IEMs at various prices.
However, such a configuration and multitude of drivers is very unusual and perhaps unique inside a True Wireless System. That configuration is now a reality with Geekfly and their GF8s multi-driver TWS.
We have seen a number of known audiophile brands take on the multi-driver TWS approach such as Noble with the Falcon Pro, as well as Hiby with the WH3, and Anker with their Soundcore Liberty 2 Pro. To date, these are a mix of BA and dynamic with the Falcon Pro the most complex with a dual BA and a single dynamic driver.
As far as I know, the mix of dynamic, BA, and Piezoelectric inside the $219 GF8s is a first for using 4 drivers, and a first for using piezoelectric, (if we discount Vesper's piezoelectric TWS microphone systems).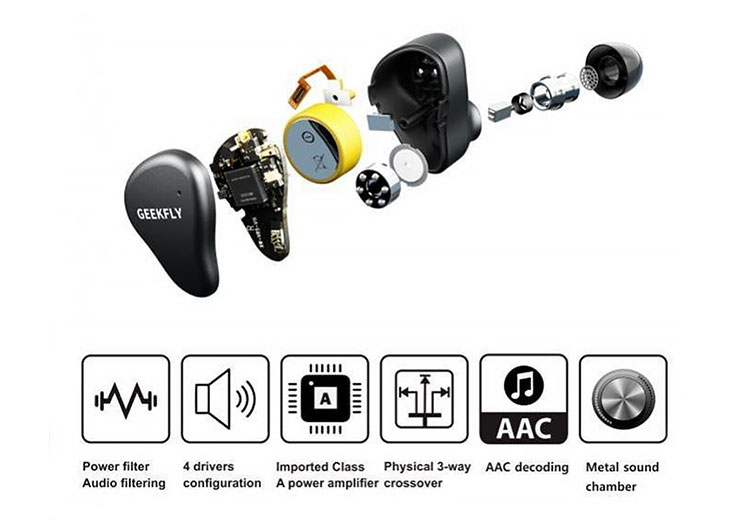 Tech Highlights
Configuration
The GF8s is comprised of a titanium-plated 7mm dynamic driver for the lows and mids, a single balanced full-range armature for the mids and mid-highs, and a 10-layer piezoelectric ceramic tweeter for the super-highs.
All of which is threaded together inside a metallic acoustic chamber and using a physical 3-way crossover for phase alignment. As with all TWS, power is internalized and here the GF8s uses a Class A amplifier combined with a power supply and audio filter circuit to reduce noise and interference.
For what it's worth the GF8s is rated at 10Ω and 106dB SPL which isn't really a factor for TWS given the amplification is fixed inside the drivers unlike wired which is more output-dependent for load and resistance.
Decoding
The GF8s uses a fairly up-to-date BT5.0 protocol though I am unsure of the precise chipset being used inside it. What I do know is the decoding and sadly no aptX with just SBC level though Apple lovers will warm up to the available AAC decoding from the GF8s.
Design
Geekfly has gone with more of a classic wired IEM quasi teardrop shape for the GF8s with a polished black plastic shell and a subtle metallic top faceplate for a bit of contrast. The otherwise monotone visual is punctuated with an obvious bass venting port towards the rear of each faceplate.
This is a 3-piece external design with 3rd component a stainless steel nozzle protected by a metal grid filter not too dissimilar to the latest Campfire Audio grill designs such as the Dorado 2020.
This is a relatively elegant, lightweight, and relatively fingerprint-resistant design rather than the usual flashy and outlandish which TWS creations often can be. There are no external ear hooks or wedges but it is mildly contoured to fit securely in the ear. The rest of the seal and fit will be completed via your choice of tips as the nozzle is not terribly long.
I am surprised though that they resisted placing their logo on the shells as is so often the case. The only place you will find any hint of who it is what you are using is on the cradle with the company name on the top lid in white.
The only real printed work is on the underside of the drivers with channel demarcation labels though given the housing shape it is pretty easy to know which one fits into which ear.
Comfort & Isolation
The smooth curving in the lightweight design combined with the contoured body means you will get a very comfortable fit with the GF8s. There is nothing awkward about the fitting at all though personally, these would not be the choice for me for active lifestyles since they lack those reinforcing o-rings and IPX protection some TWS come with.
In terms of isolation, they are about average with the bass port venting limiting the passive noise isolation capability somewhat. As mentioned earlier, this has a relatively short nozzle also so the quality of the ear tip will come into play for getting a good seal.
Tips
Speaking of tips, you get 2 types of silicone in various sizes. The first is a generic black single bore tip with a softish stem and the second looks like a SpinFit type of design with color-coded stems and a translucent dome.
You only get medium and small picks with the translucent tips and an additional small to go with medium and large and one spare in the black finished silicone tip. The medium of the translucent works fine for me personally so I am not missing a larger size. For the black ones, I took a large in that fitting to get a decent fit.
There is more than just color that distinguishes these two tips with the translucent tips offering a much wider bore opening than the narrower black alternatives. Of the two, I preferred the performance of the translucent tips with more slam and fullness to the sound signature compared to a flatter response from the black tips.
You can improve on the seal even more with tips such as the Final E. These produce an even more powerful low-end kick as well as tease out some additional treble brilliance though some might find the sound signature a bit too powerful. The stock translucent tips sit nicely in between the Final E and black tips so might well be a good compromise for some.
Controls
The GF8s is a touch-sensitive TWS with individual touch-initiated controls on both left and right driver faceplates. You can control playback, increase or decrease volume, answer or reject calls, as well as call up your relative phone voice assistant.
Long pressing will turn the GF8s off or on depending on the status of the drivers with pairing initiated when you take them out of the cradle. The GF8s has no ANC so you will not find any additional controls for ambient noise levels.
Unlike the original GF8 predecessor there is no MEAOES technology so the ability to switch between drivers for different sound profiles is absent on the GF8s.
The sensitivity on the plates is quite good so there are no annoying strong taps but there is a slight delay in the touch command with the source so just be careful to give yourself a second before you initiate the next command.
Also, be aware the touch area seems to be quite large so you can accidentally activate some of the controls when handling the drivers which is quite common for these types of touch plate designs.
Cradle
The cradle is more about function over form with a fairly basic smooth plastic build finished in a polished black color and "Geekfly" in white decals on the top lid.
It is fairly small and light however so quite pocketable which I quite like for travel purposes. The internal tray is nice and deep also meaning you can fit aftermarket tips and still house the drives for charging purposes.
One flaw however is trying to get the drivers out of the cradle as the surface area exposed is marginal and the finish is quite smooth and slippery. You might find it tricky to get out without a cloth or dry hands.
Charging
In terms of connectivity, this is not a wireless or quick charge cradle but it does have a USB-C port with a 4-LED light display for charge and capacity status. The internal battery is a 3.7V/700mAh which is relatively small but it seems to pack around 20 hours of additional battery life on top of the initial cycle of the drivers so quite a decent capacity.
The driver battery cycle is a little limited at 5 hours compared to up to 10 hours from competing units such as the Falcon Pro from Noble which can hit up to 11 hours under certain test conditions. Considering it is packing a Class A amplifier and 4 drivers, one of which is a piezoelectric, I am not surprised the battery life takes a bit of a dip.
Packaging & Accessories
This is a fairly small and compact retail package consistent with how TWS retails boxes tend to look. There is plenty of information on both the front, sides, and back of the GF8s dark-themed vinyl outer covering so you will know right away it is packing a fair bit of technology.
One thing to note but it's a bit of a devil to unpack as it's a container within a container and the bottom of the inner is flush with the outer. That means you have to shake it a little to get it to drop a few mm and then gentle claw it out with your fingernails.
Once out the drivers are on display outside of the case in a foam protective outer covering with the accessories neatly packed in a small box underneath along with a user manual in English.
The accessories are not plentiful but then they never really are with TWS. You get a short USB-C to USB-A cable for charging and your black and transparent single bore silicone tips in separate plastic sealed bags.
Sound Impressions
Summary
The GF8s stands apart from the usual high contrast mix of timbre from multi-driver TWS with a smoother tone than I was expecting and just a light touch of upper treble emphasis to give upper-mids instruments a bit of a lift.
The initial star will be that low-end dynamic driver which is just excellent. It does bias to the sub-bass slightly more than to the mid-bass but it pulls some warmth into the lower mids also. There is some excellent power in there, perhaps more so than the Falcon Pro which I felt had some excellent bass as well.
The layering is wired quality for me and not as one-dimensional as some competing dynamic driver TWS performances. A slightly longer decay might give a perception of being slightly slower but this is a bass you can feel as well as hear and performs really well for synthwave and modern pop.
Frequency Response
The overall FR is more of a V-shape up to 4k with a drop from the peak around 40Hz to its lowest point around 700-800Hz before it rises again to plateau around 2-4k. The drop into the lower mids is slow, not abrupt so it doesn't really thin out the lower-mids instruments which retain some excellent body and a strong fundamental to go with it.
Vocals are relatively forward with that emphasized 1-4k rise but not as piercing or clean sounding as something like the Falcon Pro or the Liberty 2 Pro. There is a 4-6k drop in the GF8's FR that robs vocals of a little air but it does keep any squeaky BA overtones from causing any unwelcome harmonic dissonance.
Treble is actually relatively relaxed and natural sounding. There is a small 7-8k rise beyond that 4-6k drop but it's relatively secondary in its amplitude to the 3k peak. That means it is not terribly pervasive but you can hear a slightly ethereal and thin tone to the very highest pitching notes.
I suspect Geekfly did not feel the need to push the BA driver too hard considering they are using the dual piezoelectric drivers as tweeters and that makes a difference for me as the treble doesn't sound too forced and unnatural sounding.
Timbre
The instrumental and vocal timbre is more rounded than most high contrast competitors with an excellent low-end fundamental in lower pitching instruments from that elevated sub-bass tuning. The power in the GF8s low-end is fantastic for a TWS to be honest so you will get no complaints from me on just how much PRaT the GF8s can deliver.
Thankfully, the bass timbre is not a bloomy mess so whilst there is a bit of warmth creeping into the midrange it is not an overly rounded tone. You can detect that shift from dynamic to BA with vocals taking on a slightly lighter timbral richness but I still think they are nowhere near as thin in weight or as clean in tone as our compared TWS, (see below).
The attack is also relatively liquid with just a very light hint of BA overtones combined with the smaller 7-8k peak giving it the GF8s that characteristic mild 'zip' on very high-pitched lead vocals. Percussion is weighted, with a broad note and good timbre, and to be honest they sound how a percussion should ideally sound and not overly thinned out and splashy in tone.
Staging & Resolution
My one criticism from the GF8s is the slight lack of air and absolute clarity therein. This might be due in part to the 4-6k dip but I also get a feeling that decoding at SBC is robbing the GF8s of a bit of vibrance and dynamic range to go with it.
You do just wonder though if Geekfly managed to get the GF8s to decode at aptX levels just how much more dynamic range they could draw out of what is an otherwise immensely impressive driver selection.
Do not let that put you off though, the staging has some tremendous depth and power, with a natural-sounding slightly north of neutral vocal presence. There are also no problems in terms of layering for a TWS and the imaging width is not as narrow as something like the multi-driver WH3 from HiBy.
Staging is mildly relaxed on the top-end with that little rise at 7-8k for some light sparkle and some decent headroom from those dual piezoelectric tweeters.
Click on page 2 below for wireless performance and select comparisons