We review the Auris Audio HA-2SE+, which is a 3rd gen impedance-selectable Class A desktop headphone tube amplifier with pre-out capability. It is priced at $2399 SRP.
Disclaimer: This sample was sent to us in exchange for our honest opinion. Headfonics is an independent website with no affiliate links or services. We thank Auris Audio for their support.
You can click here to learn more about the Auris Audio gear we have previously assessed on Headfonics.
Note, that this article follows our current scoring guidelines which you can read in more detail here.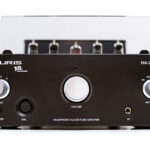 Auris Audio HA-2SE+
The Auris Audio HA-2SE+ is the perfect balance between the original's charming tonal quality and the HA-2SF's more aggressive but also more neutral tuning. It is beautifully refined and energetic with a smattering of welcome tube sweetness making it a very engaging SET headphone amplifier. 
Pros
Beautiful balance between tonal sweetness and clarity
Plenty of space for tube rolling
Multiple connector options with pre out
Cons
Polarizing design change
Not true balanced
The Auris Audio HA-2* line of headphone tube amplifiers has been a mainstay at our office for about 5 years now.
Starting with the original HA-2SE in 2017 and then moving on to the more recent HA-2SF in 2021, they have brought a bit of flair with their retro-wood aesthetics combined with a likable and elegant performance.
The latest version, the HA-2SE+ is technically a return to the original thinking behind the first HA-2SE rather than a continued development of the HA-2SF. It is also being launched to celebrate the 10th anniversary of Auris Audio itself with an omnipotent reminder of such labeled on its front panel.
The price is competitive at $2399 SRP but surprisingly lower than the HA-2SF which came in at $2499. And yes, it does look very different from what has come before in this series of headphone amplifiers.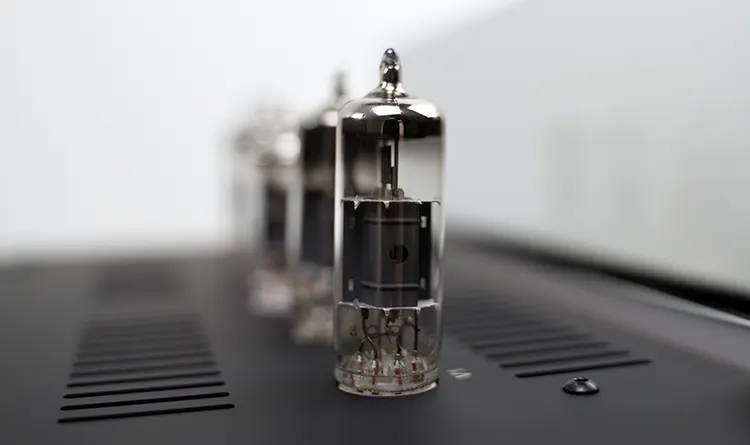 Tech Highlights
Tube Configuration
The HA-2SE+ is a desktop tube amplifier with a Class A SET design and an additional pre-out capability powered by a manually wound transformer on a double C core power supply. Though it has both XLR 3-pin inputs and outputs, the HA-2SE+ is a single-ended amplification circuit internally.
As with the previous models in this range, the 5 tubes are top-loaded. Auris has returned to the original HA-2SE's 7-pin EI EL95 or PL95 pentode power NOS tube configuration and added a single ECC81 input tube as opposed to the older model's Tung-Sol 12AU7W / 6189.
This particular unit has been supplied with 4 PL95 EI unbranded tubes but you can find variants of these under the Philips branding from the 80s. All of them are 100% compatible with the HA-2SE+
The EL95 was similarly made in Yugoslavia in the 80s or earlier and has some heavy rebranding into Mullard, Siemens, Telefunken, Valvo, and Philips. The average street price on these is about $10-15 but you pay more for a matched pair in good condition.
Since the amplifier can take either EL or PL power tube variants Auris has also provided a selector switch on the rear panel that will allow you to match your corresponding tube choices. Do not ignore that switch if you do decide to roll between the two variants as the tubes have different temperature ratings.
The ECC81 or 12AT7 input tube is a medium gain double triode design with this particular one being a JJ-branded build and known for a warm and smooth sounding output as well as delivering low levels of tube microphonics.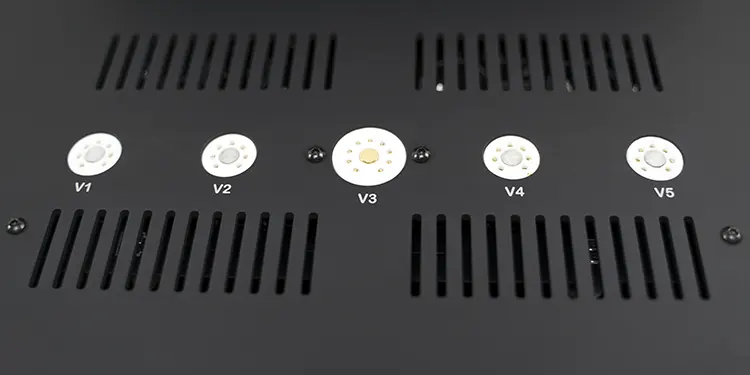 Amplification Design
Auris has dropped the output power of the Class A HA-2SE+ from the 2W @32Ω capability of the HA-2SF down to the original HA-2SE's 1W @1kHz rating which seems modest rather than robust.
However, that is a consistent 1W at all available impedance levels which should be ideal for high impedance load headphones such as the ZMF Headphones Atrium and the Sennheiser HD660s 2 though still a bit short for demanding planar headphones such as the Abyss Headphones Diana TC and Dan Clark Audio's EXPANSE.
The key to matching the HA-2SE+'s amplifier output and that consistent 1W rating is its impedance switch selector system.
This has been an excellent signature feature of this amplifier series going back to the original and it does help a lot in getting the correct load to performance setting for your headphone of choice.
Auris has gone back to the original's more specific impedance values which I prefer to the HA-2SF's more vague rating system.
On the HA-2SF the numbers were not specific to an impedance value with markers instead for low, medium, and high impedance, (with a constant maximum 2W output at each selection), so you had to play it by ear.
This time the HA-2SE+ has four clear choices: 50Ω, 150Ω, 300Ω, and 600Ω making it much easier to select the appropriate setting to get as close as possible to your headphones load. You are not obliged to pick a matching load, however. You can play around with the values depending on your tonal preferences.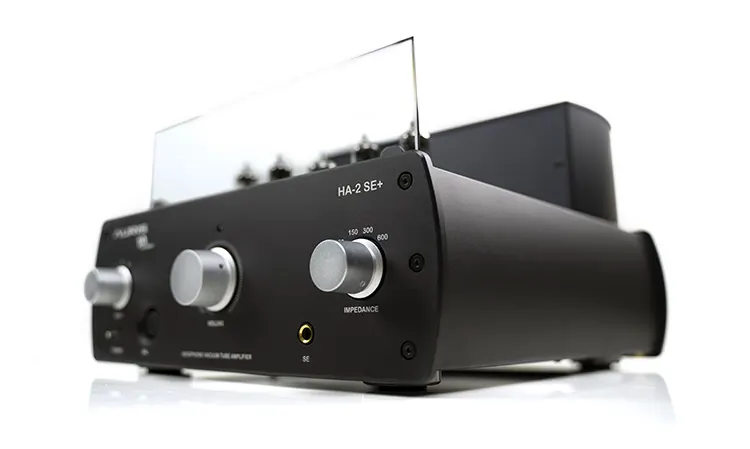 Design
Aesthetics
The HA-2SE+ is a very different proposition both in terms of its new streamlined form factor and the visual styling. Previously, this line was known for its wood retro-styling with a warm aesthetic to go along with a narrow tube plate.
That's all been done away with now and instead, we have an all-new monotone black aluminum housing adorned with high-contrast anodized silver dials, the regulation glass protection screen, and a very legible bold white labeling system that seems to be rolling out right across the amplifier lineup at Auris Audio.
I suspect there are some benefits to this. Metal is an easier property to work with for machining and is also more durable for hot weather climates like ours here. I bet it is also a lot easier to procure which is always a plus in 2023.
Still, there was some magic in the woody designs. I felt the concept of a tube amplifier in wood exemplified the type of sound signature a typical tube amplifier owner might identify with. It made them very unique in that regard.
However, beauty is in the eye of the beholder, and suspect there will be many fans of the HA-2SE+'s visual cues also.
For one thing, the interface feels simpler and easier to read face-on which was a criticism I had of the previous designs. For another, the shape and form are more coherent than the previous two units with fewer crevices to clean and much easier to get at for tube rolling purposes.
Form Factor
At 310 x 360 x 195mm, the HA-2SE+ is an imposing-looking desktop amplifier but it's actually a bit shorter in height compared to the 300 x 350 x 210mm HA-2SF though much deeper than the original 300 x 320 x 230 mm HA-2SE.
The weight is officially the same for all of these units at 9kG though the HA-2SF has the additional external PSU which collectively adds an additional 3Kg to the overall total. Without an external PSU, you might be able to save a bit of space on your rack compared to the older unit.
The rubber feet on the base of the HA-2SE+ are now very low profile and almost invisible to the eye unless you are virtually at ground level. That is a far cry from the awkward tall spikes of the original system and more or less on par with very steady broad circular pillars from the HA-2SF.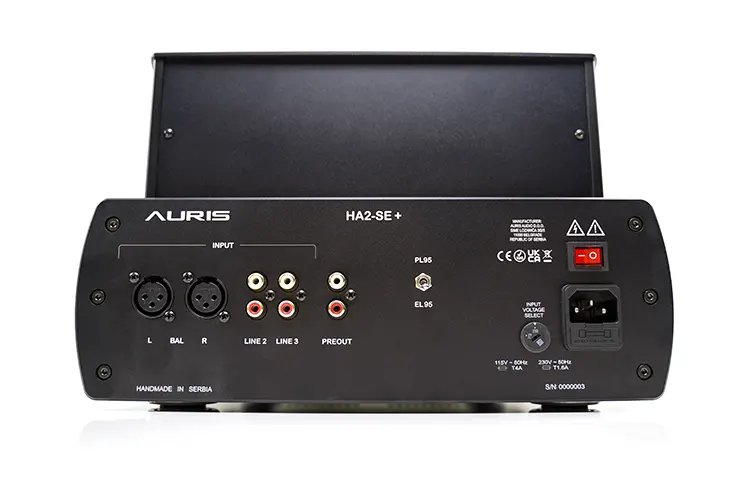 I/O
The HA-2SE+ rear panel is very similar to the HA-2SF options save for the internal power supply rather than a connecting 4-pin power socket for the external PSU. You will notice, however, like the original HA-2SE there is no additional gain switch with this iteration.
You get 3 groups of analog inputs; one 3-pin XLR for line 1, and two dual RCA for lines 2 and 3. Just to remind you, however, the inputs are still single-ended by design, rather the inclusion of XLR widens your connection options.
As with the HA-2SF, you also get a set of dual RCAs for the amplifier's 3Vrms pre-out on the HA-2SE+ rear panel alongside the PL95/EL95 switch which sits well away from everything in the middle of the panel.
To the front, the HA-2SE offers two headphone outputs, a 6.35mm SE in the far right beside the large impedance selector dial and a 4-pin XLR socket with a slightly recessed metal power on/off switch to the right of the XLR socket.
Just above are the three protruding anodized silver dials, of which the far left is for input selection and the far right is for impedance setting. The middle is an Alps potentiometer with a nice balance to its attenuation curve and a smooth level of resistance comparable to the original HA-2SE version.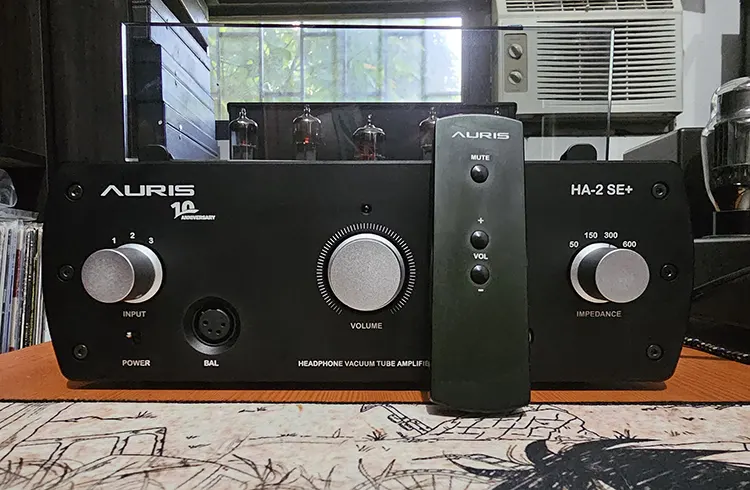 Controls
Everything I/O on the HA-2SE+ is very clearly and cleanly labeled making it a very easy-to-understand and accessible interface to control. No more hidden dials and crevices forcing you to adjust your line of view to understand what it is you are working on, be it volume control, impedance, or inputs.
In its stock format, all the HA-2SE+ controls are totally manual and come without a remote control which I normally be on the fence about.
However, as with the previous models, there is an RF receiver module slipped inside the unit that works with the original remote control that came with the HA-2SE all those years ago. joy! And yes, I have confirmed that it works wonderfully well for both volume and mute features on the remote.
Since it does not come in the stock packaging you will have to buy it as an optional extra similar to how Auris did it with the HA-2SF.
At that time the remote wasn't cheap at €100 but at this moment in time I cannot find it listed on their website so you will have to email them to find out if available and the current pricing structure for the RC.
Packaging & Accessories
Auris Audio packaging is always elaborate and incredibly well-protected for courier-long hauls. Not only is the HA-2SE+ foam packaged on the inside with separate cubby holes for the tubes and accompanying accessories but externally you get not one, but two boxes with an additional layer of clingfilm protective wrapping.
It doesn't take long to unwrap this and I am not 100% sure all of it is recyclable but I would advise you to retain the external boxes in case you need to move around because they do a hell of a job keeping the amp quite safe.
Aside from the optional remote control, you will also receive a power cable terminated with your country-preferred plug and a useful owner's manual.
The tubes are easily sorted out being numbered V1-V5 on the outside of their individual retail boxes which also precisely match the labeled tube sockets on the HA-2SE+ unit itself.
Click on page 2 below for sound impressions and our recommended pairings.