Liberty 2 Pro Sound Impressions
Summary
The Liberty 2 Pro stock tuning is a classic V-Shaped presentation with a high level of sub-to-mid bass and treble contrast, at least with the stock profile. The timbre is on the clean and cool side with a solid upper-mids/treble level of energy which in turn, offsets the sub-bass bias.
In between, you have around a 15dB drop into the upper bass and lower-mids up to 1k to prevent bass bleed so vocals are relatively neutral to slightly recessed and light in body with more of an emphasis on retaining clarity than any richness or warmth.
Instrumental notes are articulate and easily picked out though like the male vocal performance they can play second fiddle to the aggressive and forward low-end.
Higher pitched instrumental notes and female vocals have more presence and bite with percussion, in particular, coming to the fore. I would say from 1k to 5k you are getting almost 10dB rise, slightly less than the sub-bass elevation but more than enough to create that class V-Shaped vivid sound. Sibilance can be a factor here.
Overall, the Liberty 2 Pro is tailor-made really for modern EDM, some R'n'B with sparse arrangements, fat synthwave tracks with a high level of ambiance, and at a pinch some classical depending on the arrangements. Less so for mids-focused rock and pop where male vocals need to be felt and heard or those with a sensitivity to forward treble.
EQ
As an addendum to the summary, the numerous EQ profiles the Liberty 2 Pro app offers is an integral aspect of the tuning. The stock V can be tamed to an almost L-shaped experience and nuanced variations in between depending on your preferences.
I tend to opt for the Pro EQ profiles such as Krish Sharma's more explosive gain levels or James Cassidy Turbin's softer approach for synthwave which tones down the treble energy and creates a more liquid and rounded tone. The flat EQ standard option is better for rock and standards with some bass and treble energy emphasis reduced.
Timbre
The Liberty 2 Pro timbre is underpinned by a solid bass fundamental and plenty of odd-harmonic partial overtones. It has less emphasis on even-harmonic richness so it is a bit on the dry and precise side rather than something like 1MORE's True Wireless ANC's slightly warmer underpinning.
The low-end does deliver a bit more warmth but only sub-500Hz as there is a fair cut in dB from around 200Hz before it flattens out until 800Hz. Instrumental and vocal timbre in this region has relatively good clarity but lacks a bit of texture and body to shine.
Guitar shredding is clean and precise but again just lacks a bit of texture and sustain to go with the underlying bass fundamental when it is not called upon. You get more percussion presence, sometimes a bit splashy on the stock profile but more liquid with some of the presets.
The Flat EQ actually takes a little edge off that low-end dominance and allows the mids timbre to have a bit more balance. That is more ideal for midrange rock vocals and instrumental workouts where low-end power is not a huge requirement.
Staging
Staging follows all the V-Shaped norms. That means excellent depth and a solid level of PRaT when called on, good height, and a narrower midrange.
Tuning nuances in the mids which are dipped will produce a relative perception of distance from the stage so it is not an intimate staging quality which tends to suit me for more expansive retro synthwave works but less so for classic rock numbers.
Treble being quite forward will add a 'crispness' to notes above 1k so they will sit further forward alongside the bass positioning which is quite forward sub-200Hz.
That tends to tease out kick drums and percussion passages a bit more though higher-pitched female vocals such as Germany's Nina Boldt (Sleepwalking album 2018) sound really clean and clear on the Liberty 2 Pro.
Due to the clean and bright presentation, imaging cues are easy enough to pick out on the Liberty 2 Pro and it does not really lack in terms of headroom. There is nothing veiled or smeared about the sound which is a bonus for me.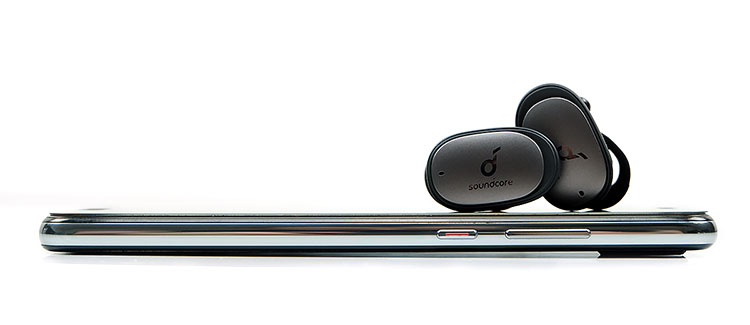 Wireless Performance
Pairing
The Liberty 2 Pro uses a form of TrueWireless Stereo Plus which means the drivers are independent and can be paired one at a time or both together. That is one of the reasons behind the decent latency performance and the higher battery life span of the drivers.
Out of the cradle these pair very fast and easily with both of the phones I tested, including a Samsung Note 9 and a Huawei P20 as well as my Acer Nitro 5 laptop BT module. You may get a prompt for a separate left channel pairing as I did but go ahead and ignore that, just opt for the "Soundcore Liberty 2 Pro" label when you do your scan.
Stability & Range
The range on the Liberty 2 Pro is excellent, almost on par with HELM's true Wireless TW5.0 and slightly better than the Fostex TM2 which is saying something.
Stability right up to the last meter is rock solid as well with no flutter or signal drop for the first 10m with one wall between. My usual spot in the kitchen recess behind 2 walls and about 12-13m was pretty good with just a minimal drop out right at the very corner or about 2m further.
This is one of the better performers if you need to get as far away as possible from the source. Unlike the Edifier TWS NB, which is equally as good, you can control volume from the drivers which is also an important feature for me.
Latency
Latency is fairly normal for the Liberty 2 Pro as it is consistent with most aptX capable TWS bar one or two such as the Sennheiser MOMENTUM True Wireless. We tested a few media files with high audio sample rates on VLC in Windows 10 and some of them required very little adjustment with the max being 0.2s hasten for audio.
I have yet to really see an aptX capable TWS go beyond that marker in our tests with only the SBC KZ T1 going beyond in our comparison work below at 0.3s hasten.
Select Comparisons
KZ T1
$42
Technical
We have reviewed two multi-driver TWS to date and this was the first and substantially cheaper one, the KZ T1. Officially discontinued by KZ but still crops up on various marketplaces at well under $100, this is a dual dynamic and single BA configuration, the same as the Liberty 2 Pro.
Sadly, there is no more information on the precise dynamic driver size or the BA type but the crossover is roughly the same as the Liberty 2 Pro with the dynamic driver covering the lows and mids and the BA covering the upper mids and highs. We do know the Liberty 2 Pro uses a fairly large 11mm dynamic driver with a custom-tuned Knowles BA in their 'Astria Coaxial Acoustic Architecture' topology.
Both use BT5.0 protocols though the Liberty 2 Pro decoding capability is higher with aptX capability whereas the KZ T1 is just SBC/AAC rated. You do get better liquid resistance also on the Liberty 2 Pro with an IPX4 rating compared to nothing on the KZ T1. That means gym use is a viable option with the Soundcore TWS.
Battery life on the Liberty 2 Pro is also much better at 8 hours life cycle per driver and up to 32 hours including the cradle. The KZ T1 is only capable of 3 hours per driver and a total of 21 hours out of the cradle. That is a fair difference.
What the KZ T1 does have that the Liberty 2 Pro does not are touch controls. The KZ T1 features a full-suite of playback, call, voice/volume control via touch-sensitive faceplates. However, it has no app and nothing that even comes close to Soundcore's excellent EQ-centric app and HearID feature.
Design
Here I give the edge to KZ with their custom universal contoured design for comfort & isolation. It is a nod to audiophile knowhow with a very sharply small and light black acrylic shell that fits like a glove in your ear.
Is it as steady as the Liberty 2 Pro's ear wing system, possibly not, it will depend on the tips you use. However, I found them to hold their balance very well with the silicone supplied tips and isolation is superior.
The charging cradle is not as svelte as the Liberty 2 Pro nor as articulate. The metal KZ T1 cradle is very durable but also much heavier and a bit deeper. Still, both are very pocketable but the KZ T1 cradle feels clunky and not as articulate, particularly around the hinge area. Also, micro-USB only with no wireless fast charging capability so light-years behind the Liberty 2 Pro cradle features.
Performance
The KZ T1 is a little fiddlier to pair and uses an older master-slave left to right pairing but once established its fairly easy to reconnect after. The Liberty 2 Pro is much quicker to initiate and pair as well as being picked up by its app.
Distance and stability are far better on the Liberty 2 Pro compared to the KZ T1. the Liberty 2 Pro is at least as good as the Fostex TM2 and maybe on par with HELM TW5.0's class-leading range.
The KZ T1 struggles with stability throughout the initial 10m test and drops out at 10m whereas the Liberty 2 Pro only starts to weaken when you go around 12-13m with an additional wall in-between.
The Liberty 2 Pro does better with latency also on media files using VLC on Windows 10. There was up to 0.3s hasten with the KZ T1 and around 0.2s on the Liberty 2 Pro which is consistent with all but a few aptX capable TWS on the market.
Tuning
The KZ T1 is a warmer more forgiving sound signature with slightly less sub-bass presence but more mid-bass warmth into the mids than the Liberty 2 Pro. It also has a substantial treble fade from around 5-10K which sucks a lot of air from the mids as well as casting a slight veil over details. That is compounded by the more compressed SBC decoding level.
The Liberty 2 Pro has a more of a classic V-shaped profile with enhanced bass to treble contrast for its stock sound. You can tweak that endlessly with the EQ presets via the Soundcore app so it is not fixed in stone, unlike the KZ T1 signature.
That classic V-shape means it has a little more depth and a lot more height though the mids are much cooler and the timbre a little on the leaner side. The KZ T1 is much more even-harmonic biased so notes are rounded and smooth compared to the Liberty 2 Pro's drier stock sound.
That being said, the imaging and clarity of the Liberty 2 Pro are much better with more headroom and air so you will pick up spatial cues easier as well as generally hearing a much better level of resolution.
You can also add a bit more of a liquid or softer tone to the Liberty 2 Pro highs with my preferred James Cassidy Turbin EQ setting which creates a much nicer harmonic balance, especially percussion.
1MORE True Wireless ANC
$199.99
Technical
The 1MORE True Wireless ANC is priced $50 higher than the Liberty 2 Pro but mostly due to the ANC capability which the Liberty 2 Pro does not have. Therefore, in terms of isolation, the 1MORE is ahead by a clear margin. ANC is the difference-maker in that regard because without it both have average passive isolation.
Much of that has to do with their configuration and the required venting since both have a single dynamic driver and BA hybrid configuration. This is one of the key similarities and why it is in this comparison mix as the second dual-driver TWS we have reviewed to date.
The configuration is slightly different with 1MORE using a 10mm titanium dynamic driver as opposed to the 11mm dynamic driver inside the Liberty 2 Pro. Both use a single custom-tuned BA for the upper mids and highs with the dynamic driver for the lows and mids.
Aside from that, both have aptX decoding capability with BT5.0 protocols though the IPX rating makes the Liberty 2 Pro more of a sure thing in the gym. 1MORE claim the True Wireless ANC will hold up just fine for a workout but can offer no IPX rating.
One other salient feature is the use of TrueWireless Stereo Plus from Qualcomm which allows the True Wireless ANC drivers to operate independently of each other. Soundcore does not push that feature as much on the Liberty 2 Pro but a true wireless stereo mode is available.
Apps
Both have apps management though the 1MORE does have an additional touch control system on their drivers for ANC management as well as physical controls.
Comparing both apps, the Liberty 2 Pro Soundcore is more advanced. Most of the focus on the 1MORE app is ANC control without only a cursory 5 band EQ system. It has no special features such as HearID or the tons of EQ profiles that the Soundcore app offers nor does it allow you to tweak the driver's physical control system.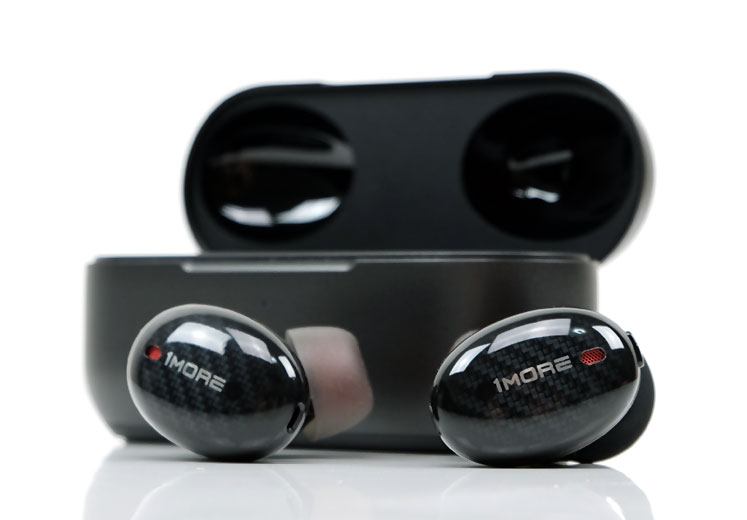 Design
These two TWS have surprisingly similar form factors but slightly different designs. I give the edge to the 1MORE for its smooth egg-like branded carbon fiber finish on the faceplate which has a bit more pop than the duller Liberty 2 Pro grey flat finish.
However, beneath the plates, the body of both are very similar and both use ear wings for secure fitting. They also both have fairly short nozzles and tips play a big role in the final sound signature. Less so for the 1MORE in terms of isolation as you can turn on the ANC to block out a lot more noise.
The cradles are very different but equally stylish in their own right. The Liberty 2 Pro cradle is plastic, light and very easy to operate with USB-C quick-charge and wireless charging capability.
Whereas, the True Wireless ANC is taller, elongated, and made of tougher aluminum and a contoured plastic inner. It also has a wireless Qi-charging system, USB-C fast charging though 10 mins only gives you 60 mins instead of 2 hours on the Liberty 2 Pro.
Battery life is not as good on the 1MORE at just 6 hours with ANC off and 22 hours in the cradle compared to 8 hours per driver and 32 hours in the cradle for the Liberty 2 Pro.
Performance
Both TWS have TrueWireless Stereo Plus or at least versions thereof so pairing is very easy and fast out of the cradle. Neither gave me issues with multiple BT sources for connecting.
The app was a slightly different experience with the 1MORE app being a little fussier with how far you can be from the source for it to pick up on the driver unit's signal. The Liberty 2 Pro app did connect almost right away with the drivers, even if further away.
Both of these almost matched each other in terms of stability and range as well as latency. I found neither dropped a signal with a direct path or even one wall at 10m and they both got an additional 12- meters with a second wall between the drivers and source.
We used 2 different media files with an audio bitrate of 640kbps and 162kbps and in both instances the performance of each TWS required a 0.2s hasten tweak via VLC on Windows 10 for tight audio to video synchronization.
Tuning
I would classify both as V-shaped, however, there are a few differences in the FR emphasis of each. The Liberty 2 Pro is a bit more sub-bass centric with slightly less mid-bass warmth compared to the 1MORE.
The 1MORE 1-2 range is a little more forward so vocals not only are perceived as have more presence they also sound a little more weighted and smoother. The Liberty 2 Pro vocal timbre is cooler, the body a little leaner and overall they sound a little further back in the mix.
The 1MORE treble tuning has a milder 5k bump in an otherwise more relaxed tuning compared to the effervescent sparkle of the Liberty 2 Pro top-end tuning.
The treble on the Liberty 2 Pro is much more aggressive giving it a predominantly high contrast odd-harmonic overtone to the timbre. The 1MORE is not the most relaxed either but it does sound a shade smoother and warmer on the upper mids and treble by comparison.
I would say both have an equal level of resolution and the staging is very similar with excellent depth and a shade more perceived height on the Liberty 2 Pro because of the elevated upper treble.
It really comes down to how much V you like in your mids and how much warm or cool you like in your timbre though with the Liberty 2 Pro EQ presets you can definitely tighten the gap between the two.
HELM Audio TW5.0
$129.99
Technical
The HELM Audio True Wireless 5.0 is a single dynamic driver TWS which we reviewed early in 2020. The driver is actually what I would call regulation TWS size at 6.8mm and certainly a lot simpler than the 11mm dynamic and single BA combo of the Liberty 2 Pro configuration.
Both have a similar protocol and decoding level with BT5.0 and up to aptX codec processing as well as the standard SBC/AAC to fall back on. The TWS are also IPX4 rated so both are perfectly fine for outdoor and gym use.
Both are also largely physical control based drivers but the one big difference is the lack of app integration for the HELM TW5.0. It simply has none whereas the Liberty 2 Pro is decked out with an expansive Soundcore app with HearID and tons EQ profiles as well as control tweaking capability. A much more satisfying digital experience.
Design
Both TWS are actually quite big, made of good plastics but the designs are very different. I give the edge to the HELM TW.50 for creative design with its diamond-cut front plate and low profile hook. It is the more ergonomic of the two with a longer nozzle so it sits a bit deeper into your ear canal than the Liberty 2 Pro.
That does mean the comfort levels and level of isolation is better on the HELM TW5.0. The Liberty 2 Pro's larger dynamic driver does need more aggressive venting and combined with a shorter nozzle does let in a bit more environmental noise.
The HELM charging case is bigger and clunkier than the slimline beautifully articulating Liberty 2 Pro cradle. That lid on the HELM cradle is also questionable for each of use whereas the lid on the Liberty 2 Pro is super smooth to use. It does have a slight edge on cradle battery life, however, at 40 hours compared to 32 on the Liberty 2 Pro with individual driver life similar at around 8 hours.
One drawback of the HELM is the lack of wireless charging and the use of micro-USB connection for charging. The Liberty 2 Pro is much better equipped with wireless Qi-charging, fast charging, and a USB-C port.
Performance
Pairing is a little fussier, to begin with for the initial source matching on the HELM whereas the Liberty 2 Pro paired right out of the cradle for the first time. After that neither has any real issues when it comes to connecting to BT sources.
There is a slight edge for the HELM in terms of stability and range. However, the Liberty 2 Pro is a stellar performer in its own right and comes might close to matching the TW5.0. I would place the Liberty 2 Pro on par with the Edifier TWS NB and just behind the HELM for range.
Latency is more or less the same for both. You can get away with it sometimes depending on the media encoding on Windows 10 but more times than most both seemed tight with a 0.2s hasten on VLC so a tiny bit of lag.
Tuning
The HELM is considerably more L-Shaped than the V-Shaped tuning of the Liberty 2 Pro. It has a lot more bass bloom, and probably a bit more bass quantity overall but it overshadows the mids and treble.
Treble tuning is relaxed, very relaxed so timbre is a lot warmer and more rounded sounding with a heavy even-harmonic bias. Vocals are neutral but seem dipped because of the bass bloom so they lack a bit of clarity and presence as a result.
The Liberty 2 Pro is cleaner, with more treble contrast which helps deliver a perception of more clarity. Imaging cues are much easier to pick out with mids that benefit with a lot more treble sparkle. It sounds a bit more balanced and exciting with more percussion bite but also less body in the mids instruments and vocals.
With the Liberty 2 Pro stock tuning, it can get a little sharp on the upper mids and treble so I tend to EQ that with one of the Pro presets whereas you are stuck with the HELM deeper but darker presentation.
Our Verdict
The Liberty 2 Pro is a solid but classic V-shaped TWS tuning a high contrast low-end and treble tuning. This errs more to vivid and exciting than mellow or reference like in tone, at least with the stock tuning.
However, at the heart of the Liberty 2 Pro's competitive edge is that Soundcore app and the multitude of EQ presets, both standard and pro. It also offers the ability to further customize via HearID. It is probably one of the best apps out there right now for tweaking the core tuning allowing you to inject more warmth, go flatter or even brighter and louder.
I would love to see an ANC version of the Liberty 2 Pro to tighten up the isolation and perhaps a stock tuning with a little edge taken off the bright treble sound. I think it would have the chops to take on the big boys such as Sony, especially with its sound-centric app and excellent Bluetooth range.
Liberty 2 Pro Specifications
Bluetooth version: V 5.0
Bluetooth profile: AVRCP1.6, A2DP1.3, HFP1.7
Bluetooth frequency: 2402-2480 MHz
Bluetooth range: 10m / 32ft
Input: 5 V ⎓ 0.5 A
Rated output power: 5 mW @ 1% THD
Battery capacity: 65 mA x 2 (earbuds); 500 mA (charging case)
Playtime (varies by volume level and content): Up to 8 hours (32 hours with the charging case)
Charging time: 1.5 hours
Audio code format: SBC, AAC, aptX
Driver size: 11 mm Dynamic driver and Balanced Armature x 2
Impedance: 16 Ω
Frequency response: 20 Hz – 20 kHz