The KZ T1 TWS was a limited beta run and the company's debut True Wireless System featuring a dual-driver configuration, touch controls, and BT5.0. It was priced at around $42.
Disclaimer: The KZ T1 TWS is a purchased unit with a small amount of discount for the purposes of this review. We thank Wooeasy Earphones Store & KZ Acoustics and for this opportunity.
To learn more about our Wireless reviews on Headfonics you can click here. Note, this review follows our new scoring guidelines for 2020 which you can read up on here.
KZ T1
I am not overly keen on the warm timbre and slightly soft overtone of the KZ T1. However, technically it is on another level compared to the Redmi Airdots previously reviewed. A lack of aptX here means the dynamic range is iffy but it is competitive to some wired options sub-$50.
Someone recently asked me why we do not cover KZ on Headfonics. I honestly do not have an answer to that. No conspiracy, just our paths have not actively crossed until now. Fitting then we should introduce our readers to KZ via their debut TWS launch, the budget KZ T1.
Now the KZ T1 is not being actively made anymore. In fact, I bought it like 24 hours before they announced that the Public Beta program was being officially ended. That being said, I had a recent look around on the usual online stores and it does seem you can still buy loose inventory for the same $42 bang for buck price.
Also, KZ has recently replaced the T1 with something a bit more advanced called the E10 which apparently is a TWS version of their ZS10 Pro. That is a more advanced 5-driver hybrid TWS system and for sure, it will feature here on the Wireless Weekend at Headfonics at some point.
Tech Inside
Configuration
The KZ T1 is actually a multi-driver hybrid TWS which brings it more in line with audiophile sensibilities than the typical dynamic driver far such as the Redmi Airdots we reviewed before. It uses a dual-driver configuration with a single dynamic driver for the low-end and a single BA for the mids and highs.
I have yet to find out the size of the dynamic driver inside the KZ T1 as well as its impedance and SPL which is never really the focus of TWS spec sheets. Battery life and charging times seem to be much more important. Of course, impedance is really not an issue since there are no cables but SPL varies a lot from TWS to TWS and you can get caught out with default volumes often being too high.
Bluetooth 5.0
Like the Airdots, the KZ T1 is using the newer Bluetooth 5.0 standard, which at $42 is still above and beyond what I expected but perhaps my view will change the more of these we receive. Perhaps 2020 we should be expecting BT5 as standard? Still plenty higher priced models using BT4.2 though.
Bluetooth protocols supported include AD2P, AVRCP, HFPA, and HSP. Still, no aptX but the KZ T1 does offer ACC as well as SBC so this one is more Apple-friendly than the Airdots. There are higher priced models that will give you aptX such as Sennheiser's Momentum TWS and HELM's TW5.0 but you will pay more for that.
Independent Buds
Like the Airdots, the KZ T1 offers independent left and right driver control. The default side to use in Mono mode is the right side. However, as you read later, this is more of a blessing than a curse when you are going through an initial pairing process.
'Mono" use will increase the battery life of the KZ T1 but it will also mean uneven battery life in both drivers. I would also advise stereo pairing when possible, not just for better audio, but because of the initial point about how tricky pairing can be if you pair only one unit and want to get back to stereo later on.
Touch Control
This is a big advantage over physical buttons if done correctly and you can read more about that in our controls section below. The KZ T1 features a full-suite of playback, call, voice/volume control via touch-sensitive faceplates.
What Is Missing?
There is no waterproof or IPX grading for the KZ T1, unlike the Airdots IPX4 rating. This means its probably not the ideal TWS for the gym or moisture heavy environments which is a shame. I
am not seeing any claims for DSP noise filtering and certainly no actual ANC. KZ seems to be alluding more to its excellent passive sealing features more typical of a traditional wired driver. That means tips are going to be important for the KZ T1.
Design
After the Airdots the KZ T1 is a more familiar audiophile monitor design. It has shades of iBasso's IT03 design with some universal custom contouring for additional fitting comfort. The three-piece shell is a mix of plastics and stainless steel for the nozzle and battery contact points in a black and gold finish. The nozzle is finished with a mesh wax guard which is a fairly familiar 'proper monitor' feature.
The form factor is relatively compact and only slightly larger than the already small Redmi Airdots but the KZ T1 has a lot more character and an altogether more striking visual aesthetic. They do weight a little more than the Airdots at 10g compared to 4.1g but it is not something you will really notice.
Charging Case
The charging case is an OEM from Mifo which is another brand with some IP share. Despite the big KZ logo on the outside it actually has the Mifo branding on the inside when you open up the lid which is not ideal. Not sure why unless it was to save on the bill of material or project costs and throw out something quick.
Still, the aluminum smooth curved round silver case is a big step up on the Airdots cheap black plastics despite the slightly larger size. This is still pocketable for me albeit a heavier bulge. One issue I do have is that wibbly-wobbly hinge on the lid. It just feels wrong. Though not that weakly built but it just feels clumsy and out of sync with the rest of the design. It is also a bit noisy.
The other issue I have is opening the lid. The small indent to grip and lift is very hard to find in low lighting and you could be forgiven for thinking the case is sealed without a latch. It is also fashioned in such a way that you need both hands to open it.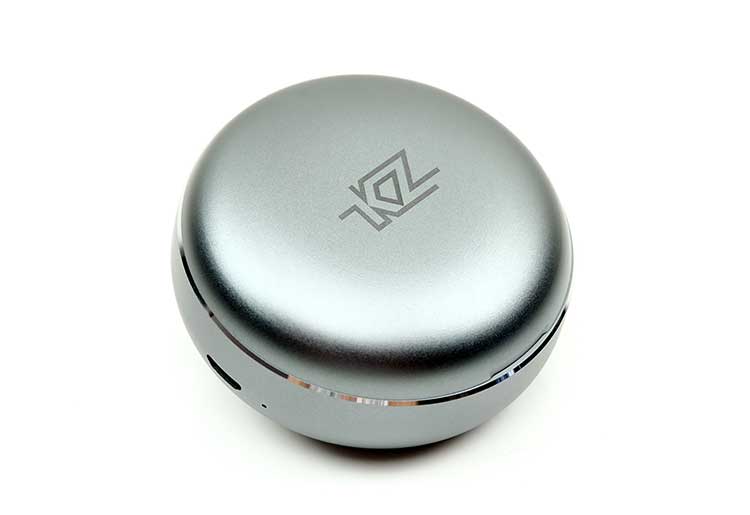 Controls
All touch and thank goodness for that. I was initially in favor of the physical controls of the cheaper Airdots due to the better protection it offers for accidental touches. However, after a few days of constantly poking the drivers my ears were ready for a break. The KZ T1 control interface is much more comfortable.
At a rudimentary level, you have control over voice calls, voice assistant smartphone features such as Siri and Google Assistant and audio playback. Which one depends on how many light taps you perform or how long you touch and press on the faceplate.
LED System
You will see some LED status features, (Like many TWS), that will give you an idea of what the drivers are doing as well as a voice assistant should you have them stuck in your ear.
Generally, blue, red and purple are the dominant colors on the LED system covering battery and pairing status. A purple LED status you will only see if you wish to reset the drivers completely which is worth doing when out of the box by pressing and holding both for around 10-15 seconds.
A blue LED represents a full charge and red flashing LED means power is dipping below 20%. Sadly, there is no KZ app like the Airdots has so battery monitoring is via the usual Android battery icon when connected via BT and the LED lights when not in your ear.
Quirks
The KZ T1 touch control system is not without its quirks either. Much of this is really down to the sweet spot and level of sensitivity to rapid touches that catch it out. Also, how well touch control integrates with sources is variable, especially with volume control.
For example, connected to a HiBy R5 and a triple touch for volume up will raise the volume by 10 steps which is huge for me. That kind of jump is more in line with basic smartphone volume controls. If you want a micro-level of control you will still be reaching for the dial on your DAP.
Another well-documented problem is the pairing process. This happened to me a few times at the start and it does throw you. Basically, pairing will throw up two options in your source device – KZ T1 and KZ T1 -R which is the right driver. Do not pair with the right driver or else you are in a world of confusion as you will not get stereo.
Consulting the manual does help. Simply rest if you cant get stereo and try again. It is not as user-friendly as the Airdots for pairing though once you understand what to do the process for pairing gets easier.
Battery Life & Charging
Driver battery life is pretty poor at 3 hours and 1 hour less than the $30 Airdots. The battery inside is bigger also at 50mAh compared to just 40mAh inside the Airdots.
The charging case battery life is much better however at 21 hours total allowing around 6-7 charges before the case itself needs charging. with full charges on both the case and drivers, the KZ T1 will give you a total of 24 hours playback compared to just 16 from the Airdots.
KZ has fitted the T1 case with a micro USB charging device which right now doesn't really surprise me. The majority of TWS still use micro USB and one can only hope USB-C starts to become more budget-friendly in 2020 and micro USB is finally phased out. Do not expect quick charging features
Battery status monitoring will be a more intensive process when using the KZ T1 due to the lack of app support outside of the usual battery icon taskbar display in Android. Not all sources will show that icon either. For example, the FiiO M11 does not show it whereas the HiBy R5 and my Samsung Note 9 does. You do get a voice control inside warning you when the battery is low which helps.
Comfort & Isolation
These are more like traditional custom universal monitors with an element of contouring to better fit your ear and rest securely at the same time. Mind you, a lot of stabilizing is lost when you have no over the ear cable to monitors like these so more emphasis is placed on the nozzle and tips for the stability of the monitors in your ear.
Tips
As such the supplied tips are well, average at best but very consistent with you get at this price point. You get a pack of single bore transparent silicone tips in s/m/l which do an average job for sealing. The nozzle is relatively short but the shell extends so it does not need to be that long. At the very least the depth is good so it doesn't move that much.
The seal is just average. Hybrid or foam tips will improve the seal a lot actually. Symbio tips worked very well and actually held them a bit steadier in my ear. I wouldn't recommend foams as they really darken the sound too much for me. Hybrids had some quality impact and thump to the low-end that the stock tips do not offer.
Accessories & Packaging
The packaging is basic still but a good step up on the Airdots. It is far more compact, all-black to match the driver units and pretty much tells you what you want to know about the KZ T1's at a snapshot. Inside, you get the following apart from the charging case and drivers:
Micro USB cable
User manual
3 ear tips (S/M/L Size)
The user manual is in English and Chinese, the USB cable is one of those short ones that seem to come with most TWS and the tips are loose in a small plastic bag. Neat and tidy but ultimately a forgettable experience with basic accessories.
Sound Impressions
Summary
The KZ T1 has a level of resolution and tuning that would be reasonably competitive in the wired budget category. It still lacks acceptable dynamic range with SBC and ACC levels of audio quality but it sounds more resolving and with better separation than the Airdots. It murders the rather nasty A6s Airdots clone which is not that hard really.
The signature is relatively bass dominant but its more mid-bass punch than sub-bass power. Sub-bass presence is very good but it is linear to ever so slightly rolled-off below 50Hz. The Airdots are much more sub-bass orientated with a stronger dip so it is actually a lot cooler in its timbre. The KZ T1 is also much warmer with a slower or less aggressive presence drop from 100Hz to around 1k.
Upper mids are forward with a rise from 1-5k which is fairly pronounced though amplitude-wise it is a good balance to the dynamic driver mid-bass quantity. Instrumental presence is not bad actually though a little behind anything in the 1-4k range including most vocals.
From 5k there is a fairly rapid drop-in presence which helps keep the forward upper mids from sounding too harsh but robbing it a tiny bit of air. The slight uptick in the upper treble does help with headroom though so it is not a dark signature but rather offering a very even harmonic and softish quality to its sound.
Contrasting Timbre
It is a hybrid though and the contrast between the two drivers can be stark at times for me. You get the slow long decay and fleshy dynamic driver with its warm and wet instrumental timbre to a point then suddenly it is dry, quick-paced and thinner in body.
Staging
What strikes me the most about the T1 is the much better imaging and staging in general from the Airdots. Depth is good with some decent quantity and a slightly forward positioning of anything sub 500Hz. It is not too dominating so mids benefit from the additional space to breathe.
The lower-mids dip to 1k tucks instruments in behind vocals which are generally further forward creating that familiar stretch from front to back and a more holographic sound compared to the Airdots. The height is ok but width and left-right separation are vastly superior to what I was expecting. Micro details are easier to pick out.
Genre Preferences
I tended to go with a lot of jazz, female vocals and soulful modern R'n'B stuff with the KZ T1. The slight lack of pure power and pushed treble compared to the Airdots made it less convincing for hardcore EDM.
Now, do not get me wrong, these have plenty of bass quantity and fat bass synth sounds can sound fun. However, the general warmth and languid pace felt more at home with the likes of Tertia May and Blue Wednesday than 80's-style 'colder' digital mixes such as Code Elektro or hardcore EDM.
I suspect their new E10 5-driver will have a faster pace and a bit more treble presence to make steelier mixes shine a bit more.
Wireless Performance
Stability & Distance
Despite having BT5.0 the KZ T1 does not have any Bluetooth multi-point connectivity so you cannot pair it to more than one source at a time. I am beginning to look forward to reviewing the first TWS that actually had that feature because it is a real pain methodically changing DAPs and phones with the KZ T1.
I do advise pairing everything before you do start switching as the pairing process pains means you could get stuck having to reset the KZ T1 before switching. Once all paired then it is safe enough to break a connection and reconnect to another device without inducing mono hell.
We tested 2 smartphones and 1 DAP this time around. The Huawei P20 did marginally better than a Samsung Note 9 for a distance of around 10-12 meters with a single wall/door between them and I. Perhaps 1m more before dropout. The DAP we used was the HiBy R5 which I know has a weaker BT signal and yes, stability was an issue, getting slight dropouts after only 5-6m and then significant disruption by 8-10m.
Latency
Latency was on par with our experience to date with non aptX LL BT devices. You get a split second but nothing more than that between touch control and action on the phone. You Tube on both smartphones was also in sync which is a relief.
Comparison Ladder
Our comparisons for TWS will be slightly different from the normal review process. We will compare only to what has been reviewed thus far and make an attempt to continuously rank them via our scoring system.
We will strictly limit comparisons to the 3 previous reviews, (where applicable), then beyond that a short summary of the others to complete the ladder.
Xiaomi Redmi Airdots TWS
$29.99
Technical
Slightly cheaper than the KZ T1 but it also looks cheaper with plain black plastics and a non-descript jellybean form factor. It is smaller, much smaller but that cute form factor comes at a cost with a far smaller charger case battery life at just 12 hours compared to 21 on the KZ T1 case. Battery life on the drivers is better at 4 hours compared to 3. Both use micro-USB – ugh!
The 2 TWS have similar stability and distance from their BT5 features, however, the Airdots have no onboard volume control. This means a long walk back to your source to adjust or press pause to stop if too loud. Speaking of press, the Airdots uses physical buttons. They annoy the ear after a while with all the pressing but less likely to be accidentally switched on etc.
The KZ T1 is more comfortable on the whole, with similar levels of isolation but better with hybrid or foam tips. The Airdots are smaller, more discreet in the ear with a case that is more pocketable.
Performance
Oh no contest, in terms of resolution, imaging, and width the KZ T1 sounds way better. However, if you are just after brute force power and sub-bass quantity with a heavily V-shaped tuning then, by all means, buy the Airdots. They do rumble harder and deeper than the KZ T1.
The KZ T1 is punchier, a little bit more mid-bass dominant and delivers a warmer sound. The timbre is even-harmonic, slightly lusher and softer in tone. The Airdots lacks the same level of instrumental separation and sound the narrower of the two. Notes down low have better fundamentals but further up they start to lose more body. The overall timbral tuning of the Airdots does sound the cooler of the two.
Both vocals are strong and forward but the Airdots are a little steelier and cooler in tone whereas the KZ T1 is warmer and softer. The KZ T1 will be the more forgiving of the two but those who like a cleaner sound might actually prefer the Airdots for acoustics and male vocals.
Both have very forward upper mids. However, the Airdots have a bit more 5-7k treble elevation and energy than the softer and more relaxed KZ T1 lower-treble. That uptick in the KZ T1 upper treble can at times thin out really high-pitched percussion bringing out a harder sound.
A6S TWS
$8 or $9
The bottom of the ladder and doesn't really require much convincing why. It is cheaply made, unstable and very compressed sounding with a tiny underperforming 6mm dynamic driver that delivers really poor bass.
If I must be pushed, it is smaller and lighter than the KZ Z1 and obviously a good deal cheaper. It makes a great gift for people who hate music. Perhaps it does better on audiobooks where the mid-centric tuning is more useful. Who knows, who cares. These will likely give you tinnitus within 10 mins. Avoid at all costs!
Our Verdict
Ok, so we are 2 into this review process for TWS and the KZ T1 sets the early marker for sub-$100 units in terms of sound.
I am not overly keen on the warm timbre and slightly soft overtone of the KZ T1. However, technically it is on another level compared to the Redmi Airdots previously reviewed. A lack of aptX here means the dynamic range is iffy but it is competitive to some wired options sub-$50.
The KZ T1 pairing process is fiddly at times so do try to read the manual before you start. The touch controls are much better than physical buttons but accidental swipes will happen. The battery life is weak sauce saved only by the good 21 hours reserve in the battery case.
Now there are plenty of TWS below $100 so I am keen to see where the addition margins go into. However, the KZ T1 is good value and does show the company has a better grip on audiophile qualities we look for compared to Redmi.
KZ T1 TWS Specifications
Bluetooth Version – 5.0
Earphone Weight – 10g
Battery Capacity – 50mAh
Earphone Charging time – 1.5h
Earphone using time – 3h
Distance for Communication – 10m
Charging Case Weight – 91g
Charging Case Battery Capacity – 900mAh
Case Charging Time- 4h
Charing Case Standby Time – About 200h