The Craft Ears Craft 6 is the company's current flagship reference custom monitor featuring an all-BA 6 driver configuration. It is priced at €965.
Disclaimer: The Craft Ears Craft 6 sent to us is a sample in exchange for our honest opinion. We thank Craft Ears for this opportunity.
To read up on more custom monitors reviewed on Headfonics you can click here.
Note, this review follows our new scoring guidelines for 2021 which you can read up on here.
Craft Ears Craft 6
What I like most is the harmonic balance the Craft 6 offers when compared to competing 6 driver monitors. I think Craft Ears has been very clever with the FR response in ensuring the BA drivers are not overly pushed and peaky to deliver that natural and very balanced sounding tone.
The Craft Ears Craft 4 was our Bang For Buck custom IEM for 2020. It is not the absolute cheapest custom on the market for sure but the performance value for a freshman release was excellent.
Here was a beautifully crafted custom monitor with a loosely V-Shaped sound signature with a refined and sibilant free vocal delivery, in short, a very enjoyable experience.
Now, here comes the flagship in the Craft Ears range, the €965 Craft Ears 6. More drivers yes, but also a little bit more focus on definable technology with some new patents introduced as well as a very different sound signature.
The pitch here is a reference tuned or balanced sounding custom monitor, though, you can also buy the Craft 6 as a universal. Something more for the purist or the more discerning audiophile.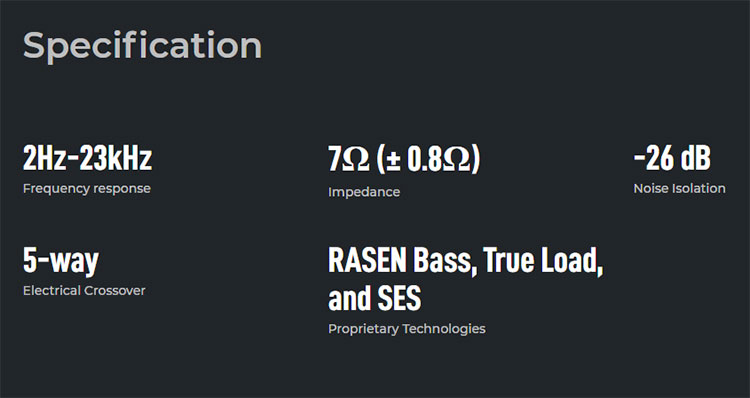 Tech Highlights
Configuration
The Craft 6 is an all-balanced armature 6 driver configuration with a dual sub for the lows, a dual for the low-mids, a single BA for the mid-highs, and one super-tweeter using a 5-way electrical crossover.
It has a fairly low impedance rating of 7Ω which I have seen before on FIBAE and Empire Ears monitors and you should not much voltage at all to properly drive them but the True Load tech explained below will be beneficial.
There is no specified SPL rating for the Craft 6 but you can flick to page 2 of this review for more insight on how efficient we think the Craft 6 is compared to the competition.
Right at the bottom of the picture above you can see three defined tech highlights, namely, RASEN Bass, True Load, and SES. Each of these has a specific function and not something I believe found on the Craft 4, or at least not published.
RASEN Bass™
RASEN is a fully 3D printed structure, placed on the bass tube of the bass driver. It acts as a 'damperless' low pass filter with decay extension. The aim here is to create a connection between the benefits a balanced armature can bring to the sound such as clarity and precision with the natural roundness and decay of a dynamic driver.
The bandwidth covered is on the low-end as you would suspect from 2hz up to 150hz, (roughly a crossover point also). The spiral structure inside works like a centrifuge accelerating the soundwave, whereas long tubing with resonating areas (inside that small module we managed to hide almost 16cm of tubes) makes the low-end rounder and fuller.
True Load™
Given this is a 7Ω rated monitor the use of a flat impedance and phase technology (True Load) is very useful. Craft Ears is not the first to deploy such technology with both 64 Audio with LID and Custom Art with FIBAE coming with similar pitches. However, anything that combats impedance skew in high output ratings of portable sources is welcome.
SES™
The full description is Space Expanse System and described as a 'field-specific, 3D-printed, horn-loaded tweeter that was tuned to a very particular bandwidth'.
Here, Craft Ears have pushed the high-frequency tweeter right up into the nozzle to maximize its presence and built a specific chamber around that to control it relative to the rest of the drivers' tuning.
Just to be clear this is not a wide single bore nozzle design such as those used by Vision Ears. The Craft 6 still uses a triple bore exit system so the phased audio signals from each driver group is tightly controlled in their respective tubes until it hits your ear.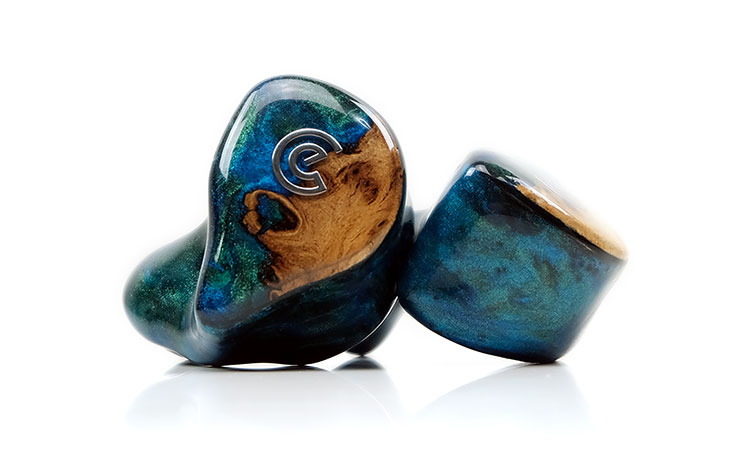 Design
Unfortunately, the design tool on Craft Ear's website is down temporarily pending an upgrade so I cannot give you anything more than a link to the Craft 4 review to allow you to dive into the options for design choices from the old design tool.
Currently, I advise looking at their works gallery of existing designs and picking one you like which is exactly what I did to get this little beauty.
Officially, this design is called an Ocean Blue finish and comes at no extra charge which is pretty sweet. That means the price you see on the website is your final price and not your starting price.
The design comprises of two parts, an ocean blue lightly speckled solid color shell finish, and a faceplate comprising of a mix of stabilized resin wood and a swirl of complimentary marine colors. Those colors are a mix of blues and greens bending into the tan wood grains to produce a dramatic split-tone aesthetic.
I am a big believer in shells and plates complimenting each other rather than clashing. Quite often clashing plates and shells look somehow cheap or shallow. These look anything but with a similar harmonious integration to our Craft 4 sample.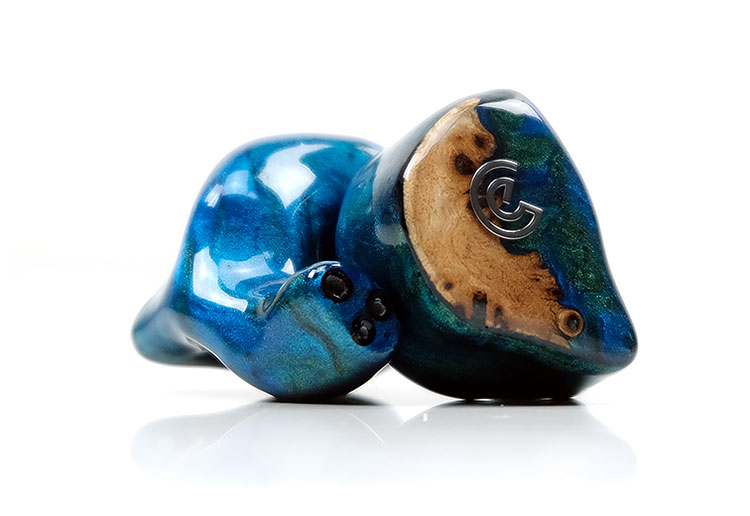 Comfort & Isolation
As with the Craft 4, the Craft 6 shape is a perfect balance of physical pressure for secure fitting and accuracy for comfort inside the ear. And because it is an all BA design there is no bass port venting meaning the passive isolation is excellent.
Craft Ears claim a -26dB noise isolation and I honestly have no reason to doubt that given it almost totally blocks out an aircon in our office just 1 meter away.
One change from the Craft 4 is size due to the additional components and drivers. This is a deeper form factor than the 4 driver variant though if in a custom format you are unlikely to feel much of a difference since the fitting will be the same. Rather it might poke out a bit more than the Craft 4.
The nozzle length is the same as the Craft 4 by the looks of it. That means somewhere in between a shorter relaxed-fitting such as what UM and what AAW used to do and a JH Audio or Noble Audio style pro fitting which goes very deep.
Of course, the excellence of the comfort and seal in these will be determined by the quality of ear impressions you sent to Craft Ears so make sure you get those right. I sent digital scans, ones I am confident in and they came back exactly as I expected.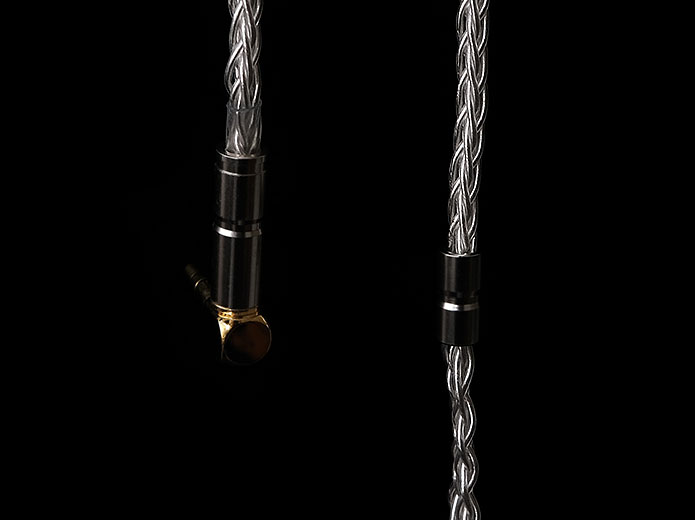 Stock Cable
The included stock cable is a significant upgrade on the original supplied 4-core 1.2m SPC from the Craft 4 accessory line-up. That one dulled the dynamic range of the Craft 4 a little too much to my liking and I ended up using an aftermarket cable.
Now we have a higher grade 1.2m 8-core SPC in a softer tightly-braided translucent PVC jacket which will be much better in terms of dynamic range.
It is a little bigger and heavier than the previous 4-core but the density and damping for handling are much better. You get zero microphonics below the splitter which is ideal and a tiny amount above but only amplified due to the crazy good isolation provided by the Craft 6.
Most of the additional weight is in the finishing with a heavy-duty right-angle 3.5m TRS gold-plated jack. I would have preferred a 2.5mm TRRS option personally but I have no complaints about the quality here.
All barrels are fairly harmonious so that means a slim long silvery finished metal splitter, silver barrels for the 2-pin 0.78mm connectors, and a similar styling for the jack barrel. The only outlier is the plastic chin cinch but it articulates well and doesn't seem too tight or loose.
I am told you can have another option for an additional €145, a 4-core 6N OCC wire with TPU shielding and silver connectors from Rhapsodio called the MKII. I have that specific cable here and for everyday use, I prefer the stock option's better handling and 8-core geometry.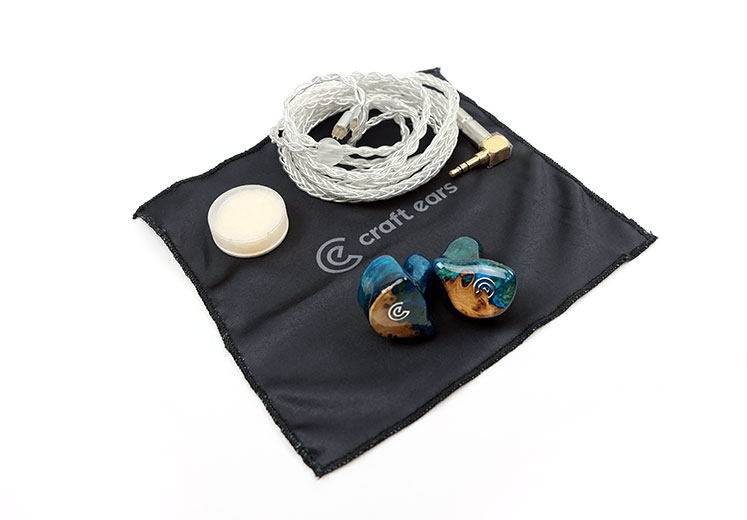 Packaging & Accessories
The packaging is a fairly basic affair here and quite small compared to some of the more opulent offerings from some competitors. The retail box is really just a cardboard lift-lid with an outer decal-adorned paper wrap and all the accessories are tightly packaged into the carry case inside.
You could argue that logistics costs will be saved with that small size and it's an environmentally more friendly design and material. The accessories for the custom monitor include a drying silica puck, a branded satin cleaning cloth, a cleaning brush, as well as the cable and monitors.
The carry case is a POlish-made solid puck-style aluminum screw lid case with some clean Craft Ears branding on top. It has enough space to fit the accessories and monitors but perhaps not much more.
Now, the original prototype I received did not have too much damping or padding on the inside to protect from accidental damage. I believe that is now upgraded with some ample padding on the inside so it should be good to go for throwing into a bag for everyday use.
Click on page 2 for sound impressions and select comparisons