Our feature today is a review of the Custom Art FIBAE 7 Unlimited, the company's next-gen flagship multi-BA custom monitor. It is priced from €1,500.
Disclaimer: This sample was sent to us for our honest opinion. Headfonics is an independent website with no affiliate links or status. We thank Custom Art for this opportunity.
To read more about Custom Art products previously tested on Headfonics click here.
Note, that this 3-page article follows our latest scoring guidelines which you can read here.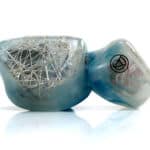 Custom Art FIBAE 7 Unlimited Review
The Custom Art FIBAE 7 Unlimited will correct any issues you had with the vocal forwardness of the original. At the same time, it will beef up those lows and balance out the highs to deliver a more expansive and potentially more emotive successor.
Pros
Balanced and expansive tuning
Creative Design(s)
Excellent Fit
Cons
Original tuning fans might miss the vocal intimacy
Custom Art has been quietly updating their product range over the last 2-3 years, with the FIBAE line-up still the most prominent theme throughout the range.
FIBAE 1 and 2 have now been discontinued and the recently reviewed Go One is now the new entry-level monitor. FIBAE 3 has been replaced by FIBAE 3×3 with FIBAE 4 and 6 seemingly untouched at this point.
Their flagship FIBAE 7 is no exception to the new tech churn with the launch of their new FIBAE 7 Unlimited. The original was a 7-driver CIEM we highly rated back in 2020 so any tinkering with a winning formula always comes with a measure of risk.
Still, with risk comes opportunity and with the latest version born out of customer and reviewer feedback Custom Art is pretty confident FIBAE 7 Unlimited will hit the mark for potential new customers in 2022.

Tech Highlights
Driver Configuration
Custom Art has not so much gutted the internals but rather redefined what was already there. That means the FIBAE 7 Unlimited driver configuration remains unchanged from the original which means a 7 driver all-BA driver implementation.
The precise grouping is a dual sub-low woofer, one low-mid, two mid-highs, one proprietary high, and one proprietary tweeter for the super highs. Two of those drivers are top-firing similar to the original. They are known to be a little more demanding than closed versions and one factor in the FIBAE 7's level of sensitivity is a shade lower than some.
However, CA has introduced a brand new crossover for the FIBAE 7 Unlimited and combined it with a dedicated 3D-printed special waveguide to up the sensitivity as well as improve the high-frequency performance.
On paper, the FIBAE 7 Unlimited certainly seems more sensitive than the original at 122dB SPL compared to 113dB though the load has just slightly increased from 5.9Ω @1kHz to 12Ω. You can find out how those changed metrics affected our sensitivity testing in more detail on page 2 of this review.
FIBAE™
For those of you new to the concept, this is more than just fancy nomenclature for Custom Art's monitor lineup.
FIBAE stands for Flat Impedance Balanced Armature Earphone. Custom Art created this patent-pending design in 2016 and since then has released various IEMS with this technology at the core of each monitor.
The technology promises to eliminate the issue of output impedance dependency by providing flat impedance and phase using a variety of specifically designed balanced armatures.
Why is that crucial? In essence, each headphone jack has an output impedance value that influences your IEM's tonality to some extent. With a sub 1Ω impedance becoming increasingly common, manufacturers have made efforts to lower this as a factor in their DAPs and amps.
This isn't always the case, though. Some balanced outputs have a higher resistance rating such as the FiiO M17 which is between 1-2Ω.
FIBAE should render that impedance variance moot by switching balanced armature designs from inductive to resistive to cancel out potential impedance mismatching which could skew the FIBAE 7 Unlimited sound signature.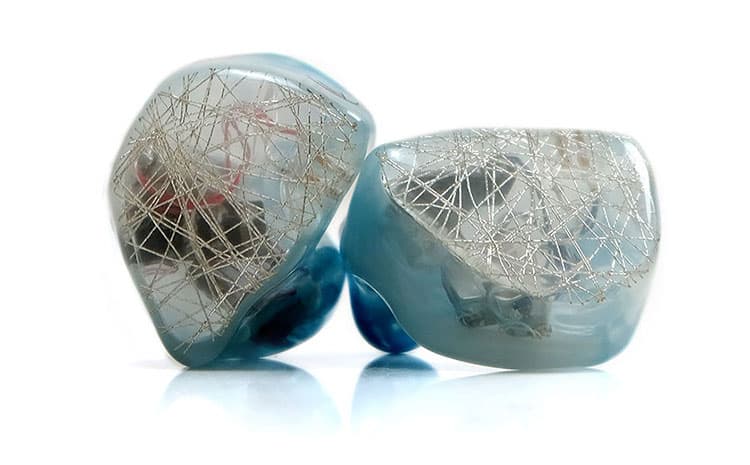 Design
Aesthetics
You can, of course, use their excellent online designer tool but due to my horrible lack of creativity, I messaged CA looking for a bit of inspiration. The outcome of that discussion was a stunning bespoke Ice and wired-themed concept which we tentatively called "Harigane Ice". Just to note this is an additional €200 fee on top of the base price of the FIBAE 7 Unlimited.
The shell is a white transparent base blended with a baby blue hue through the nozzle for some contrast. The striking faceplate is adorned with Japanese silver wiring to create a frosty 'scratched' aesthetic, hence the working title. The plate is fairly deep set so from the side it looks like an integrated layer of deep-set ice rather than a separate plate and shell design.
You might spot some subtle reds and greys behind that which are the internal wiring and drivers peering out from behind the transparent shell. It creates a nice contrast but for everyday use, it's not as obvious as our close-up pictures might suggest.
Finishing
If your molds are accurate so also will be your finished version of the FIBAE 7 Unlimited. That is the ideal outcome of any custom design monitor. Like the original, this finishing on this sample of the FIBAE 7 Unlimited is flawless with the same level of consistency.
There are no breaks in the flow of the shells or design on the FIBAE 7 Unlimited. Even the flush 2-pin ports have a very clean finish. On custom designs, this can be a messy area. I also can't find any bubbles or flaws on the handmade shell or faceplate.
Because the design is so unique I asked CA to push the logos to the side of the shell rather than on the top. A stamp over that intricate wire pattern felt like it would take something away from the visual impact.
One final note on is the FIBAE 7 Unlimited form factor which is slightly different from the FIBAE 7 sample from 2020.
The original's nozzle length is a little bit shorter and the inner arch slightly broader and shallower. I tend to prefer a long nozzle to get as close to the 2nd bend in the ear canal as possible so the longer design of the FIBAE 7 Unlimited sample gets my vote.
Comfort & Isolation
There is a very slight difference in the fitting of the new FIBAE 7 Unlimited compared to the older FIBAE 7 sample due to that longer nozzle and reshaped rear arch but the outcome is still excellent in terms of isolation.
Because this is an all-BA driver design there are also no venting ports required by dynamic drivers which further helps with blocking out unwanted noises during use.
CA always have this style of fit that always seems just spot on for my ears in terms of the balance between internal ear canal pressure and comfort. The FIBAE 7 Unlimited follows the same pattern as the original but feels ever so slightly deeper and somehow marginally more comfortable if that was possible.
I tested the fit in both open and closed jaw mode and not once did I get any gaps forming that would break the seal from the monitors when inserted. My small tip to get the perfect seal is to insert with a bit more finger pressure at the base of the shell closest to the ear. It pushes the positioning a bit tighter to the canal wall which increases the passive isolation even more.
Stock Cable
The FIBAE 7 Unlimited wire has not changed inside the stock cable but the appearance has definitely had a bit of an upgrade. It now looks slicker and more professional as well as being a shade lighter also.
This is a 1.2m Null Audio Arete cable and if you do your research you will find the updated appearance is in lockstep with Null Audio's own separately-sold Arete cable improvements.
The Arete is a 4-wire 24AWG UP-OCC copper wire with casted 7N copper conductors using a total of 12-13 strands per wire or 100 strands per cable in a Litz 5 geometry.
Each of the braids is individually insulated using a PVD deposited clear coating to prevent oxidation, or what is commonly known as the 'green effect' over time.
This is then wrapped inside a translucent quad-braided TPE jacket and terminated with a new two-tone anodized aluminum alloy jack and a small, similarly themed, hexagonal splitter with 2-pin connectors in black.
Visible strain relief is also reduced as well as the memory hook material is seemingly even softer and springier than before making this cable a very comfortable wearing experience despite its larger 24AWG size. Microphonics below the splitter is very low to nothing as also the degree of memory retention making this a very easy cable to work with.
Packaging & Accessories
It seems that the FIBAE 7 Unlimited package has had a bit of an aesthetical and physical upgrade over the classic show box and Pelican case boxing that CA has used for years. It is similar to the Go One packaging so I shouldn't be that surprised.
The FIBAE 7 Unlimited external box is clean, functional, and branded well, a step up on previous stuff that came in a glorified black mini shoe box. Inside, everything is neatly packaged and arranged in a sizeable but nicely finished zipper carry case.
The case is too big for the pocket but small enough to slide into a travel bag. Personally, I would like to have seen a small pouch for pocketable carriage throw in there for more flexibility.
On the plus side, there is plenty of room to fit the FIBAE 7 Unlimited drivers and cable. The accessories can be safely tucked away in the roof netting with plenty of foam contouring to protect the drivers also.
Accessories include the usual Custom Art welcome pamphlet, a small cleaning tool to keep the wax and dirt out of your FIBAE 7 Unlimited bores, and a silica puck to combat any humidity.
Click on page 2 below for sound impressions and pairings