The Polk S50 speakers are the smallest floor-standing speaker in Polk Audio's Signature range with a starting local price of $585.
Disclaimer: The Polk S50 speakers sent to us are a sample in exchange for our honest opinion. We thank the team at Polk for giving us this opportunity.
To read more about speakers we have reviewed on Headfonics click here.
Polk Audio has been designing and building loudspeakers for almost 50 years. Matthew Polk, George Klopfer, and Sandy Gross met at university and founded the company in 1972 in Baltimore, Maryland. The company was named after Matthew, who was in charge of the engineering. George built the cabinets and Sandy was in charge of sales.
Their speakers often use passive radiators instead of reflex ports to increase bass output. Passive radiators vibrate in tune with the woofer to extend its frequency response with none of the resonances and noises commonly associated with ports. On a side note, even today, very few companies use passive radiators in their speakers, mainly because they cost significantly more than simple ports.
Background
In the '80s, Polk Audio launched their SDA or "Stereo Dimensional Array" series of loudspeakers. They have multiple small woofers and dome tweeters arranged to reproduce a spacious stereo image over a wide listening area and for greater power handling and dynamics.
SDA models had even larger passive radiators that could reproduce deep bass with previously unheard of clarity and punch. As a result, they became very popular in the audio community. Their flagship SDA-SRS model was highly praised by Stereo Review magazine in November 1985. In fact, those that are still in good condition today fetch more than their original price.
Best of all, Polk Audio speakers did not break the bank. A pair of SDA-SRS loudspeakers retailed for US$2,600 back in '85. That is roughly US$6,200 in today's money, which is actually reasonable since nowadays, flagship loudspeakers from other brands sell for 10 to 20 times as much. Sometimes even more.
Directed Electronics Inc.
Directed Electronics Inc. or DEI acquired Polk Audio in 2006 after the company's founders went their separate ways. Two interesting facts. First, Sandy Gross sits on the board of DEI. Second, DEI also owns Definitive Technology, another loudspeaker company whose products use passive radiators.
DEI currently owns Sound United, the parent company of Denon, Marantz, Boston Acoustics, Classé, Definitive Technology and Polk Audio. In 2015, they established their ARAD (Audio and Acoustics Research And Development) center Owings Mills, Maryland. Those brands can now share design and engineering skills to produce better products at lower prices. Something everyone benefits from.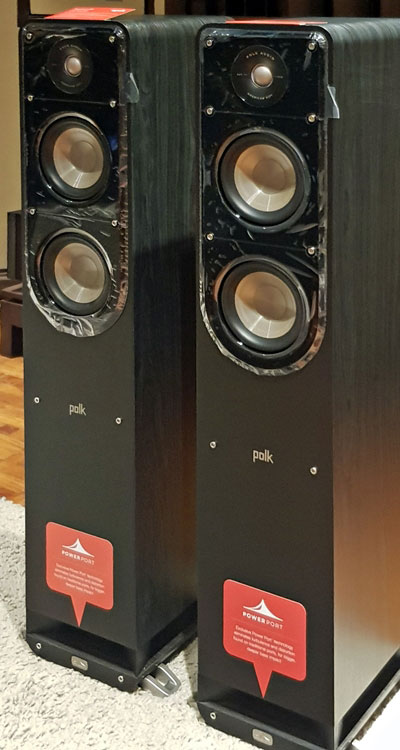 The Polk Signature S50
The S50 costs $585 a pair in my part of the world. This puts it in the lower price bracket for floor standing loudspeakers. It is also the smallest floor-standing speaker in Polk Audio's Signature range. It has two bigger brothers, the S55 and S60.
The S50 weighs 32 lbs. and measures 37.4 inches tall, 7.5 inches wide and 10.9 inches deep. The pair on review came in an attractive dark-grey/black wood grain finish and a glossy black front panel. Limited edition white models are also available.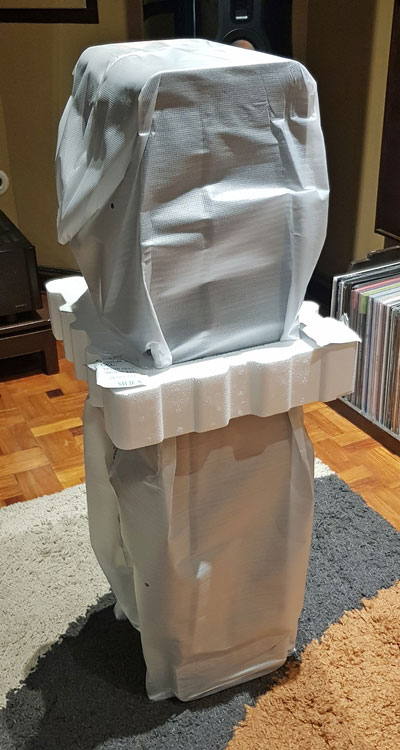 Polk packs the S50 in individual cartons together with magnetically attached grills. Aside from the usual foam pieces above and below, an additional piece hugs the speaker's midsection to help guard against damage during shipping. The user's manual comes in a plastic bag that sits on the top foam piece.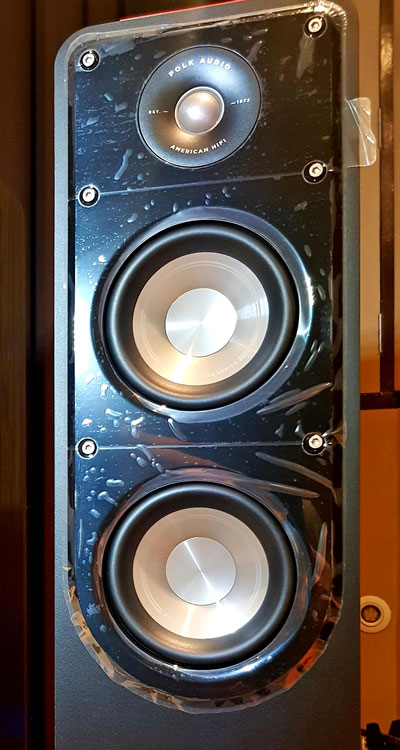 Its one-inch dome tweeter and two 5.25-inch woofers are the same color, somewhere between beige and gold. Clear plastic film that is easy to peel off protects the glossy driver mounting plate. I chose to keep the film in place since these speakers are just on loan. In retrospect, perhaps I should have peeled it off. More on this later.
There are red cards on top and on the lower front with text that describe its features. These help with in-store advertising. Customers can simply remove them after taking delivery.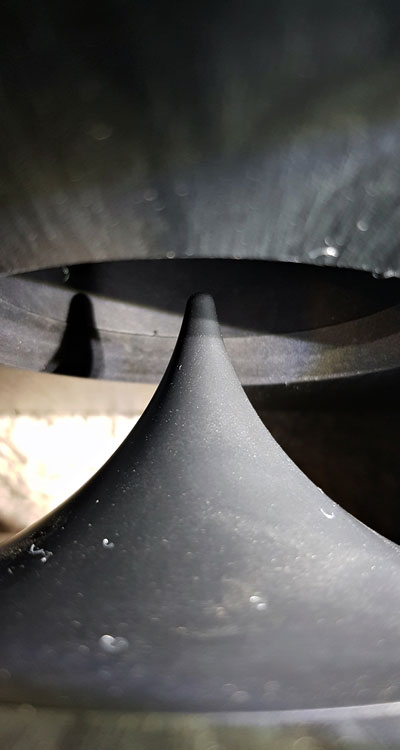 At the bottom is a Polk's "Power Port" bass reflex system. Traditional ports are usually just pipes of a specific length, and air rushing in and out can become turbulent at high volumes. This causes audible chuffing and whooshing noises.
Polk not only rounds off the edge of their port, but they also place a large cone in front of it, with its vertex inside the port. Air flows more smoothly as a result. Furthermore, the ports of most speakers are behind, so they cannot be too close to the wall, otherwise, the flow of air will be restricted. Not with the S50. Its port is at the bottom, allowing much greater flexibility in room placement.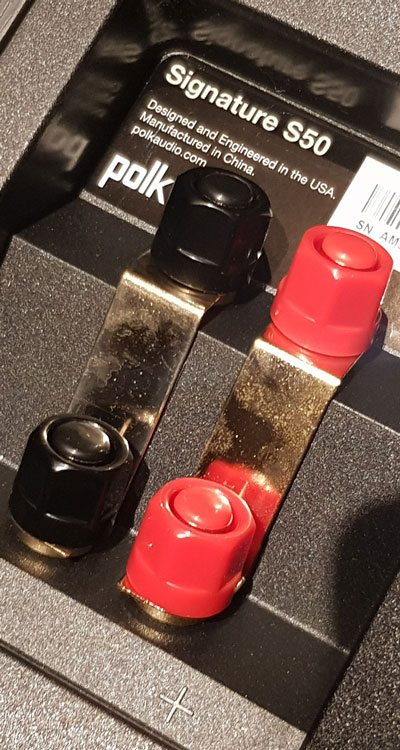 On the back are two pairs of color-coded five-way binding posts with gold-plated metal jumpers. Removing them allows bi-wiring or bi-amping. The binding posts accept speaker cables ending in spade lugs or as a bare wire. For banana plugs, simply pop off the plastic inserts. Just take care not to lose them, as they are tiny.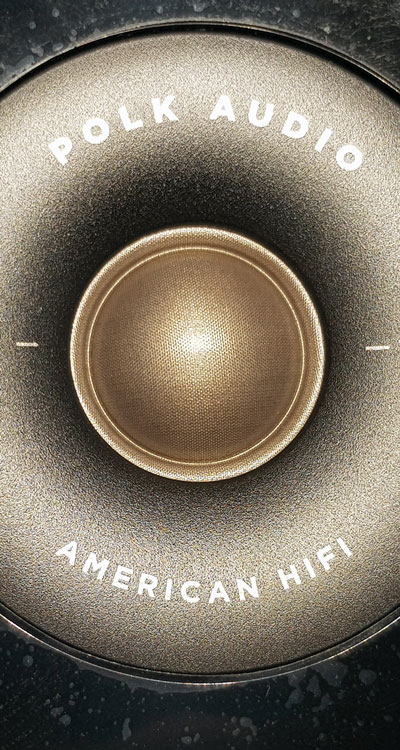 Polk uses the same tweeter in their entire Signature range. This improves timbre matching in home theater systems. Different speaker sizes for the front, rear and center channels will sound alike, except the larger ones have more bass. The A/V receiver will have a much easier time tuning for good sound. The tweeter membrane is Terylene, a lightweight synthetic polyester fabric. Polk says that plays from 2.5 to 40 kHz.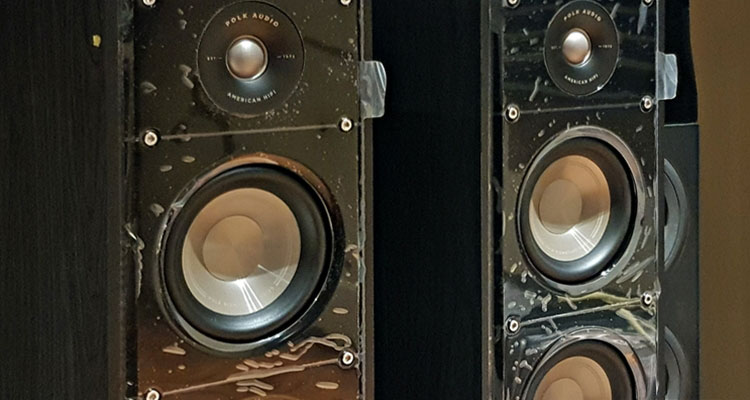 The Signature line also uses the same material for their woofer membranes, a mica-reinforced polypropylene cone with a butyl rubber surround. Polk designed them with laser imaging to detect unwanted resonances so that they are no longer in their finished products. They call it Dynamic Balance Technology. The S50 has two 5.25-inch woofers that work in parallel from 2.5 kHz down to 33Hz.
As for other specifications, Polk rates its sensitivity as 89dB/W/m, its impedance as "compatible with 8 ohms," and its power handling as 20 to 150 watts. The large majority of amplifiers and receivers will have absolutely no problems driving the S50.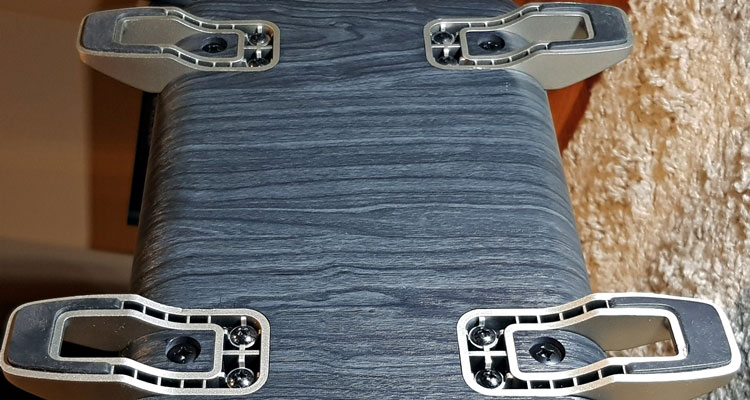 Underneath are four molded plastic feet, the color of which match the drivers. They extend out from the sides of the speakers and add stability. Underneath each foot is a rubber pad that will not scratch hardwood floors.
Sound Impressions
In-room Setup
I initially placed the S50 where most of the floor-standing speakers I have heard sound good in my room. This is roughly 1.5 feet from the sidewalls, 2.5 feet from the front walls, and a little over seven feet apart. The listening chair is 8 feet away. I finally moved them back half a foot for added bass.
Break-in
Before doing any critical listening, I played various jazz, pop, and R&B selections non-stop for three weeks at normal to high listening levels. Since the speakers are brand-new, this allows the various flexible elements in the drivers to stabilize. The listening room is isolated and acoustically treated, so none of my neighbors were bothered.
While the low frequencies were strong from the beginning, midrange seemed recessed while the highs were noticeably bright. Just like the classic V-curve settings of equalizers of the past, in-store demos will have good bass and treble without ever getting shouty. This will definitely impress those in the market for speakers in the S50's price range. For US$585 a pair, I know I would be impressed.
Its tonal balance evened out towards the end of three weeks. Midrange and vocals gained prominence while the highs became mellower. Bass also increased in speed. It was easy for me to hear all this because I listen only during the evenings and with a fixed set of songs. Each time, I wrote down what I heard. This made it easy to monitor changes in the sound.
Critical Listening
One track many reviewers use to evaluate loudspeakers is "Get Lucky" from Daft Punk's Random Access Memories. Rightfully so, since it sounds fantastic. Renowned musicians John Robinson and Nathan East play drums and bass respectively.
Some speakers in the S50's price range reproduce them as a muddled mess. Not the Polk S50. Individual notes and beats were easily distinguishable. In addition, bass output was impressive for its size, thanks to its dual woofers and special port design. I could close my eyes and imagine listening to a much larger pair of speakers.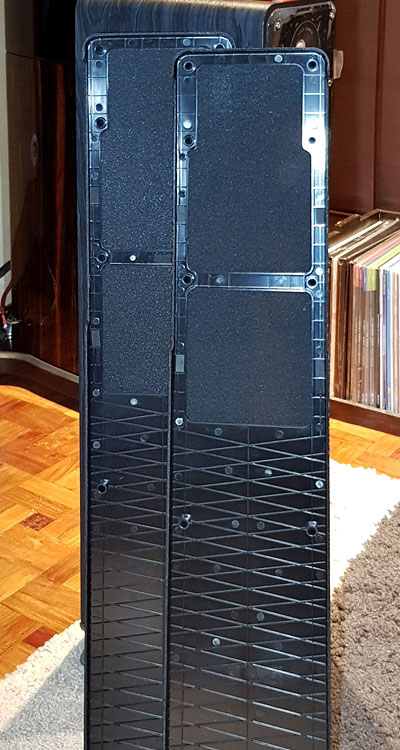 The S50 comes with black cloth grills that attach with hidden magnets. For me, Pharrell William's singing came through cleaner and clearer without them. He should also be at the center, exactly between the left and the right speakers. No problem for the S50, however, the scale of his voice was larger than normal.
It could be the bubbles under the film on the glossy front panel was causing irregularities in the sound. Yes, it matters. I have owned speakers that came with similar protective films and they sounded better when I peeled them off. Reapplying the film will be very difficult to do properly so I did not remove them from the S50. In addition, these speakers are going right back to the distributor after this review.
After the break-in period, highs were much smoother, with just a touch of sibilance remaining. For example, there was still some emphasis when singers pronounce the letter "S," but attaching the grill takes care of this.
I played "Unforgettable" by Johnny Hartman from his 2004 album Hartman for Lovers. The song's extra-wide soundstage was no problem for the S50. Violins, pianos on the far left, and snare drum on the far right well exceeded the boundaries of the speakers with Hartman's voice always at dead center. I thoroughly enjoyed how the expansive soundstage enveloped me.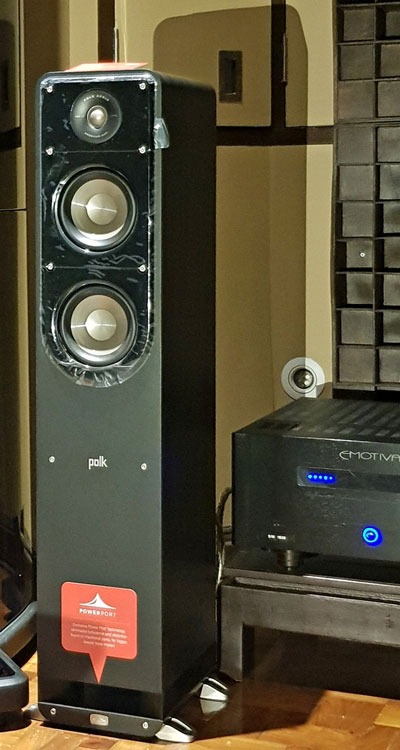 Lastly, I have to commend the S50 on its ability to handle power. I like to listen loud, to music with lots of bass. The S50 began to complain only when I went overboard on the volume knob. Otherwise, they sounded much cleaner at high levels, with only a hint of dynamic compression, then many speakers in their price range did.
Caveats
While it has ample low frequencies, the S50 is not a "warm sounding" pair of speakers. I know many who prefer a "vintage" sound and these will not appeal to them. Affixing the magnetically attached grills reduces the brightness but can also suppress low-level details, especially when listening softly.
Fingers sliding across the strings of an acoustic guitar, ghost notes on a snare drum, or light cymbal taps between crashes are much easier to hear without the grills, partly because the tweeter is lower than my seated ear level.
Because of its lower height, the S50 also reproduced a lower than normal soundstage. I have a thick area rug between the speakers and my chair that absorbs floor reflections, but it was as if I was looking down at the band. I did not have a suitable pedestal, but I believe raising the S50 and listening with the grills on will solve these issues.
None of these are faults, after all, the S50 costs well under US$600 a pair, which is actually inexpensive in the grand scheme of things.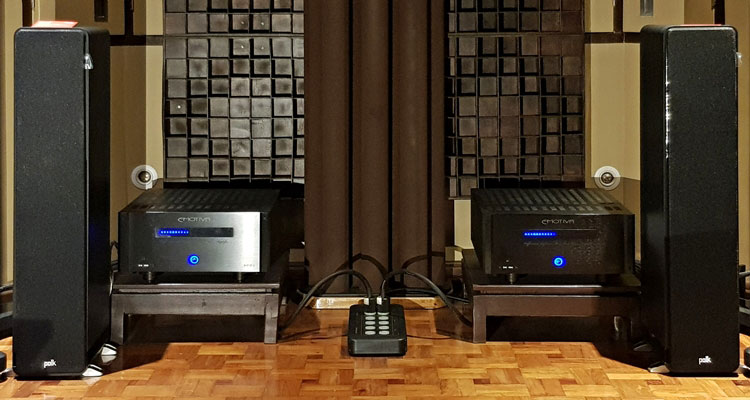 Our Verdict
The Polk Signature S50 pair represents excellent value for money. Use them as stereo speakers in a hi-fi system or as main speakers in a home theater. One can place them pretty much anywhere, and they will sound very good on a wide variety of music and even with modest amplification. A recommended buy.
Polk S50 Specifications
Dimensions: 37.4″ (95 cm) x 10.25″ (26.04 cm) x 11″ (27.94 cm)
Weight: 32 lbs. (14.51 kg) per speaker
Frequency Response: 33Hz – 40kHz
Efficiency: 89 dB/W/m
Nominal Impedance: Compatible with 8 ohms
Driver Complement: One 1-inch fabric dome tweeter and two 5.25-inch polypropylene woofers
Crossover Points: 2.5 kHz
Cabinet Design: Small floor standing speaker, MDF cabinet, bottom-ported
Power Handling: 20 to 150 watts
One can place them pretty much anywhere, and they will sound very good on a wide variety of music and even with modest amplification. A recommended buy.