This is a review of the xDuoo XD05 Pro, which is a unique and powerful portable amplifier with swappable module cards for both DAC and amp. It is priced at $799 SRP.
Disclaimer: This is a sample sent in exchange for our honest opinion. Headfonics is an independent website with no affiliate links or status. Thank you to Shenzhen Audio and xDuoo for this opportunity.
Click here to read more on xDuoo products that we have previously covered on Headfonics
Note, that this article follows our current scoring guidelines which you can read up on here.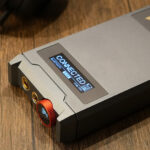 xDuoo XD05 Pro Review
The xDuoo XD05 Pro is a truly unique portable amp and DAC with the ability not only to change the amplifier cards but also the DAC separately giving you a multitude of performance options.
Pros
Excellent power
Versatile modular design
Rich I/O options
Cons
Stock configuration sound slightly
Less synergy with sensitive IEMs
Size & weight
The xDuoo XD05 Pro portable decoder and amplifier in this feature is one of the largest portable amplifiers of its kind. Certainly much bigger than previous xDuoo portable designs such as the BAL 2 and the Polk II.
The output power is tremendous, as its body size suggests, and it is equipped with a versatile "card-type" modular design as well as interchangeable op-amp sockets that can transform the decoding and amplifying stages in seconds.
This sustainable concept of many possibilities is a lot of fun, but how does it perform with some thirsty headphones? Let's find out!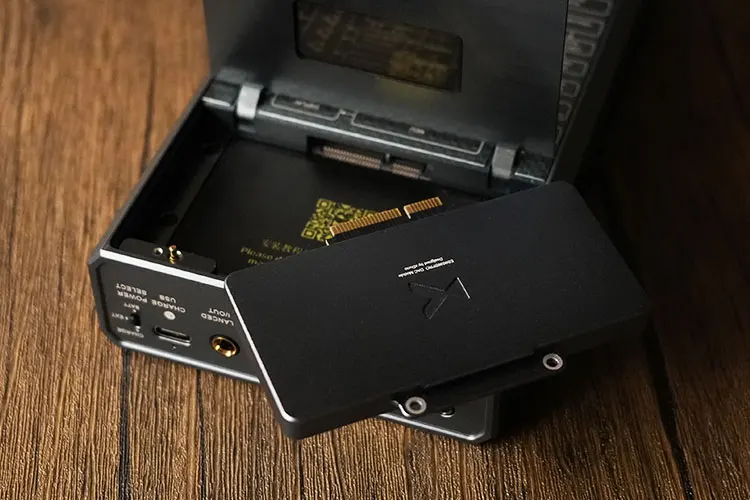 Tech Highlights
The xDuoo XD05 Pro is a unique portable DAC and amplifier in that both the DAC and the amplification are modular. This means you can change them quickly by hand for different types of DAC cards and supplied opamps to change the sound and capability of the unit.
Modular DAC
For the XD05 Pro's digital section users have the freedom to select and upgrade their system's sound by switching between different official DAC modules.
For example, the stock card uses the ESS ES9039s Pro chipset, with two further options including the Rohm BD34301EKV DAC and AKM AK4499ex DAC modules which are separate purchases.
To change each module is very easy. Detach a few screws, unplug, and swap out the card and within a few minutes, you will be switched to another sound profile. The modular design may later be extended to other xDuoo devices and that would be a fun ecosystem, offering even better value for users who acquired multiple decoding cards.
Remember to turn off the device when changing the modules, and once you have successfully swapped the module.
Default Decoding
The default modular four-channel ES9039SPRO chipset is connected in parallel with FPGA-controlled Oscillators and allows decoding up to DSD512 natively.
The Coaxial, Optical, and AES inputs support as high as PCM 24/192, or DSD64 via DoP connection. In addition, the PGA2311 volume control chipset is employed for precise volume control steps.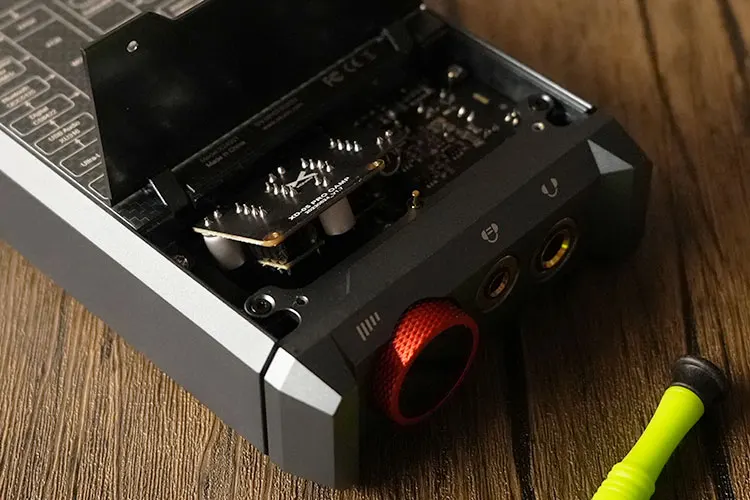 Modular Amplification
The XD05 Pro also allows for interchangeable amplification options. The default design uses an opamp and buffer Class A structure with the ability to change the op-amps. Similar to the DAC card, you can release the amplifying card by taking out two screws.
If you have other dual op-amps that support> +/-15V input, you can try rolling the default opamp and see how they sound on the XD05 Pro.
The package also comes with a pair of LME 49720 op-amps which you may try swapping out with the already installed ones. The name of the opamp will be displayed when you switch it back on.
Default Performance Numbers
The default XD05 Pro setup can deliver up to 2000 mW @32Ω load and up to 900 mW into 300Ω from the stock card, which suggests that it is even more powerful than some desktop amplifiers. For headphones with a higher impedance rating of 600Ω, the XD05 Pro can still output an impressive 510mW.
At the same time, the XD05 Pro is IEM friendly as the output Impedance is smaller than 0.4Ω on balanced output and even less on 3.5mm output, which is quite a bit lower than the competitor FiiO Q7 suggesting better compatibility with sensitive gears.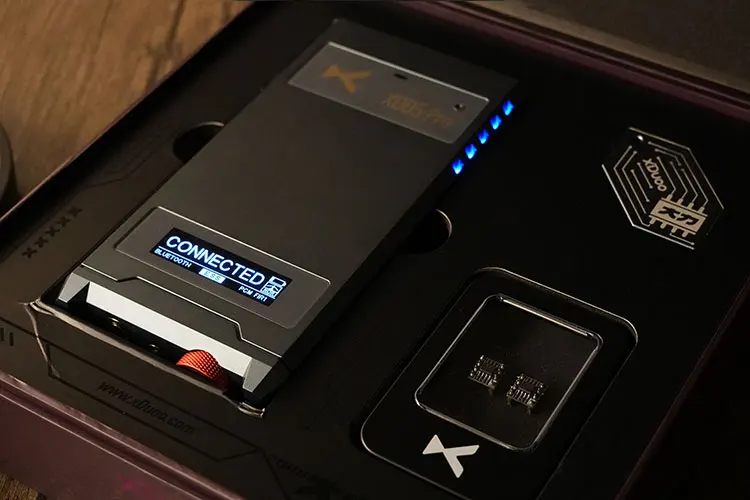 Design
The XD05 Pro has a bold design that stands out with its large size and futuristic aesthetic. Despite its rugged and sturdy exterior, the design incorporates gold-plated and colorful parts, as well as LED lights that change color according to different gain modes.
There are two screens on the device that can be easily spotted. One is on the 2" OLED screen on the top side and another one is on the non-pressable volume button which displays the volume level.
Information such as the DAC module used, gain mode, and What power it is fed as well as connected devices can be viewed on the top screen. You can set the screens or the device to go off or adjust the brightness in the settings menu and it can turn off as fast as 15 sec if unattended.
When you flip the XD05 Pro over, you will find the hoods where the decoding module and op-amp module are separately located on either end. In the middle, the circuitry design diagram is showcased, adding a sense of professionalism to the overall design.
The DAC cards are protected in metallic shielding. Take out the screws and you can easily slide in another card. The stock ESS ES9039SPRO card will be labeled as such on the metallic casing.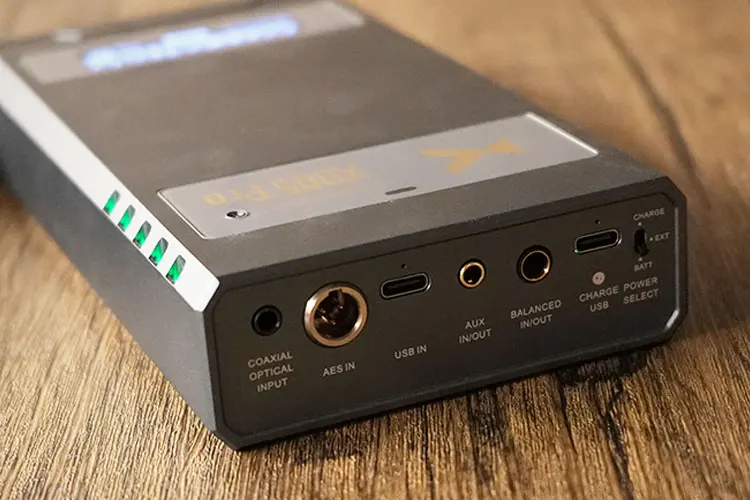 I/O
On the front side, there is a 4.4mm output jack as well as a 6.3mm output jack for headphone connection. If you want to use it with a 3.5mm terminated headphone you will need to use a 3.5mm-6.3mm convertor.
Turning to the back side there are a lot more connectors:
Coaxial/Optical Input (3.5mm) jack
AES In
USB in (with LED indicator)
AUX In/Out
Balanced In/Out
USB charging port (with LED indicator)
Power Select switch (Ext/charge/batt)
You may notice the balanced output jack as well as the AUX jack allows switching between Input and Output, and this can be toggled in the settings. You can use the 4.4mm as input meaning that the XD05 Pro also doubles as a balanced amplifier.
The XD05 Pro also supports AES input which is ideal for long cable connections, allowing high sampling rate signals to pass through reliably with enhanced noise control over its balanced connection.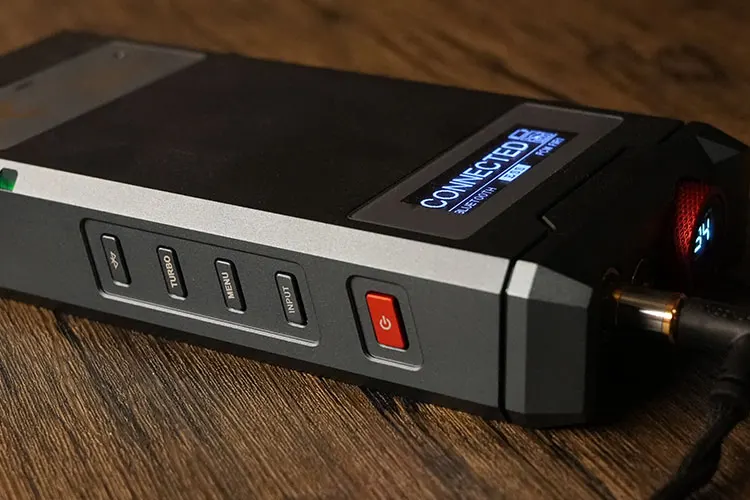 Controls
Cycling the menu is very intuitive and there is no need to read the user manual. There are 5 buttons in total including the on/off button, as well as options for Bluetooth connectivity, gain level, input source, and for entering the menu settings.
The input source allows quick circulation between different inputs. As for the menu settings you can enter to adjust the screen brightness, screen-off time, channel balance, displaying sampling rate or spectrum, and to set the auto-turn-off time.
Modes
Power Modes
The XD05 Pro supports an external power supply rated at 12V, requiring a 12V 3A power supply. It will be activated when you switch the power toggle button at the back to the middle.
You can connect to a linear power supply to further enhance the output quality, but it is not stated whether the output power will be further boosted.
When you switch between external power and internal battery the XD05 Pro will be forced off, so it is better to turn it off between switching over to avoid potential damage.
Gain Modes
Three gain modes can be switched instantly on the XD05 Pro, namely ECO mode for earphones, NORMAL mode for headphones that are more current demanding than voltage swing hungry, and TURBO mode for high-impedance 300Ω variants.
The output power and resulting signature are significantly different with each gain setting, and it is recommended to always try the different gain modes to find the best fit for your gears.
Under Turbo mode, there is an easter egg for those who can find a matching external USB power source that could power the device at 12V 3A. The XD05 Pro amplification will switch to Class A and deliver the best performance for demanding loads.
Connectivity
The XD05 Pro uses a Qualcomm QCC5125 Bluetooth 5.1 solution for Bluetooth connections, supporting a range of codecs including LDAC, aptX LL, aptX HD, and more.
This enables the switching between connection strength, latency, and quality to cater to different applications.
For USB-DAC mode, you will need to download the USB driver from xDuoo's website to connect the XD05 Pro to Windows PCs. It is driver-free for Macs as well as for my Android phone via the UAPP app.
Aside from digital inputs, the XD05 Pro supports a 4.4mm line in, which means you can hook it up with different DAPs, especially ones that are not powerful enough for less sensitive headphones.
Battery Life
One immediate question that arose in my mind was regarding the XD05 Pro's battery capacity and its compliance with carry-on luggage limitations.
However, upon further investigation, I discovered that it is equipped with a 3.87V/13600mAh battery, which falls well below the 100Wh restriction. As a result, it can be safely carried in the cabin luggage without any concerns.
The XD05 Pro supports 9V/2A and 12V/2A PD quick charge, despite the large battery size, it can be fully charged in an hour. Consideration for enhancing its sustainability could involve ensuring easy replaceability of the battery.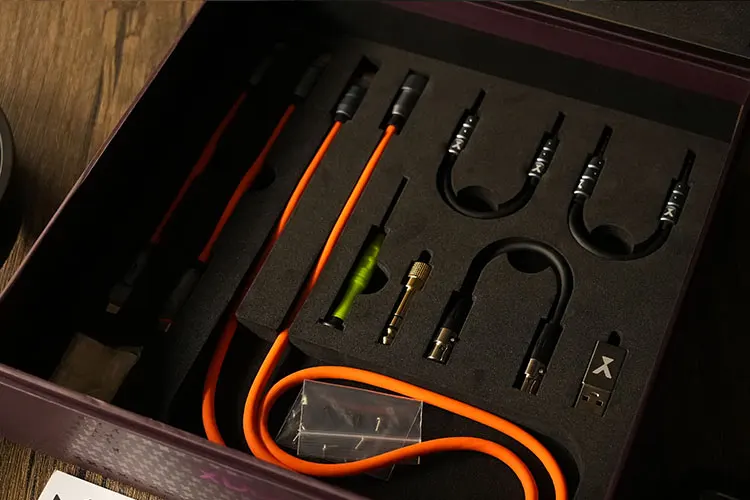 Packaging & Accessories
Along the huge packaging, there are colorful cables for hooking up with different gears. Aside from rubber legs and screwdriver, also a 6.3mm to 3.5mm convertor, the below cables are included:
3.5 to 3.5mm cable
4.4 to 4.4mm cable
AES cable
Type C to Type C cable
Type-C USB extension cord
USB A to USB C convertor
The vivid orange color scheme on the cable is delightful compared to stock cables in black normally supplied, and the connection feels quite secure. I was also surprised that the thick orange-colored USB-C to USB-C extendable cable lights up during use, which looks cool.
You will also find a set of L49720 MA op-amps included aside from the preinstalled TI OPA1612 op-amps.
Sound Impressions
The XD05 Pro offers good versatility through its swappable DAC and op-amps mechanism, along with rich connectivity. We primarily focus on its base qualities, including output power, control, detail retrieval level compared to similar devices, and tonality with the stock configuration.
Summary
Overall, the XD05 Pro delivers the power and performance expected from its size and specifications. It exhibits a slightly warm coloration in its tuning, enhancing male vocal performances. However, when used as an amplifier through the 4.4mm input, the sound is less controlled and lacks stereo imaging compared to internal decoding.
Using the stock configuration with the TI OPA1612 op-amps, the output sounds rather flat and uncolored, which works well with instrumentals but slightly raw with vocals.
Starting with this configuration provides a solid foundation, allowing for noticeable refinement, changes in speed, and tonality when switching to other op-amps such as the provided LME49720, which offers stronger transients, enhanced dynamics, speed, and more distinct vocal overtones.
As usual, roughly a 100-hour run has been given to the XD05 Pro, and either of the two sets of op-amps supplied before the below impressions are given. The run-in seems to open up the treble slightly to sound more extended, and to add a bit more layering to the bass. My impressions below are mainly based on the LME49720 op-amps.
Bass
The ES9039SPRO and LME49720 pairing in the XD05 Pro offers sub-bass that is subtly present, while the bass itself is delivered with a punchy and prominent presence. When streaming Adieu's "THE FIRST TAKE," the attack feels solid, providing good clarity without diving too deeply.
This character matches male vocals, pop music, or songs with airy lows, creating an uplifting and relaxing vibe while providing sufficient richness to darker voices even when it is just streamed on YouTube.
When it comes to drum solos, the XD05 Pro excels in capturing the air and spaciousness. The bass panning across the stereo field is rendered clearly. The kicks and toms exhibit a rhythmic and punchy quality, with a moderately soft decay that adds to the overall musicality and the relaxing vibes.
Testing the XD05 Pro with the Fostex TH900 headphones, the bass notes on double basses and piano have a pleasing level of quantity and clarity.
The bass isn't very textured but the impact feels dense and solid on normal gain. There is also noticeable reverberation present, which adds to the overall sense of realism and depth in the soundstage.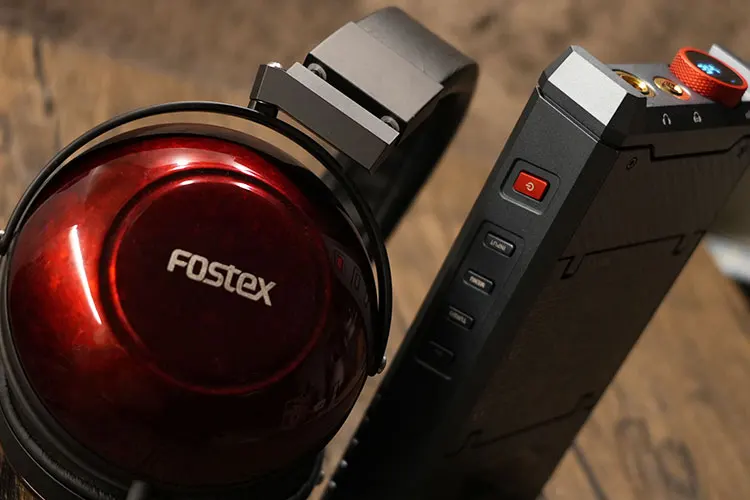 Mids
The bass articulates smoothly into the mids, which exhibit a clear stereo image and noticeable forwardness, particularly when using the Turbo mode with higher loads.
The XD05 Pro demonstrates satisfactory separation power between vocals and backing tracks, allowing for distinct instrument identification across the midrange. The transients in the upper mids are also clearly heard, capturing the energy and dynamics in voices with clarity and precision.
Using the two stock op-amps both feel mellow in tuning, prioritizing a relaxing signature over emphasizing details and transients. This tuning choice sacrifices some dynamics in favor of a smoother listening experience.
However, if desired, you can switch to a higher gain setting to enhance the forwardness in the mid-treble frequency range, resulting in perceived sharpness in vocals and an increased sense of presence while it will introduce more sparkle.
Treble
Despite its powerful performance, the XD05 Pro surprises me with its lack of sharpness in the upper registers while maintaining sufficient overtones. It impressively avoids excessive texture in the treble frequencies, although there is a slight emphasis in the 2.5kHz range, which adds some sparkle and hoarseness to voices,
While this emphasis remains within an acceptable range and doesn't become overly pronounced, it can result in a raw or more organic sound for breathy vocals. It offers a good balance between clarity and character, catering to various vocal styles and preferences.
When listening to Classical music with the XD05 Pro, you will notice that violins have good penetration power and forwardness. However, the tuning smoothes out the sibilance, which reduces the sense of air and dynamics.
On the other hand, the XD05 Pro's tuning emphasizes lush and polished vocals but may limit coherence throughout the whole spectrum. When multiple voices come into the mix, slight compression can be heard.
Staging & Dynamics
While the tuning feels quite mid-centric, the XD05 Pro provides a wide soundstage when used with various planar headphones and IEMs, especially the higher impedance ones that benefit most from the strong output power, or with gears that have a more V-shaped tuning.
The device showcases satisfactory instrumental details and offers good spatial representation. However, it falls short of providing depth in the soundstage with the current module and opamps, which provide a moderate level of texture and above-average dynamics in the audio output.
Users are encouraged to experiment with different ICs and op-amps to uncover the device's response and potential improvements in transient response, clarity, and accuracy, and also to switch between gain levels to see which yields a more euphonic and natural result.
Furthermore, switching inputs, such as utilizing the Coaxial input, can slightly alter the timbre and perceived accuracy of positioning, resulting in fuller and more separated, precise stereo images and better coherence in the output.
Click on page 2 below for our recommended pairings and selected comparisons.